Instagram, with its millions of users, has become a powerhouse for visual content. Currently, there is an endless stream of eye-catching images and videos, so concise and manageable links are more important than ever.
In this article, we'll explore the essential steps to shorten an Instagram link, uncover the advantages of short links for businesses, and examine practical use cases for shortening links tailored for Instagram. 
What is an Instagram URL Shortener?
An Instagram URL shortener is a tool or service that simplifies and shortens web addresses, making them more manageable and shareable on the Instagram platform. Users can enhance engagement and effectively manage character limits by utilizing shortened links in posts, stories, and bios. 
Moreover, these shortened links can be redirected to various destinations using link-in-bio tools, providing a seamless way to guide the audience to specific content or external web pages.
How to create an Instagram short URL?
Introducing Instagram URL shortener – Replug, a tool for shortening long, complicated links into stylish, user-friendly ones.
Replug streamlines your Instagram marketing with features like shortening links, customization, and detailed analytics. Its "Link in Bio" feature is especially valuable on Instagram, allowing multiple links on one user-friendly page. 
This all-in-one platform enhances your social media marketing across platforms, driving more traffic, increasing engagement, and optimizing your online presence.
Branded Short Links
Create and track branded short links for your business for better conversions.
Brand Your Links Now!
Here's how to create an Instagram short URL using Replug:
Step 1: Create a Replug account:
Step 2: Create a new short Link
On the main dashboard click "Select your campaign" and paste the long Instagram link you want to shorten in the "URL to shorten" section.
Then click the "Create" button and your link will be shortened.
Note: If you're a new user here's how to create a new campaign.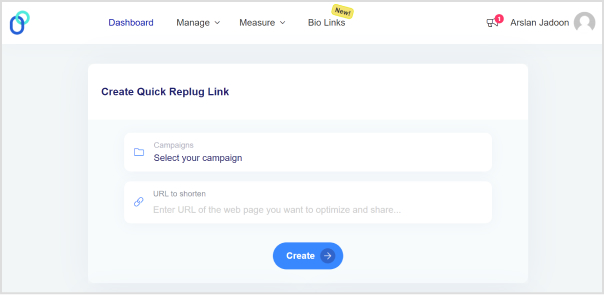 Step 3: Customize the short URL
Replug provides the option to customize your short URL to make it more brand-friendly or memorable.
Click the "Edit icon" to customize your shortened link.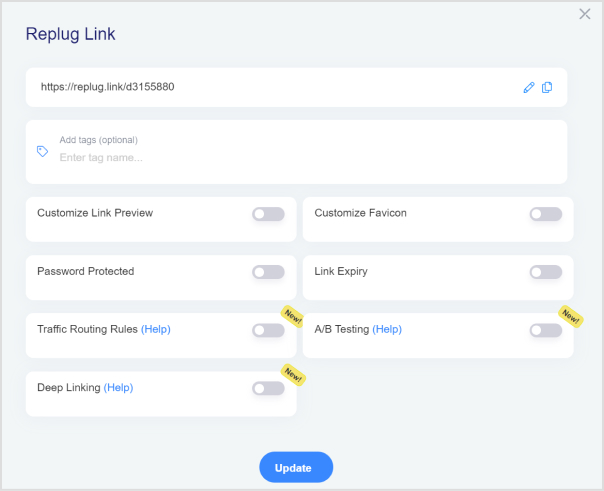 Step 4: Copy the short URL:
Click the "Copy" icon to copy your newly created shortened link.
Then click the "Update" button to save your link in "Replug links".
Step 5: Use the short URL on Instagram:
Now, you're ready to share your Instagram Short URL in your posts, stories, bio, or link-in-bio tools on Instagram, helping you enhance engagement and track performance.
Also read: How to Create a Short Link With Ease: A Step-by-Step Guide
Share Multiple Links in Instagram Bio – Bio Links from Replug
Replug's "Bio Links" feature offers a solution to Instagram's limitation of a single clickable link in your bio. With this feature, you can create a centralized landing page in your bio, housing multiple links to various web pages, products, or content. It's a game-changer for businesses, influencers, and content creators, making it convenient for your audience to access diverse resources in one place.
What's more, Replug's Bio Links includes tracking and analytics, enabling you to monitor link performance and refine your Instagram marketing strategy.
Ready to optimize your Instagram bio? Explore Replug's Bio Links and transform your bio into a dynamic hub for all your essential destinations.
Create bio links for Instagram, TikTok, Facebook, Twitter & LinkedIn.
Create fully customizable bio link webpages to drive traffic from and to your social media channels, online store, website and much more.
Learn More!
The impact of shortened links on Instagram marketing
Using shortened links for Instagram can significantly enhance your marketing efforts, and here's why:
Attractiveness and memorability:
In a platform where visual aesthetics are paramount, excessively long links in Instagram captions can detract from the impact of your carefully curated content. Lengthy links can make your posts appear unprofessional and cluttered. Shortened links are not only visually pleasing but also more memorable.
By utilizing a link shortener, you can refine your links, making them more attractive and easier for your audience to remember.
Brand-friendly URLs:
Trust is the foundation of any relationship, and this holds true for the links you share. Using branded links, also known as vanity URLs, not only enhances transparency by clearly conveying information about your brand or products, but it also boosts brand recall. Branded links make your content more appealing and trustworthy. 
Studies have shown that custom-branded links receive 39% more clicks than unbranded ones, underlining their effectiveness in marketing.
Trackability with Replug:
Replug, depending on your subscription provides access to click statistics. Replug's click data dashboard offers valuable insights into the performance of your links, including the number of clicks, their origin, and when users visited your links. 
This data empowers you to understand your audience beyond Instagram, helping you identify followers in previously unconsidered regions. By combining Replug's insights with Instagram's own analytics, you gain a comprehensive overview of your audience, enabling more informed marketing decisions.
Link Management Made Easy
Your go to link management tool for CTAs, branded and bio links, QR Codes, tracking and retargeting.
Get Started for FREE!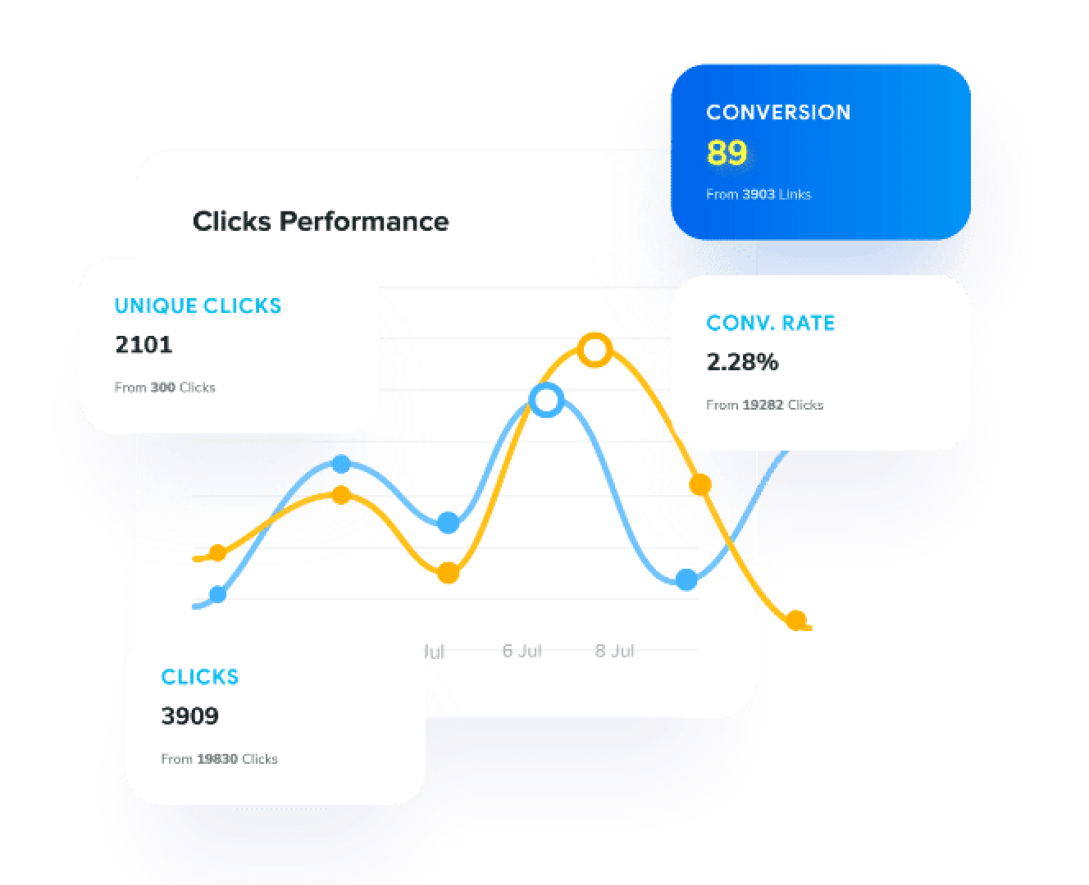 FAQs
Can I edit my Instagram URL?
Yes, you can edit your Instagram URL. To do so, open the Instagram app on your smartphone, tap your profile picture icon, select "Edit Profile," click on "Links," choose your link, select "Remove Link," then add an external link by pasting the URL in the field and tapping "Done."
Does Instagram allow short links?
Yes, Instagram allows short clickable links in Instagram bios, sticker links in Instagram stories, and sponsored Instagram posts.
How many links can you have on Instagram?
Instagram permits only one link in your story and bio. However, if you utilize a Replug Link-in-Bio feature in your Instagram bio, you can share multiple links with your followers using just one URL.
You may also like:
How to Shrink a Link: Step-by-Step Guide
How to Create UTM Links: A Step-by-Step Guide
Click Tracking: What It Is and How It Works?
How to Shorten a Link for Instagram Bio: Step-by-Step Guide
Arslan Jadoon
Meet Arslan, a skilled website blog and content writer who combines creativity and expertise to deliver engaging and informative pieces that captivate audiences.