What is Split Testing?
Similar to a/b testing method, split testing is also used to compare two different versions of a webpage, product or service to determine which one is more effective in achieving a specific goal or objective. It's an experimental testing that consists of two or more variants, with the purpose of comparing and analyzing the outcome of both cases. It's a widely used technique to test the end-user experience towards a design, product, strategy, or ad.
Digital marketers come across several marketing, sales, and conversion terms that look so ordinary to them, but a layman can't figure them out on their own.
Have you ever heard the term "split testing" before? I reckon you have seen or read it somewhere related to online marketing.
Now you're curious about why to do split testing and what you need to know about it. Don't worry we've got your back. Just make sure to bookmark this article if you're in a hurry just in case.
Since most of our readers are digital marketers, bloggers, and social media experts, it's normal for them to play around with short URLs while doing their link management.
I'll dig deeper into types of split testing and how to choose the best-split testing tool.
So without any further ado, let's get on with it.
Bloggers and affiliate marketers usually split-test different opt-in CTA buttons on email newsletter forms; they try out different colors, copies, and placements to see what works for them.
Moreover, digital marketers run multiple ad units in the same ad set to see which outperforms the other one.
Split testing has become quite popular among online marketers and digital marketing professionals who use landing pages, email opt-in tools, and affiliate plugins to increase clickability, engagement, and conversion rate.
Why should I run split tests on my website?
There are surely several reasons why one should consider running split tests on their website. However, the primary goal of any type of A/B split testing is to compare two or more cases to see which works better.
Since it's a comparison test between any two or more cases, the outcome determines which option is beneficial to opt for or pursue going forward.
7 benefits of implementing split testing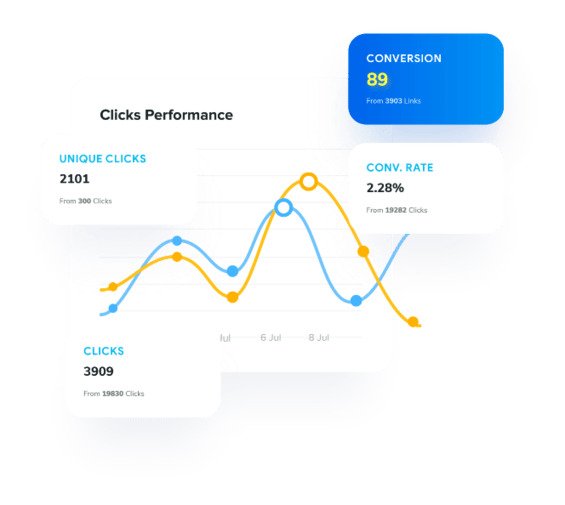 Let's take a look at some of the perks of split testing:
Improve conversion rate
Split testing improves the conversion rate. By testing different versions of web designs, webpages, CTAs, or email subject lines, you can identify what resonates best with your audience and make data-driven decisions to improve your conversion rates.
Increased revenue
By improving your conversion rates, split testing can ultimately lead to increased revenue for your business. If you're able to identify and implement changes that improve your conversion rate by just a few percentage points, that can add up to significant revenue gains over time.
Reduced risk
Putting resources like time, energy, and money into a marketing campaign is always a calculated risk. However, split testing helps reduce the risk by quickly understanding what's working and what's not. Test out the tactics on a small scale before rolling them out to your entire audience. This can help reduce the risk of making mistakes or investing resources in a campaign that ultimately falls flat.
Enhanced customer experience
Test different versions of your website or marketing materials and gather data on what your customers respond to best. This can help you create a more tailored, personalized experience for your customers, leading to increased loyalty and satisfaction.
Better understanding of your audience
Split testing can also help you gain insights into your audience's preferences and behavior. Analyzing the results of your tests can give you an idea about what motivates your customers and use that knowledge to inform future marketing efforts.
Competitive advantage
By continually testing and optimizing your marketing materials, you can stay ahead of the curve and remain competitive in your industry. Identify and implement changes that improve conversions and customer experience, you set your business apart from competitors and attract more customers over time.
Scan clickability on the site
One of the benefits of split testing is that it can help you determine which elements of your website or marketing materials are most effective at driving traffic and conversions. Some split testing tools showcase clickability scan reports to display where the website visitors are clicking mostly.
5 reasons why split testing should be done
Let's take a look:
Optimizing conversion rates
Split testing is a powerful strategy for optimizing conversion rates, whether you're looking to increase website sign-ups, downloads, purchases, or any other desired action. By testing different versions of your website, webpages, or marketing materials, you can identify which elements are most effective at driving conversions and make data-driven decisions to optimize your results.
Cost-effective market analysis
No doubt that it is a cost-effective way to test different marketing strategies. With split testing, you can evaluate the small changes you make to your website or marketing materials. This will give you insight into what works best, without investing significant resources upfront. Tracking these campaigns can help you save money in the long run by avoiding costly mistakes or ineffective campaigns.
Improved customer experience
A lot of companies use split testing to understand consumer behavior to improve the customer experience. When you tailor your marketing to the preferences and behavior of your customers, you can create a more personalized and satisfying experience for them, leading to increased loyalty and repeat business.
Insights into audience behavior
Split tests provide valuable insights into the behavior and preferences of your audience. The results of split testing can make you learn more about your customers and you can make changes to your product or services accordingly to resonate with your audience. This can help you stay ahead of the curve and remain competitive in your industry.
Continuous refinement
You may not have heard about it much, but split testing allows you to continually refine and polish your marketing materials over time. When you continuously analyze the changing customer preferences and behavior, you can adapt to the changing demands of your customers. This can help you build a strong and loyal customer base and achieve long-term success in online marketing.
Key differences between split testing, A/B testing and multivariate testing?
Split testing, multivariate testing, and A/B testing are methods used in online marketing and website optimization to see what works best with users.
A/B testing means trying out two different versions of something, like a headline, to see which one people like more.
Split testing is like A/B testing, but with more versions of the same thing. For example, testing three different versions of a webpage headline to see which one people like the most.
Multivariate testing means trying out different combinations of different things, like headlines, images, and buttons, to see what works best together. This helps us understand how different elements affect user behavior.
Also Read: What Is Affiliate Link Cloaking?
How to choose a good split testing tool?
1. Easy to use:
First and foremost, it's crucial to select a testing tool that's easy to use and doesn't require any technical skills. This will save you valuable time and allow you to focus on the most critical aspect of testing and analyzing your results. But that's not all, you also need a tool that integrates smoothly with your website's existing software and tools. The last thing you want is to face compatibility issues that could slow down the testing process.
2. It should be feature rich
When selecting a testing tool, don't settle for anything less than fantastic features. Advanced targeting options, automatic optimization, and the ability to test different web page elements are just a few examples of the features that will help you get the most out of your testing efforts. And if you're worried about cost, don't be. There are budget-friendly tools available that offer free plans or trial periods, so you can test before committing to a paid plan.
3. Top-notch support
Top-notch support is also essential to ensure a seamless testing process. Select a tool with excellent customer support to help you resolve any issues quickly and efficiently. Additionally, choose a tool that provides in-depth data analysis capabilities, such as statistical significance and confidence intervals, to make informed decisions based on accurate data.
4. Fast testing speed
Speed is of the essence when it comes to testing, so avoid slow processes by selecting a tool with fast testing speed.
5. Personalization
Personalization is also a crucial aspect of testing & choosing a tool that allows you to segment users based on demographics, behaviors, or other factors to personalize your website's content and get better results.
6. Efficient experiment management
Efficient experiment management is a must when running multiple tests, so selecting a tool that keeps you organized and avoids confusion.
7. Secure
Last but not least, robust security is crucial to protect your website and users' data, choose a tool that's secure and compliant with data privacy laws.
Also Read: Benefits Of A Link Rotator
Best Split Testing Tool: Replug
Replug is a powerful URL shortening tool that offers several features such as UTM codes, bio links, branded URLs, URL tracking, A/B testing, SMS marketing, QR code marketing, lead generation, and retargeting.
It's an all-in-one link management suite to create and manage short URLs and elevate a brand's social media engagement to the next level. As far as split testing is concerned, Replug's A/B testing tool helps marketers split test the website traffic by driving the visitors to two or more destinations.
Moreover, Replug integrates with a number of social media, email marketing, retargeting, and lead-gen tools. Plus, it has a Chrome extension for managing the short links without logging in to your Replug account.
The ReplugBasic plan costs $19 per month and the Professional plan costs $49 per month. While, the Agency plan is priced at $79 per month. Start your 14-day free trial account with no credit card required.
How to conduct split testing using Replug?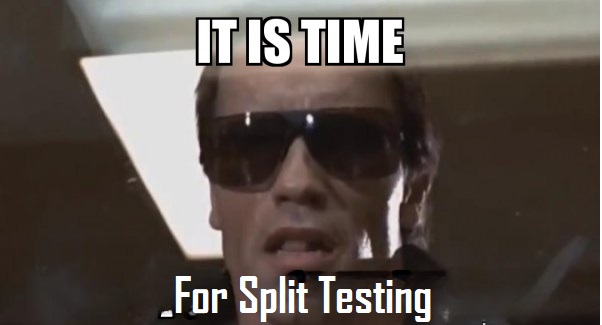 Split testing is a widely popular analysis strategy that involves comparing two different versions of a website or marketing campaign to determine which one performs better.
This is done by randomly dividing a group of users into two groups and exposing them to one of the versions. The results are then analyzed to determine which version is more effective.
Here's how you can split test using Replug:
Log in and create your short link using the Replug URL shortener.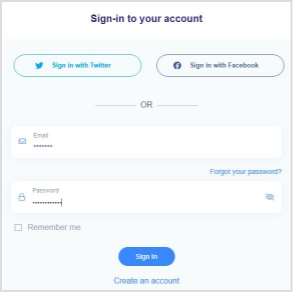 Once the short URL is generated, enable the A/B testing feature. To do this, toggle the A/B testing button on the screen. It'll open the split test section underneath the A/B testing tab.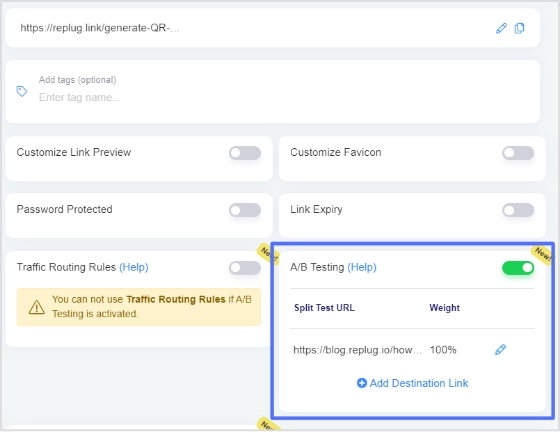 Provide two or more destination links and add weight accordingly.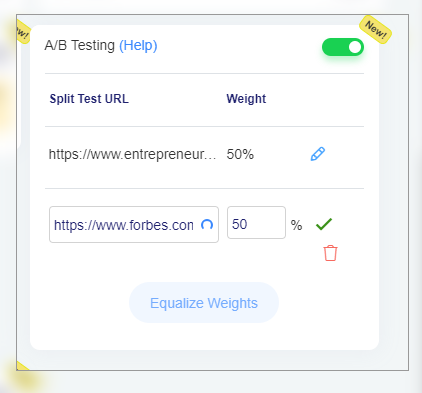 Now you're all set to split-test your links' performance using Replug.
Also Read: Convert More With Traffic Routing & A/B Testing
What are the methods for analyzing split testing results?
It's vital for marketers to go deep into the rabbit hole to understand every aspect of marketing and engagement tactics. Analyzing split test results is no surprise.
When analyzing split testing results, there are several methods that can be used to draw conclusions and make marketing decisions going forward. Below are some common methods for analyzing split testing results:
Statistical significance
This helps us know if the difference between the two versions is big enough to be considered real.
Conversion rate
Conversion rate is the percentage of people who take the desired action on the website or email. We compare the rates of the two versions to see which one is better.
Confidence interval
This is a way to measure how precise our results are. A narrow interval means we are more sure of our results.
Hypothesis testing
This involves testing whether there is a significant difference between the two versions.
Segment analysis
We can look at how different groups of people responded to the different versions to see if there are any patterns.
Test duration
The duration of the split test can also affect the results. The longer the test runs, the more reliable the results are likely to be.
Variables tested
When running a split test, it's important to only test one variable at a time. If multiple variables are changed, it can be difficult to determine which variable caused the difference in results.
Cost-benefit analysis
When analyzing split testing results, it is important to consider the cost and benefit of each version. For example, if version A has a slightly higher conversion rate than version B, but it also requires more resources to maintain, it may not be the best choice in the long run.
Also Read: Affiliate Link Tracking To Optimize Your Earnings
What are some split testing best practices?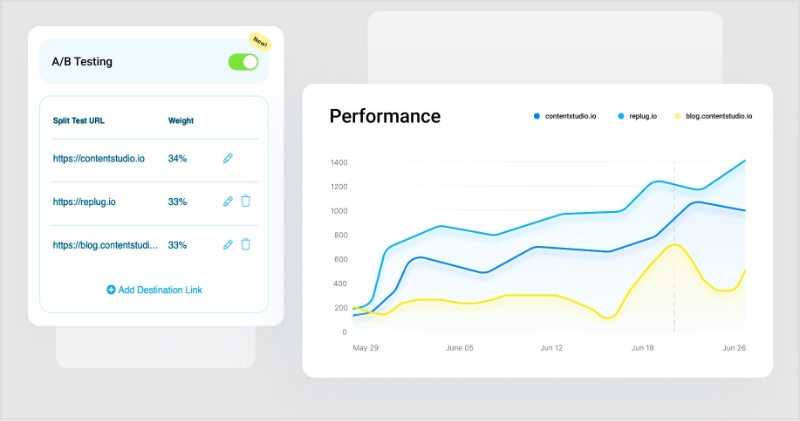 Below are the split-testing best practices that marketers should keep in mind:
Bring clarity into your goals: Before starting any split test, make sure you have clear goals in mind. What do you want to achieve with this test? Is it improving click-through rates, increasing conversions, or decreasing bounce rates? Write it down to remember your goal along the way.
Pick one variable to test: When conducting a split test, it's important to only test one variable at a time. It allows you to accurately determine which variation caused the improvement or decline in performance.
Give your test a proper time: It's important to run your split test for a significant amount of time to ensure that you get accurate results. Don't rush to conclude the test before the actual duration. Depending on the traffic of your website or app, it may take a few days or a few weeks to gather enough data.
Consider user behavior: It's essential to consider how users behave on your website or app. For example, if users tend to scroll quickly through a page, it may be better to test variations at the top of the page rather than the bottom.
Track your test results: Keep a record of all your split tests, including the variables tested and the results that came out. It'll help you analyze the outcome of the split testing.
FAQs about split testing
Which technique is also known as split testing?
A/B testing and split testing are interchangeably used in the digital marketing field. However, there is a slight difference if we dig deep into the details. In most cases, the A/B testing technique is also known as split testing.
Which pages or page elements should you split test?
There are several website page elements that you could split test such as headlines, featured images, call-to-action, banner ads, in-body text size, text color, landing page template, opt-in form design, etc.
When I run A/B Testing on my ads, should I drive all the traffic to one landing page?
It's better not to complicate your A/B testing. You should drive all the traffic to one landing page when running an A/B test on your ads. It'll help you figure out which one performs better than the other.
Hassaan Khan
Hassaan Khan is a freelance writer for SAAS companies, e-commerce stores, and niche websites. He has contributed to SEMrush, ThriveGlobal, BloggingCage, AllBloggingTips, and several other publications. He builds niche websites, publishes e-books, and helps website investors with his done-for-you niche site-building service.