Did you know that 3.78 billion people are using social media worldwide?Yes, according to Statista.com, the number is already rising and will soon reach almost 4.41 billion in 2025.
Do you know what these drastic statistics mean? It's a sign that using social media to hit the big time is more than reasonable!
In this day and age, the best way to create something powerful and, of course, profit-making is easy if you know how to market your business and wisely use social media. If you can take the responsibility to be the one who pulls the strings, you can benefit from social media too. 
So, think about it and start increasing your eCommerce sales via social media now.
How Social Media Help Increase eCommerce Sales and What Outcomes to Expect
The main reason why social media is so effective is that it helps people interact and is a great source for the latest news. Given that so many people can't imagine their lives without social media, it is highly recommended to start making the best out of popular channels as soon as possible. Additionally, you may need specific task management software to plan and organize the whole process successfully. This will help you and your team get more detail-oriented and efficient. 
But how does social media help you increase your eCommerce sales? 
Increased Brand Awareness

. Imagine you are a buyer who just saw a brand that sells clothing. Before purchasing anything from them, you suddenly find out that they don't have any social media accounts, or even if they have one, they're not even alive and kicking.
In any case, customers need to see and understand that you care about them, their shopping experience and that you finally pay attention to the aesthetic side of your business. Considering these aspects will create trust and commitment.
So, go for it.

Boosted Website Traffic

. Whether you're using Shopify or Woocommerce hosting, fasten your belts and start optimizing your store's calling card right now. Once everything is perfectly done, your social media accounts will drive traffic not only to your store but also to your official website.
As a result, you'll increase your online conversions, including online sales, 

leverage social media lead generation

, form completions, and email signups.

Perfectly Targeted Customers

. Let's not forget that social media interacts with your potential buyers more than you will ever do. Over 500,000 new accounts are opened every single day on Facebook.
Now imagine how many accounts are created and used monthly. Unbelievable, right? Thus, you can expose yourself to a wider audience, and what's more, choose the audience you want to work with. Remember, social media networks consider everything, even the minor details. 

Trust. 

The more present you are on social media, the more trust you have from your customers. Customers want to feel safe while shopping with you, and that is built not only upon engaging live chats but also upon how you approach your business.
If you don't care about your online presence, who will care about website safety?
Social media is a good way to acquire loyal customers: you have to know-how. And besides, social media gives you a solid basis: when you already have an audience and want to strengthen the relationship with them, you can start using other marketing methods such as email marketing.
In this case, to build trustful relationships, you'd need to check 

SPF records

, ensure email safety and high deliverability, and so forth.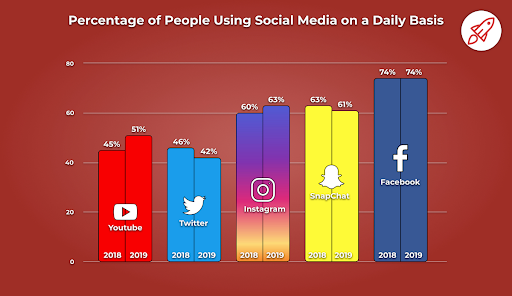 8 Ways to Boost eCommerce Sales Through Social Media 
Marketing your business through social media networks is like making a cake with random fruits you found in the refrigerator. You just pick the best berries and fruits that will create a perfect combination, add the rest of the ingredients, and voila, your cake is ready. The same thing is here: you just need a little bit of guidance on creating a client portal, bringing your community online, and keeping in constant touch with them. 
Now let's see exactly how you can boost up your eCommerce sales through social media.
Make the best of paid ads. 
Nowadays, paid ads on social media platforms are among the most direct and efficient ways of attracting new customers, boosting sales, and increasing profit. The expenses related to paid social media ads have been progressively growing. Now they are becoming one of the key elements in the businesses' marketing strategies, no matter their size and scope.
In any case, starting your paid advertising campaign is easy – you must have an OBJECTIVE, which, in most cases, is to bring in new customers to your online business and get people to share their contact information with you. Be it in an email subscription form or a visit to a landing page on your website.
The second significant element to start the campaign is, of course, the BUDGET. Paid social media advertising is one of the most cost-effective and least expensive types of advertising. Each paid social media platform has specific features that make them stand out among its competitors. 
For example, Facebook chatbots and ads can help increase audience reach, handle eCommerce transactions more easily, and re-engage customers who didn't come all day through the sales funnel. Speaking of retargeting, did you know that you can build a custom audience through Replug and retarget your customers in paid ads?
Replug is the best URL shortener for lead generation with the help of branded CTA  and an appealing message.
Facebook has the option of providing reports and analytics that are much helpful for analyzing the most suitable options for your business, such as post time or content type, and the owner may experiment using different ad formats to see what your audience engages with most. If you want to combine even more data and insights, you can use various social media report templates to gather all info in one place.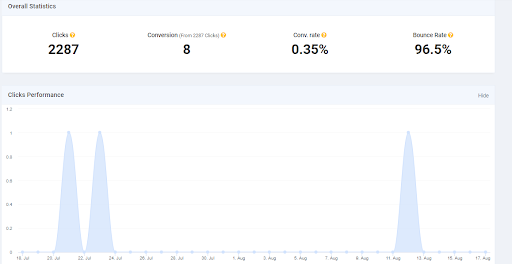 Use retargeting techniques for your eCommerce consumers
Retargeting is an advertising technique that involves displaying adverts or sending emails to those who have at least once encountered your website or your social media account. You will need additional help through email marketing apps or sender tools. This marketing technique allows you to, let's say, re-engage those who once left your website without even completing your marketing goals or converting. In other words, if plan A did not work, plan B definitely will. 
You think that re-engaging those who ignored your website is probably not the best idea, but it's one of the most effective ways to boost your sales. 
How? 
First of all, you continuously keep in touch with your potential customers and address their issues regarding support, proper recurring payments, purchase difficulties, etc. This means that you do not allow them to forget that you sell services online targeted specifically to their needs and that you are the best in the industry. And therefore, when the time is ripe, you will benefit from it. For example, a person has a broken toaster, and the days are numbered. This customer starts looking for a brand new toaster on your e-commerce website, finds the perfect option, and adds it into the cart.
However, due to certain reasons, this customer leaves your website without making any purchase. So, if you use retargeting, this person will be constantly reminded of the toaster they saw on the website. So, when the toaster is already broken, and they need a new one, you will be the first to derive benefits from it.
Moreover, retargeting is always better than launching your ads aimed at random Instagram or Facebook users.
It's quite the opposite!
The ad is showcased only to those who are or have been interested in your product. Let's say you have begun a podcast marketing campaign on your website to increase the number of visitors and engage more users. If they are interested, they will click on the social media icons on your website and explore your Facebook and Instagram pages as well. If they don't, retargeting is always a good method to re-engage with those visitors.
In any case, "there is no harm in repeating a good thing," right?
And one of those cases is retargeting, which can be done with the help of the features offered by Replug. Track unique clicks, monitor the behavior of your website visitors and show relevant ads when necessary through our platform.
Long story short, retargeting is an efficient technique that helps you reach your marketing goals easier and faster. So, what are you waiting for? 
Consider QR Code marketing.
Social media appears to be a bright representative of the online world. This guarantees not only a high flow of users and hopefully customers but also accessibility to different online tools and software. In other words, by entering the social media industry, everything else comes with the territory, including tools like QR codes. 
QR code marketing is a fast and effective way to engage your customers and focus their attention on your company. These codes are extremely similar to barcodes with one big difference – they are more informative and in most cases, positively affect your business and your marketing strategy. 
The main thing that connects QR to social media networks is that your customers can be easily directed to your store's account without making any additional effort. They just open their phone's camera, point it at the QR code, and that is when the magic happens. They immediately arrive at your social media account, where the captivating content, interesting Instagram feed aesthetic, and exemplary social media marketing motivate them to buy a product. 
These codes are widely used not only on the SMM level. You can also find them in the newspapers, on the walls, in public transport, and in other words, everywhere. You just need to scan the QR code you see, and voila. After a few seconds, you will either find yourself on their website or will find all the needed contact information along with an SMS template to get in touch with the company. Some QR codes can even take you to the discount page, where all the recent 50% deals are present. 
In other words, you interact with the business, and chances are high that you will purchase that. Most of the industry giants like Nike have already integrated QR codes into their marketing system. DSo, think about this option.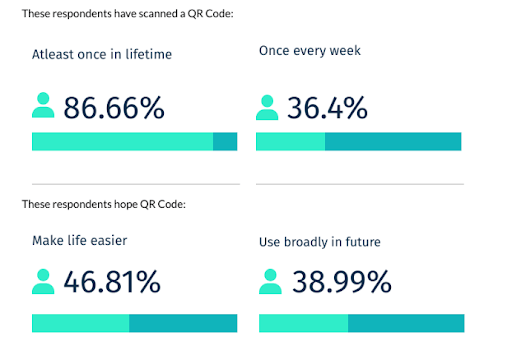 Don't forget about social media bio links
Let's agree that Instagram is a true industry giant. If you want to market your business through this social media network, you definitely should not forget about the link in the bio option. However, pay attention to the fact that you are allowed to use only one bio link, which obliges you to think twice before including this or that link. 
You have seen those eCommerce influencers who are constantly asking you to click on the Instagram link in bio. It has even become a phrase and a hashtag (#linkinbio), and believe it or not; it does have a positive effect on the traffic from social media networks to your website. 
In other words, if your social media account does not have the #linkinbio option, go ahead and boost up the bio now.
Learn how to get a bio link added to your Facebook bio here.
Achieve great eCommerce sales results with Replug
Do you want to make the best out of your links shared on social media? Then you need the Replug tool right away! 
To enhance your marketing strategy, it is a good idea to find the perfect short link generator that shortens, tracks, and what's more important, optimizes your links. However, this is not the only thing that tools like this do.
By integrating Replug, you enjoy all the advantages that it offers, including:
Branded short links: want to increase your

brand awareness

 and visibility? Then creating short links is exactly what the doctor ordered.

Retargeting options: think converting customers is impossible? Good news! Those who viewed your content can be converted if you use the right tools. Moreover, you need to use engaging eCommerce and 

SaaS re-engagement email templates

 for better results. 

Links with strong CTA: this is when you can promote your product using every 3rd party link you share. 
Opportunity to link tracking: how many people clicked on your link? Where do they live? What devices do they use? Find it out with Replug.

QR codes from A to Z: the right tool will provide you with a created and well-managed QR code that leads the targeted audience to your bio-link.  
Create and share great content
If you think generating content is just copy-pasting stuff from the internet, you need to rethink your entire content strategy. If you want to have content that will attract more buyers, improve more customer conversations, and boost your sales, you will need to generate content that is:
Well-researched: make sure it is relevant to your target customers so that they enjoy the content to the fullest. In other words, the topic should be interesting to them. 

On the same level with your customers: if you want to be considered as your customers' favorite, you need to be on the same page with them. Speak their language, use the words they are using, speak about things that matter the most. In other words, be "their" person.

Unique: Have your voice, and don't be afraid to show what you're capable of. Once you are yourself and generate content that screams that you're the author, know that you have completed the task. 

Visual: your content can be extremely interesting, but what's the point if it doesn't attract customers? Make sure you upload images and videos as well. With Ecommerce videos, you will easily win the hearts of your customers due to visually aesthetic content, and what's more, you'll stand out of the

business competition

.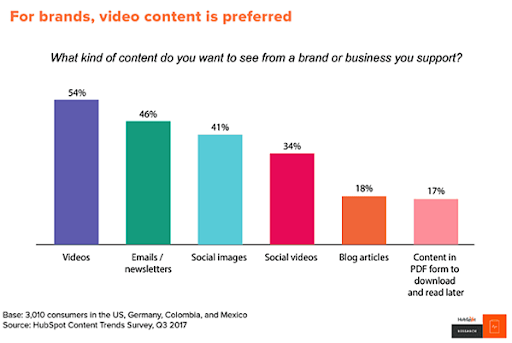 Get the best of Facebook and Instagram shops
Social media marketing plays a vital role, allowing the people engaged in eCommerce to enjoy its outstanding benefits. Statistically, most Facebook, Instagram, and Internet users in general, no matter what their current location is, spend at least two hours per day on various social media channels. Then why not use it?
We know that those customers are more likely to use social media channels to find the local eCommerce stores and check their feedback and reviews. They will surely visit the websites of the business using social media channels to gather more information. Then why not sell more of your online store products to those people by reaching them out on Facebook and Instagram? Calling themselves the best "mobile-first shopping experience," Facebook and Instagram shops are ready to allow you to be better and more visible.
You will see right off how the social media channels bring the new customers directly to your "doorstep", how the sales process stages are improved due to the proper and targeted marketing, and how effectively Facebook and Instagram shops work. Moreover, the outreach and wider coverage of Facebook and Instagram will allow it to sell your products not only locally but will also grant you the opportunity to engage a broader scope of potential customers from all over the world. In the meantime, consider using sales prospecting tools for startups to make all processes faster and more efficient. 
Cutting a long story short, one should admit that social media networks and stores created there is the right path to follow if you are the owner of an eCommerce business. Let's not forget that it is cost-effective and is worth investing in to enjoy the benefits it offers.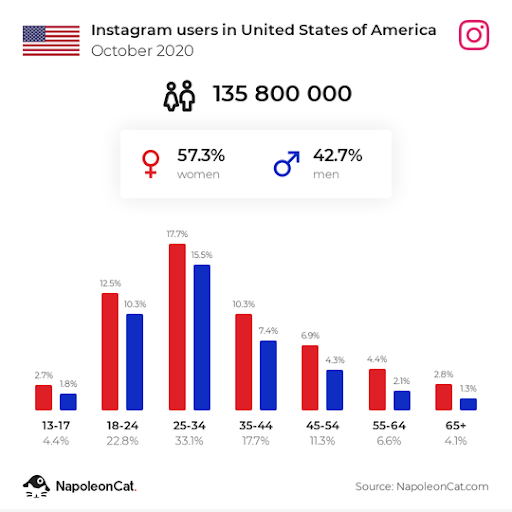 Build solid brand awareness
According to Investopedia.com, brand awareness is a term used in marketing that identifies the level of recognition of a brand under different conditions. So, for example, whenever you see the bitten apple logo, you immediately think of Apple, iPhone, iPad, and all the other products produced by the brand. This is what perfect brand awareness means. 
Social media is one of the most effective ways to raise your brand awareness, and of course, attract more customers and generate more sales. If you follow the rules of creating the right content and using the right marketing tools, you will surely increase your company's visibility in the social media world. This will, in turn, make you recognizable among social media users. And this, dear reader, is a surefire way to achieve everything you want.
How to establish a proper social media budget?
Now let's talk about the budget to increase your eCommerce sales through social media. After all, let's not forget that not having enough financial resources is itself a limitation, which is something we don't want to face. 
As a rule, if your business generates less than $5 million in revenue, you need to use approximately 7-8 % of your revenue for marketing purposes. This is recommended by the Small Business Administration (SBA) and is a good idea to market your business and not spend a fortune at the same time. 
While creating the budget, pay attention to the following factors: 
Who is your audience?

Which social media network are you going to use?

What content do you need to market a business?

What unique value are you ready to offer to your customers?
However, this is not the end! Given the changes that happen every single day, you may also consider your cryptocurrency budget since social media networks are already thinking of accepting cryptocurrencies, including litecoin (LTC).
This is already something real and tangible! Certain companies are already considering cryptocurrency for their business, for example, Facebook, according to futurism.com. So, if you're also a fan of currencies that offer simplicity and, what is more important, protection, ethereum (ETH), and other digital currencies are waiting for you! 
It's time to think about how you're going to pay your social media network for launching your marketing campaign because shortly, you will face the crypto world everywhere! 
Summary 
There are many different ways to increase your eCommerce sales. And the most effective way to do so in the 21st century is to make use of social media networks like Facebook, Instagram, or Twitter. So, if you have an eCommerce business that needs to be boosted, you're in the right place.
Just make sure you are educated enough on the matter and use the right tools not only to maintain but also to skyrocket your business. 
Farwa Anees
Farwa is a Digital Marketer who likes to share her insights and experiences via writing. She likes to test and experience new eras in marketing and share them through blog writing.