What if I tell you that you can 3X your brand growth and become a millionaire overnight?
Ha! Just kidding, I can't promise that.
But I can promise you something that will knock your socks off!
Here's how, in recent years, social media has taken the world by storm, becoming a hot topic for businesses of all sizes. A powerful approach toward social media platforms can help you enhance your brand's online presence, generate more leads, and expand your customer base.
By using some effective social media hacks, you can achieve much more than you ever thought possible. 
Today, I'm here to talk about some bombastic social media hacks. And some do's and don'ts that you should keep in mind on your social success journey.
Let's start.
| Things to do | Things not to do |
| --- | --- |
| Precise marketing strategy | Buying fake traffic |
| User-friendly content | Following no trends |
| Utilizing bio-links | No brand awareness |
| Scheduling content editorials | Less eye-catching content |
| Share trendy content | No use of using management tools |
| Cross-promote content | Generate no buzz |
| Search-friendly username | Not upcycling content |
| Use brand-specific hashtags | No storytelling |
| Analyzing content statistics | Buying Likes/Comments |
| Collaborating with social media influencers | Providing no monetary value to your business |
1. Create trendy content
Content is king! It's the backbone of your online presence. Without quality content, your social media game will fall flat. So you must keep up with the Kardashians…I mean, the latest events and upcoming stories.
Stay in the loop. Otherwise, you'll be as lost as a penguin in the Sahara.
Here are a few tips on how to create trendy content;
Humorous content:
If you loved me, you'd take me to Singapore this summer.
Just saying.
Don't worry, I didn't say that, but Tripadvisor did.
Just like that sharing memes and humorous stories are all great ways to keep your followers engaged and increase your account's visibility.
Trendy content
Whether it's through reading the news, following social media accounts, or subscribing to newsletters, staying up-to-date and utilizing trendy content is a must.
Here Argentine footballer Lionel Messi, one of the greatest football players of all time, shared a photo that quickly became a fan favorite.
User-generated content:
Share informational user-generated content like reviews, events, or bite-sized pockets of information.💡
Moreover, keeping an eye on your fellow competitors can also help you steal followers and the latest trends. 👀 By incorporating such trends into your content strategy, you can stay ahead of the game and keep your audience coming back for more.
Also read: The Complete Guide to Content Remarketing: 20 Tips and Examples to Re-Engage Audience
2. Engagement with comments and stories
Believe it or not, interacting with your followers on social media is like giving your brand a shot of espresso – it'll perk up in no time!
Your audience craves genuine human interaction from you. Don't leave them hanging! And do try stuff like;
Using the comments box to interact with readers.
Put some emotion into your messages by using emoticons.
Going live on Instagram or Facebook stories.
Sharing useful tips and techniques in your stories/posts.
Sharing personal experiences and opinions with your audience.
Set up polls and questionnaires to identify your audience's interests.
Sharing customer reviews about your brand/business.
The shorter, the better.
Throwing random giveaways now and then.
Also read: From Likes to Love: Comprehensive Social Media Engagement Guide
3. Platform-specific content
If you're getting started with social media hacks, it can be difficult to focus on every platform. That's why I highly recommend prioritizing a specific social channel that aligns with your brand's goals and target audience. 
By honing in on one platform, you can dedicate your time and resources to creating quality content and engaging with your followers, whether it's Facebook, Instagram, Threads, Twitter, Youtube, LinkedIn, and Pinterest.
Note that the content strategies for each of these platforms are different from each other. So, you must ensure your content is SEO optimized per the channel.
Let's see how:
Let's begin with Facebook because it has the most users and is, therefore, the most popular social networking site. Facebook users like
Questionnaires
Videos (mostly short pieces)
Links to web blogs
In the twenty-first century, businesses of all sizes consider Instagram to be of the utmost importance. Try these hacks for Instagram:
Prime photos
High-quality videos
Stories
Giveaways
Collaborations
Carousels
Also read: The Ultimate Guide to Increase Followers on Instagram
Twitter comes up next… the flying bird in the Twitter logo flies around with the most:
Current soundbites
GIFs
Polls
Short text messages
Blog links
Youtube is well-known for its wide variety of visual content including
Vlogs
Youtube shorts
Video reviews
Unboxing videos
live-gaming sessions
Informative videos
Pinterest is like the runway for your business's fashion show. You can create fancy pins about your product, add a link to your website, provide a small amount of information on the pin itself as per your product, and so on. The type of pins includes
Image pins
Video pins
Rich pins
Collections pins
Product pins
With LinkedIn's diverse features, it has become a go-to platform for professionals looking to connect with their peers and share their expertise. LinkedIn is mainly preferred for
LinkedIn newsletters
LinkedIn polls
Engaging videos
Carousels
Engaging one-liners
User-generated posts
4. Using relevant hashtags
Let me tell you one of the biggest secrets behind these top-ranking social media accounts nowadays. To cut to the chase, it's all about playing the hashtag game in your social media profiles.
Adding your brand name or a relevant keyword to your profile creates a sense of professionalism and authenticity. This personalized social media hack helps users recognize and remember your brand.
Just like wondersofmaldives sharing relevant hashtags on its Instagram post.
Or Nausheen I. Chen uses relevant hashtags in her Linkedin Post.
How can I find popular hashtags?
Use ContentStudio's AI Writer ✍️trending section to find the most popular niche-specific hashtags. Another valuable social media hack is replicating the hashtags used by the leading influencers in your field.
5. Include visual aids
Visuals can help break up large blocks of text and make the content more visible. Recent reports showed that approximately 84% of social media users favor visual content over text-based content. As you may have heard the phrase;
Pictures speak louder than words, just like this post by digitalwallah on Instagram:
How visual content helps in brand growth?
Visual content has been proven to have a higher click rate and conversion rate than general text-based content. Also, it can boost your online presence and increase your audience's engagement.
How can I create catchy visuals?
Various tools are available for creating and editing visuals. Two popular options are Canva and Adobe. Whether you want to design graphics for social media or enhance your website's visuals, these tools can help you achieve your goals.
6. Use exit pop-ups and CTAs
You're browsing through an online shop, and just as you're about to click that dreaded "X" button, a pop-up captures your attention.
This, my friends, is what we call an exit intent popup.
Whenever a user's cursor moves towards that exit button, the exit intent popup swoops in and grabs their attention. It's a social media hack website owners use to engage with their visitors and reduce bounce rates.
Here's an example of popup CTA.
By strategically timing the appearance of these pop-ups, brands offer you a special discount, invite you to subscribe to their newsletter, or simply provide more information about their products or services.
How does CTA help in brand growth?
Getting creative with your CTAs can also be a helpful social media hack. They provide the user with a clear direction on what they need to do next, making it easier for them to take action. CTA's can also help to increase conversions, as users have an immediate call-to-action that they can follow.
Here's a CTA by Foodpanda;
7. Cross-promote content using bio-links
Generating traffic to your social media channels can be challenging. Despite your best efforts, your content may not be reaching the audience you had hoped for.
In this case, cross-promoting content using bio links may work for you. As it's one of the most effective social media hacks that can help you to increase your brand's visibility and much more.
Now you must be wondering what's a social Bio-link. Well, let me tell you. It's a clickable URL in any social profile description with an organization and product info. Such as links to the brand's website, YouTube, or other social channels, etc.
However, modern link management tools allow you to create bio-links with loads of customization options.
What are some best ways to cross-promote my content?
The best way to cross-promote your content is to set your Cross Promotion goals. Follow these points when cross-promoting content:
Choose the right social platform to go along with, like LinkedIn and Facebook
Set out offers and discounts
Screenshot of the association on the previous platform when starting your brand on a different platform.
Add links to other social contests
Use Instagram as a content source for other accounts.
Take advantage of Instagram as a content origin for other platforms.
Share your Blog URL in your LinkedIn post.
Bio link example;
Say hello to Replug's revolutionary bio links feature, the game-changer that will transform your social media game from average to extraordinary.
Experience the simplicity and effectiveness of our exciting creation for yourself – a bio link page designed to maximize the potential of every link.
Add videos, images, links, social icons and more within a few clicks to create your own custom landing page. And use that one link to promote your online business on all socials.
See it in action by taking a look at the screenshot below: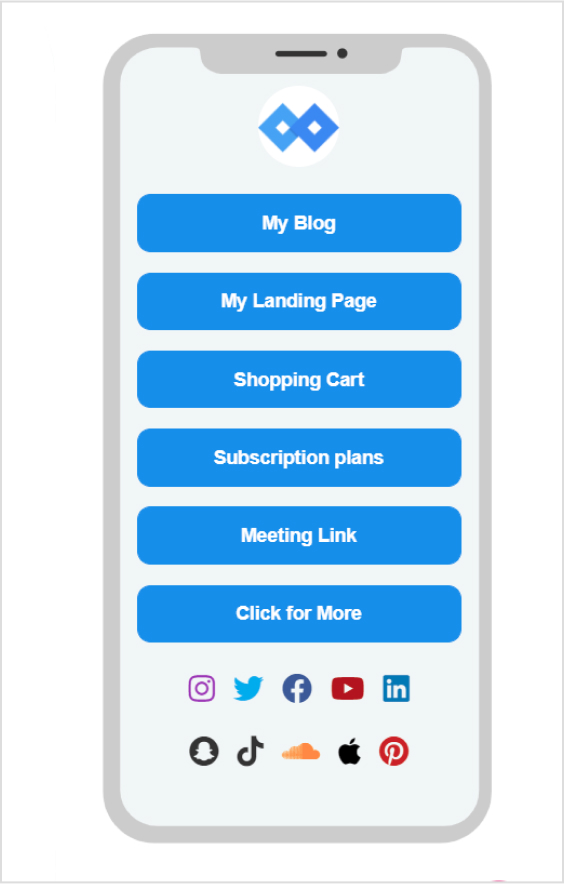 Also read: Top 15 Link in Bio Examples, Pages & Tools
8. Collaborating with content creators
When it comes to establishing your brand and making a lasting impression on your target audience, influencer marketing has proven to be one of the most effective strategies.
Influencers' reach and engagement on social media platforms cannot be ignored. With millions of followers eagerly awaiting their every post, their ability to generate buzz and create a viral effect is unparalleled.
How can collaborating with content creators enhance your brand growth?
Content creators create engaging visuals for brands that draw attention to their products or services, further helping to increase brand growth and visibility. They provide valuable insights into the latest trends in the industry, assisting brands to stay up to date on relevant topics and content. Additionally, working with content creators can help differentiate your brand from competitors by providing a unique perspective on topics related to your brand.
Just like YSLbeauty and bambam1a collaborating on Instagram.
Micro-influencers and macro-influencers:
For start-ups and smaller businesses, harnessing the power of social media hacks can be a game-changer. One practical approach that has been gaining traction is collaborating with niche-specific micro-influencers.
Micro-influencers, with their smaller but highly engaged following, can make a significant impact on a brand's visibility and reach. Unlike macro-influencers who have millions of followers, micro-influencers have a more targeted audience that aligns with specific niches or interests.
Also read: 7 Strategies to Ensure Your Next Influencer Marketing Campaign Is a Success
Collaboration with brands:
You can also collaborate with another brand. Take an example of twoscoopscreamery and birdsongbrewing collaboration.
9. Use of AI tools
Managing multiple social media platforms can often feel overwhelming as we encounter challenges and obstacles that make us question our abilities and the path we have chosen.
Thankfully, there are several popular and useful AI tools available that can make this task much more manageable. These tools include ChatGpt, Google Bard, ContentStudio, FeedHive, Usermaven, and Canva. 
Whether you're looking for content creation, scheduling, or analytics, there are tools out there that suit your needs. So why not give them a try and see how they can simplify your social media management?
10. Social media monitoring
Here comes the last champ-social media monitoring. This social media hack concludes platform analysis, campaign analysis, as well as reporting.But you can't do all this by yourself. So you'd need a social media analytics tool to help you spy on your social media accounts, like ContentStudio– a secret clubhouse for creative geniuses.
But you can't do all this by yourself. So you'd need a social media analytics tool to help you spy on your social media accounts, like ContentStudio– a secret clubhouse for creative geniuses.
Also, you can plan, make, and schedule posts that are interesting and will be sent to the right channels at the right time.
With ContentStudio, You can plan, control, and organize your social content with the help of content calendars.
Additionally, you can also get back and forth to eliminate approval with immediate feedback from clients and the team. Overall, it keeps an eye on your brand's social media strategy and helps you make it better by analyzing usage data.
Our take:
In today's digital world, having a strong online presence is essential for both individuals and businesses. The importance of social media hacks cannot be overstated. One effective method is to actively engage potential followers and direct them to your social media pages. You can establish a consistent flow of traffic and, as a result, improve your internet presence. 
With a well-crafted approach, you can tap into the vast network of individuals waiting to discover what you have to offer.
Make your mark and let your voice be heard.
FAQs
What are some effective hacks to get more social media followers?
Create engaging content, use relevant hashtags, collaborate with influencers, engage with your audience, run contests, cross-promote on different platforms, and post consistently.
Should I buy followers or use automated services to increase my follower count?
It's not recommended. Focus on organic strategies to attract genuine followers interested in your content.
How can I engage with my followers and build a community?
Respond promptly, ask questions, share user-generated content, organize live sessions, encourage discussions, and use storytelling.
How long does it take to see significant growth in social media followers?
It varies, but building a substantial following takes time, consistency, and providing value to your audience. Be patient and persistent.
Top marketing resources just for you:
Manahil Asif
Meet Manahil - A wordsmith who practically buddies with B2B and B2C businesses to create digital magic. With a dash of humor and a sprinkle of wit, she whips up content more addictive than your morning coffee.