What does a link in bio mean?
"Link in bio" refers to a hyperlink placed in the profile description on social media platforms. It allows users to direct followers to a webpage containing multiple links and resources, enabling easy access to additional information, content, and promotions.
Have you ever found yourself limited to sharing just one link in your social media profile? It can be frustrating, especially if you're a business, influencer, or creator who wants to share more content with your followers. But don't worry, there's a solution! It's called a "link in bio" tool, and it allows you to share audio, video, text and other content on a single page, making it easy for your followers to access all the content you want to share with them.
In this blog, we'll dive into the top link in bio examples, pages, and tools that can help you take your social media presence to the next level. So, let's get started!
Link in Bio Vs Link in Bio Pages
The main difference between "Link in Bio" and "Link in Bio Pages" is that "Link in Bio" refers to a single clickable link that Instagram or any other social platform allows you to add to your profile. Whereas "Link in Bio Pages" refers to custom designed landing pages or websites that host multiple links or clickable buttons to direct your followers to different content or pages.
In other words, "Link in Bio" is limited to one link, while "Link in Bio Pages" provides a more comprehensive solution for businesses or individuals who want to feature a selection of links in one place. Link in Bio Pages can be created using various third-party tools, allowing you to add multiple links to your profile, including links to products, services, blog posts, or other social media channels.
15 Best Link In Bio Examples
Links in Bio have become a crucial tool for influencers to drive traffic and increase engagement across their social media channels. With the limited single-clickable link option provided by social platforms like Tiktok and Instagram, these tools provide a solution to exhibit various links, call-to-action buttons and other content in one place.
Here are the 15 best link in bio examples to inspire you to create your own: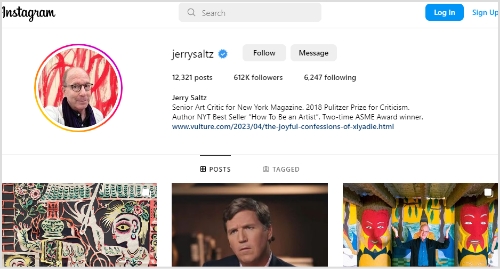 Jerry Saltz is a highly regarded Senior Art Critic for New York Magazine and a well-known figure in the art world. He has an impressive following on Instagram, comparable to some of the most famous influencers. However, Jerry's bio link example stands out from the crowd as he uses his bio to promote his latest work, linking to one of his recent articles. This strategy is a great example of how you can use your bio link to expand the reach of your content and increase engagement with your audience.
Jerry reaches a wider audience by making his followers land on his most recent blog post. This approach showcases the power of using social media platforms like Instagram to connect with your audience and promote your work in a meaningful way.
James Charles is a makeup and fashion influencer who has gained a significant following through his engaging YouTube tutorials. With millions of subscribers and followers across various social media platforms, James understands the importance of using these platforms effectively to promote his brand and engage with his audience.

In his Instagram bio, James includes a link of his YouTube channel, which is the platform where he hosts his most popular and engaging content. Unlike many other influencers who use bio link tools like Linktree to monetize their Instagram with affiliate products or their own product lines, James keeps it simple and directs his followers to the platform where he has built his brand and established his credibility as a makeup expert.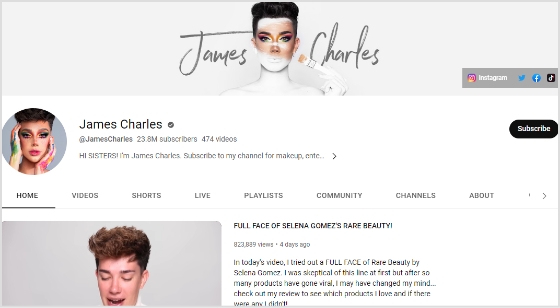 This link in bio example highlights James' focus on providing high-quality content and building a loyal following based on his expertise and passion for makeup.

Chris Brown, a prominent figure in the pop and R&B music scene, has garnered significant attention for his innovative approach to engaging with his fan base. One such strategy that he has employed is the use of his bio link to direct traffic to his latest music releases.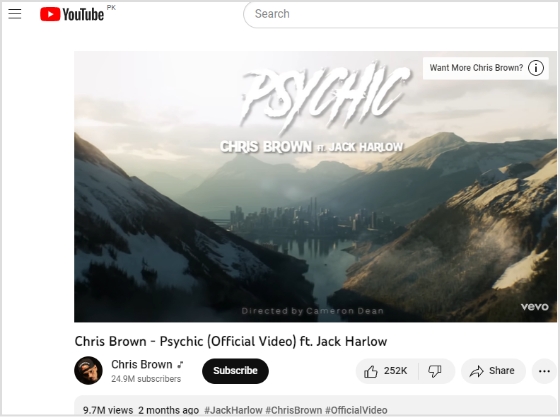 In particular, Chris Brown's recent bio link directs visitors to a YouTube video of his new song "Psychic". He has provided a convenient and accessible platform for his fans to listen to his latest music, while also promoting his work to a wider audience.
His link in bio strategy has proven to be quite effective in generating buzz and increasing interest in Chris Brown's music, as it allows him to showcase his talents to a broader audience and receive immediate feedback from his fans. By leveraging his bio link in this way, Chris Brown has demonstrated his savvy approach to marketing and promotion in the digital age.
Related: How to use Deep Links for a seamless user experience?
Steve Madden, a shoe boutique brand that operates both online and physical stores around the world, has a significant following on Instagram. This provides the company with an excellent opportunity to promote its products through Instagram posts. To leverage this opportunity, Steve Madden uses a clever tactic of publishing the same product image on both its Instagram page and its link page.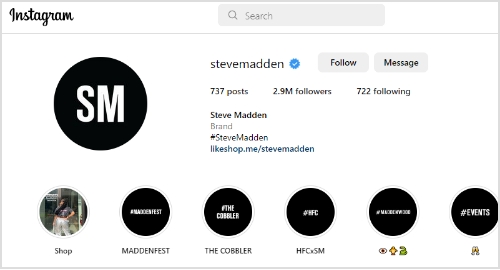 By using this approach, Steve Madden makes it easy for Instagram users to learn more about the products they discovered on Instagram. All they need to do is click on the link in the bio, and they will be directed to the corresponding product page. This feature is incredibly convenient for potential customers who may be interested in purchasing a particular product.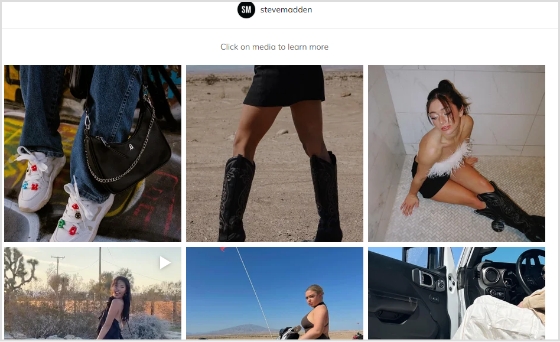 Steve Madden's link page is dedicated solely to linking out to products. This singular focus is a smart move because it provides a seamless customer experience, making it easy for visitors to navigate to the desired product page. Furthermore, the clickable images on the link page provide a visually pleasing experience that keeps users engaged.
Huda Kattan, the founder of Huda Beauty, has been using her personal Instagram account to share the brand's story and milestones with her followers. One of the most effective ways she has done this is by using the "link in bio" feature to direct visitors to the Huda Beauty blog, where they can learn more about the brand's journey.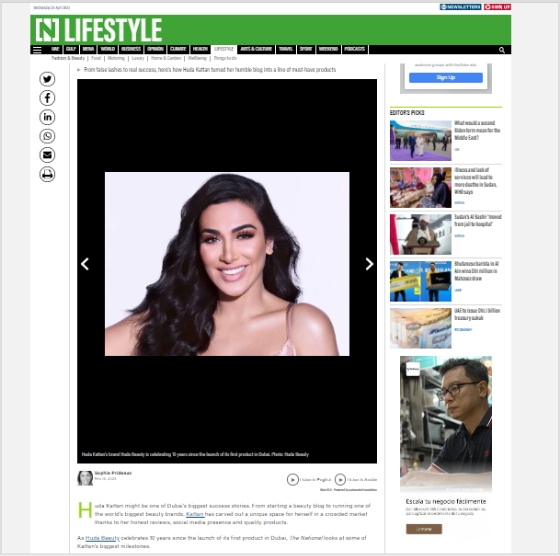 In a recent blog post titled "Huda Beauty: Ten milestones that define a decade of one of the world's biggest brands," Kattan takes readers on a journey through the brand's history, from its humble beginnings as a beauty blog and YouTube channel to its current status as a billion-dollar global empire.
Kattan shares insights into the challenges and successes of building the brand, such as the launch of the iconic Huda Beauty lashes in 2013, which quickly gained a cult following and helped to establish the brand's reputation as a leader in the beauty industry.
Through the use of personal anecdotes and behind-the-scenes glimpses into the brand's evolution, Kattan provides a unique perspective on the growth of Huda Beauty. She can interact with her audience and forge closer bonds by leading visitors to the blog through her personal Instagram account.
Related: Revamp your online branding with branded links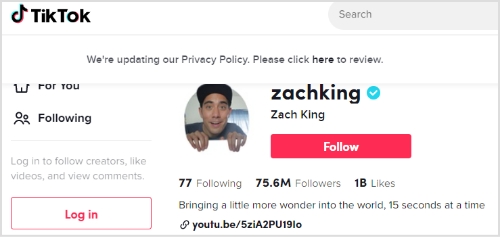 Zach King has been using his "link in bio" strategy to deliver his latest YouTube video content directly to his viewers. As a top TikTok influencer well known for his expertise in creating illusions and captivating videos through editing, Zach has amassed a following of over 70 million on the platform.
One unique aspect of Zach's TikTok account is the variety of content he posts. Whether he's sharing funny TikToks or high-production illusions, Zach keeps engaged and surprises his audience. As a result of his popularity, brands regularly hire him to create content for their marketing campaigns.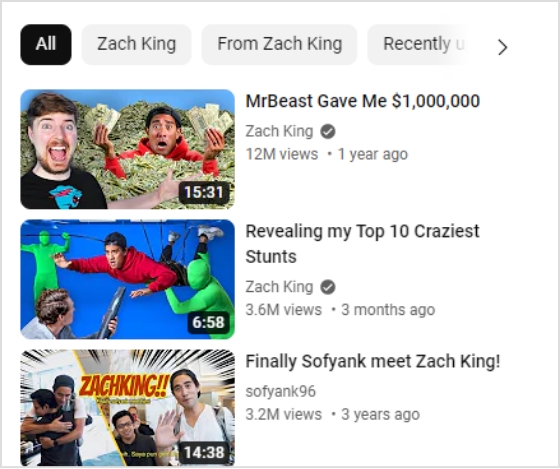 By leveraging his "link in bio" strategy, Zach can drive traffic to his YouTube channel and share his latest video content with his followers. This not only helps him grow his YouTube following but also allows him to engage with his TikTok audience in a new and more meaningful way.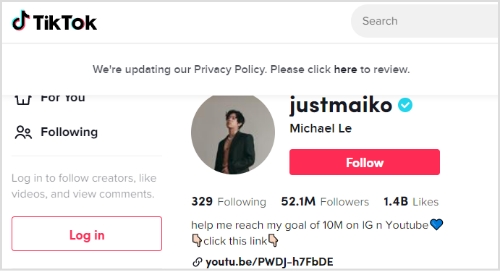 Now let's look at the link in bio example of famous TikToker, Michael Le. Also known as JustMaiko, he is a well-known dancer and TikTok influencer based in Florida. With a presence on TikTok since 2016, Michael has gained a massive following for his dance videos and tutorials. One of the ways that he leverages his popularity on TikTok is by using a bio link to direct visitors to his YouTube channel, where he posts longer and more in-depth dance tutorials.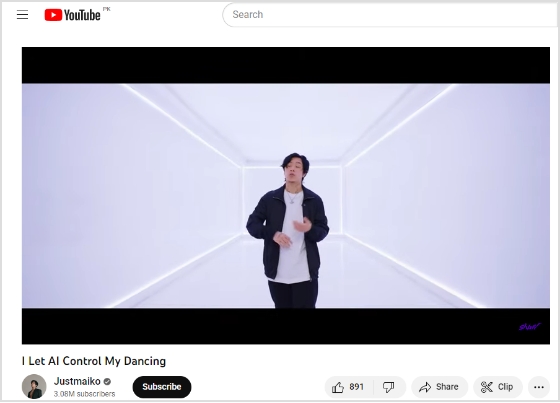 By using his TikTok account to promote his YouTube channel, Michael can reach a wider audience and showcase his dance skills in a more detailed manner. This strategy not only helps him grow his YouTube following, but also allows him to connect with his TikTok audience on a deeper level. By providing them with more extensive dance tutorials, Michael can demonstrate his expertise and build a loyal fan base.
Related: Why URL Shortener is a must have for every YouTuber!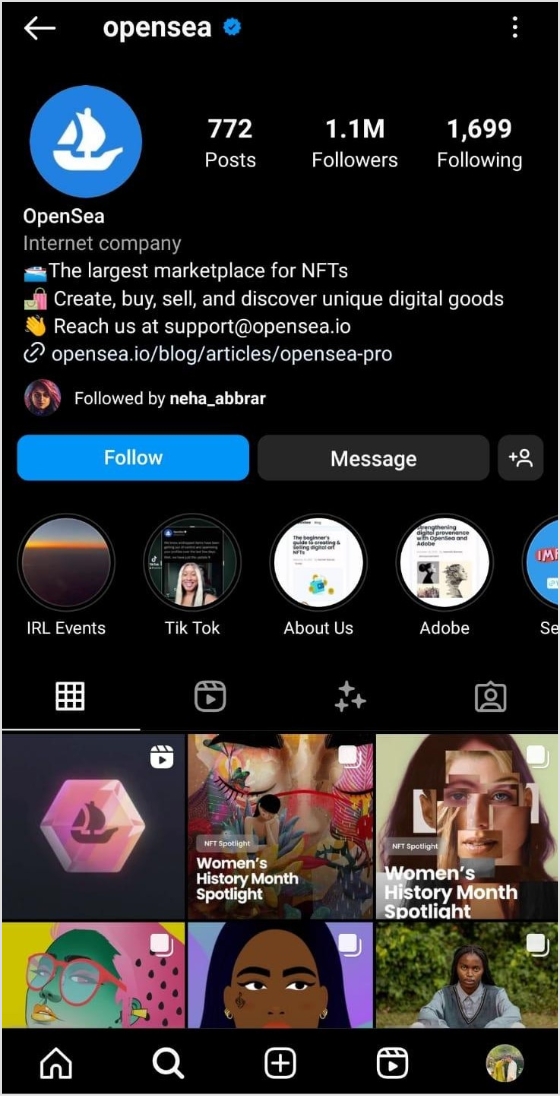 OpenSea is a leading marketplace for non-fungible tokens (NFTs), which are unique digital assets that are stored on a blockchain. In recent years, the brand has become increasingly popular as more artists, musicians, and other creators turn to NFTs as a new way to monetize their work. With so many NFTs available for sale on OpenSea, it can be overwhelming for users to navigate and find what they're looking for. That's where their link in the bio micro site on Instagram comes in handy.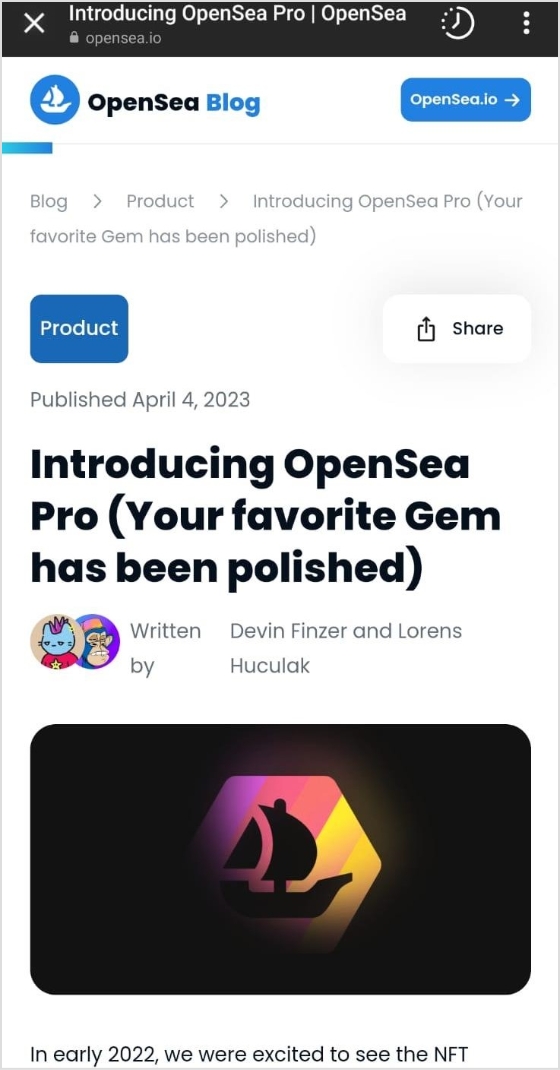 OpenSea's bio link example shows they have leveraged this bio links strategy to direct viewers to their blog. By providing a direct link to their blog, OpenSea has made it simple for visitors to stay up-to-date with the latest trends and news in the world of NFTs. This approach not only helps OpenSea position itself as a thought leader in the industry but also ensures that visitors stay engaged with the platform and keep coming back for more.
Chipotle is a popular Mexican fast-food chain that has taken social media marketing by storm. With over 3.6 million followers on Instagram, they have leveraged the platform to reach out to their customers and promote their offerings. Chipotle has effectively utilized its link in the bio to drive sales and customer engagement.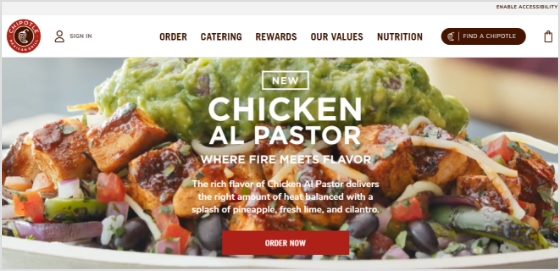 The link in their bio directs their followers to their online ordering platform, making it easy for customers to place an order and pick it up in-store. This feature is particularly useful in today's fast-paced world, where customers prefer to order food online and save time. They also use their bio link to promote limited-time menu items and discounts, making it a great way to keep their followers engaged and informed about new offerings.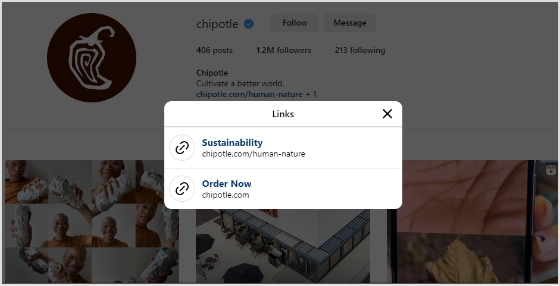 What sets Chipotle's link in bio apart is that they have inserted two links, each directing to a different website. One directs the user to their online ordering platform, while the other directs them to their sustainability page, showcasing their efforts towards environmentally conscious practices. This shows that Chipotle is not just focused on driving sales, but is also committed to promoting its values and mission. By doing so, they build brand loyalty and trust with their customers.
Related: 7 Ways You Can Use Instagram Bio Links to Your Advantage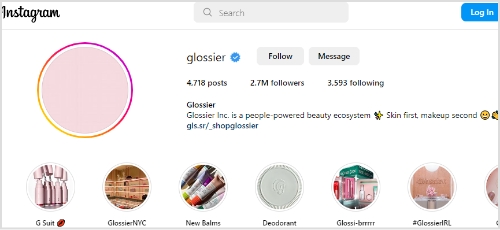 Glossier is a popular beauty brand that has gained a huge following on Instagram. Their link-in bio strategy is a great example of how simplicity and minimalism can be effective. They use the link in the bio to direct followers to their website where they can easily browse and shop for their favorite Glossier beauty products.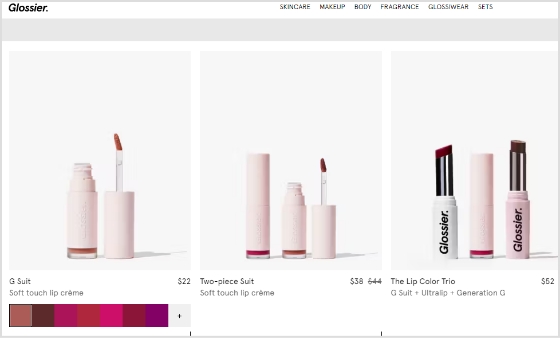 The link in the bio takes visitors to the Glossier website where they can easily navigate through the site and make purchases. This strategy allows Glossier to make its products easily accessible to its followers and make it easy for them to shop without having to leave Instagram. Additionally, Glossier often includes limited-time offers and discounts on their link in bio, incentivizing followers to make a purchase.
Related: How do I get my Instagram link on Desktop and Mobile?

GoPro is a popular brand of action cameras that are designed to capture footage of extreme sports and outdoor activities. Their cameras are known for their durability, high-quality video, and versatility, which makes them a popular choice for adventure seekers and content creators.
GoPro's Instagram account is filled with user-generated content that showcases the amazing footage captured by their cameras. They use the link in their bio to encourage their followers to join the GoPro community and share their adventures. By featuring user-generated content on its Instagram page, GoPro can show potential customers what their cameras are capable of and how they can be used in a variety of settings.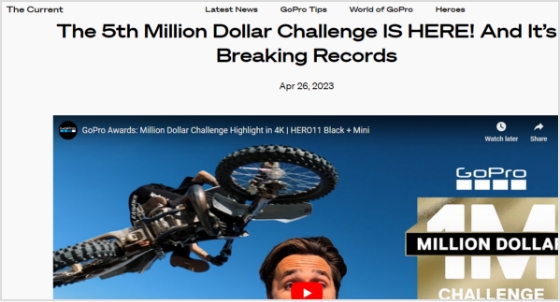 In addition to featuring user-generated content, GoPro also uses its link in the bio to promote its latest products and accessories. They make it easy for prospective customers to find out more about their offerings and place an order by taking followers to their websites. They also use their link in bio to share tips and tricks for getting the most out of their cameras, which can help to further engage their followers and encourage them to use their products.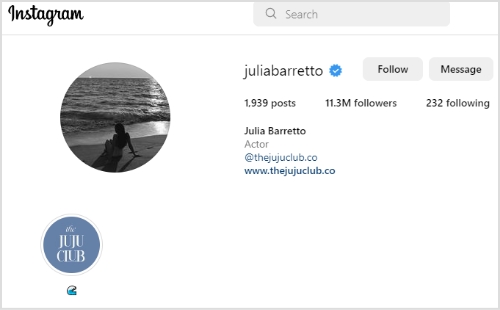 Julia Barretto is a well-known actress who has gained fame for her roles in various romantic comedies. With a significant following on Instagram, Julia understands the importance of using social media effectively to engage with her audience and promote her brand.
Unlike many other influencers who include links to other external sources, Julia's Instagram bio takes you to a website. The Juju Club is an e-commerce store that sells clothing and jewelry, and by linking to this account, Julia can promote her brand and showcase her style through the products she endorses.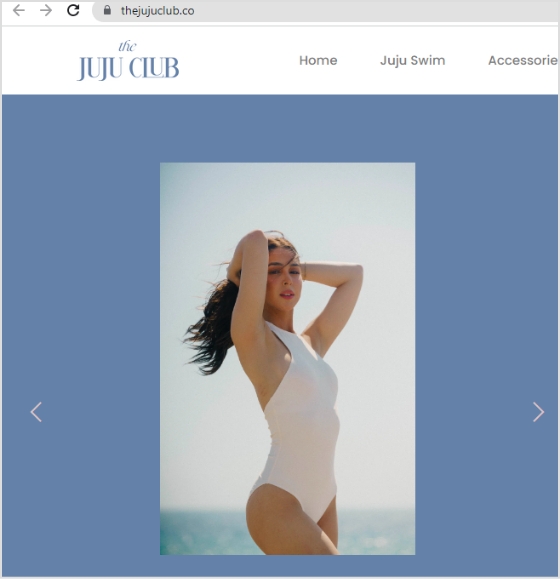 What's interesting about Julia's approach is that she doesn't include any text in her bio, which links the Juju Club to stand out even more. By leaving the bio page blank, Julia creates a sense of intrigue and encourages her followers to click through to the Juju Club to see what it's all about.
This strategy is a great example of how influencers can use their Instagram bios to promote their brands or products, while also showcasing their style and interests. By linking to an e-commerce store like the Juju Club, Julia can monetize her social media presence and earn revenue from her endorsements, while also keeping her followers engaged and interested in her brand.
Related: 25 Ecommerce Marketing Tools For Successful Marketing
Airbnb is a popular online platform that allows people to rent out their homes or properties to travelers, providing them with a unique and ofen more affordable alternative to traditional hotels. Founded in 2008, Airbnb has grown rapidly and now operates in over 220 countries and regions, with millions of listings available to users around the world. In addition to traditional home rentals, Airbnb also offers unique experiences and adventures, such as cooking classes, local tours, and outdoor activities.

Link in bio example highlights how businesses can promote their listings and experiences using a bio link. Airbnb uses their Instagram link in the bio to provide easy access to their followers. By clicking on the bio link, users are taken to a landing page that showcases a variety of experiences and events available in different cities and regions. From there, users can browse through different listings and experiences, view photos and descriptions, and book their next adventure directly through the Airbnb platform. This strategy not only drives traffic to their website but also provides a seamless user experience for their followers.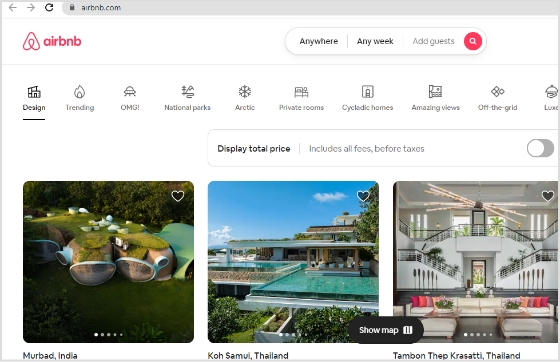 The site is organized with eye-catching images that provide a glimpse into what each experience has to offer. Users can then easily browse the options and book their preferred experience directly through the site. Airbnb uses bio link to promote upcoming events, such as concerts and festivals, as well as unique stays in one-of-a-kind accommodations like treehouses and castles.
Related: How to post TikTok on Instagram: Step-by-step Guide

Taco Bell Canada's link in bio on Instagram is an example of how brands can keep their followers engaged and informed about their latest offerings. By frequently updating their link in the bio, Taco Bell Canada features new menu items, promotions, and other exciting news. This approach allows followers to stay up-to-date with the brand and encourages them to visit their restaurants.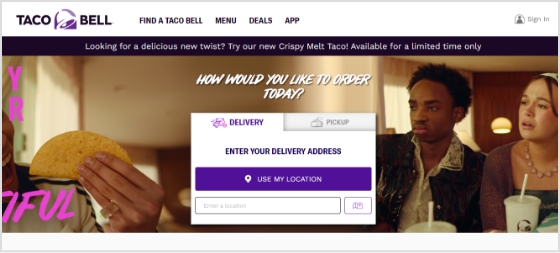 By directing followers to a specific landing page on their website, Taco Bell Canada's link in the bio serves as a call-to-action, prompting users to learn more about the latest promotions and deals. This approach not only helps to increase engagement but also drives traffic to their website and potentially increases sales. By leveraging Instagram as a platform to showcase its latest offerings and redirecting followers to its website, Taco Bell Canada can better connect with their audience and encourage them to become loyal customers.

Hopper is a popular travel app that helps users find the best deals on flights and hotels. With a click of a button, users can compare prices, set up alerts for price drops, and book their next trip. To make it easier for their followers to access their app, Hopper uses the link in their bio on Instagram to direct users to a landing page where they can download the app.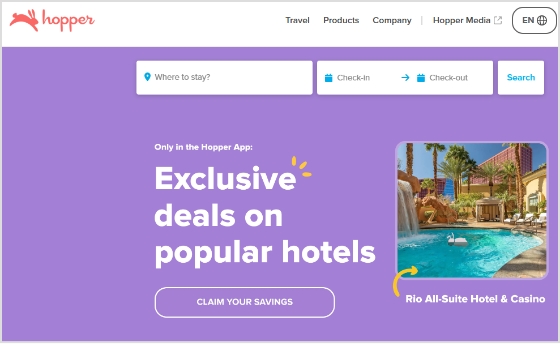 But that's not all Hopper uses their link in bio for. In addition to promoting their app, they also use the space to showcase various travel deals and discounts. This not only entices their followers to use the app to book their next trip, but it also serves as a helpful resource for budget-conscious travelers.
By utilizing their link in bio in this way, Hopper cannot only drive traffic to their app but also build a loyal following on social media by providing value to their followers. It's a win-win strategy that benefits both Hopper and its users.
Related: How to maximize your reach on any social network?
5 Best Ideas For Bio Link Pages
Here are the best bio link pages to take inspiration from and make most of your bio links.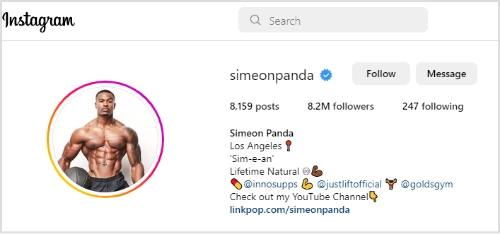 Simeon Panda is a hugely popular bodybuilding and fitness influencer, admired for his impressive physique and dedication to his craft. With a significant following on Instagram and other social media platforms, Simeon understands the importance of using these platforms effectively promote his brand.
Simeon's link in bio example shows how influencers and businesses can utilize bio links to promote their brand. Simeon does this is by including a link in his Instagram bio to a page builder called Tab Bio. This platform allows him to show his recommended supplements, workout plans, and other content in a user-friendly and visually appealing way.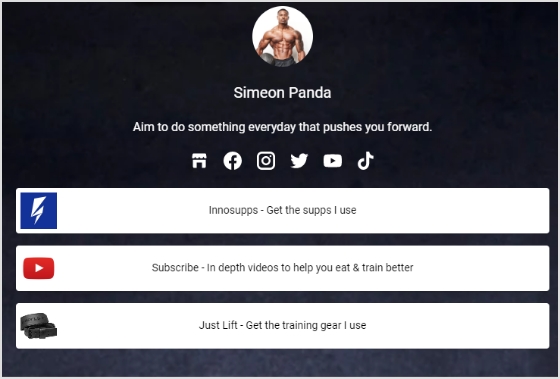 However, Simeon doesn't stop there. He uses the link in bio tool to its fullest potential, taking advantage of its features to showcase his latest videos on one page and his latest tweets on another. By swiping through the different pages, Simeon's followers can access all of his content in one centralized location, which helps keep them engaged and interested in his brand.
Simeon's use of the bio link highlights the importance of effective social media marketing and the value of using tools that can help you promote your brand more efficiently. By maximizing the potential of these platforms and tools, influencers like Simeon can reach a wider audience, increase their engagement, and ultimately achieve greater success in their field.

Patagonia, the outdoor clothing and gear brand, has a strong commitment to environmental conservation and social responsibility. They have effectively used the link in their bio on Instagram to showcase their efforts in this area. Their link in bio features a variety of environmental causes and initiatives that they support, including fighting climate change, protecting wild places, and supporting regenerative agriculture.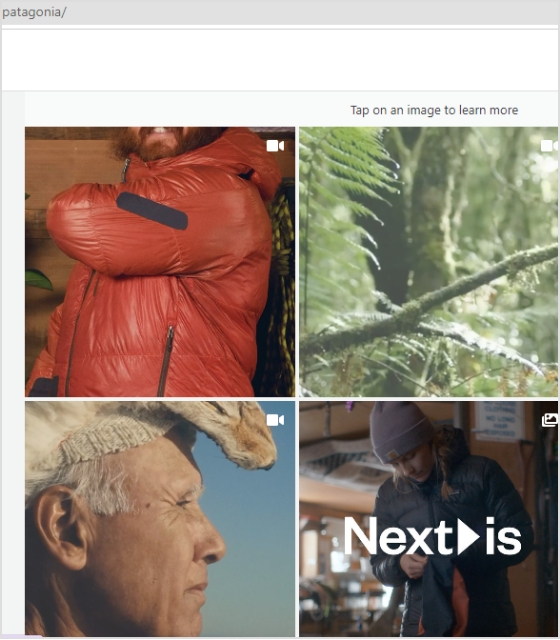 Through their link in the bio, Patagonia not only raises awareness about these important issues but also encourages their followers to get involved. They provide information on how to take action, such as signing petitions, contacting elected officials, and participating in events. They also promote their initiatives, such as their Worn Wear program, which encourages customers to repair and reuse their clothing to reduce waste.
This strategy not only aligns with Patagonia's values but also helps to build a strong brand identity among its followers. By using their platform to promote environmental and social causes, Patagonia shows that they are more than just a clothing brand, but rather a company with a mission to make a positive impact on the world. This approach also appeals to their target audience, many of whom are environmentally conscious and value brands that align with their values.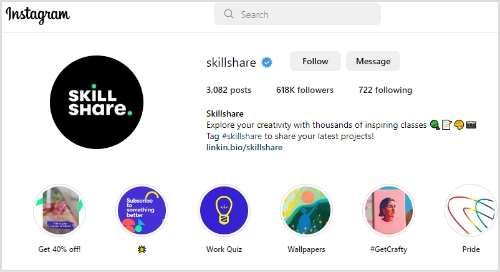 Skillshare is an online learning platform that offers thousands of courses in various creative fields such as graphic design, photography, and writing. They use the link in bio on Instagram to direct their followers to their website where they can enroll in courses and explore new topics. Skillshare's link in bio is an effective way to increase enrollments.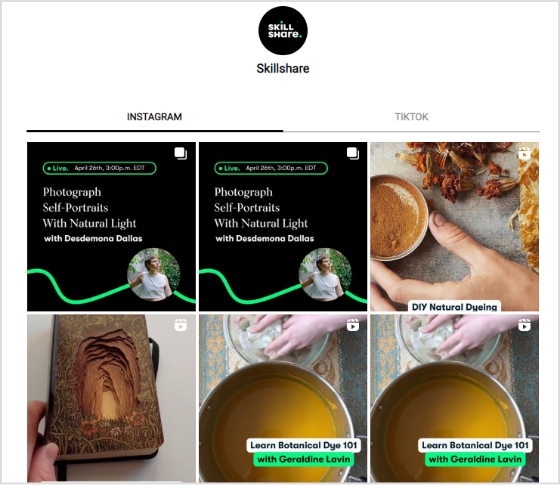 In addition to promoting their courses, Skillshare also uses their bio link to offer free trials and discounts to their followers. This link in bio example shows that it's not only helping them attract new customers but also encourages existing ones to continue using the platform. By offering promotions through their link in bio, Skillshare can incentivize their followers to enroll in courses and expand their skill set without breaking the bank.

Victoria's Secret is undoubtedly one of the most popular brands on Instagram, with a massive following and an account that's frequently updated with stunning pictures of some of the most beautiful people in the world. It's no surprise that their Instagram account is a hit with fans, who flock to the platform to see the latest looks from the iconic brand.
But what sets Victoria's Secret bio link case apart is the way they use their bio link. Instead of just directing followers to their website, they've created a custom bio link page, using a bio-link tool that e-commerce brands use to direct followers to their websites. This LikeShop page features links to all the clothing items featured on the Victoria's Secret main Instagram account, making it easy for followers to shop their favorite looks and buy the items they've been eyeing.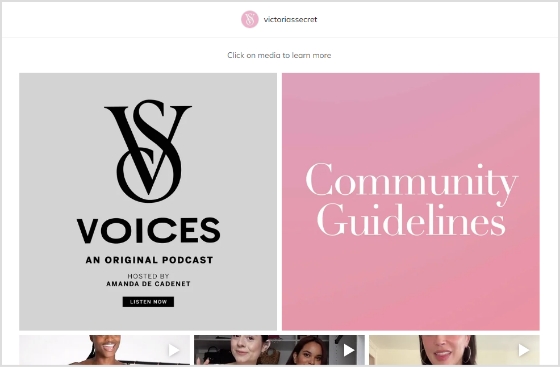 This is a highly effective way for e-commerce brands to promote specific items and drive sales. By creating a page that features all the clothing items they've showcased on their Instagram account, Victoria's Secret is making it easier for their followers to find and purchase the items they love. Victoria's Secret engages followers by enabling easy shopping of the latest looks from their Instagram, creating a fun and interactive shopping experience.
Related: Effective ways for e-commerce brands to promote products
In today's digital age, news outlets, and magazines face a unique challenge in promoting their content on social meda platforms like Instagram. With the platform's strict policy against including links in post descriptions, it can be difficult to direct users to specific articles or pieces of content. However, some publications have found innovative ways to make the most of Instagram's features and promote their articles effectively.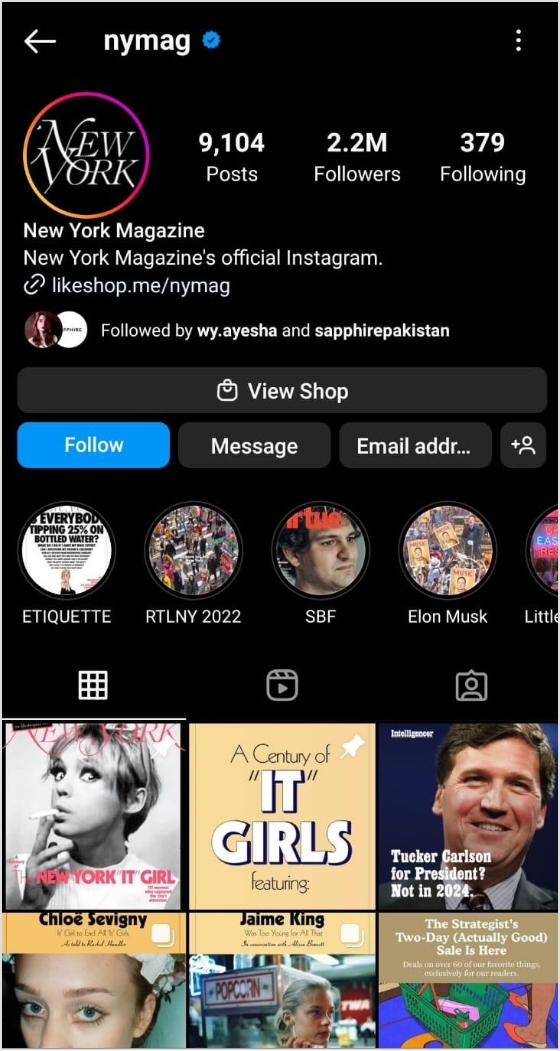 One such publication is New York Magazine, which has been using its link-in bio features to great effect. Leveraging the link in their Instagram bio can direct users to a page that features images promoting every article on their website. This page serves as a hub for users to explore the full range of content offered by the magazine, and allows them to easily click through to any article that catches their eye.Wondering what sets New York Magazine's link in bio strategy apart?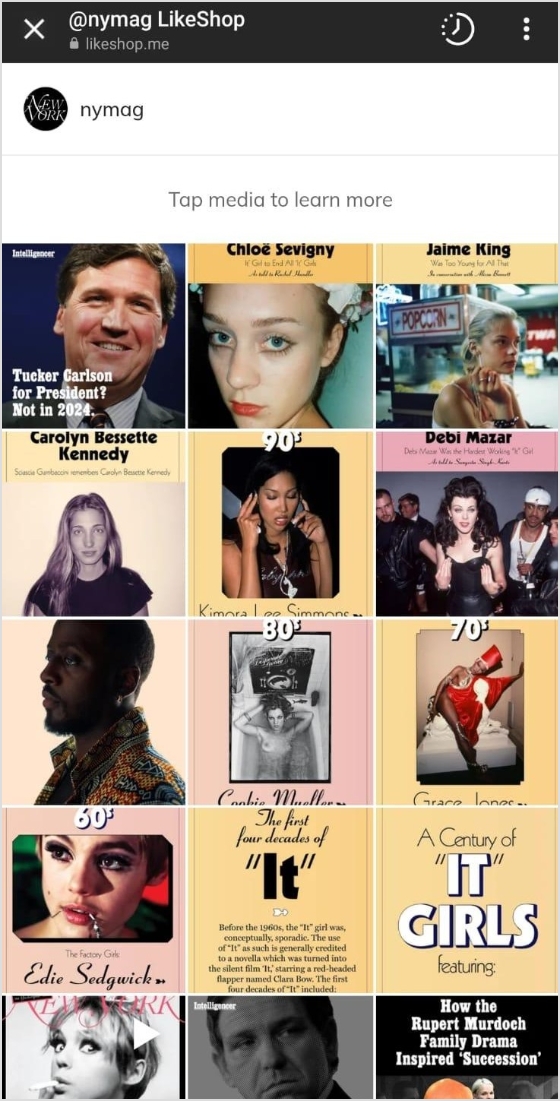 It's their visual promotion rather than relying on bland or generic images. They feature eye-catching visuals reflecting the content of each article. This makes it more likely that users will be intrigued by the images and click through to read the accompanying article.
Related: How to get to the link in the bio on Instagram?
Best Link in Bio Tools
Here are the top 3 bio link tools:
Replug: It is not a common bio link tool, but a complete link management solution. The prominent features of Replug are branded links, deep links, bio links, traffic routing, CTA overlays, retargeting, link analytics and much more.
Linktree: A popular tool for creating a simple landing page with multiple links, widely used on platforms like Instagram. It is a user-friendly and offers customization options, analytics, and integrations with social media platforms.
Shorby: Specifically designed for Instagram, Shorby allows you to create a customizable landing page with multiple links. It can also integrate seamlessly with many social platforms.
Still looking for more bio link tools? Find out more here.
How to create a link in a bio page?
You can use any bio link tool to create a bio link. Here's link in bio example of Replug.
Step 1: Navigate to bio links feature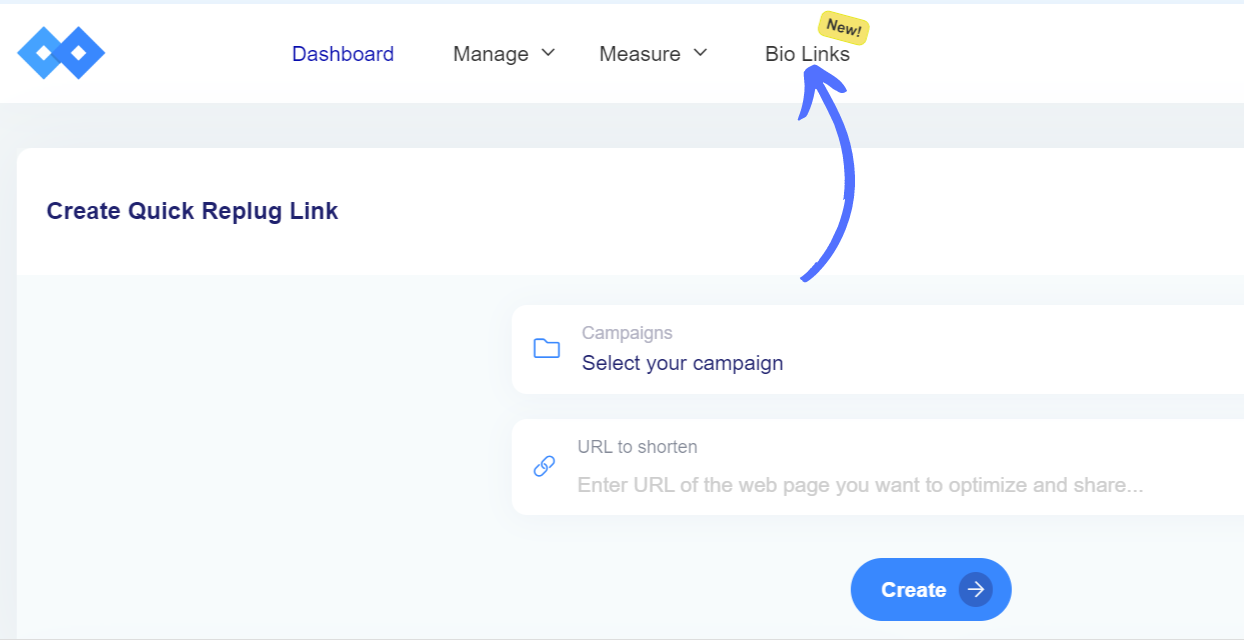 To get started with BioLinks, navigate to the Bio Links section on the website. You'll find it labeled as a new feature, placed right next to Measure on the top left of the website.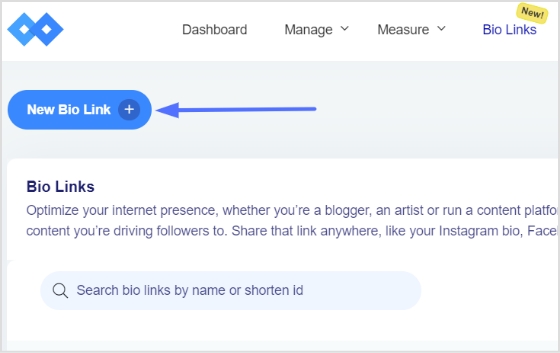 Step 2: Select your choice of block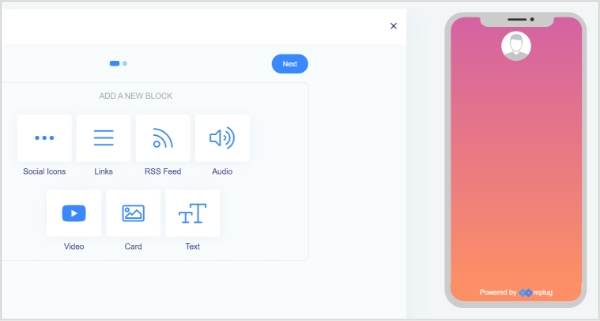 Once you're in the BioLinks section, you can select different blocks to add content as you like.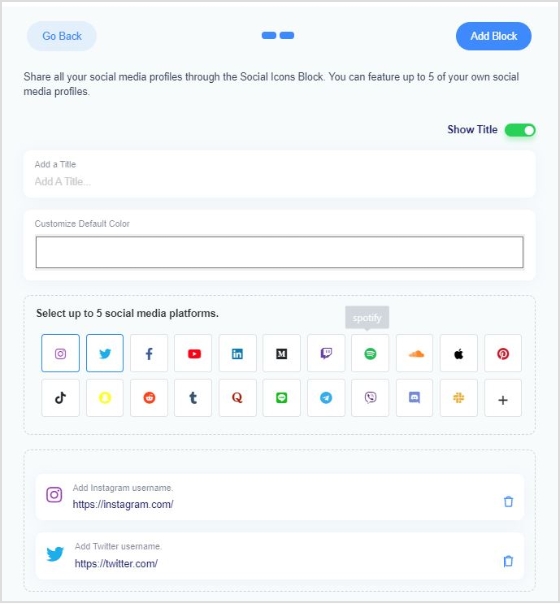 For this case, we have selected Social Icons block. You can add up to 5 social media accounts. BioLinks has integrated various platforms, so you can link to basically anything! Whether it's on Apple Music, SoundCloud, Twitch, or Medium, BioLinks has got you covered.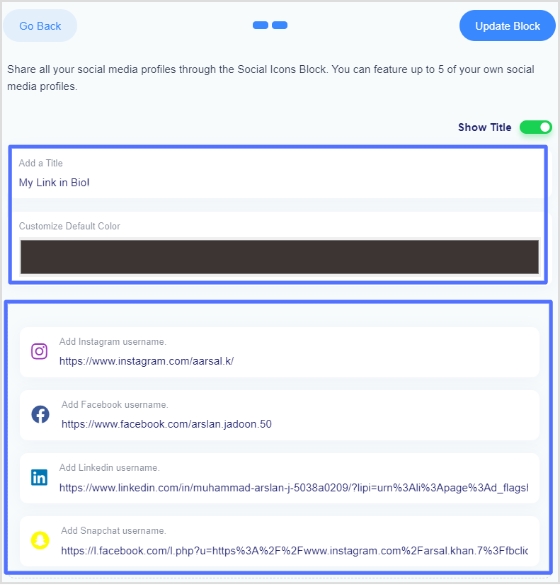 Step 3: Proceed to finalize Your Theme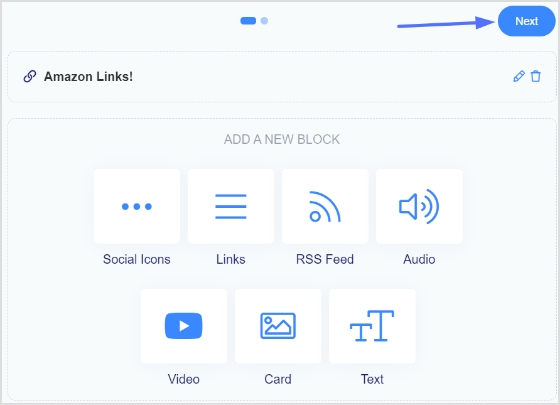 Once you have updated the block, you will be directed back on the main bio links screen. Add any other block if you desire, otherwise tap Next to finalize your theme.
Note: To get the most out of BioLinks, it's important to read the full guide on how to set up BioLinks. This guide provides in-depth information on how to use BioLinks and make the most of its features.
Step 4: Finalize Your Theme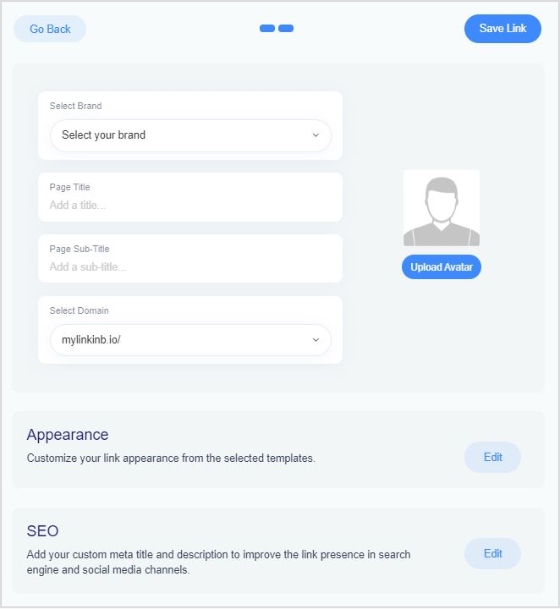 In the end, you just have to finalize your theme according to your brand, and you're ready to go. Choose a theme that best represents your brand, ensuring that your BioLinks page looks professional and on-brand.
Step 5: Add your customized link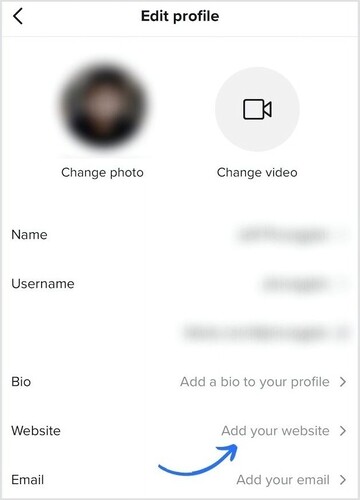 Now that you have customized your bio links page, you can add the link to your Tiktok or any other social platform. Now your followers can easily access all of your content in one place.
Step 6: Try out bio links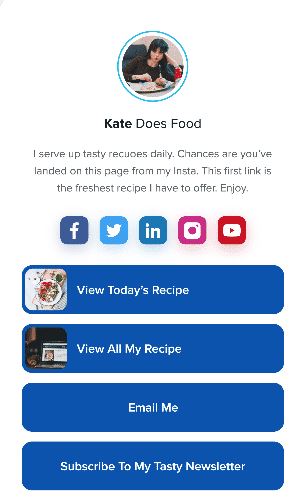 After adding the bio link to your social platform. Check if it's working fine and how it appears. Make changes by editing the link and making necessary changes.
Note: You can also learn about other important features within bio links.
Related: How to Add Spotify Link to TikTok Bio?
Benefits of Adding a Link in Bio:
Social media has become an essential part of our daily lives, with millions of people using different platforms to connect and share content with friends and followers. Among the most popular of these platforms is Instagram, with users sharing images and videos and engaging with others through likes, comments, and direct messages. For businesses and marketers, social media platforms such as TikTok provides a unique opportunity to showcase their products and services to a vast audience and connect with potential customers by adding a link to their bio.
Here are some of the benefits of adding a bio link:
Increases engagement: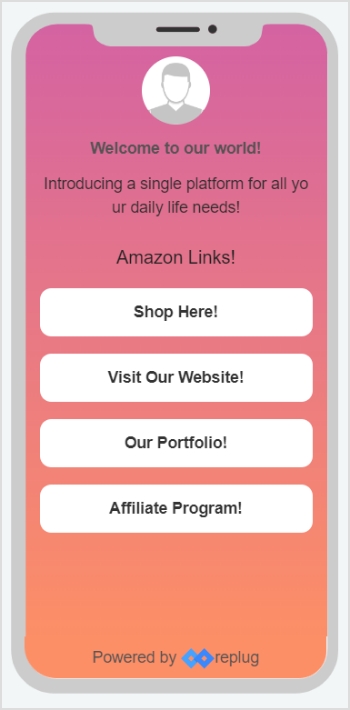 With the link in bio feature, you can direct your followers to desired links, giving them more opportunities to engage with your brand, products, and services. Instead of being limited to a single link in your Instagram or TikTok bio, you have the opportunity to showcase a range of products, services, and initiatives, making it more likely that your followers will find something of interest, increasing traffic and ultimately, boosting your sales.
Related: How to add Amazon link to Instagram bio?
Boosts your SEO: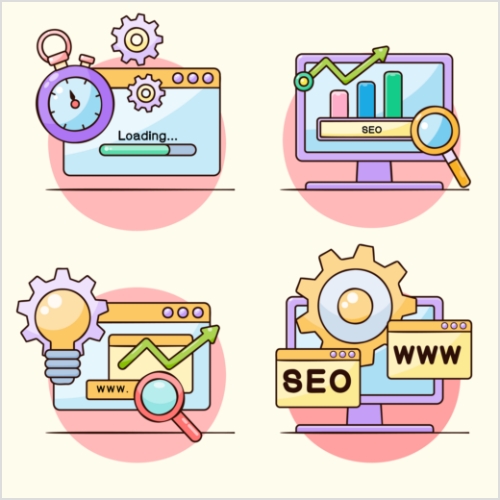 The bio link feature can also benefit your overall search engine optimization (SEO) strategy. When more traffic is directed to your website, search engines such as Google and Bing see this as a sign that your business is credible and valued, which can result in increased search engine rankings. The more traffic and engagement on your website or affiliated pages, the better your website will rank in search results, making it easier for potential customers to find you.
Related: Affiliate Marketing Guideline for Beginners – A Step-by-Step Guide
Helps track page views:
The link in bio feature offers analytical metrics that can help you track how many page views each link has received, enabling you to monitor their performance and optimize future links for higher engagement. By analyzing this data, you can gain insights into what kind of content and descriptions work best for your audience and tailor your strategy accordingly. This allows you to create more effective links that will drive more conversions.
Increases conversions:
By funneling your Instagram or TikTok followers to different pages on your website or other e-commerce platforms, the link in bio feature helps to convert them into customers. This enhances the customer experience and allows followers to quickly access and purchase your products or services, ultimately leading to higher conversion rates. With its help, you can create specific landing pages that are designed to drive conversions, making it easier for your followers to become customers.
Flexibility:
With a limited number of clickable links on an Instagram profile, a link in the bio offers more flexibility and control over the content you share with followers. Instead of having to choose the most critical link to share, it provides the option to display links, giving followers the freedom to explore content that interests them.
FAQs
Which link in the bio tool should I use?
The link in the bio tool you should use ultimately depends on your specific needs and preferences. Some popular options include Replug, Linktree, and Lnk.Bio. Research each tool to determine which one aligns best with your goals and budget.
What does a link in the bio look like?
A link in the bio typically looks like a clickable URL or shortened link in the bio section of a social media profile, such as on Instagram or TikTok. When clicked, it directs the user to a landing page where they can learn more about the business, access products or services, or engage with content. Some businesses also use visual link-in-bio tools that allow them to showcase multiple options in a clickable grid or menu format.
What links can you put in your Instagram bio?
You can put various types of links in your Instagram bio, such as links to your website, blog, online store, social media profiles, YouTube channel, podcast, portfolio, or any other online content you want to promote. Additionally, some businesses or creators may use a link in the bio tool to showcase multiple links, including product pages, donation pages, landing pages, or other relevant content.
Mustafa Niazi
Mustafa Niazi is a blogging addict, a tech fanatic, and a SEO specialist.