A call to action for social media is an untold success secret that top brands and influencers use it every day.The majority of the top-performing social media content usually has a strong call-to-action phrase.
No wonder the audience reacts to it quickly. I've got social media call-to-action examples to share with you. But, before I get to those examples, it's essential to discuss the basics around call-to-actions that will come in handy.
Why do CTAs matter in social media marketing?
Social media marketing becomes dull if there is no activity whatsoever. The purpose of social media call-to-actions is to entice the audience to react to the message.
Social media success lies in the engagement process regardless of the social media platform. The reason CTAs matter in social media marketing is that they encourage the audience to respond to social media posts no matter what.
What elements should you include in your CTA strategy?
Here are the seven key elements that should be added to a CTA strategy:
Wittiness:

A little bit of fun or excitement goes a long way

Appeal:

An appealing message that attracts the audience right away

Shortness:

A short and sweet copy that is understandable and catchy

Relevance:

It should be related to the target audience in order to work

Clarity:

It must help clarify the context of the story or event

Enticement:

It must be enticing the audience to reply

FOMO:

Sometimes, a fear of missing out also helps in conversion. Try using the urgency-factor in the CTAs.
Call to actions for social media
There is plenty to learn from the experts on social media in every area – CTAs are no exception. Take a look at some of the examples of call-to-actions for social media:
LinkedIn CTAs
LinkedIn is a top-tier social media platform, and ignoring this lead-generation machine would be a big mistake. When it comes to LinkedIn posting ideas, CTAs should be part of every social marketer's LinkedIn content strategy.
Below are some good examples of call-to-actions found on LinkedIn.
Amazon Web Services
Amazon Web Services (AWS) is a popular cloud hosting service that allows users to host websites and apps.
Let's check their LinkedIn ad: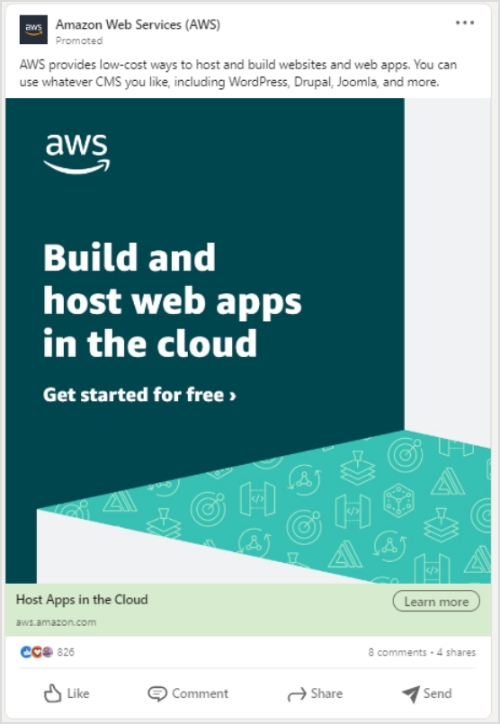 Why it works
The main copy of the ad states the message with clarity. It simply hits the bullseye by targeting web and app developers.

A plus point in this LinkedIn ad is that it tells the audience about getting started for free – the CTAs like "sign up for free" and "free trial"

in the copy always bring attention.

The ad has a "learn more" call-to-action that drives visitors to the AWS sign-up page. Moreover, such CTAs push prospective customers one step further, especially if they're on the fence.
If you are looking to track or disguise links that appear much friendlier to the online user, then Amazon link shortener is just the tool for you. It helps you optimize product URLs and turn them into trackable and easy to share short branded links.
Tip
: Make most of your CTAs by using it with
deep links
to amplify marketing efforts by sending users directly to the in app content and trigger app installations to the users that have not installed the app on their smartphone devices.
Microsoft
Microsoft is a tech giant that sells software, operating systems, and gadgets.
Here's Microsoft's recent LinkedIn ad about financial institution's guide to the public cloud: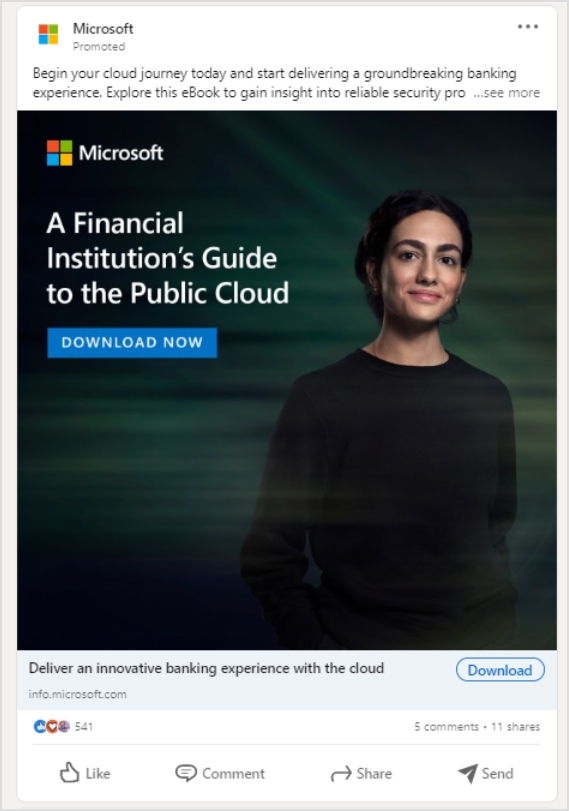 Why it works
The crux of the message is clearly written in the white bold text on the ad. No fluff or detailed text.

The "download now" CTA on the ad banner symbolizes that there is an ad for a downloadable item. It hints to the target audience to look into it.
Microsoft's marketing team smartly used the "download" call-to-action button on the ad to make it easier for the audience to decide and take action about downloading the public cloud guide.
LinkedIn Talent Solutions
LinkedIn Talent Solutions is a powerful recruitment tool available on the LinkedIn platform.
Here's their LinkedIn ad: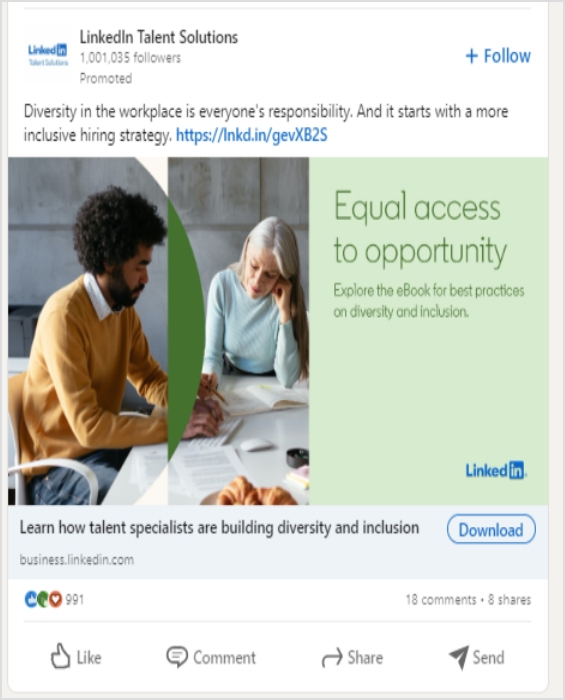 Why it works
A brief yet meaningful introductory text on the ad steals attention immediately.

Short link at the end of the introductory text gives the audience a chance to explore it further.
A downloadable CTA tells the target audience to get their hands on the downloadable item.
Reliance Infosystems
Reliance Infosystems is a tech powerhouse that offers cloud hosting, network management, and IT security management services.
Take a look at their LinkedIn ad: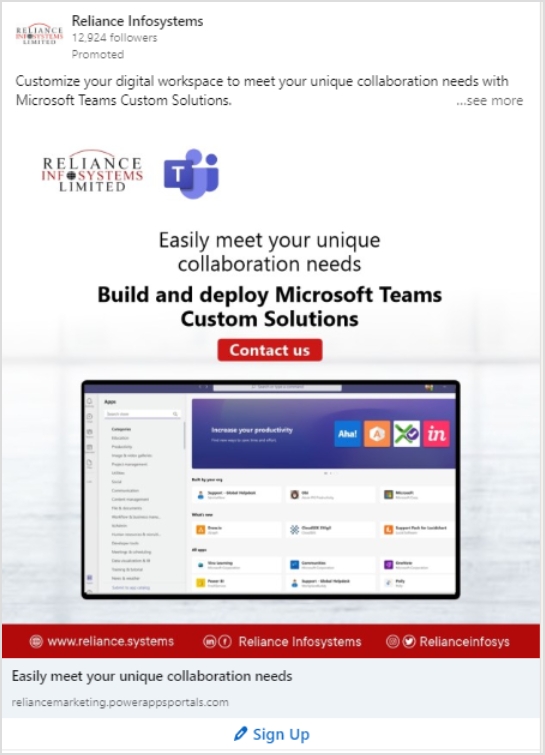 Why it works
The text on the ad image easily becomes overwhelming for the viewers unless it's short and precise. Reliance Infosystems seems to be pulling this off quite well.

The dashboard picture of their software solution balances the whole thing. Pictures and vectors mostly help retain the target audience's attention.
The sign-up call-to-action pushes the audience to take a leap.
LinkedIn Learning
LinkedIn Learning is an educational platform from LinkedIn. It provides users access to the platform through their LinkedIn accounts. Check out their LinkedIn ad: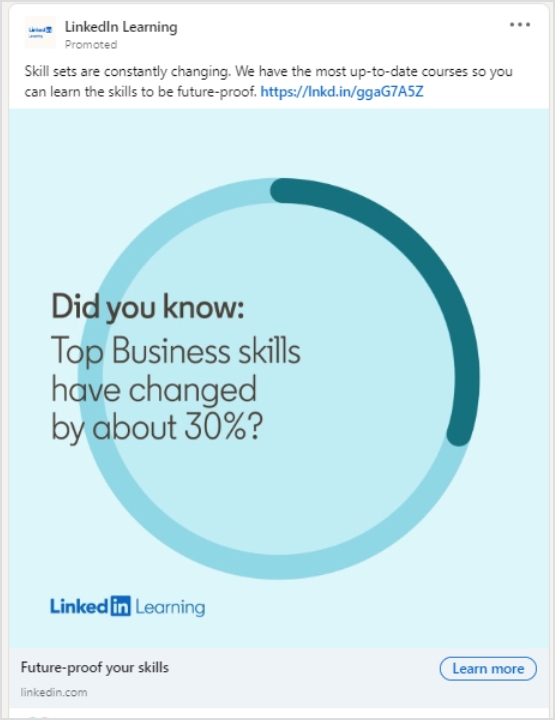 Why it works
The most attractive part of this ad is the copy of the ad. It has a short yet catchy statement on the ad banner. Along with a strong CTA phrase, the "Learn more" CTA button persuades users to click and get more information.
A number or percentage on the ad copy immediately grasps the attention of the viewers.
The ad design is quite simple which shifts the focus toward the copy.
Twitter CTAs
Twitter may seem simple, but it has a lot to offer. All you need is to know how to capitalize on the attention. Here are some of the tweets from brands and influencers that are crushing it with their call-to-actions on Twitter:
Tweets allow to use a limited amount of characters. So link shorteners for Twitter help create short URLs that can fit into your tweets.
Canva
Canva is a popular online graphics designing tool for creating social media images, banners, and ads. Check out their tweet: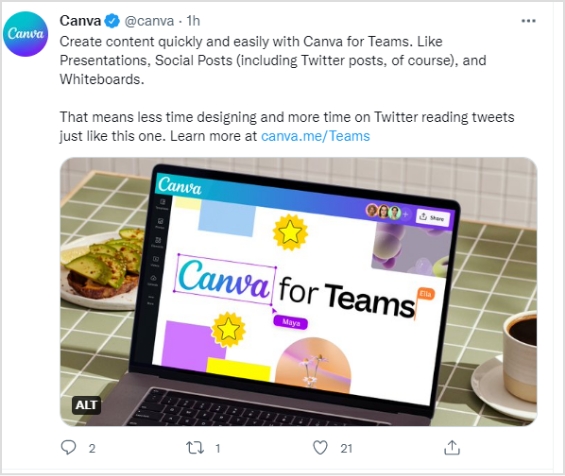 Why it works
The tweet from Canva vividly targets the organizations or companies with team members for their "Canva for teams" plan.

The simplicity of the tweet language ensures that readers keep on reading the two-paragraph tweet from them.

A call-to-action text at the end of the tweet makes it easier for the prospective audience to click through and land on the respective plan page.
Guy Kawasaki
Guy Kawasaki is an entrepreneur, investor, and adviser to startups.
I stumbled upon one of his recent tweets, and it's worth mentioning here: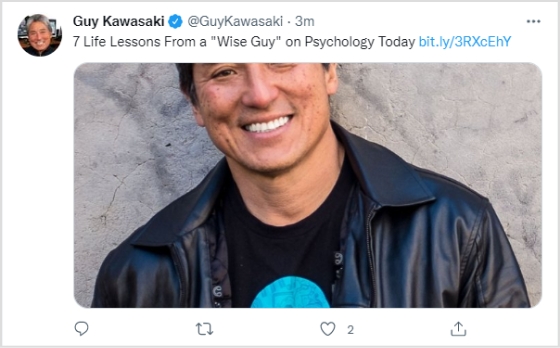 Why it works
A one-line tweet and the text body includes "7 lessons" – it surely rings the bell. People would like to take a sneak peek at the list of seven lessons even for a second. A good move, indeed.

A short URL is used very smartly – the tweet stays in just one line, which makes the short link more prominent and clickable.
A picture is added to the tweet just to weigh in on the organic reach. Pictures and images usually get more attention and organic viewership as compared to text-only social media posts.
Semrush
Semrush is a powerful SEO analysis and rank tracking software used by professional digital marketers around the globe.
Here's one of their tweets mentioning SEO expert Barry Schwartz.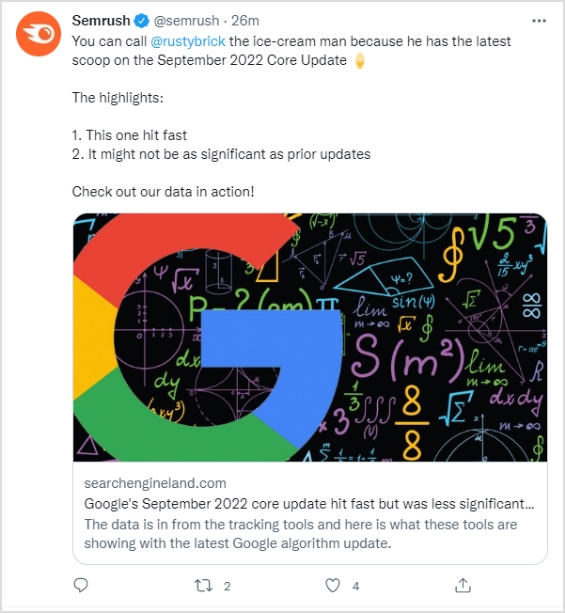 Why it works
The tweet from Semrush cashed in on the hot trend in the online marketing and SEO fields, which is the September core update 2022.

Semrush mentioned Barry Schwartz in the tweet, which is a fantastic engagement strategy and gets the attention of the audience.
A short and brief call-to-action directs visitors to the article, which makes it a perfect tweet from a social media engagement standpoint.
TV Guide
TV Guide is an entertainment portal that discusses TV shows and movies.
Take a look at one of their recent tweets: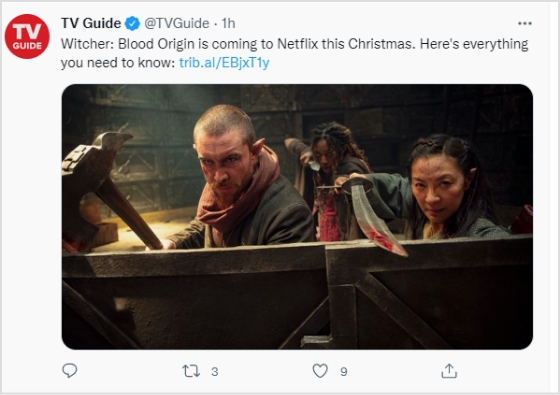 Why it works
The tweet has a news update for Netflix fans. It announces the availability of the Witcher: Blood Origin TV series on Netflix.

The tweet is short and sweet with no fluff. Such social media posts get more attention as compared to hefty social media posts.
TV Guide wrote a simple yet attractive call-to-action for driving Twitter followers to the article.
PageFactory
Allison Seboldt is the developer of PageFactory – an online content publishing app for content management systems.
Check out her tweet: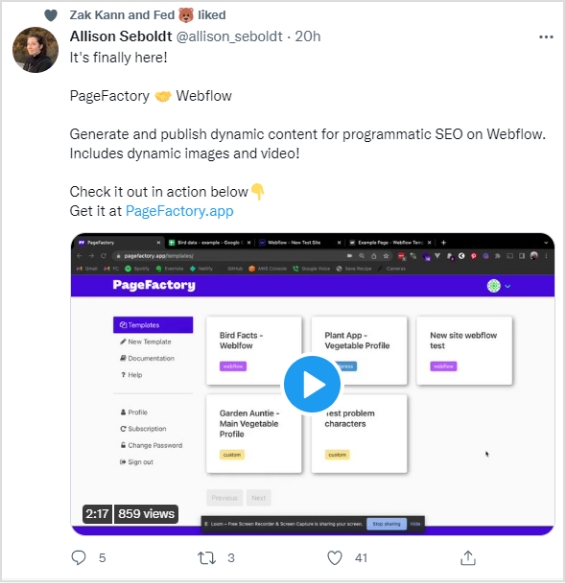 Why it works
Allison's tweet has an attractive text body. She kept it simple yet meaningful. Her tweet was about the announcement of PageFactory's integration with the Webflow platform.

The second thing that fascinated me was the two-line explanation that summed up the whole tweet.
The call-to-action was clear, concise, and catchy – it pushes the audience to click and check out the website.
The video in the tweet took the announcement to the next level.
YouTube CTAs
YouTube is the second most popular search engine on the internet. When it comes to call-to-action for social media, YouTube has an excellent real estate to offer for CTAs.
Shorten links and add CTAs to your Youtube links using a Youtube URL shortener.
Let's take a look at a couple of YouTube influencers who are capitalizing on the call-to-actions on YouTube:
Epic Gardening
Epic Gardening is a well-known gardening brand that has a YouTube channel and a website. Let's see how this gardening brand is using the call-to-actions on social media: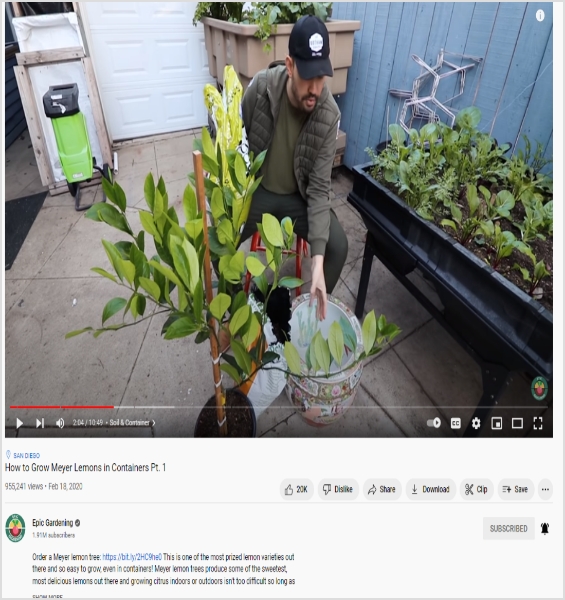 Why it works
Epic Gardening is using the video description for sharing the link. Since the video description is a place to find the detail about the video, the channel has a product link in the video description.

The channel is promoting the lemon plant through the link in the description – the video is also about the same plant. Therefore, relevancy is the key to generating sales.
The product link is in the first line of the video description, which makes the link more prominent.
Creative Explained
Creative Explained is a YouTube channel around gardening and life hacks made by Armen Adamjan. He is promoting an ebooks bundle deal and using his YouTube video descriptions to sell the bundle deal.
Take a look at the description of one of the recent videos on this channel: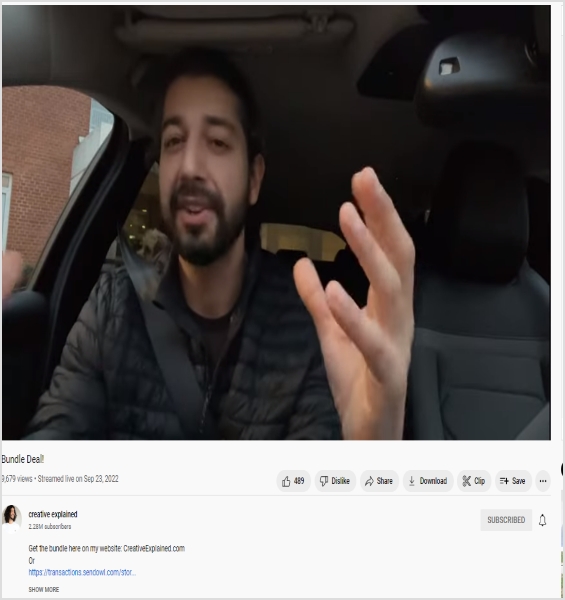 Why it works
Armen mentioned his website address in the very first line to drive people to check out the deal next to the call-to-action.

This YouTube influencer used the naked URL of the bundle deal right below the call-to-action.
Meta for Creators
Meta for Creators is a platform built by Facebook with creators in mind so that they could meet, collaborate, and earn money online.
Check out their Facebook ad: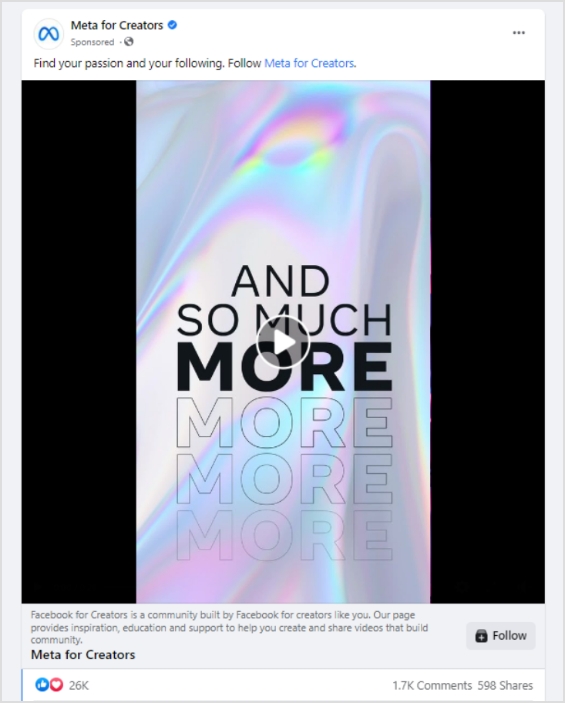 Why it works
The ad has a short and sweet introductory text, which catches the attention in a split second.

Meta for Creators used the "follow"

in the introductory text and mentioned their Facebook page to grow followers.

They used the video to attract, engage, and convert the audience.
The ad also has a "Follow" CTA phrased button at the bottom to ensure that more people follow their Facebook page.
Tip: Use bi links tools for your Instagram, Facebook, TikTok and Twitter to drive more followers and conversions. 
Compose AI
Compose AI is a browser extension that has powerful AI features to write speedy emails and messages. It works across multiple sites but is commonly used for Gmail.
Here's the Facebook ad for Compose AI: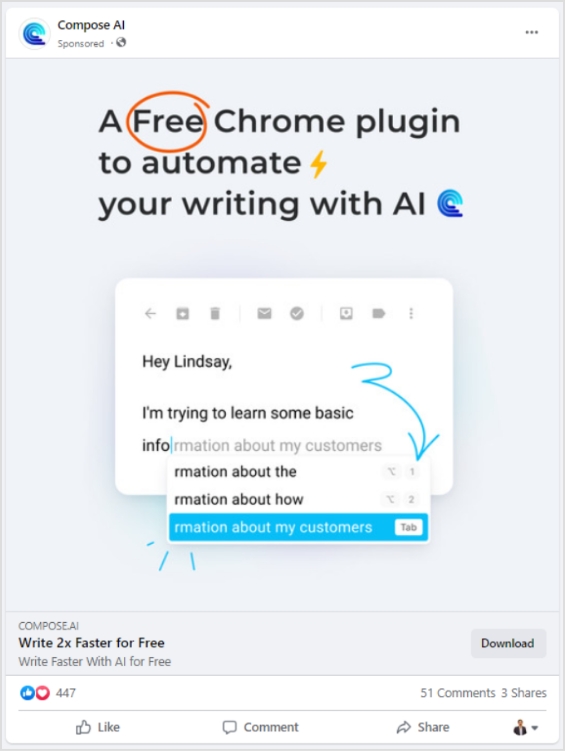 Why it works
The first and foremost is the circled "free" text in the ad copy, which immediately steals the attention.

The ad image showcases a snippet of how this tool works – it's an excellent way of enticing the audience to try out the product.
The headline of this Facebook ad says, "Write 2X Faster for Free" – it's a fantastic one-liner along with the download CTA at the bottom.
Tip: Automate your content publishing using social media management platforms and grow your reach.
Circle
Circle is a financial technology company that helps in financial transactions at a fast-paced using the power of USDC and Euro Coin.
Let's take a look at their Facebook ad: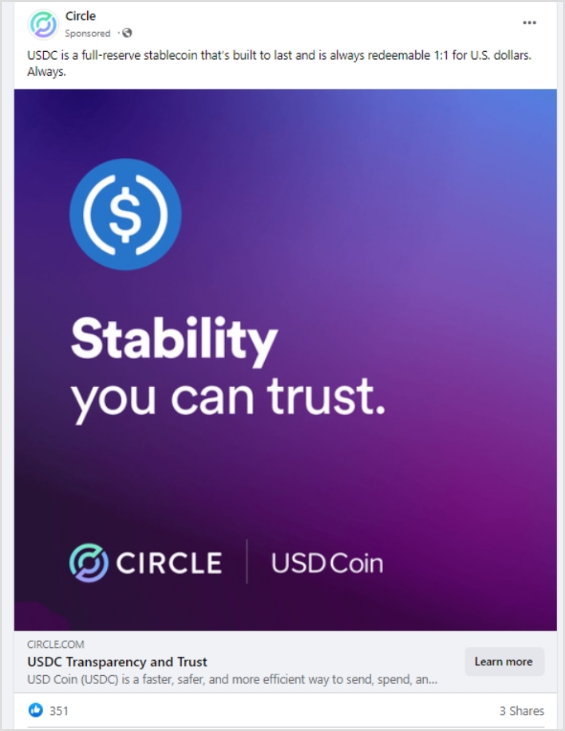 Why it works
Circle is cashing in on their ability to deal with USDC cryptocurrency in their Facebook ad.

The copy of the ad emphasizes the trustworthiness of the coin.
They also have a "learn more" CTA at the bottom to drive people to their website for more details.
Replug: How do CTAs work?
Replug is an all-in-one link management tool that creates branded short URLs with the ability to track link performance. Moreover, the additional features include deep links, custom domains, integrations, bio links, UTM codes, retargeting, and call-to-actions.
Here are the steps of creating a CTA using Replug.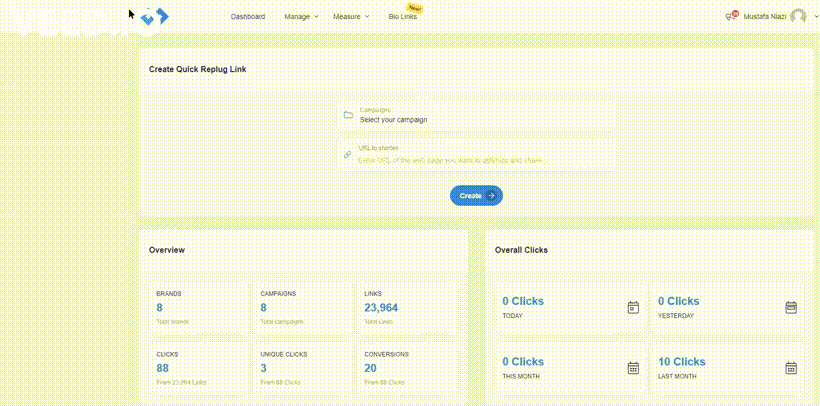 Step #1: Create a campaign in Replug
Log in to your Replug account and go to the campaign section. Click on the "New Campaign" button to get started with creating a new campaign.
Step #2: Select your brand
The second step is to select the appropriate brand or create a new one just in case. Once you're done with this, click the "next" button to proceed.
Step #3: Choose the CTA widget
The next up is the selection of the CTA widget. Since you're creating a call-to-action with Replug, choose the "call-to-action" option from the widgets section.
Step #4: Opt for the CTA type
After selecting the CTA widget, choose the CTA type. You'll see three options, such as a button, link, and form. Choose the required CTA type to proceed.
Step #5: Add a CTA message
Add a CTA message afterwards. If you opt for the CTA button option in step #4, you'll have to input the message headline, message body, and button text.
Step #6: Customize the CTA
You can customize the CTA to match your company's branding if you will.
Step #7: Adjust the appearance
Adjust the popup timing in the appearance settings to make sure that the CTA snippet appears the way you want it to appear.
Final thoughts on call-to-action for social media
Most people think of call-to-action buttons as green or yellow rectangular buttons that say "sign up" or "download" on the websites.
However, a call-to-action doesn't necessarily mean a button. In fact, it could be a text, image, or emoji that navigates the audience or influences the visitors to take an action.
Since there is cut-throat competition on social media, it's essential to use every tool available at your disposal to attract, engage, and convert the audience.
The call-to-actions for social media is surely something that could increase post visibility, clickability, and engagement across all social media platforms.
Don't hesitate to alter your social media strategy by including tailored-made call-to-actions for social media to see how they turned out for you.
Reach out to us on social media and tell us how this tactic worked out for you because if it works, then you could always rinse and repeat.
FAQs
Here are some burning questions about social media CTAs that need to be answered:
Does every social media post need a call to action?
Social media posts with call-to-actions tend to perform better from an engagement standpoint. However, it's not absolutely important to infuse a CTA every time you post on social media.
Some social media post types such as useful tips, personal stories, and case studies don't require call-to-actions. Instead, they have to be authentic, helpful, and engaging.
What is a call to action on TikTok?
The commonly used call-to-action on TikTok is "link in bio" – it's similar to Instagram. However, it's a completely different story in the TikTok ads.
What is a call to action on Facebook?
Facebook allows URLs in the caption/introductory text on a post. Most social media users utilize short links on Facebook to drive the audience to their website or a different social media profile. It's a popular social media tactic to capitalize on the attention.
What is a good call to action on Instagram?
A good call-to-action on Instagram means a CTA that grasps the attention right away. To make such a CTA, make sure that you're reaching out to the right audience, sharing something relevant with powerful call-to-action such as free, get access, download now, grab it today, avail discount, early access, etc. Instagram link shorteners like Replug help create tracking CTAs and bridge pages that can redirect traffic to any webpage with a shortened URL that helps convert more.
What is a call-to-action hashtag?
It's a type of hashtag that brands and organizations create that emphasizes taking action or encouraging the followers to perform a specific job. Sometimes, brands start a Twitter trend with a specific hashtag and pay influencers to use that hashtag for promotion.
Hassaan Khan
Hassaan Khan is a freelance writer for SAAS companies, e-commerce stores, and niche websites. He has contributed to SEMrush, ThriveGlobal, BloggingCage, AllBloggingTips, and several other publications. He builds niche websites, publishes e-books, and helps website investors with his done-for-you niche site-building service.