Affiliate marketing is a lucrative monetization method for bloggers and marketers. However, affiliate marketing isn't just for bloggers and marketers. YouTubers, podcasters, and live streamers also make money off of affiliate marketing. If you're looking for affiliate marketing guidelines, you're at the right place as I'm about to spill the beans.
Affiliate marketing is one of the most popular money-making strategies in the online marketing world. However, most blogging beginners start their blog monetization through Google AdSense or a similar ad network, but later on, transit towards affiliate marketing. 
Affiliate marketing comes in handy for beginners who can't make a ton of money on ad networks due to fewer monthly page views on their blogs. Therefore, the majority of them pursue affiliate marketing to find a better ad alternative.
You don't always need a blog or website to make money with affiliate marketing. Instead, you can use multiple platforms to promote products and make money. I have a bunch of ideas in mind to share with you so that you could make the most of your affiliate marketing campaign.
Let me tell you a fact right off the bat: it doesn't work out for every blogger or content creator. You'd find some affiliate marketers complain about the conversion. On the flip side, some affiliate marketers go gaga over this money-making strategy. It all comes down to finding the secret sauce that works for you.
Don't worry, I'll try to my level best to help you understand how to develop a perfect synergy between your affiliate offers and content to make the most of this monetization opportunity.
Some of you might be beginners in affiliate marketing, so the chances are, you don't have a clear idea of affiliate marketing. Don't panic as I'll dig deeper into the topic and share some fundamental steps that would take your affiliate marketing to the next level.
But first things first, you should know the basics.
How Affiliate Marketing Works?
It's a process of promoting the products and earning commissions when people buy through affiliate links. The majority of affiliate programs don't have strict requirements and pretty much anyone can join them. However, a website or blog or social media account is mandatory in some programs. They make sure that only legitimate and serious marketers join in. 
Furthermore, some companies have an affiliate program limited to their paid customers, which means you can't get access to their affiliate program unless you buy their product. In most cases, there aren't any hard and fast rules for someone to join the affiliate marketing program. 
Moreover, all brands define their own terms of use that affiliate marketers must agree and oblige to for being a part of the program. There are several clauses in the terms of use, but one of the most important ones is that the brand has the right to terminate the affiliate marketer's participation over any suspicious activity or violation of the terms of use.
That's it.
Keep reading because you're about to find out:
How a beginner can get started with affiliate marketing

Where you can promote affiliate products to earn commissions

How much affiliate marketers can earn from a single affiliate sale

How to choose the best affiliate product to promote

How to get more clicks and sales in affiliate marketing
So if you're serious about your affiliate marketing initiative, then don't miss out on the steps I'm going to share with you.
Without any further ado, let's get right into it.
A Step-by-Step Guide on Starting Affiliate Marketing
Here we go:
#1: Choose Your Niche
To make sure you're off to a good start, choose your niche wisely. It's a prerequisite not just for starting successful niche websites, but it's also for authority blogs. 
The niche is a category or genre of the blog or website, which determines the type of content a reader can expect on the blog or website. 
A niche website or blog caters to a specific audience by solving their problems through their content.
A website's niche and affiliate marketing success go hand in hand. It's essential to choose the right niche. Otherwise, it's highly unlikely that you'd rank on the first page in the SERP as it's impossible to dominate the niche without having know-how on the subject.
Some multiple factors and metrics influence the search engine ranking. Nobody exactly knows what all of those factors and metrics are, so most bloggers and digital marketers kept on testing different techniques.
The more you bring the right audience to your website, the easier it would become to make money from your affiliate website. However, delivering value through your content makes a lot of difference. 
Affiliate marketing works on trust, authority, and reputation. People usually don't buy recommended products quickly. Instead, they do their due diligence before opting for the product. Therefore, if your emphasis is selling, you might end up suffering in the long run.
There are two parameters of choosing the right niche:
It's impossible to randomly choose a niche and grow a website. Bloggers and affiliate marketers get their hands dirty before they start to make money with affiliate marketing. You can't promote a product if you haven't had some experience with it. The experience gives you the exposure which differentiates an expert user and a rookie. Always try to get familiar with the product you're going to promote. I'm a big fan of the ContentStudio tool; it's my go-to software for scheduling social media posts. When I wanted to write the ContentStudio review on my blog, I started using it so that I could write the review with an authoritative voice. I didn't want to write a review right off the bat. After using it for a while, I sat down to write the review. I'm not subscribed to the mentality of writing content just for the sake of publishing it. I always put my heart and soul into every piece of content. You can't sign up for a new tool and instantly write a review.
So make yourself familiar with the niche before you jump into it. Don't hesitate to invest a little bit of money into trying out the stuff before you talk about it on the blog. It'll give you the exposure that might turn things around for you. 
The strength means you have an interest in something or it's your skill. It's essential to choose a niche that's your strength. If you play soccer and you have the basic knowledge of the game, and you start a blog about ice skating, which you haven't done in your life, then it won't be a wise decision.
Anyway, my niche is freelancing; I mostly write about freelancing on and off the platforms: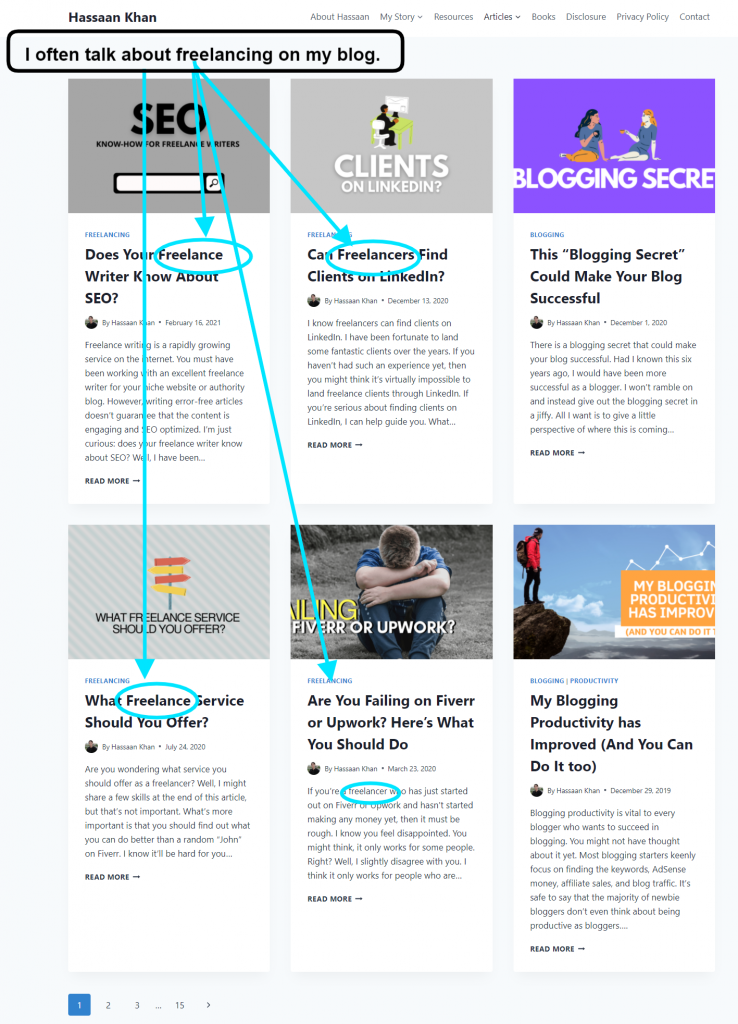 You can see most of the articles on my blog revolve around the freelancing niche. It didn't happen on a whim, but instead, I discovered my blogging niche along the way. I kept on publishing content on the blog and freelancing-related content took off.
Plus, people reach out to me to ask freelancing questions all the time, so I decided to pay close attention to what people want from me. And, that's how I choose my blog's niche. 
Hence, it's vital to choose the blog niche based on the exposure or strength to earn money from affiliate marketing. 
#2: Handpick Online Platforms
Affiliate marketing success isn't possible without a bunch of tools and platforms. You got to be careful with the selection of tools and platforms. Presumably, you're an affiliate marketing beginner and trying to hone in on your online money-making craft.
The most important tool for affiliate marketing is the primary platform. In most cases, bloggers and affiliate marketers choose a blog. So I'll stick to the blog as our main tool for publishing, but I'd shed some light on other options too.
Once you've chosen your niche and you're crystal clear on the audience targeting, the next move should be handpicking the online platforms to put out content and build an audience.
It's the most crucial part of the process. You might find affiliate marketers solely rely on the YouTube or Facebook page, but you must future-proof your affiliate marketing business. 
There are different ways to go about it, but most of you might be first-timers. I'd highly recommend setting up a publishing platform as well as a social media platform to start on the right foot. 
Let's take a look at the publishing and social media platforms:
Publishing platforms

There are various publishing platforms out there, but here are three of the most common ones:
WordPress [Recommended]
You can either choose the wordpress.com platform or self-hosted wordpress.org to launch your website. WordPress is by far the most popular content management system out there. According to an SEJ's article, the data revealed by W3Techs showed that WordPress powers 39.5% of overall websites.
It's an online website builder which allows users to create websites without having any coding knowledge whatsoever. It's a drag and drop-based tool for businesses, e-commerce stores, bloggers, and entrepreneurs.
Medium has a publication feature that lets you set up your blog on the Medium platform. Affiliate marketers and bloggers could use the Medium publication for putting out content.
Jeff Bullas is a popular blogger and marketer. He publishes content and promotes products on the blog as well: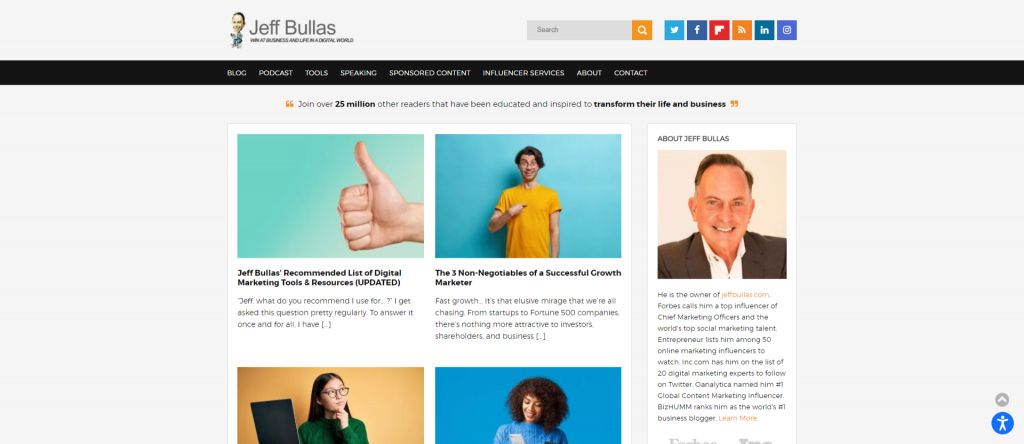 There are hundreds of thousands of such examples of beginner and expert-level bloggers who primarily use blogs to earn money from affiliate marketing.
Social media platforms
Affiliate marketers drive traffic and attract a new audience through social media. Not only do they run social media ads, but also engage the audience through sharing content. Let's take a look at three wildly popular social media platforms among affiliate marketers:
YouTube is famous for bringing a lot of eyeballs to the business. The secret to winning at YouTube is making videos that the prospective audience might be interested in and then use the description box to further engage the audience. Affiliate marketers put the landing pages and affiliate product links in the YouTube description and earn a lot of money from affiliate marketing. 
Quora is one of the most underrated social media platforms that could bring website traffic to your platform. It's a questioning and answering platform that allows you to put links into your answers. Make sure that you aren't misusing the links feature as its spam detection is quite effective. Your account could get banned over spamming. Affiliate marketers don't share direct affiliate links on Quora, but instead, they occasionally add content links that may contain affiliate products. 
Facebook is a major social media player on the market. Affiliate marketers tend to build communities mostly in Facebook groups. They don't focus much on getting sales by sharing links, but instead, they nurture the audience and drive them to the website from time to time. So don't underestimate the power of Facebook groups; they're very much relevant, active, and effective.
There are several other publishing and social media platforms out there which you should explore, but the above-mentioned are quite popular among pro-bloggers and expert affiliate marketers. 
Here's an example of creating a community on social media.
Problogger is a popular blogging tips blog founded by Darren Rowse. He is an Australian blogger, author, and public speaker. 
Problogger has an active Facebook group of over 29k members. It's a community where bloggers communicate, interact, and help each other out:
You won't essentially find a team of Problogger pushing ProBlogger content or products all the time, but instead, they rarely share offers or announcements from Problogger. It's mostly fans and readers that interact.
The point is that choose your platforms and stick with them. You'll eventually start to see traction over time. And once the traction happens, it starts to drive affiliate sales as well.
#3: Do Keyword Research
Keywords have a significant role in establishing an effective affiliate marketing strategy whether you're a blogger or YouTuber. However, the caveat is that it's nearly impossible to find the exact keywords data. According to SEO experts, even the most popular keyword tools aren't accurate when it comes to the number of searches against keywords. Don't worry, you can still do keyword research. Here's how:
Once you're done with the niche and platform selection, the next up is keyword research. I'm not a fan of traditional keyword research through keyword tools. However, I'll share some top-notch keywords tools that SEOs and content marketers use for finding the keywords. 
On the flip side, I'm more into search analysis through different ways, which I'll uncover shortly. Before I mention the popular keyword research tool, I want to shed some light on the idea of doing keyword research. 
Most SEOs put in the keyword in the keyword research tool and look at the competition and number of searches. It's also a fact that the number of searchers can't be accurate since only Google holds that information. 
Therefore, I follow a different approach called search analysis. The way how it works is that we analyze the search query through certain ways and create content around that. 
A) Autocomplete
Autocomplete is Google's intelligent search feature which provides recommendations upon typing in half of the search query. It usually recommends the search terms that are popular among the searchers, meaning people are using those search terms.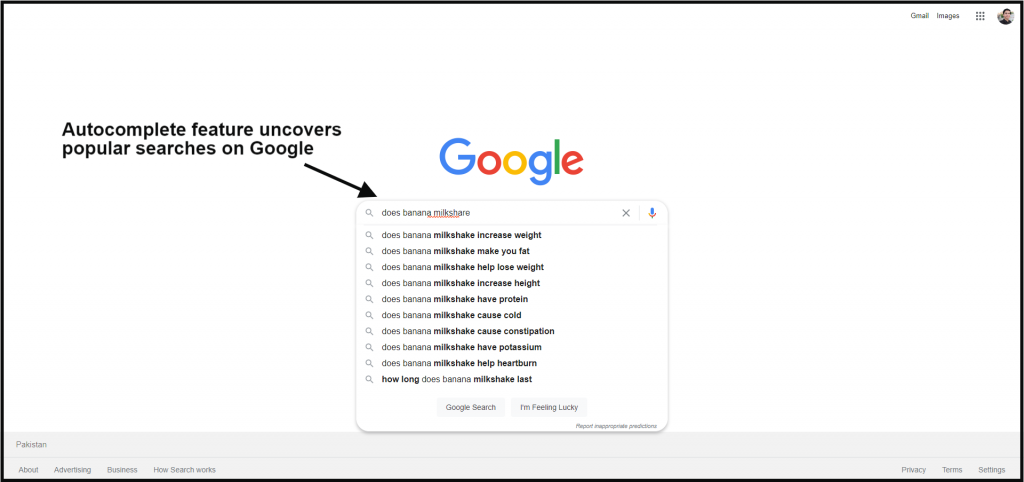 Analyzing what Google Autocomplete is suggesting gives you a good idea of what people need to know. Using those search terms in the content or writing content around those topics could bring a lot of search traffic. 
Tip: the same autocomplete strategy also works for YouTube search.
B) Google Trends
The second most important part of the search analysis is looking at Google Trends. Go to Google Trends and type in your search term or keyword. If you're using an upward trend or numbers are taking off, then it means there is a demand for this topic or keyword, and you can focus on this.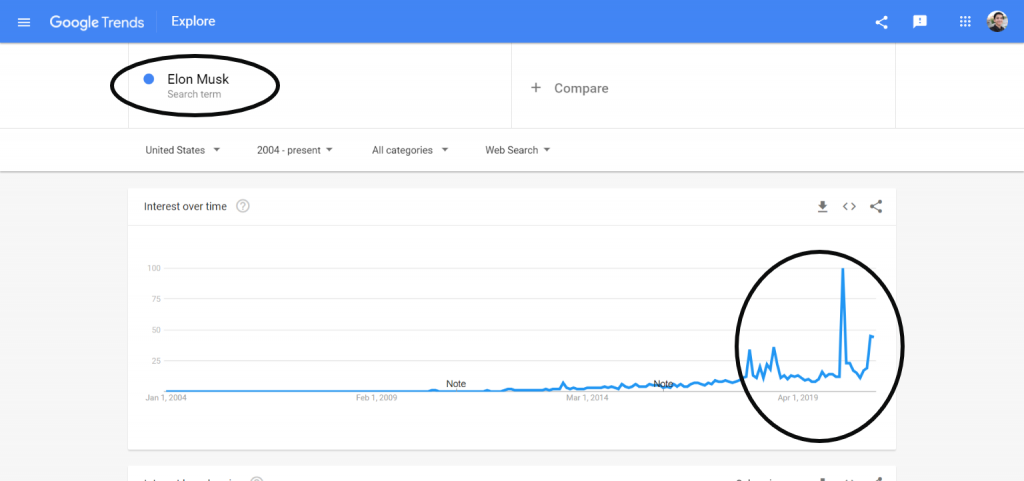 If Google Trends analysis doesn't show any traction whatsoever, then you should think twice before covering that topic or keyword in your content. 
C) Popular Content
Thirdly, analyze your popular content in Google Analytics or any other tracking software you use for your analytics. I use Google Analytics for analyzing the site performance as well as finding the top pages of my website in terms of page views. It helps me focus on the right topics and understanding the popularity of my content.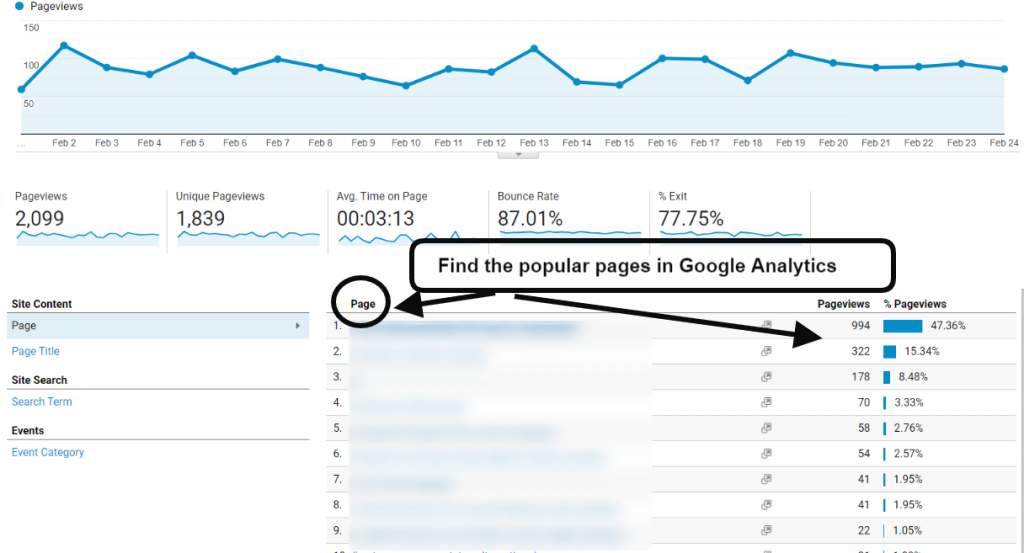 You can double-down on the popular content, meaning create similar content of what already working and gain momentum. Not only would it increase your page views, but it would also increase your ads and affiliate revenues. 
That's my search analysis approach. I know a lot of bloggers and affiliate marketers follow the same approach.
However, you can try out the typical keyword research tools, but I won't recommend relying only on the keyword research tools:
Here are three popular keyword research and SEO tools: 
Ahrefs

Long Tail Pro

MarketMuse

SEMRUSH
Once you find a bunch of keywords through keyword research tools and search analysis, get down to writing some top-notch articles and publish them along the way. 
#4: Select Affiliate Products
Affiliate marketers and bloggers have mixed opinions about the timing of selecting affiliate products. There isn't a right or wrong way of doing it. 
Some expert bloggers and affiliate marketers think it's wise to focus completely on finding the right topics/keyword and rank the articles in the SERP. On the other hand, a lot of bloggers teach and preach to choose the affiliate products beforehand. I tend to focus on the latter. 
It's good to have a list of products in mind before getting down to writing articles in bulk. I have done the mistake of writing articles in bulk without keeping the affiliate products in mind. So I have learned this lesson the hard way.

One of my blogs has 81 blog posts published so far, and more than 80% of the blog posts get fewer visitors every month. The good thing is that I realized my mistake a while ago and started focusing on the right topics, and it's changing the trajectory of this blog. 
So here are three recommendations on selecting the affiliate products:
Keep the relevance factor in mind while selecting the affiliate products for your blog or another platform. It means the product must have coherence with the content. You can't promote a juicer machine on a mortgage blog.
A personal experience with the products goes a long way. You can't talk about a product with confidence if you haven't had a chance to try it out. On the contrary, when you have experience of using the product, you can share the details with authority because you know the product inside out. 
Pricing matters in the affiliate products' conversion rate. If you're targeting beginners through your content, but promoting $500 to $800 products, it won't work out. You have to keep the price affordability factor in mind while choosing the affiliate products.
Here are some of the popular affiliate marketing networks to find the affiliates:
ShareASale

Impact

FlexOffers

DigiStore24

JVZOO

ClickBank
#5: Put Out Content
Putting out content means publishing content online to attract, engage, and convert the audience. It's nearly impossible to generate affiliate sales without putting out content. 
Some affiliate marketing gurus create email marketing funnels and use online advertising to drive traffic. It could work as much as any other strategy, but the problem is that the majority of us won't be able to spend a thousand dollars right off the bat. Therefore, putting out content essential becomes a viable option to pursue.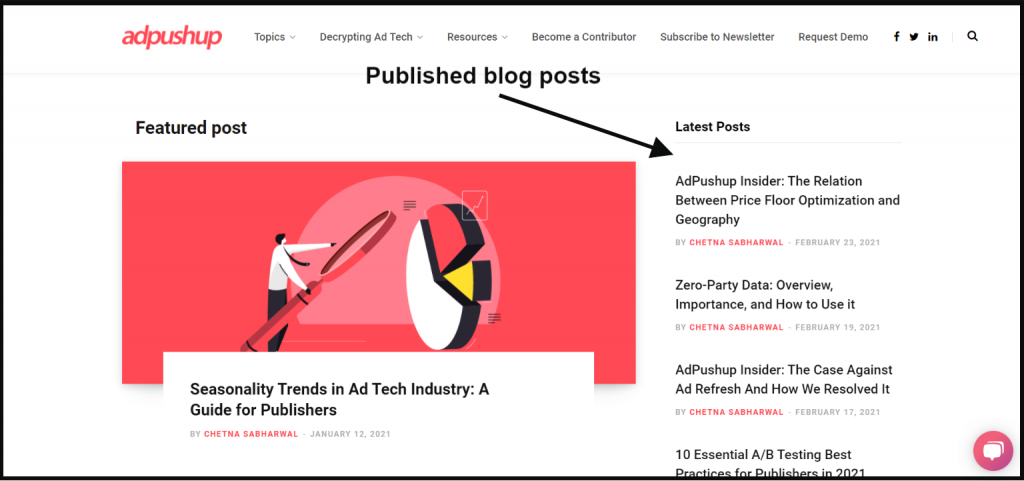 Once you have done some due diligence on the keywords and topic clusters to target, it means you're all set for creating content. You'd primarily be using written content, but you'd also need to use other types of content along the way.
Let me breakdown different articles you should be writing on the blog to boost your affiliate marketing sales:
These are types of articles that would purely be providing information to the audience. For instance, if you have a furniture blog, then an article like "how to clean your sofa without hiring an expert" could be an informational piece of content.
Buyer guides are typically product guidelines that explain to buyers about the products and help them make a buying decision. Such articles could focus on both single or multiple products. Furthermore, these articles are intended for generating affiliate sales.
Response posts are published to cater to audience questions that are discovered through search analysis, keyword research, and audience feedback. 
The story doesn't end here, but instead, you shouldn't just rely on the text content. Stretch your content plan further towards other types of content such as videos and images. 
Use the power of image platforms such as Pinterest and Instagram. These platforms are massive from an attention standpoint. A lot of bloggers use Pinterest to drive traffic to their blogs and websites. 
Similarly, YouTube is the second most popular search engine. Use the videos to drive traffic to your website as well as generate affiliate sales. 
Income School once revealed a brand new YouTube channel in their video that they started around shooting sport: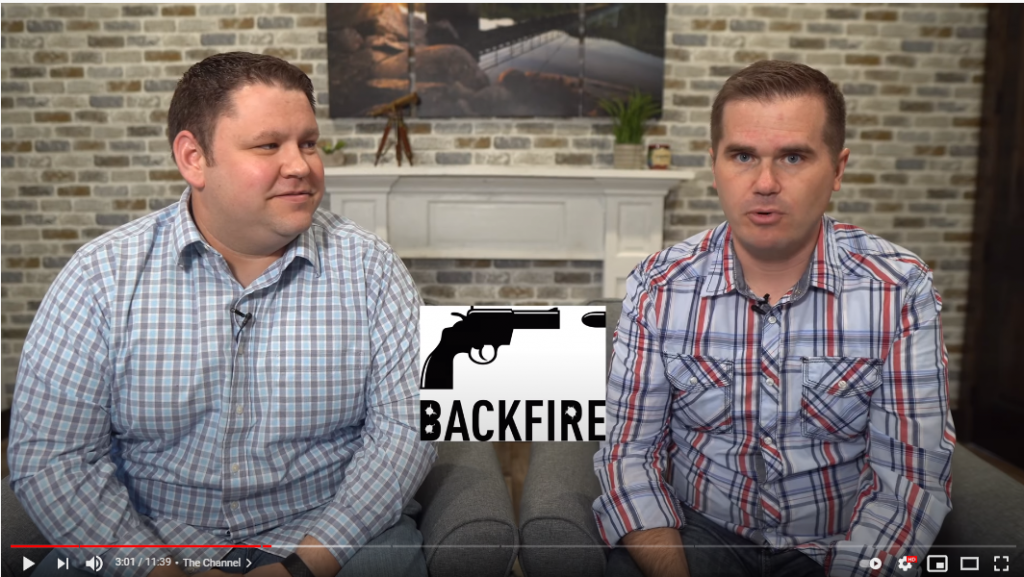 The channel took off fairly nicely; they were able to get 9k subscribers in just four months. It didn't end here because they also shared that they were able to generate a lot of affiliate sales through that YouTube channel. So it just validates my point of using a platform like YouTube to build a brand and generate affiliate sales.
#6: Run SEO and Outreach Campaigns
Affiliate marketing seems easy on the outside, but it's quite tricky on the inside. If you ever come across someone who is making a good income from blogs or niche websites through affiliate marketing, then investigate what else that marketer is doing to stay ahead of others.
There are competition analysis and spying software such as Semrush and Spyfu that marketers and companies use to dominate search ranking.
What I mean is that most affiliate marketers whether they're running authority blogs or niche websites build links from time to time even if link building isn't an important part of their strategy. 
Many bloggers believe that some niches are competitive enough that it's becoming harder to outsmart the competition without building a few quality backlinks.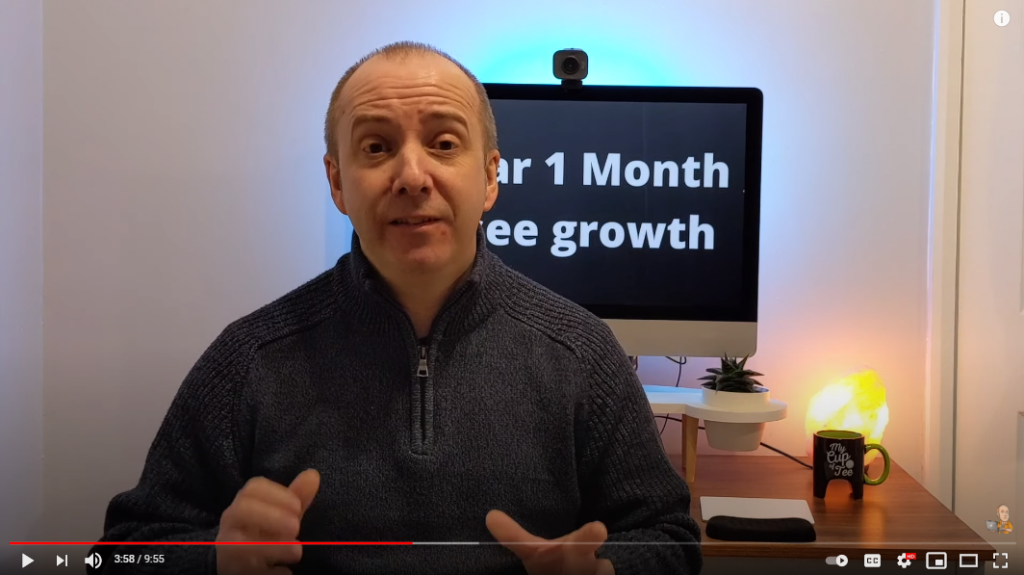 For instance, Carl Broadbent is a British blogger who asked an SEO company to analyze his niche website and report back on ranking against a search term. The SEO company revealed that top-ranking sites against that search term have 60 DA on average and his site needs 250 backlinks to compete with them. 
What I'm saying is that I'm a big advocate of getting backlinks naturally, but in some cases, you need a little push to leap. Most affiliate marketers I know take link building very seriously, but they never compromise on the quality of the content. 
You don't need to spend money on outreach for SEO if you're just a beginner, but if your site is taking off rather slowly due to fierce competition, then you could try out an outreach marketing strategy to see how it works out for you.
It doesn't necessarily mean you should completely ignore on-page SEO. I'd highly recommend paying close attention to the following on-page SEO elements:
Page loading speed

Keywords targeting

Topic clusters

Page caching

Images compression

In-depth content
#7: Add Social Media Shareability
You have to have a social media sharing strategy in your mix. What I mean by adding social media shareability is that you should create a system of maximizing social media.
You might not be aware of the power of social media posts when it comes to readers' engagement. Have you ever heard of the phrase "social proof"?
Social proof is a public validation from the audience which puts any product or brand in the good books. People don't share bad content because nobody cares about it. Plus, if you keep pushing hard bad content, people consider it spam and may start to unfollow you.
It's vital to know for affiliate marketers how to leverage social media to their advantage. Clearly, shoving low-quality content down the followers' throat doesn't work out for anyone. 
Here are four things you can do to make the most of social media:
Create compelling yet useful content:
To make sure that your content gets shared by followers, you must create helpful and effective content for the audience. A high-quality content works like a charm, for instance, you never know who comes across your content and shares it to hundreds of thousands of followers on social media. Similarly, when good-quality content gets ranked or goes viral on social media, it also brings backlinks, which plays a vital role in building site authority.
Engagement matters a lot on social media. What happens is that when someone engages with your content, their followers or friends get notified on the social media platform. Thus, it exposes your content to more people. That's how engagement brings in more eyeballs and attention.
 

Make sharing easier for the readers:
Adding social media sharing buttons that are visible on both desktop and mobile versions of the site goes a long way. When a blog doesn't have social media sharing buttons, it's highly unlikely that most readers would go the extra mile to share the content. Sharing a piece of content through a sharing button is much easier than copying the link and title manually and then pasting it onto the social media platform. So add social media sharing buttons to your blog.

 Share others' content for more attention
Everyone shares their own content, but sharing others' content puts you on the pedestal. When you share others' content on social media, not only does it bring value to the followers, but it also helps the original creator of the content.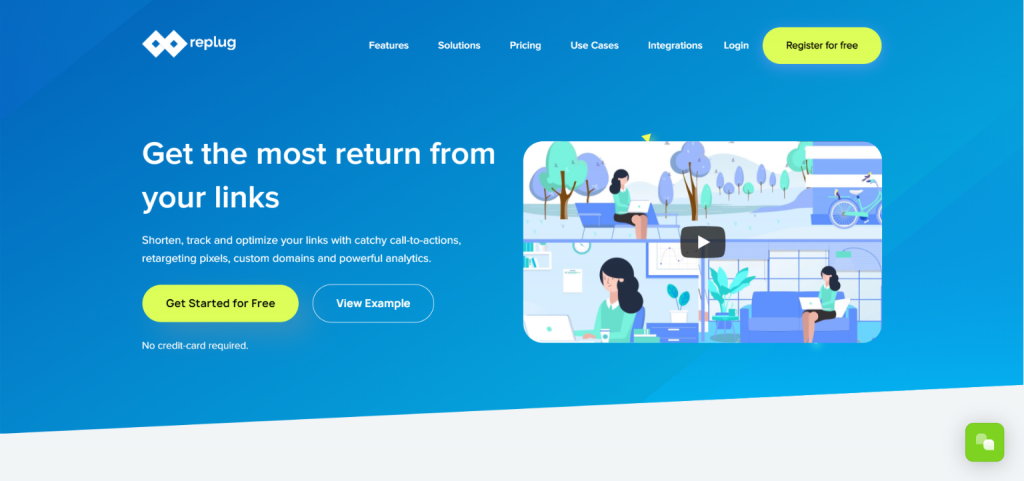 Replug URL shortener provides click tracking to the users. It's an excellent tool for bringing the audience back to your website. When you shorten an article's link and share it on your social media, and the followers start to click-through and land on the article. Furthermore, they'll see a small pop-up of yours that could take them to your website or profile.
So the takeaway from this step is that it's good to focus on the keywords selection and putting out valuable content that people like to share, but it shouldn't end here. Instead, making it easier for the audience to share your content does the trick.
Affiliate marketing success doesn't only achieve by putting out content. Otherwise, every single affiliate marketer would have been a millionaire. One of the secrets of affiliate marketing success is assisting the audience whether it's through a free ebook or by recommending a suitable product. Once you start doing that, you won't be an affiliate marketing failure.
#8: Analyze the Site Performance
No matter what approach of content creation, SEO, and affiliate marketing you adopt, you would ultimately need to analyze your campaign's performance at some point. Otherwise, you won't be able to find conclusive evidence of what's working and what's not working on your website.
So it's important to do a little bit of sniff testing after deploying the strategies, but don't start analyzing the performance of your website after a week or so. Give a good one month before you start examining the performance.
Here are three key indicators that you should look out for in your affiliate site performance analysis:
Analyze the number of overall clicks on your links; you can use the heatmap tools as well as check out the clicks on your in-content affiliate links. If the number of clicks is rising every month, then it's a good sign.
The conversion rate is the most important indicator to see whether or not your site is performing well. If your affiliate sales are increasing, then it means your tactics are working. In some cases, clicks increase but conversion doesn't go up, it usually indicates that there is a problem with the audience targeting. Simply put, the right visitors aren't landing on your website, so you need to fix your content strategy.
The number of pageviews is also an essential indicator of how well or poor your search analysis, SEO strategies, and audience engagement are on the site. When page views increase and you're bringing the right audience to your site, you'd surely see an increase in clickability and conversion rate. 
Affiliate marketing beginners must know when and how to analyze their affiliate marketing strategies. I don't want to indulge you in the analysis paralysis, but you should analyze your blog monetization strategies once every quarter. 
Did You Learn Something About Affiliate Marketing?
I have shared the lessons I learned over the course of 10 years. Had I known all these things a decade ago, a lot would have been different for me today. 
That's why I shared all these affiliate marketing strategies for beginners so passionately because I know it could turn the table around for anyone who is getting started.
I'm curious to know whether or not you're taking away something valuable from this blog post. 
Please do me a favor and let me know in the comments section.
Did this blog post on affiliate marketing help you in some way?
Hassaan Khan
Hassaan Khan is a freelance writer for SAAS companies, e-commerce stores, and niche websites. He has contributed to SEMrush, ThriveGlobal, BloggingCage, AllBloggingTips, and several other publications. He builds niche websites, publishes e-books, and helps website investors with his done-for-you niche site-building service.