Christmas Marketing Ideas & Christmas Marketing Deals on SaaS Products.
With Christmas approaching, you may be thinking about how to make the most of the festive season. One idea is to take advantage of the Christmas marketing deals available for SaaS products. 
There are a number of companies offering discounts to new & old customers during the Christmas season. This blog will outline some Christmas marketing ideas & awesome deals to help you succeed during the festive period.
It is important to be ready for peak days during the holiday. According to the survey, sales are expected to grow between 4% to 6% as compared to last year.
However, in order to rope in maximum holiday season sales, SaaS companies need to prepare for the shift in consumer behaviors. 
A few points will help you better understand your audience and how shopping behavior emerges.
People go through the "impulsive buying" phase

Always in search of deals and offers

FOMO of the holiday season

SaaS products are costly on regular days
How To Execute Social Media Marketing Campaigns for Christmas?
When it comes to Christmas, the audience is already in the mood to look for deals. Right? 
As a brand, you must prepare for Christmas marketing to rope in your customers and boost sales. 
A few important factors to remember before executing social media marketing campaigns.
Understand your audience 

Define campaign goals

Ideal Social Media platforms

Create a contest to generate publicity

Repurpose user-generated content on different cases
Christmas marketing ideas for SaaS companies to maximize sales
1. Christmas email marketing
Christmas is the most anticipated event of the year. This year, there will be around 157 million American shoppers. As a business owner, you must take advantage of this opportunity. According to a study, 68% of shoppers are more likely to purchase after receiving emails from retailers. Therefore, having a successful Christmas email can help you gain higher sales. 
Use Christmas-themed images and value propositions in email campaigns

You can download or design Christmas email templates to save valuable time and get inspired

Always add a button CTA to create a sense of urgency or social media cross-promotions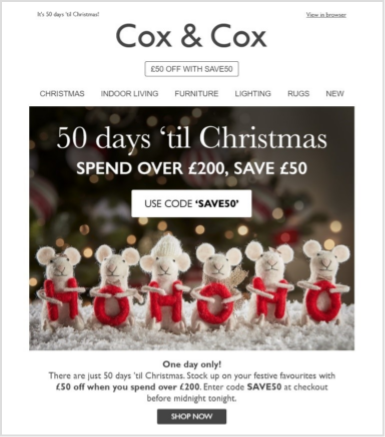 #Cox & Cox is creating a sense of emergency by using the phrase "one day only" and the button CTA in the black bar "SHOP NOW."
You can also personalize emails to your employees, clients, & followers. It will create a sense of appreciation and loyalty.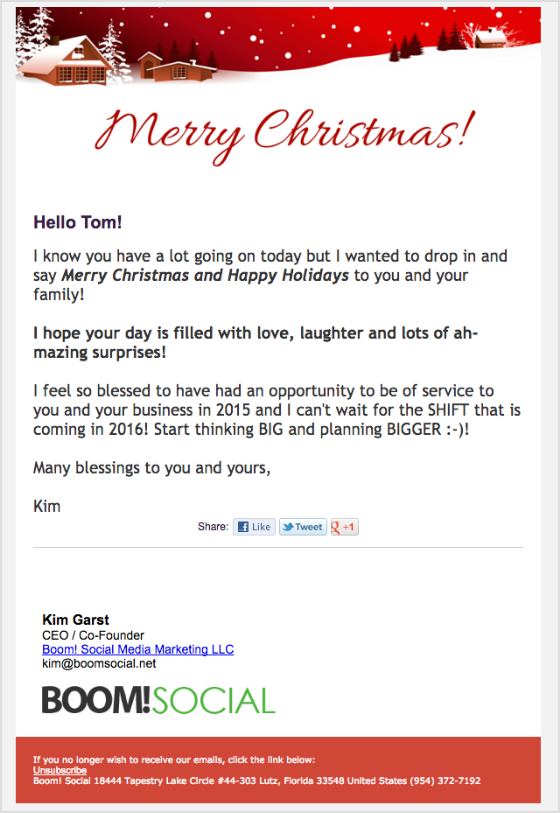 2. Create a Christmas-themed logo
As the year ends, you need to start thinking about your Christmas marketing campaigns. You want to attract and engage with potential customers, whether face-to-face or online. 
Considering this, you should also create a Christmas-themed logo that reflects your business. But, again, little things are essential to take care of to hit the right audience. 
Create a logo with popular colors, white, green, and red

Make it simple enough to adapt to seasons and holidays

Keep it basic but relevant

You can use the existing logo by adding a snowball, crown, bulb, or any decoration ornament to your logo.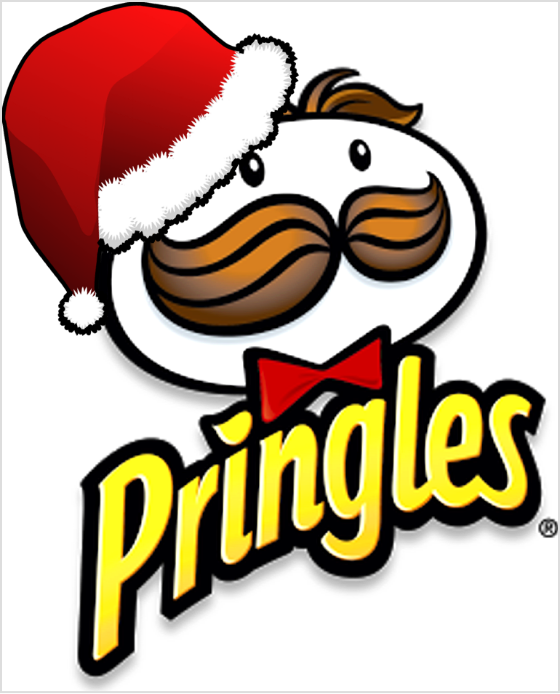 #Pringle wishes its audience a happy Christmas by keeping their existing logo relevant to the holiday season.
3. Upload and share Christmas themed social media posts
If you think social media platforms are only for regular posting, then think again! Social media platforms are a way of getting your brand out there, and for Christmas, it is one of the best platforms to use and reach your potential customers. 
Every SaaS company needs to improve its social media presence to drive awareness and reach its target audience at this time of the year. The best way to improve the social media presence is to create engaging and creative content that users want to share.
Create Christmas-themed spectacular post

Use the right hashtags to boost searchability

Write festive phrases and catchy captions

Create a sense of FOMO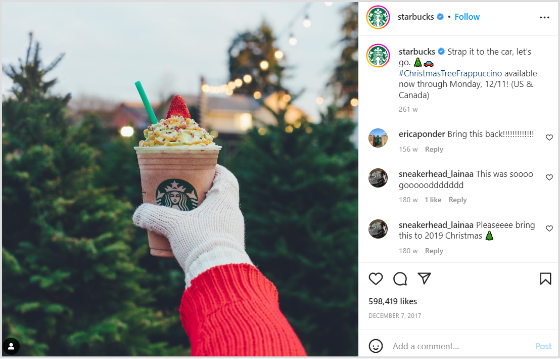 #Starbucks is advertising beverages in Christmas-themed Instagram posts.
4. Run Ad campaigns
After building your audience and creating a presence on social media, if you have the budget, you can also launch ad campaigns on Christmas eve to promote your products or services, such as Google Ads, Facebook & Instagram ads. 
In addition to the blog and social media, you can also reach out to influencers and media outlets to promote your holiday deals and offers.
Create Christmas theme ads

Share greeting and cheering photos.

Use festive phrases to help your customers get into holiday spirits

Highlight product reviews and customer feedback in campaigns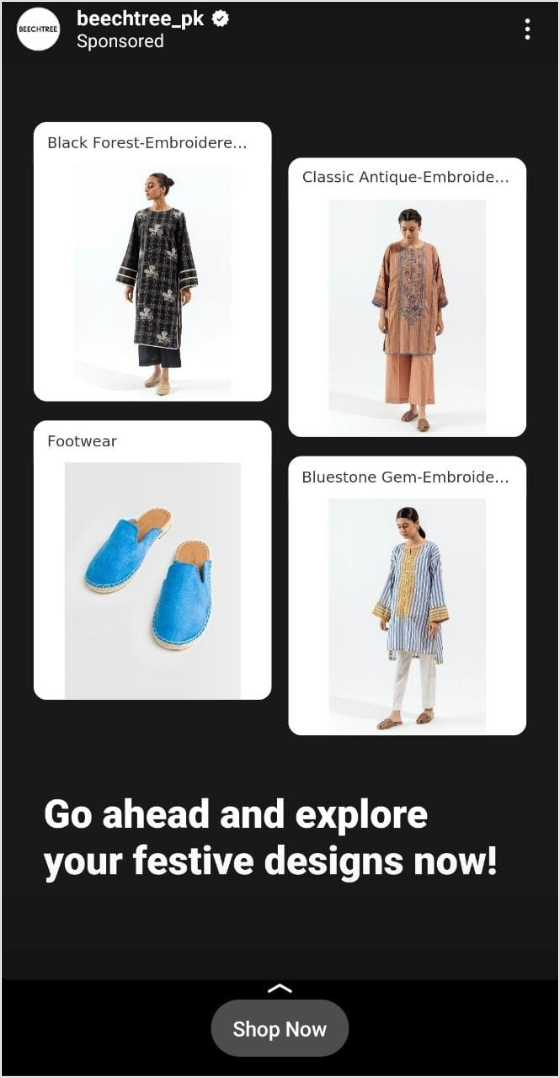 #Beechtree is showing the latest collection in an Instagram-sponsored ad and calling out festive in their context.
5. Design and upload Christmas-themed cover photo
Social media images are becoming as important as the text on your social media pages. So it's not surprising as a recent study by Skyward showed that posts with images get 94% more views. 
Using images to resonate with customers and get them to take action during the holiday season is one of the most powerful things you can do. 
Design and uploading themed cover photos on your social media pages will help you set a promotional tone for your followers and help them navigate your website.
The objective for a themed cover photo is the "promotion" of your product and services. You can use banners, flyer, display pictures, thumbnails, or any visual who are upfront and easy to catch attention.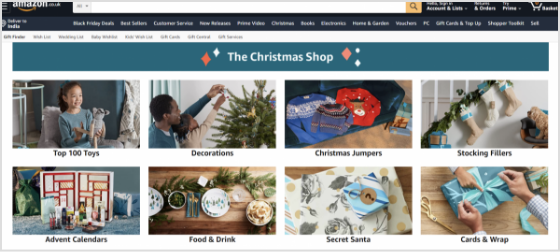 #Amazon has uploaded pictures and context, "The Christmas Shop," to attract customers looking for deals and offers. 
6. Create Christmas-themed landing pages
Customers usually visit websites during the holiday season to purchase gifts. You can give your audience an overall feeling that you are a holiday-oriented business by changing the colors of your website and offering them seasonal decorations.
If you are looking for ways to boost your sales during the holiday season, you should start by updating your site.
You can also create Christmas-themed landing pages. When you create an impact-full seasonal landing page, you attract more customers, increase revenue, and nurture long-term relationships.
Small adjustment snowflakes, Santa & festive bows

Offer value that urges clients to buy
7. Make Christmas newsletters sign-up forms.
A newsletter sign-up form is a great way to build a relationship with your target customers and can be an effective way of making your email list. These forms are already part of your website, so why not use them to help boost your lead generation?
Here are some ideas to help you increase the number of leads you generate through your Christmas-themed newsletters.
Add discount and sales offer on the popup to do charm. Exclusive deals always attract potential customers during the holiday season.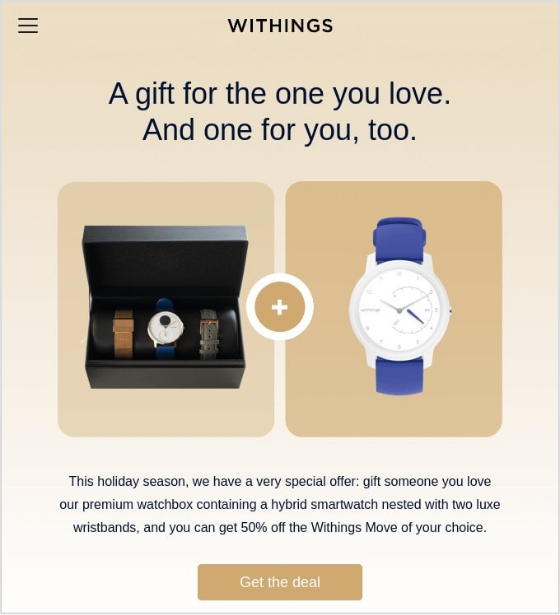 #Withings is offering an exclusive deal during the holiday season.
8. Offer Rewards to your Loyal Customers.
Another key to growing a community around your brand is to offer rewards to your loyal customers. Your followers & old clients on social media are your best brand ambassadors. So, why not thank them for this Christmas by offering some exclusive deals?
With an active social media presence, the brand owner can use their social media accounts to send out reward offers.
You can also create and share digital coupons on social media or create a web page with unique offers.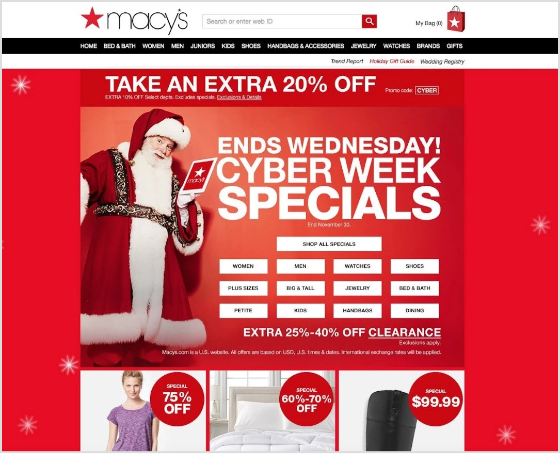 #Macys has assigned Santa an exciting job to call out the audience to shop for an exclusive sale. 
9. Run Christmas-themed contest
Christmas is a time of cheer, sharing, and celebration. It is also a time when people are looking for that special gift for their loved ones. And what better way to promote your company than by running a Christmas-themed contest?
Considering the holiday season is a busy time for businesses and marketers, running a contest is a fantastic way of gaining attention.
Try to involve as many people as you can. 
You can come up with the prize of best and worst in the category to inject a moment of fun and enjoyment among customers. 
Post updates about content on social media channels to generate publicity and attention.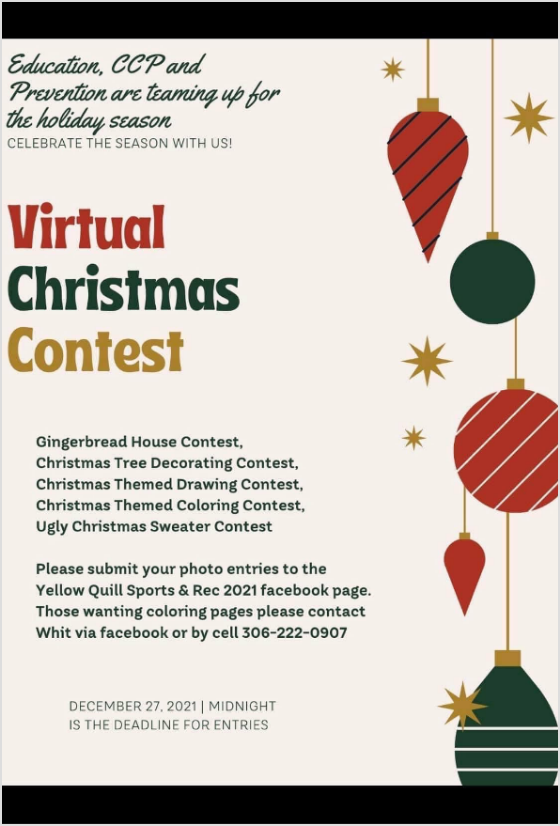 10. Run hashtag campaigns and collab with influencers
Running hashtag campaigns will boost your searchability during the Christmas season. Find a relevant hashtag that will go with your brand and festival. 
After that, you can share hashtags in upcoming social media posts, update slightly old ones, and highlight them in bio, posts, and stories. You can also collaborate with social media influencers and content creators to mention your hashtags in their posts.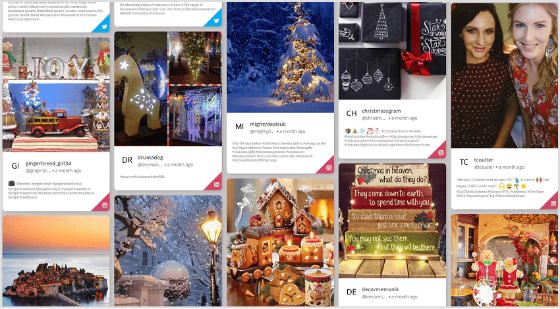 11. Target-audience with location-based marketing
A specific area-based offer is a marketing trick related to a specific location. The best part is that it's relatively simple to set up and effective. More and more companies are turning towards area-based offerings. 
Let's say: you can send an alert text or special offers within a particular geographic location for your business. But always hunt multiple locations for better reach.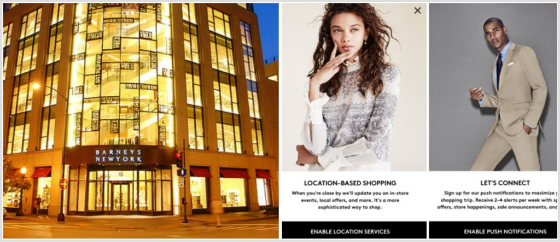 #Barneys is winning location-based marketing. Barney uses customer location to show and send updates about new collections, sales, and exclusive deals. 
12. Be a Santa for a day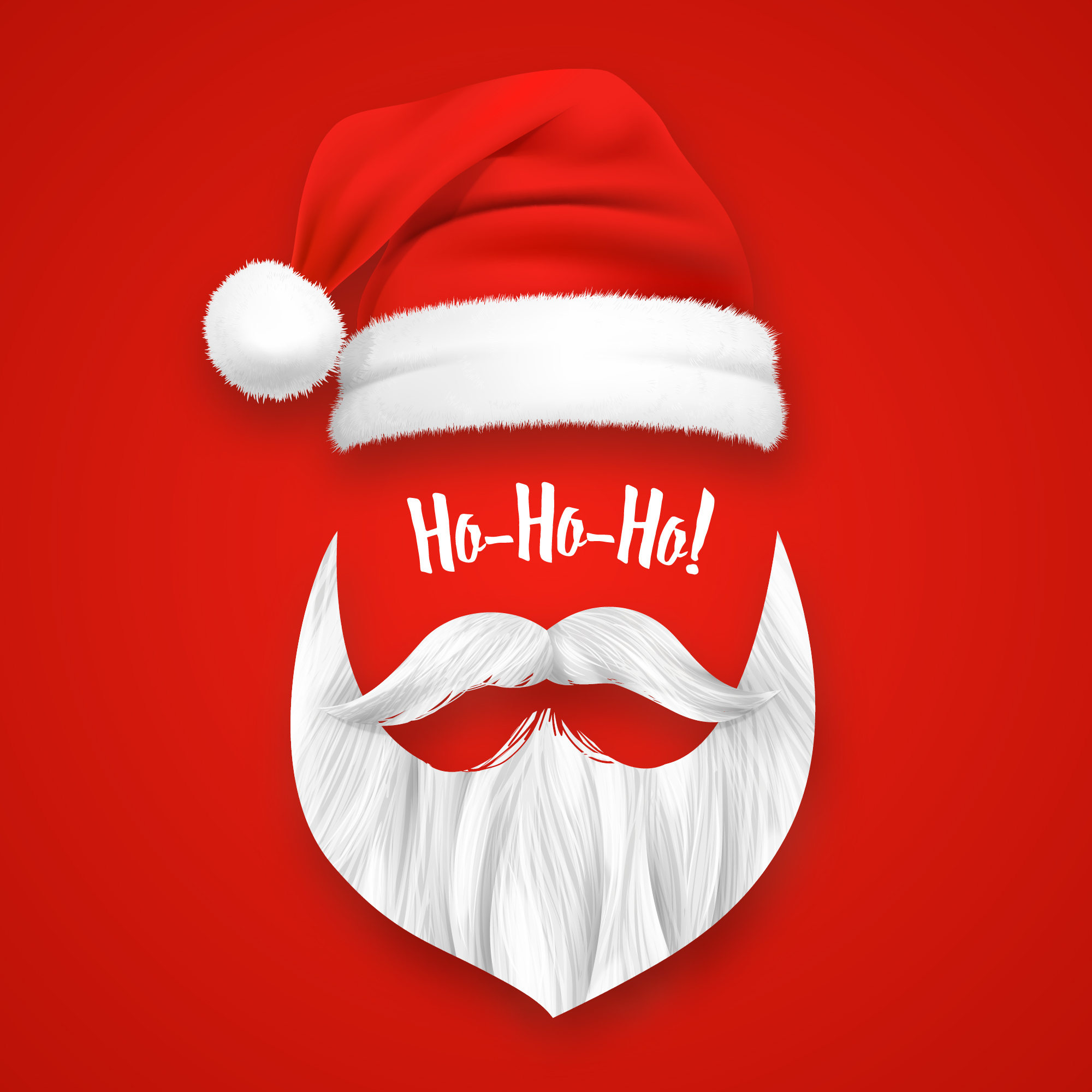 Make every wish come true by acting like Santa for a day. Christmas is all about gifting. You can also distribute coupons and rewards to your customers. The idea is simple, announce give away and prizes by inviting the public to competitions or contests. 
Christmas deals you simply can't refuse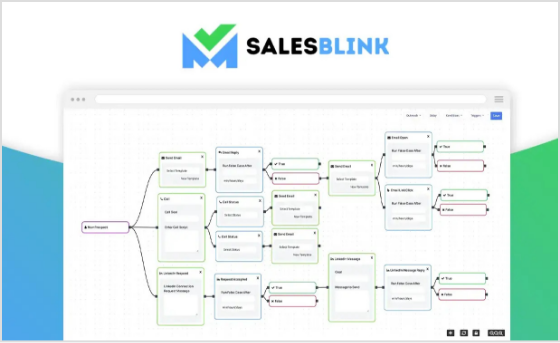 With the help of SalesBlink's sales outreach automation suite, you can find prospects, automate your cold outreach sequences, and monitor your pipelines and prospects.
It is a full-stack platform for cold outreach that can carry you through prospecting and closing at top speed. This all-inclusive service automates multi-channel cold outreach while also generating and maintaining leads.
SaaS Christmas deal: Grab a lifetime offer for $149
Offer Validity: 31st December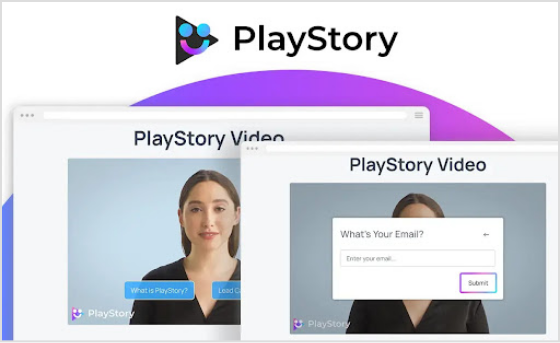 A fully featured interactive movie-making tool called Play Story helps in raising viewer engagement. The tool is the greatest choice for marketers who want to make movies with a high conversion rate.
Using the tool, you may record or submit movies and include interactive features like polls, meeting links, etc. You can design various video paths that the viewer can choose from and actively manage for a more individualized experience. You can embed the video in your website or landing pages with a few clicks and share it on social media.
SaaS Deal: Grab an exclusive deal starting at $19
Offer Validity: 31ST December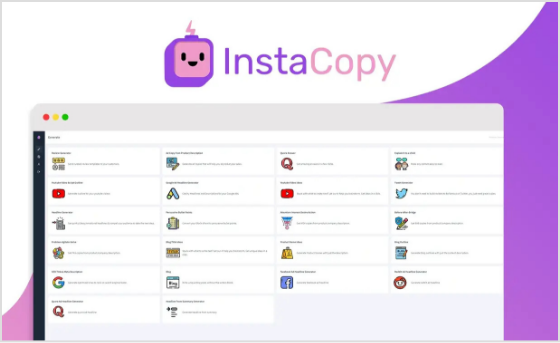 An AI-based content creation called InstaCopy can produce headlines, blogs, Quora answers, marketing copy, and more! Using cutting-edge artificial intelligence, it produces high-quality content almost immediately. Therefore, all you need to do to generate well-structured SEO content automatically is enter your writing aim, topic, and other crucial characteristics.
The technology is incredibly convenient, writer-focused, reasonably priced, and produces outputs that are 100 percent original. Therefore, Instacopy is one of the most excellent copywriting tools for experts who want to produce high-quality SEO content immediately.
SaaS Deal: Grab an exclusive Christmas offer at $59
Offer Validity: 31st December
Related: Create a SEO Friendly URL: Ultimate Tips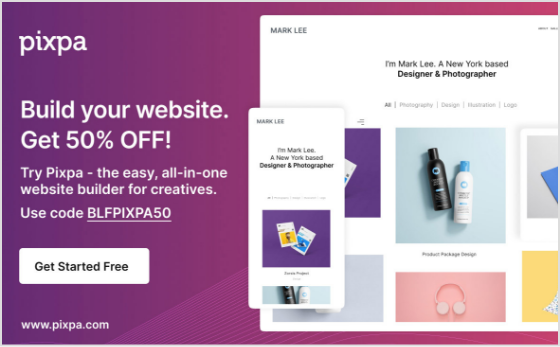 Pixpa is a one-stop, no-code platform that allows artists and small companies to build stunning websites with an integrated online store, blog, and client galleries. Without any coding experience, you can showcase your work, discuss ideas, and sell your products online using Pixpa's flexible platform.
SaaS deal: Use BLFPIXPA50 promo code to avail 50% discount on annual plans
Offer Validity: 31st December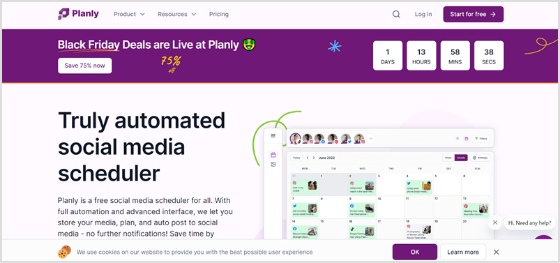 With Planly, a social media scheduler, you can plan and schedule updates for TikTok, Instagram, Twitter, Pinterest, LinkedIn, Facebook, and Google Business Profile. Its many features make it the most user-friendly planner on the market and make using it straightforward.
SaaS Deal: 75% off on monthly plans and 50% off on annual plans.

Offer Validity: 3rd January
Related: Best Hootsuite Alternative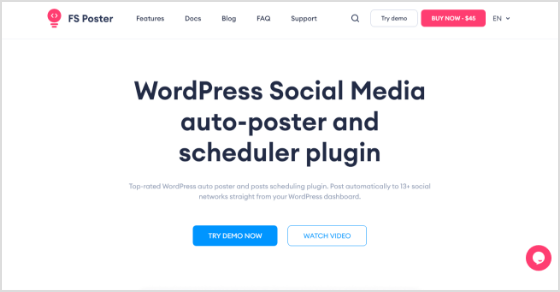 A powerful social networking auto-posting plugin is FS Poster. You can use the plugin to schedule and automatically post content from WordPress to 20 social networking platforms. It enables individuals, groups, social media managers, and agencies to maximize their marketing efforts by providing data-driven insights.
SaaS Deal: 50% off for the lifetime
Offer Validity: 31st, December 2022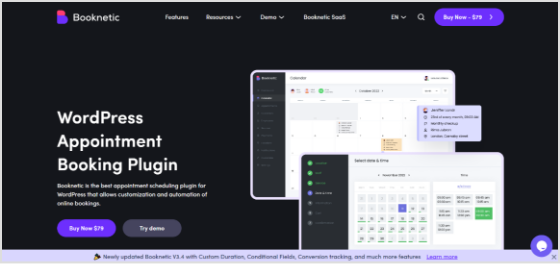 Booknetic primarily works as a WordPress appointment scheduling plugin to help businesses of all sizes streamline their operations. This software can be used to great advantage by law firms, consulting firms, personal training studios, educational institutions, hospitals, and other business types in any industry.
SaaS deal: 50% off on lifetime and 30% off on all add-ones
Offer Validity: 3rd, January 2023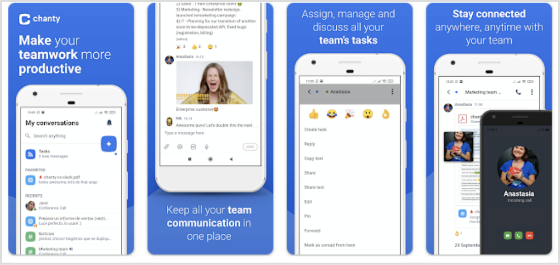 A single platform for team collaboration and communication, Chanty. Thanks to its integrated task management system with the Kanban board, Chanty is a wonderful project management tool as well as a communication platform. With screen sharing, Chanty provides one-on-one and group video conferencing.
SaaS Deals: 55% off on all annual plans
Offer Validity: 6, January 2023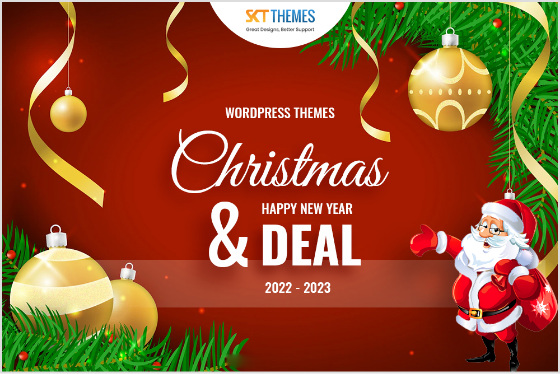 A WordPress theme development firm called SKT Themes produces stunning, sophisticated, fully responsive WordPress themes with strong functionalities. This Christmas and New Year, they'll reduce the cost of their all-themes bundle from its regular $199 price to just $69! You make a save of over 50%.
SaaS deal: Upto 50%
Offer Validity: 6, January 2023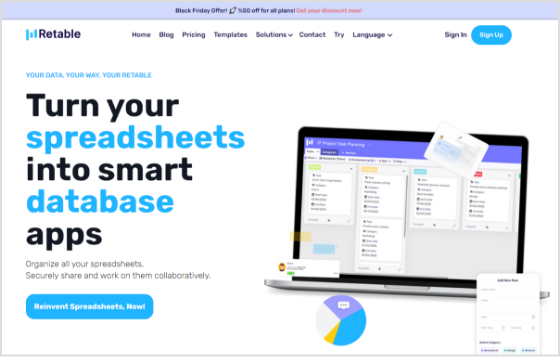 You may organize your work processes, projects, teams, and business activities with the aid of Retable, a clever relational database management solution. Retable provides you with real-time collaboration, simple-to-use rich capabilities, and a user interface that looks like a spreadsheet to manage your projects and business procedures.
SaaS Deal: 50% off on all purchases
Offer Availability: 31st, December 2022
Bottom Line
The main thing to remember when looking for the right SaaS product for your business is to make sure that it's able to adapt to your business's needs and the needs of your customers. 
The best SaaS products offer all of the necessary features and functionality you require, and they're easy to use and navigate. 
This blog outlines some of the best Christmas SaaS deals. Whether you are a part of enterprise-level or looking for individualistic needs, we have SaaS deals in every range. 
Are you unsure about which SaaS product to choose? If so, feel free to reach out to us at ___. We're happy to answer any questions you have about software for your business, and we'll happily provide you with a free consultation.
Note: We will keep updating this blog till Christmas by adding new SaaS deals from the best B2B brands. 
FAQs
How do you attract customers for Christmas (using branded URL)?
You can customize the URL by highlighting your domain name or adding "Christmas deal". It will add credibility to the shared URL.
Let's take an example:
https://replug.link/Calendardeal
This is a branded URL. If you click the link, you will be landing directly on the social media calendar deal page.
How do I start Christmas marketing campaigns?
You can start by defining your audience and marketing goals. Attract potential clients with catchy sales and discounts. Make glittering posts on social media channels and create a sense of urgency.
How can I increase my Christmas sale?
You can create a bio link with a link management tool to to share your Instagram profile and other information. Then, track analytics in real-time and retarget your clients with ad campaigns. 
Khadija Anwar
I am Khadija Anwar, B2B Copywriter. I started my career as a freelance writer in 2019 and built a strong portfolio. I have crafted multiple blogs, website content, fashion magazines, news outlets, SEO content, and technical documentation. Last but not least, my favorite cartoon character is Dopey Dwarf, resembling my real-life character- calm, happy, and lively.