What is a link in bio tool?
A tool to create for a clickable bio URL redirecting the audience from a social media profile to a custom designed web page containing information regarding your e-commerce store, socials or business that you want to promote and share.
Social media channels like Instagram, Twitter & Tiktok restrict users from adding multiple links in their bio. Instead, these platforms allow users to add only one link, which is needed to market your brand. 
It can cause trouble for online marketers as they can't promote with multi-links in posts. 
Here the Bio link comes in. It can redirect traffic to a custom landing page bypassing the rule of a single link in the bio. 
Use the link in bio tools to connect your audience to the information you don't have enough space to add.
What can it do?
Short answer, it can drive traffic to your website and increase conversions. 
If you are looking for how to make the most of the bio link tool to do the above, then keep reading!
Why Should I Use Link in Bio Tools?
You might have thought on this point, why is it important to use links in bio tools?
Let's take a case scenario:
You liked a product on Instagram, and the caption says "link in bio". You click the link but land on their main website or the page that you did not intend for.
Now it will take time and energy to find the product page you are looking for in the first place. 
You might end up closing this website. 
Bio links save you from taking shots in the dark. It redirects to a landing page, where all products, pages, and social media profiles are already presented. 
You click on a desired product and land on that page. 
Here are a few other reasons why you should use links in bio tools:
The best link in bio tools for Instagram & TikTok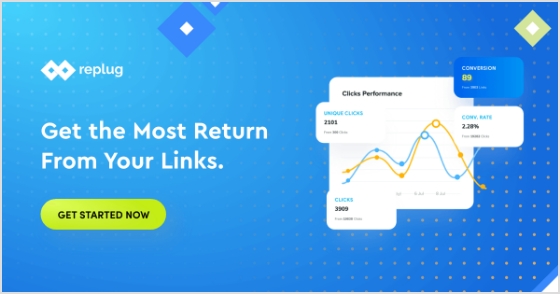 No doubt, this URL shortener tool is great for tracking and generating sales through the power of customized URL links.
Replug offers a centralized platform to market your brand in 360 degrees. 
This link-in bio tool can house all your social media profiles in one place. 
You can also optimize sales by adding branded URL and RSS feed URL in the bio link.
With one click, the audience can access all your social media channels, product pages, and link blocks. 
Replug.io helps you build brand authority by adding five social media channels. 
It helps you create a brand aura by adding social proof, so your audience won't hesitate when making a purchase decision.
While promoting your brand, you got to cover all social media profiles, public reviews, product videos, and pricing. Replug.io helps to manage all with one single link. 
You can amplify your sales by creating one bio link that is the door to all other links.
Here's a preview of Replug bio link page.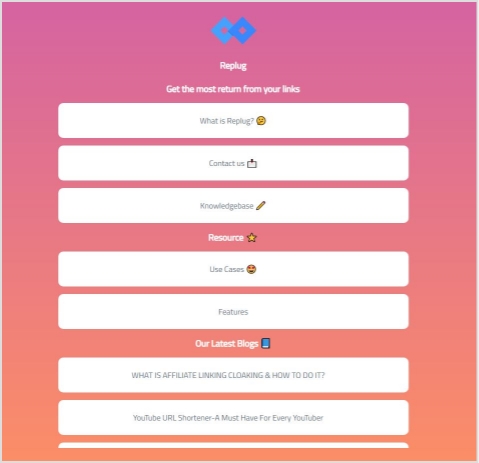 Here's another one.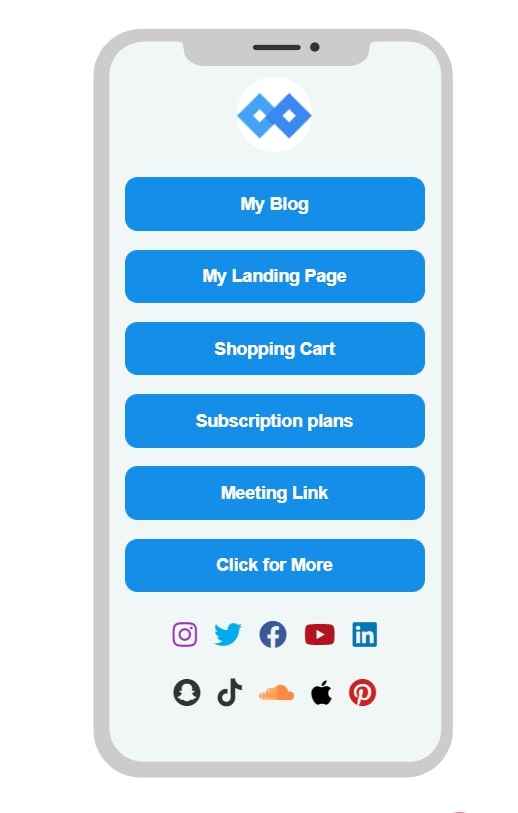 Features:
Add social media profiles per block

Customize title and social media icons

Add RSS feed

Re-arrange block as per preferences

Create customize link

Add description and meta titles

Add targeting pixels

Add link block and a catchy call to action
Price: $49
Related: How To Add A Instagram Link In Bio?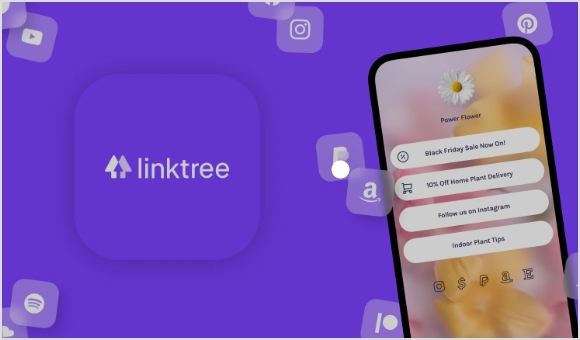 This tool has nine themes for a landing page to choose from. In addition, Linktree has a drag-and-drop page builder to assemble your brand information on one page.
The free version has limited features. However, you can still connect your audience to multiple pages through a single link.  
You can customize font colors, buttons, and colors. In addition, it offers insight into CTR and audience demographics. 
Linktree also integrates with MailChimp and Google Sheets to amplify your marketing campaigns. You can also customize your conditions and terms for email and SMS links.
Price: $6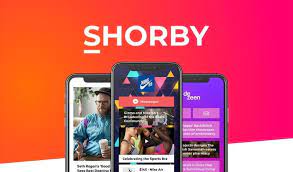 With Shorby you can create micro landing pages that you can highlight in social media bios. 
Instead of adding a URL to the caption for every post, you can leave one link in the bio attached to all other posts' links.
You can link to all social media accounts and add the RSS feed for your latest content.
Sorby also helps to link with the messenger service for real-time client interaction and allows you to add a product/service list on the micro landing page. 
Price: Starts from $12
Related: How To Put A Link In TikTok Bio? 
You can connect and reach potential clients with the link in the bio of the milkshake website. 
Milkshake helps you to grow and promote ideas and business by creating a professional landing page in a few minutes. 
You can create and customize landing pages without prior web development and UI/UX design skills.
This is the perfect platform to create a website and show all your brand info, product, and pricing on a single page. 
You can add your website's URL to all social media channels for formally reaching out to new clients. 
Price: Free of cost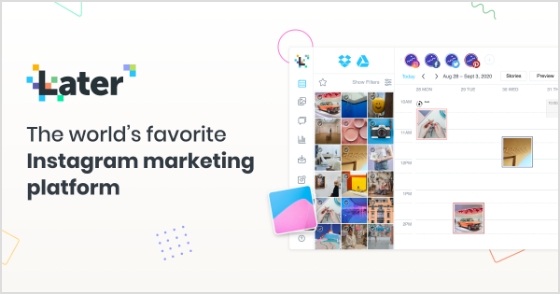 Later is a social media marketing platform that assists digital marketers in growing online brands and businesses.
Linkin. bio is a mini web page feature. It helps you build a landing page and make your brand shoppable by putting everything on a single page. Later also offers you to customize your landing page.
Pricing: $18
Related: How to get to the link in the bio on Instagram?
You can build a mobile-optimized landing page in minutes. Campsite helps you to get high conversions. 
You can add unlimited links, customize the title, and add a brief introduction. Campsite house all social media profiles on the same page.
It also retargets the audience with Google AdWords and Facebook Pixel.  Here's a preview of Campsite bio link page.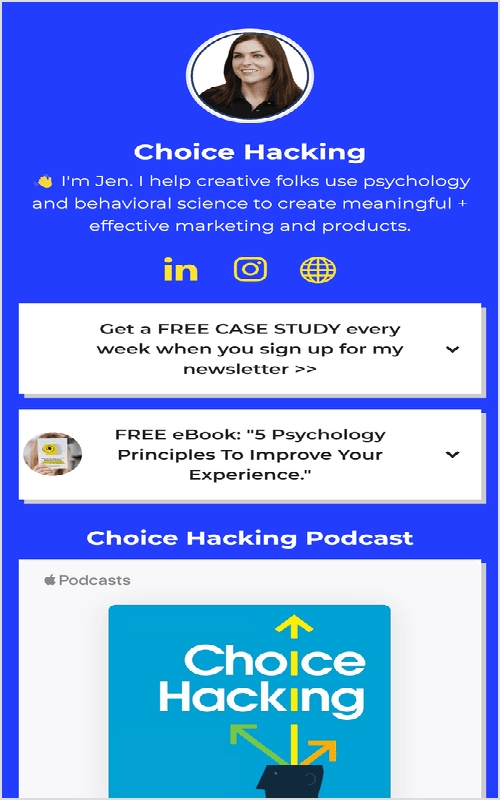 Price: Start from $7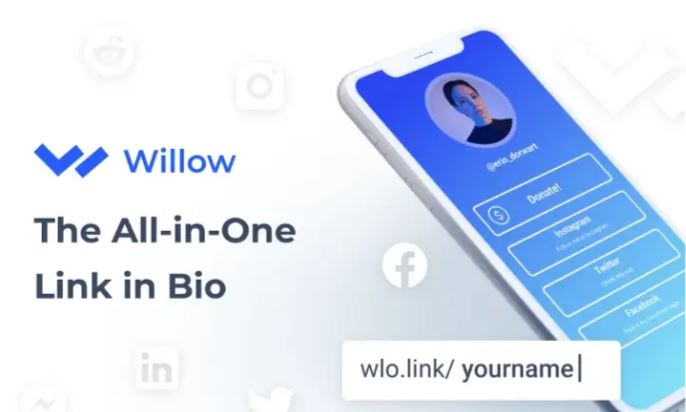 This tool comes with 20 different themes to choose from. You can customize your landing page and make it a perfect reflection of your brand from head to toe. 
It offers detailed insights into how your follower interacts with your profile and landing page.
However, the free version comes with limited features. 
Pricing: $5 
Related: Bio Links From Replug: Create a Stronger Marketing Impact while Social Sharing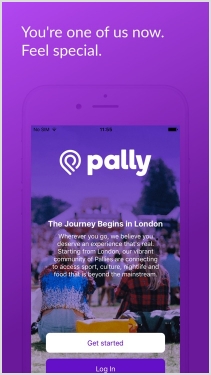 Pally is worth a dime when it comes to features. You can create two types of links, one that reflects your Instagram page and the other with all important URLs related to your brand. 
You can customize your landing page. It also offers analytics to improve your Instagram marketing strategy. 
Pricing: starts from $15
Biolink.me is also a tool that can help you make a landing page for your brand. You can add social media profiles, product details, and pricing in one place. 
Biolink.me allows you to customize your page and track your audience. It also offers Instagram & TikTok blocks which you can add to your profile. Here's a preview.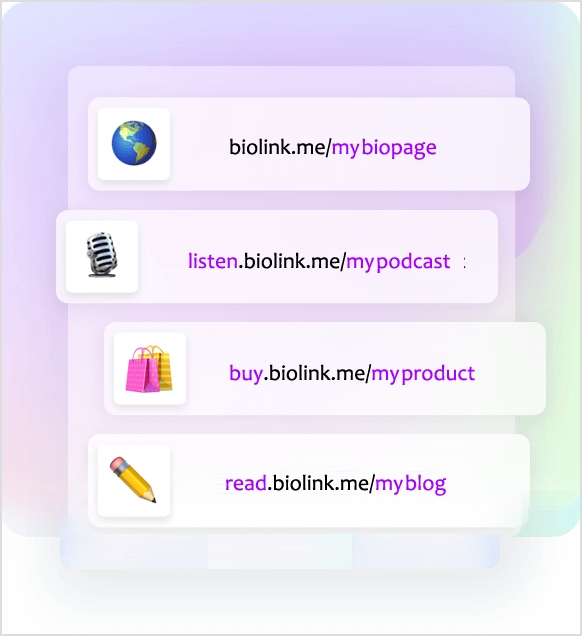 The free version comes with limited features.

Pricing: $5
Related: How to link Instagram to TikTok?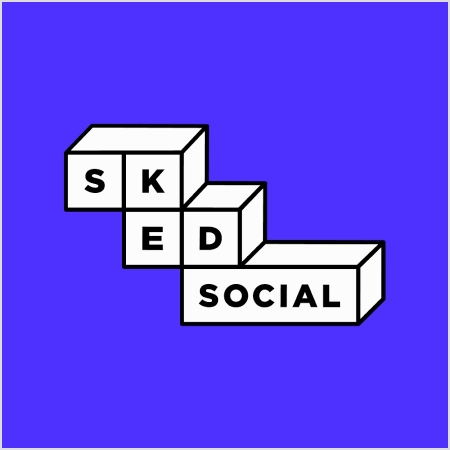 Instagram gallery display feature is a notable point for Skedsocial. You can customize the link to add to your Instagram bio. 
It is a user-friendly and intuitive tool. 
Every time a user clicks on your Instagram picture, it directly leads to a sale page or a particular page that you have already linked with a picture. 
Pricing: Starts from $21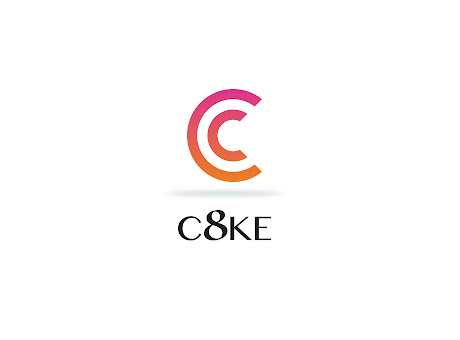 This tool has a package of special features. C8KE allows you to customize a web page that reflects your brand. 
The shopping gallery is C8KE's most distinct feature. 
Any picture or video you add to the gallery can have a custom affiliate link. You can also add RSS feeds.
The benefit of the doubt is that it helps you to make money by all means. Here's a preview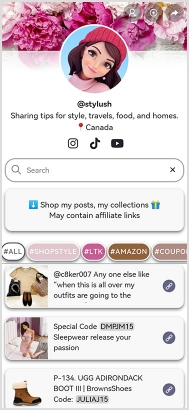 Pricing: Free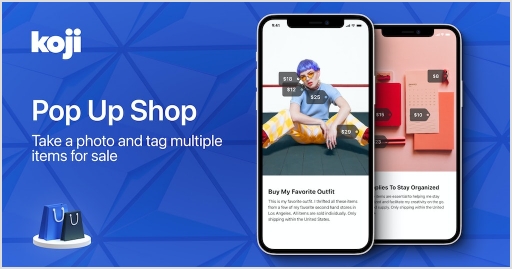 With Koji, you can create a custom theme for Instagram's link in the bio. Further, you can add customized colors, buttons, fonts, and HD backgrounds. 
Koji helps you to make a landing page that reflects your brand. It offers a seamless experience for the audience. 
It integrates with stripe for payments.
Pricing: Free

How to create a custom bio link using Replug?
Step 1:
Sign in to the Replug app and click on the bio tool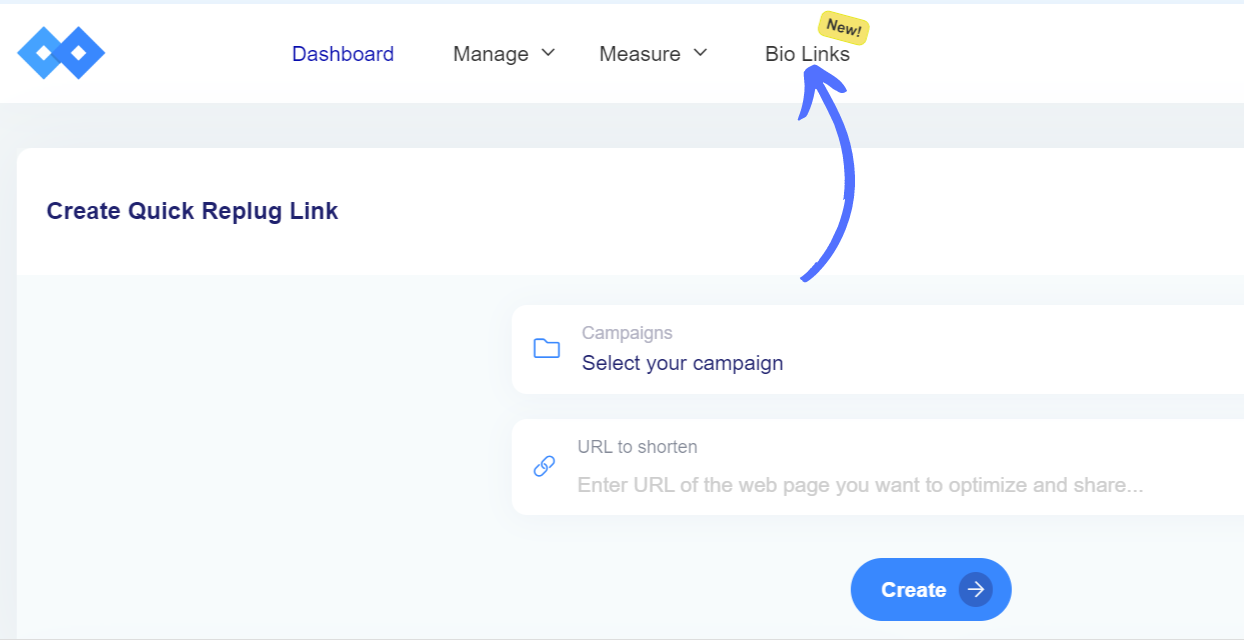 Step 2:
Click on create a new one.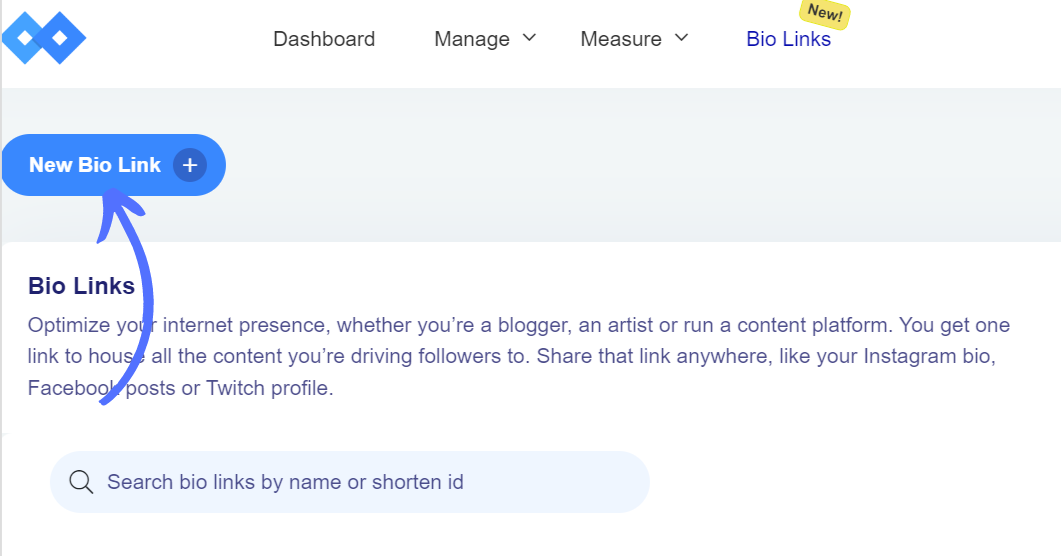 Step 3:
Add a block of your preference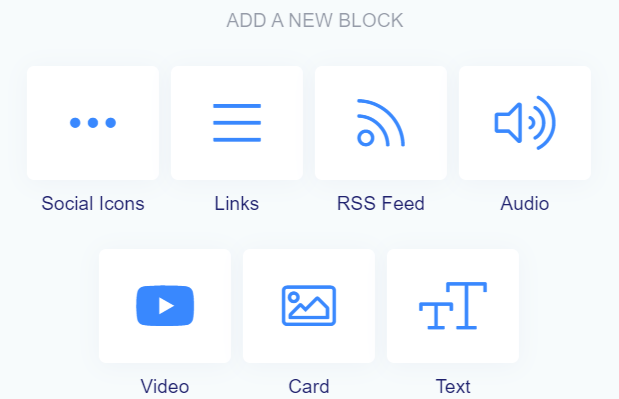 Social Icons block allows you to add various social icons to your bio link page.

Using the Link block users can add any URL.

RSS Feed block allows to add RSS feed links and posts.

Use Audio block to add audios/podcast links from apps like SoundCloud, Deezer, Spotify etc.

Card lets you add pictures or images.

Similarly, add videos and text using the Video and Text blocks respectively.
Step 4:
We are taking a bio link use case of Card block. Below you can see the interface of Card block.

At this step, you can customize your bio link card by adding title, description, image etc.
Or you can just add any URL, and the tool will itself fetch the OG image, title and description of that URL.
Below you can see the preview of your bio link at the right section of this page.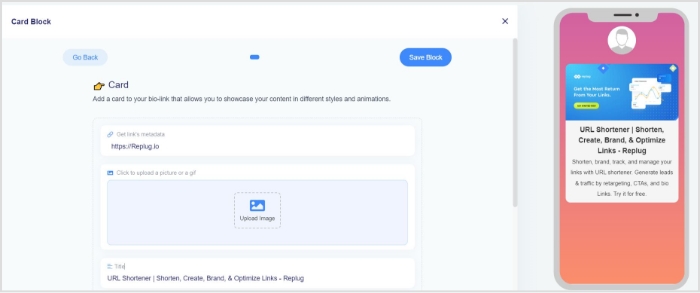 Step 5:

Click Save block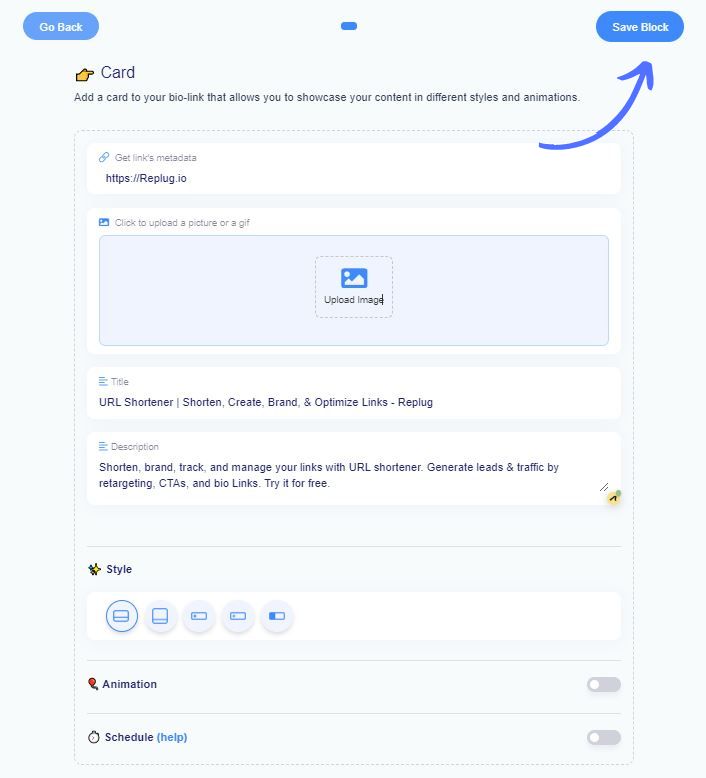 Once you're done completing the previous step.
Choose another card to add, or move on to complete the bio link process by tapping Next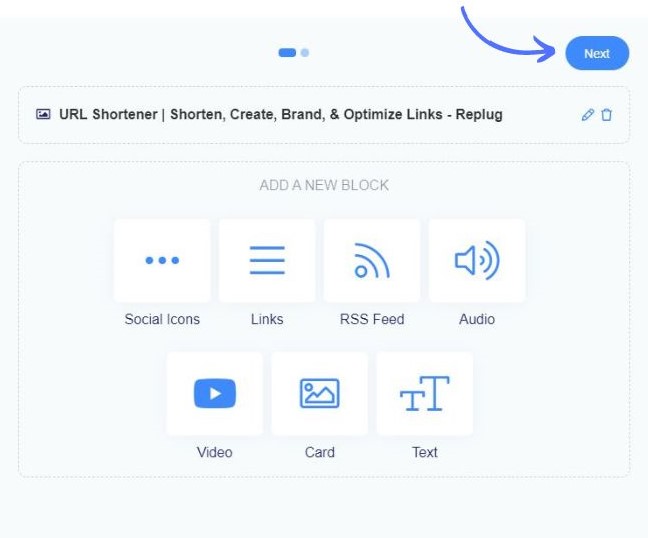 Step 6:
At this section, you are able to add a page title, subtitle, upload an avatar, select a brand and a domain etc.
You can also edit your slug at this stage. Once you are done then click the save link tab.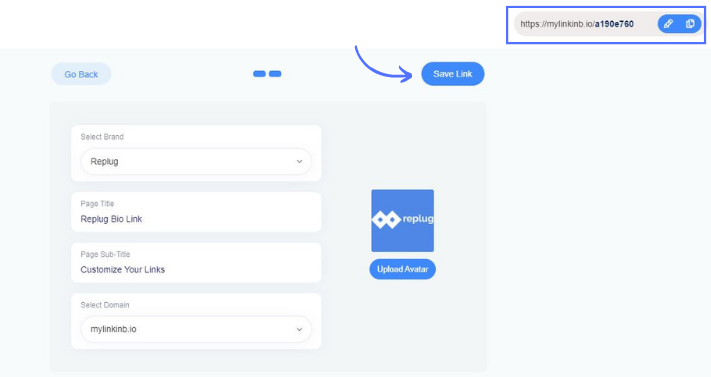 Steps 7:
The link will be active that can be seen in the bio link section of the dashboard.


This is how  bio link will appear on a smartphone.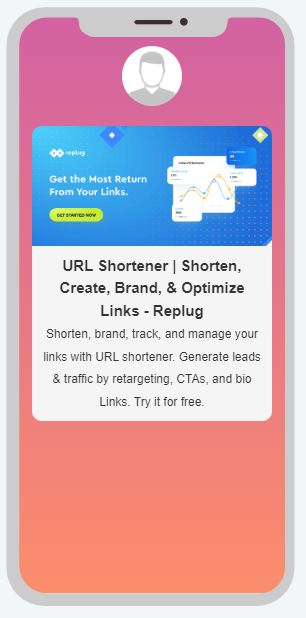 Learn more: Bio link docs
Link in bio tips to drive more traffic to your website
Here are a few links in the bio to drive more traffic to your website.

You should mention the most important piece of content, social media profiles, sales and discounts, top-performing products, or online store links.


You never distract your audience by putting random URLs in bio links. 

You don't need to mention every link under the bio link.
Don't confuse your audience with excessively highlighted URLs

Keep your landing page simple and classic. 

Highlight your most important link

Offer value, not sale

Keep your product/service URL in the bio link short

Use emoji or hashtags to highlight bio links in captions

Arrange links according to your goals

Benefits of using Bio Link Feature
Bio links can strengthen social media impact and grow your business. It performs multi-functions, rather than just creating a bio link. Here are some of the benefits of using the bio link tool.
Converting leads into conversions

Pull analytics from bio links

Drive traffic

Turn followers into customers

Builds your brand's credibility

Bypass rule off one URL per bio
FAQs
Is there a way to see who clicks the link in your bio?
Yes, Replug tool offers analytics along with links in bio landing pages. For example, you can track audience interaction and demographics and plan your strategies accordingly.
Does the link in the bio work?
Yes, the link in the bio works. They can direct your traffic to any desired URL. Bio in link increases sales and promotes the brand's credibility. In addition, you can share all social media profiles, product details, and pricing in one place. 
Why can't I add a link to my Instagram bio?
Instagram allows you only to add one URL in a bio. If you already have a website in your bio, it might cause trouble to let you enter another one. Make sure there is no URL in the bio before you add a bio link.

You may also like:
23 Best URL Shorteners Of 2022
How to create a call to action using a URL shortener?
How to change YouTube URL name using a URL shortener tool?
How to Disguise a Link Using a URL Shortener?
Khadija Anwar
I am Khadija Anwar, B2B Copywriter. I started my career as a freelance writer in 2019 and built a strong portfolio. I have crafted multiple blogs, website content, fashion magazines, news outlets, SEO content, and technical documentation. Last but not least, my favorite cartoon character is Dopey Dwarf, resembling my real-life character- calm, happy, and lively.