LinkedIn has evolved from a job network to a social network. Now it has 810 million members. LinkedIn users try to keep their audiences engaged with interactive LinkedIn posts. But, we can also run out of LinkedIn post ideas. So what to do when you find yourself in such a situation.
Don't worry! We got unique LinkedIn post ideas for you.
What to post on LinkedIn?
Your LinkedIn posts can include
Job posts

Inspiring Stories

Quotes

Visual content

Reviews and Opinions

Interesting Questions and Polls

Industry News

Predictions

Webinars

Trending topics

Long and short-form content

Presentations and Documents

Blogs, Articles and Listicles

Repurposed Content

Tips, Hacks and How To's

Appreciations
There are many ways to create posts for LinkedIn. However, nobody wants to go through a long and boring list.
So here are some reasons that make our blog a must-read.
First, you won't find our tips repeating like some other blogs you might have come across.

Second, we have researched thoroughly and formed a list of ways to publish more content as our list combines the best-performing LinkedIn ideas.

Third, this list is not just for LinkedIn, but it will also help you post on other social platforms.

Last, we will cover all the key questions you need to know to post on LinkedIn.
Before we get into more details on what to post on LinkedIn, it is necessary to know why to post on LinkedIn and master your content market strategy for LinkedIn.
Why to Post on LinkedIn?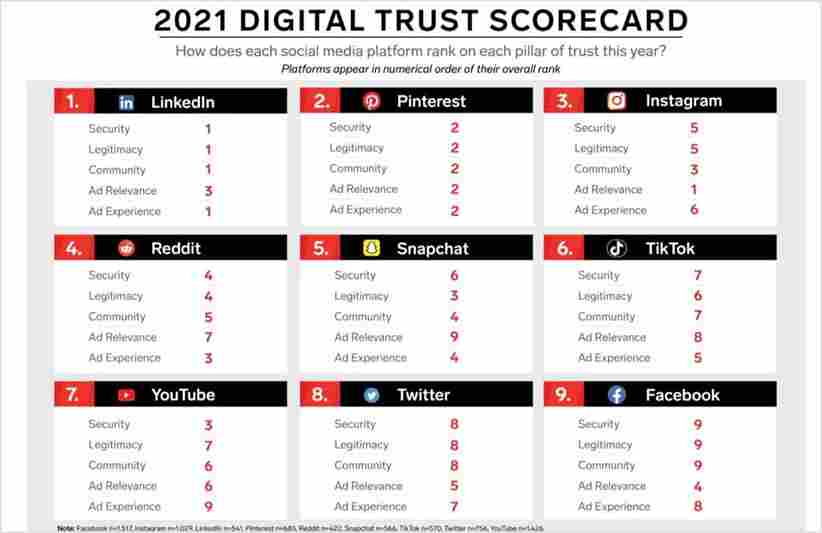 LinkedIn ranks at the number one position on the 2021 Digital Trust Scorecard. It is for the fifth consecutive year that LinkedIn has scored this position.
It's a no-brainer! LinkedIn is the most trusted social platform. It has above 61 million senior-level influencers on this platform. That, let alone shows the credibility of genuine people on this website. You don't find misinformation or trolls on this platform. They have strict policies and being a jerk on this website can cause serious consequences.
Recently, Wall Street Journal's Joanna Stern interviewed LinkedIn's CEO Ryan Roslansky. He explains why it is the most secure social network right now.
Now that you understand, LinkedIn is a secure network with genuine business people on the platform. So it makes all the sense to post and promote your content on this platform. But be mindful of the audience that you set to target.
How to Master your LinkedIn Content Marketing Strategy?
Put out the best content, connect and engage with the right audiences, post regularly, be helpful without expectations, keep up with the trends and analyze the performance of your posts through link analytics. 
Do you want to take full advantage of your marketing efforts? Posting on LinkedIn should be a crucial part of your LinkedIn content strategy. 92% of B2B marketers use LinkedIn as a source to find quality content.
Grabbing your audiences' attention is the key to success in the marketing world. With that being said, it's no secret that content fuels your social media marketing engine. So put out helpful content to engage the readers.
Suppose you have come short of LinkedIn post ideas. Don't worry! We are just getting started. This blog will uncover unique LinkedIn post ideas for your content marketing strategy.
Many things can make or break any content marketing campaign. LinkedIn posts meant for content marketing are no exception. So let's take a look:
Connecting with the Right Audience
The more you pay attention to connecting with the right people, the easier it gets to maximize the ROI on the content. The easiest way to make it happen is to understand the importance of this strategy and then invest resources accordingly.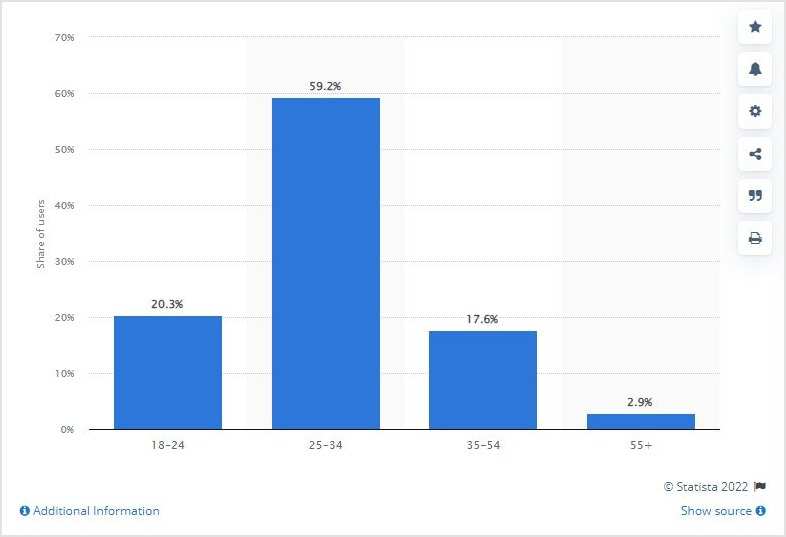 Statistics on the distribution of LinkedIn users worldwide by age show that most users on LinkedIn are between 25-34 age groups. Meaning that if you need to promote your content, it's imperative to find the right audience. Otherwise, the user will not be interested in your content.
Engagement means not only replying to your followers once in a while. Being kind and empathetic to your followers is a way to go, but don't limit this to your followers. Be energetic and positive towards other users as well. Once you bring this attitude, you'll notice people would appreciate your efforts, and eventually, it'll increase your social media engagement.
You can boost your LinkedIn engagement rates using these tips.
Keep your profile updated to keep things fresh.

Showcase your work on LinkedIn with engaging descriptions.

A great profile photo and cover increase engagement.

Recognize and praise the excellent work of others.

Post regularly and be active on LinkedIn.
Helping Others with No Expectations
You don't need to hire an expert to your team to help fans or subscribers. Instead, you need to spend 10 to 15 minutes every day or twice every week to answer queries in the DMs/emails and reply to the comments on your social media. Do this with no expectations.
Put Out the Best Content

Putting the best content in front of the right audience is a prerequisite in the game. Mostly, good content sparks conversations on a social media platform, no matter what the niche is. Once people notice a healthy discussion, more and more participants jump the bandwagon. And that's how most brands win attention on social media.

Post Regularly
How often should you post on LinkedIn?
Hootsuite recommends posting once a day on LinkedIn but not over five times a day. This means you have to find the perfect balance for your posting schedule to receive maximum engagement levels.
Social Marketing Strategist Iain Beable states,
"The increase in posting cadence has also meant an increase in engagement rate. This however is more reflective of the type of content we are creating. Generally, if you increase cadence, there is a good chance you may see a drop in engagement rate as there is more content. As we have seen an increase, it shows the content we are creating is more relevant to our audience and more engaging."
Use Branded Links and Link Analytics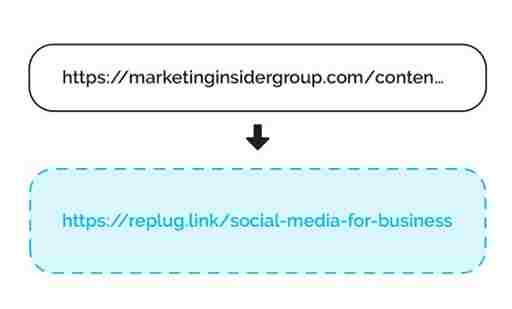 LinkedIn is the best source to generate leads. LinkedIn is 277% more effective compared to Facebook and Twitter.
So if you are sharing URL's along with your posts, then it's better to use branded URL's for your LinkedIn posts. Using random or long URLs can be unfriendly for your audience. Therefore, customize your brand's URL using a URL shortener.
Branded short links and CTA's have proven successful for specific marketing campaigns. They are good for company branding and for analyzing your campaigns.
Increase your CTR with a Branded Link Now!
What are the Best LinkedIn Post Ideas that Drive Engagement?
This is the goldmine of LinkedIn posting ideas you are looking for. Try out these LinkedIn post ideas and keep your audience engaged through frequent posts on LinkedIn. These tips will for sure work for you:
1. Reaction LinkedIn Post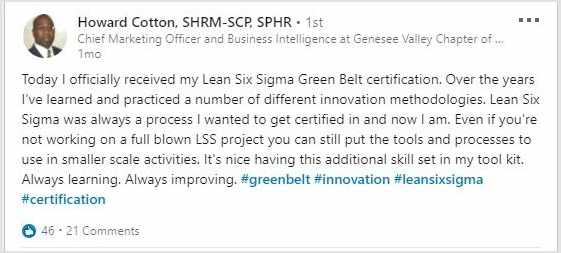 When facing writer's block and running out of ideas, then remind yourself of Newton's law "every action has a reaction". Create engaging posts through feedback or a response.
React towards a personal achievement or regret.

Share your reaction towards a myth.

Replying to FAQs
This could be a praise or even a critique of any certain action, myth or frequently asked question. You can even look back to a milestone that you achieved or something you regret. That could be any meaningful information to many out there.
2. Take A Survey from your Audience
If you have a good following on LinkedIn social network. Then asking open-ended questions and creating multiple-choice polls is another way to create a post on LinkedIn.
Understandably, people get bored with the constant bombardment of content in their faces. So it won't hurt to pivot from the traditional content posting to test new things out.
LinkedIn has a poll feature that you can try out alongside other LinkedIn posts and see how it works for you.
If you haven't had a chance to create a LinkedIn poll, then let me guide you a little bit. It's next to the status or writes article option on the status bar. You can simply choose the poll option and write a question/statement, and then follow up with the answers for the voters to choose from. Let's take a good example of a LinkedIn poll post.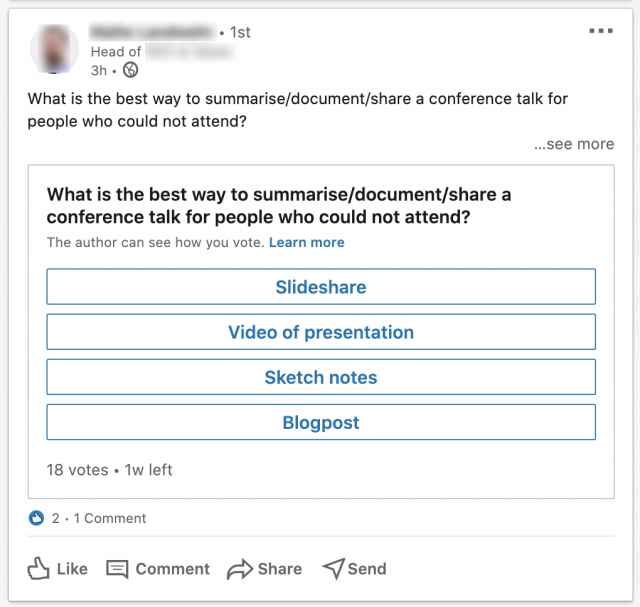 I've seen so many social media experts and influencers that use LinkedIn polls to ask things around or survey their audience.
I think starting discussions and putting out some content is a fantastic way of keeping your audience engaged.
Ensure that you aren't asking something your followers do not know about or care little. For instance, if you're in the healthcare field, asking about ice hockey won't fit in. It'll confuse your followers, so always try to create relevant polls.
3. Quiz your Audience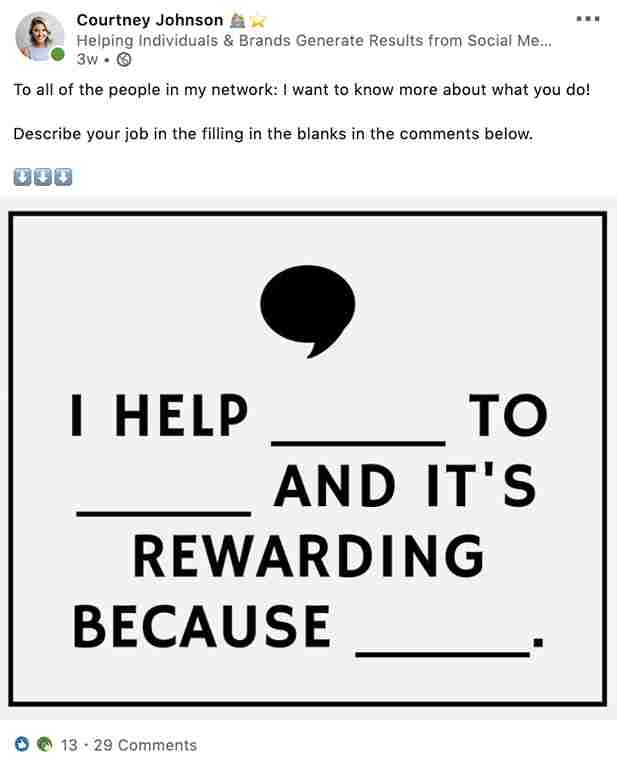 Quizzing your audience is an interactive way to engage and post on LinkedIn. However, you are not winning anything by answering the quiz. But it is a compelling way to catch the attention of the users.
You can also quiz your audience through a "Fill In The Blank Post" LinkedIn Post.
4. Provide Solutions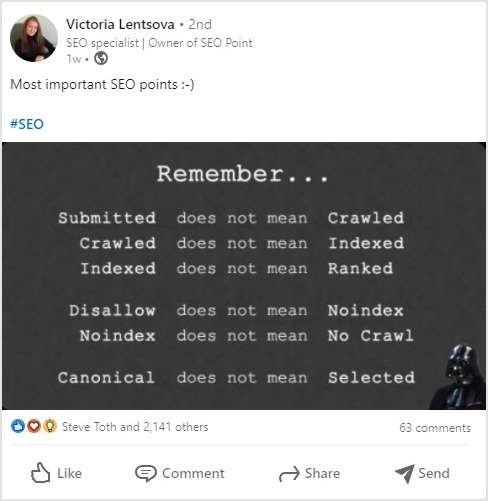 One of the best ways to engage others is through problem solving. Here are some tips.
Share hacks
Offer tips
Do's and don'ts
Share How To's
Review some tool or gadget
Sharing any important hack that can provide ease in difficult tasks can engage the online user.
5. Share Appreciation
It's always good to show gratitude to the people who have positively impacted your life. You can share about the personalities that inspired you. Make a post on a particular trait you admire and or a piece of advice that has helped you a lot.
6. Share Infographics
Speaking of images, then sharing infographics is a great tactic. Sharing statistics related to your industry, your business achievements, or information that might help others is a great way to spark conversions. In this way, you can hook readers and publish more content regularly. It educates others and allows a subtle way to promote your brand. Below is an infographic example of URL shortener service.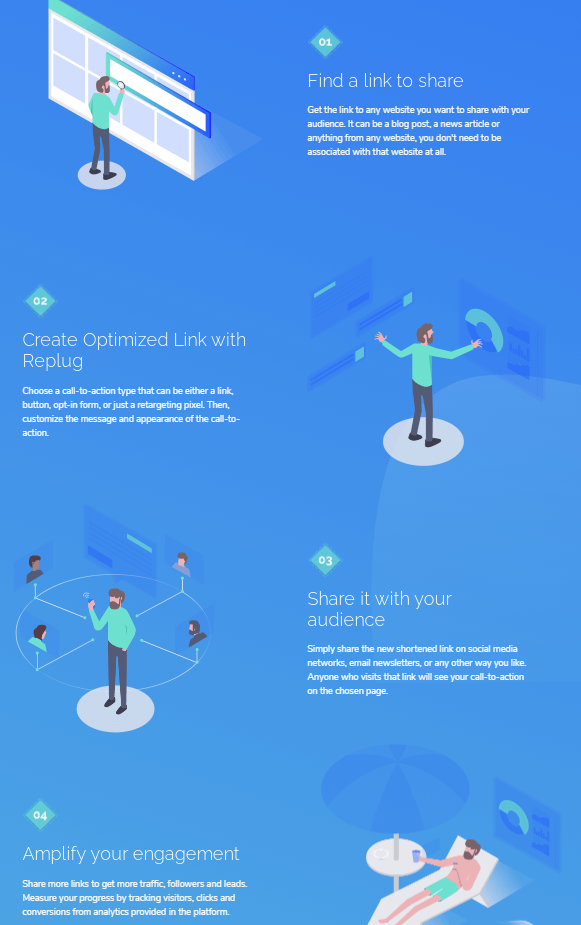 7. Include Industry News/Articles
Have you ever noticed that influencers and experts often share news related to their fields and get tons of responses through likes, comments, and shares?
It happens just because they're surrounded by the relevant people on social media platforms. You can make that happen by connecting with industry-related folks.
Most of us struggle to come up with social media post ideas, and therefore, we skip past and move to the next thing.
Well, here's the solution: when you run out of new LinkedIn post ideas. You can simply look out for the news and updates related to your industry and share them with the audience.
Are you still confused? Here's the example: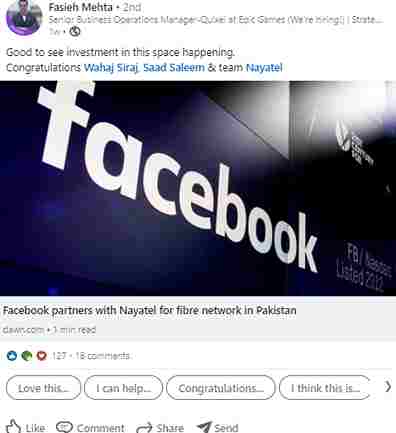 This LinkedIn user found news about Facebook partnering up with a local internet company Nayatel to provide a fiber-optic network and he shared it with his network on LinkedIn.
No wonder he got so many likes and comments on his LinkedIn post. For what it's worth, if you share industry-related news and updates, a segment of your network is going to respond to it.
In the digital marketing field, we call it "engagement." The better the content, the higher the engagement.
If you're connecting with the right people on LinkedIn. Let's say you hang out with a like-minded audience on LinkedIn. Then you're going to crush it with this strategy.
8. Share your opinion on trending events and topics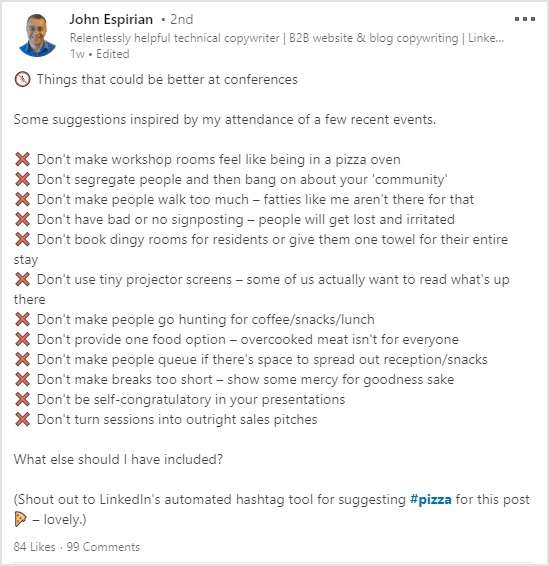 Responding to ongoing trends and events can help you keep up with what's trending online. Anything related to your industry can be an awesome way to fit in with the ongoing trends.
9. Long Text-only LinkedIn Post Idea
Some people get caught up in little things that don't matter. One reason why I want to write this piece was to simplify LinkedIn posting for people. You don't necessarily need to create videos or images just for posting content on LinkedIn. Instead, you can post many different types of content on this platform.
Aren't you familiar with Facebook status? Well, text-only LinkedIn post is the same thing. The point I'm trying to make here is that if you're brainstorming what to post on LinkedIn, you could simply write a compelling text-based post.
It doesn't matter if you write a two-liner or 600-word text post. What matters is that it must hit the bullseye, meaning you must discuss something people want to know or learn from you.
Let's take a look at this example: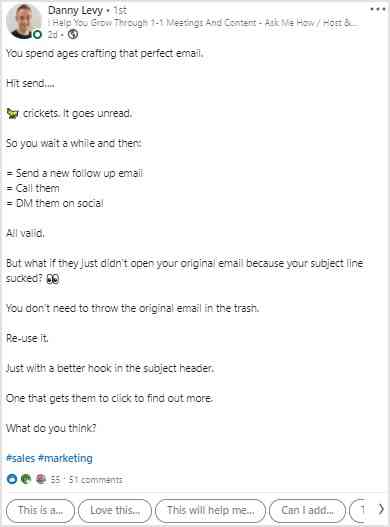 Danny Levy is a social media and content expert. He often shares insights on social media and content marketing through text-based LinkedIn posts.
Not only does he help the audience, but he also gets to publish such posts consistently.
I have been following several social media influencers and experts who often post text-only LinkedIn posts that intend to deliver some value to the audience.
Let's say, you haven't designed an image post or edit the video you shot for LinkedIn. It may seem like you would have to miss out on publishing anything on LinkedIn. It turns out, you could write an enticing text-only post that engages and helps the audience.
Use Emojis and Hashtags that interest you and relate to your organization. Long texts can be boring, so adding emojis and relevant hashtags will make your posts more engaging.
Here are some tips for you while writing text posts.
Give Value
Personalize
Be Helpful
Be Relevant
Share Engaging Stories
Be Controversial
Use Emojis
Add Hashtags
The biggest perk of this tactic is that you get to post on LinkedIn more often. What else do you need?
10. Incorporate Images
After the text-only post, let's shed some light on the image and text-based LinkedIn posts. You must have seen this type of LinkedIn posts a million times. It's a LinkedIn post that contains an image and some text along with it.
Usually, text and image go hand-in-hand in such LinkedIn posts because the user elaborates the point through text and uses the image as support.
Suppose you have been on the social media marketing roller coaster. In that case, you must have known that images are vital to gaining traction and organic reach on social media.
Facebook and Twitter tend to push posts that contain well-designed and attractive images, and LinkedIn is no exception.
Visual content has a higher impact on users. It has been observed that posts including images generate a 2x times higher comment rate compared to posts that did not have images. I came across an image and text post from Google on the very platform we're discussing right now. Please take a look at it: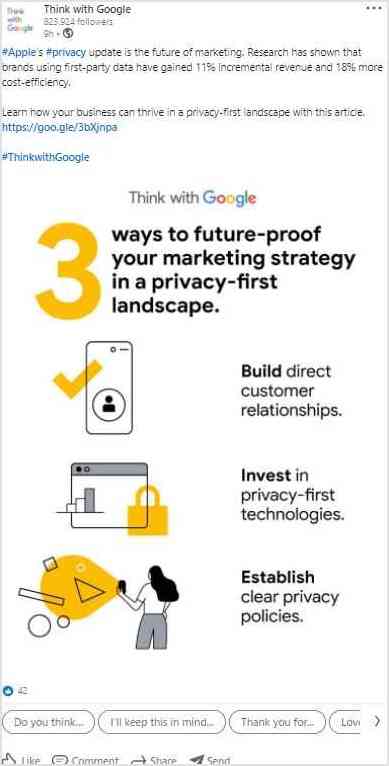 Pay close attention to the content strategy here. Google didn't use the image to fill up the gap or get more organic reach on the LinkedIn platform. Instead, they used the image to help support their text in the LinkedIn post.
The takeaway from this example is that when you try to cash in on the image + text strategy on LinkedIn, try making the best image that goes perfectly with your promise.
Plus, I have learned that social media platforms root for well-designed, engaging images or videos that attract the masses.
11. LinkedIn Video Post
Posting videos on LinkedIn has a 5x higher engagement rate than texts posts. There has been a 55% increase in video posts on social platforms in 2021 (Social Insider, 2022). 86% of businesses used video marketing in 2021 as a marketing tool. Videos are also a great source to get more connections on LinkedIn.
Video marketing is a great way to engage the audience on any social media platform and increase social media conversions, but it's difficult for most people to put out videos on social media. No wonder a lot of people can't face the camera or run away from the video-making process.
However, if you develop a system to generate videos regularly, you could turn things around for your social media marketing. For example, you could hire a cameraman or video editor to make or edit videos for you. If you aren't comfortable on the camera, use a video tool like Lumen5 and Movavi to repurpose your articles into videos.
LinkedIn expert Dr. Natalia Wiechowski states,
"LinkedIn Video still works – if you do the work. Keep it short, add subtitles and design an attention-grabbing thumbnail."
12. LinkedIn Live Videos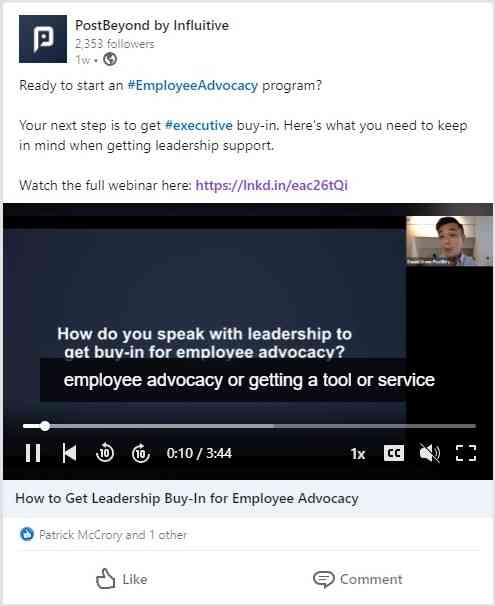 Live Videos has a massive 24x more engagement rate and 7x more reactions. So you can share videos on your LinkedIn in different ways and here are some ideas for you.
How-to Videos

Behind the scenes

Industry insights

]Interviews

Promotional Videos

Video Teasers

Live Videos and Webinars
Generally, you can speak on any topic that interests you. For example, talk about new product features, share an interview with an industry expert, and more. But ensure that you select the relevant and trending topics.
13. Include Video Teasers
Speaking of Video Teasers, putting out video teasers on LinkedIn can warm up the audience before the actual LinkedIn video post comes out. Not only does it create curiosity, but it could also help you reach a new audience. You could upload the full version later on your LinkedIn profile.
I didn't think of this idea until I found a LinkedIn post that immediately got my attention. It was Sir Martin Sorrell's post; he is a corporate executive.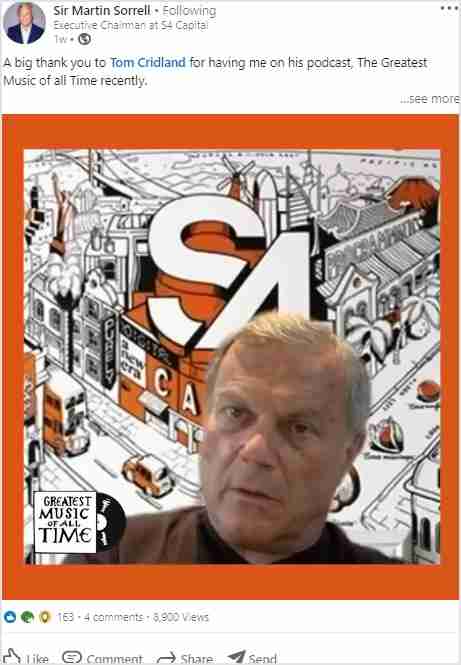 What his team did was that they created a video teaser of an extended episode and uploaded it to LinkedIn. Then, at the end of the video teaser, adding a call-to-action tells where to watch the full version of the video.
So I thought it was an excellent strategy to increase engagement and publish more content on LinkedIn.
If you're doing a video on social media, try putting out videos on LinkedIn. It has a better organic reach than Facebook, at least in my experience. Let me know how it works out for you, though.
14. Native Documents
You can share documents while writing posts on LinkedIn to provide more details to your readers. These can be as PPT or PPTx slides, PDF, Doc, and Docx.
LinkedIn isn't just for posting jobs or recruiting people anymore. Rather, it's a full-fledged social media platform where people post various forms of content on diversified topics. LinkedIn Slideshare has 18 million pieces of content.
Since, we're discussing LinkedIn post ideas, create a presentation or deck on any topic that might entice your audience to check it out or take some action.
I liked the idea of a LinkedIn user named Masroor Ahmad who compiled a bunch of free SEO chrome extensions and shared through a presentation on LinkedIn.
Take a look at it: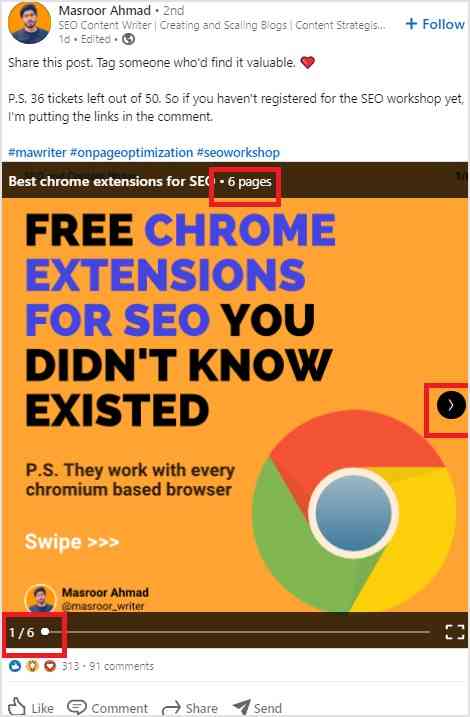 You could notice that the deck contains six pages, and if you're wondering how you can upload such a presentation on LinkedIn, then allow me to help you.
Create a PDF brochure or ebook and upload it to LinkedIn. The platform would automatically showcase the PDF file in the Slideshare form. However, the audience could access the PDF version as well.
If you're having a hard time figuring out what to share in the presentation, then simply repurpose a blog post or a YouTube video into a PDF file and put it out on LinkedIn.
15. Add Sense of Humor To Your Post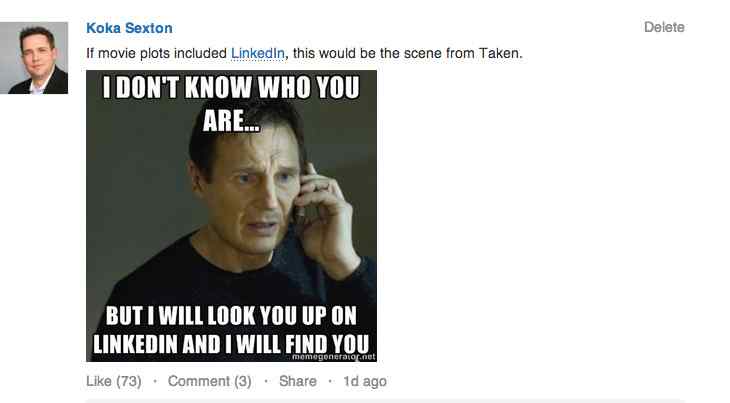 Be mindful of the fact that users on social media want something they can relate to. Adding a sense of humor to your posts and making people laugh through funny LinkedIn posts. At the same time conveying your message is an effective way of marketing.
One trend you might be aware of is meme marketing but ensure that the meme applies to your audience.
16. Reviews
You can share a review of a product or a service. It can be your experience or someone else's experience. You can write a review on some interesting tool, gadget, or even a service. You can write reviews as articles on LinkedIn Pulse in various ways.
Product Reviews, e.g., software, a tool, or service.

Listicles, e.g., Top ten reasons to buy iPhone.
17. Create A Content Series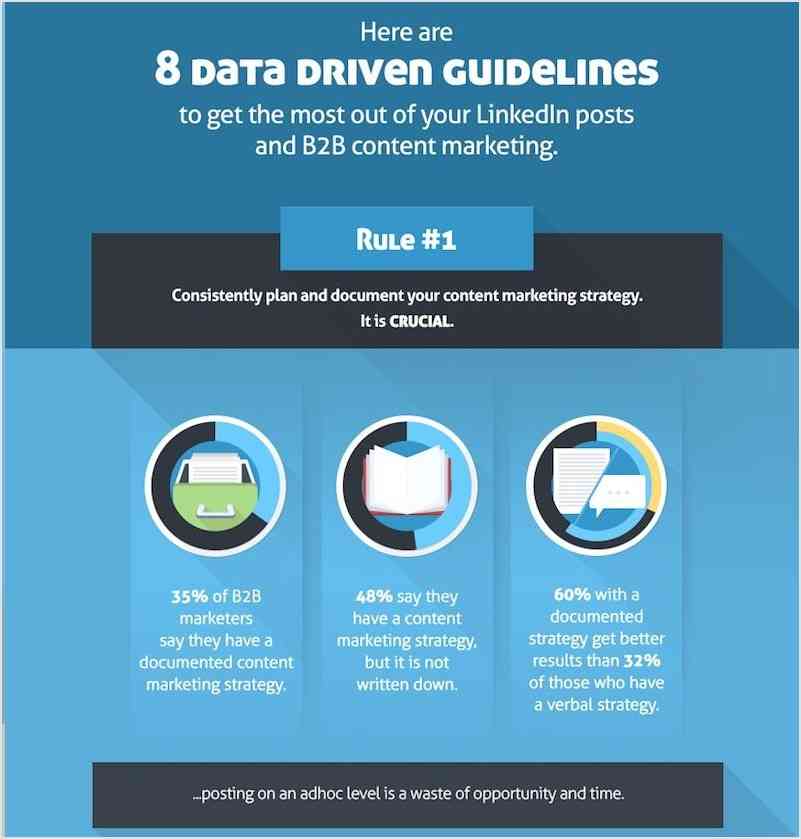 If your post on LinkedIn didn't gather enough engagement previously. You can always make minor changes and repurpose them at different times. As we know, LinkedIn doesn't penalize you for reposting your content.
Just make sure when you are reposting your content, optimize the title and use a new image along with it. An exciting headline might do the job this time.
Tip: Keeping your headlines short and catchy can help you attract greater attention.
You can also repost blogs or post content that has already worked for you on other social platforms or the same platform. Reutilizing that content can do wonders again for you.
You can always discuss a broad topic in short episodes, whether making short video series, text posts or articles.
18. Make Predictions
You can always share your opinion on future industry trends or make a bold prediction related to market changes. The best thing about making predictions is that you are neither right nor wrong.
Suppose you see everyone is following the same trend. In that case, you can view the topic from a different perspective and make bold predictions.
19. Post an Article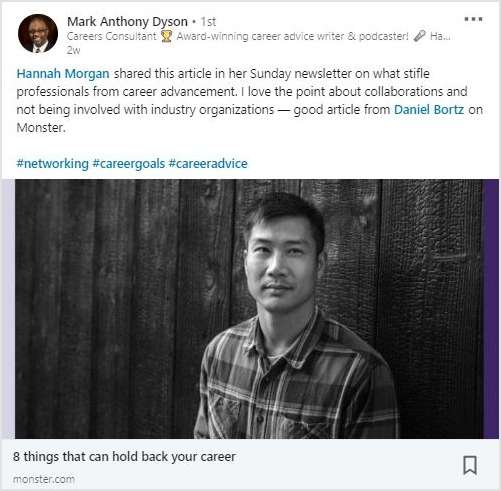 You can write an article and share the post on LinkedIn. You can also share other articles on your post. Another way to republish a blog is through syndication. When someone publishes a blog post from their LinkedIn profile, you can just republish it.
20. Motivation Post for LinkedIn
When you've got nothing to post on LinkedIn, you normally step back from the platform and focus on other places. Maybe, some of you posted on LinkedIn lately, but those posts got little traction. So you might not feel like making any new LinkedIn posts.
Here's another idea: you can share an inspirational quotation with your LinkedIn contacts and followers every once in a while.
The best thing about inspirational quotes is that they don't just provide you with something to share and talk about. Still, it also motivates your followers.
You can either share inspirational quotes in the image or text form; it's up to you. Several quotes websites have shareable image quotes, but I highly recommend designing your image quotes in Canva or Crello.
If you're still unsure about this, then the example below might change your mind: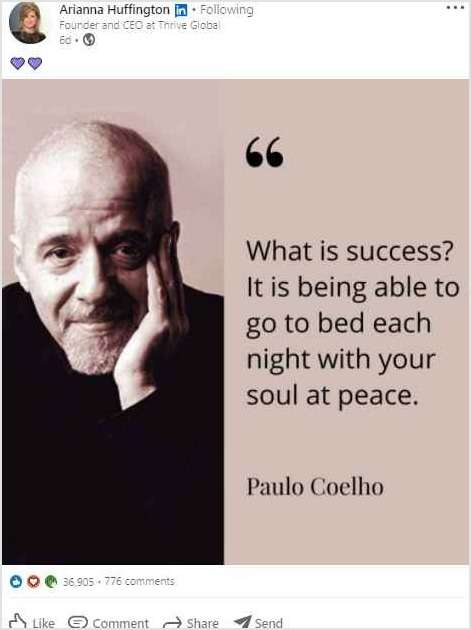 See, even Arianna Huffington shares image quotes on LinkedIn. She is the founder and CEO of Thrive Global. It's a popular online publication that publishes mental health and wellness content.
If you're wondering where to get those inspirational quotes for LinkedIn posts, don't overthink about it. You don't have to grab influencers or expert quotes every time you come up with these posts. Instead, you could use yours once in a while.
I'm down with the image-based quotes strategy for LinkedIn. What would you think?
 When is the Best Times to Post on LinkedIn?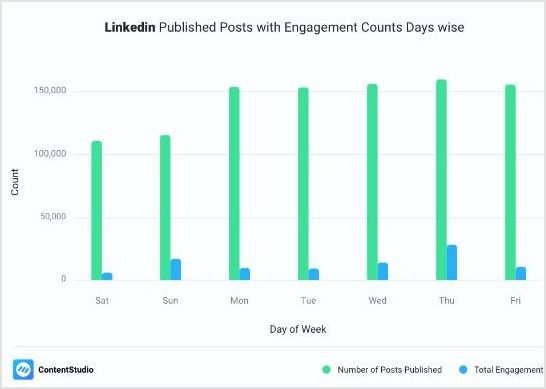 Having many LinkedIn post ideas is great but knowing when to post  is even greater.  Content Studio previously covered a study that confirmed that the best days to publish on LinkedIn are from Monday to Friday.
Here's a quick recap:
| | |
| --- | --- |
|  Peak Days to post on LinkedIn  | Wednesday, Thursday and Friday |
|  Worst Days to Post on LinkedIn  | Saturday and Sunday |
Influencer Marketing Hub study in 2022 also showed the same results
| | |
| --- | --- |
| Best Days to Post on LinkedIn  | Best Times To Post on LinkedIn |
| Wednesday | 8am-9am-10am-12pm and 3pm |
| Thursday | 9am-10am – 1pm and 2pm |
| Friday | 9am – 11 am and 12pm |
Hubspot is a popular marketing SAAS tool that helps marketers and large organizations with their email automation, customer acquisition, opt-ins, and analytics. They also publish a ton of content regarding content marketing and social media.
According to Hubspot, it's viable to post three to five posts per week on LinkedIn. Their study showed posting ten posts a week significantly dropped clickability and engagement. They hinted that it's perhaps LinkedIn doesn't want users to get overwhelmed with the constant influx of content from the same brands or individuals.
Meltwater is a social media management software company that offers products in the social media marketing realm. They often publish useful and engaging content on their official blog. I came across a similar blog post from Meltwater talking about how often we should publish on different social media platforms. They suggested posting on LinkedIn no more than three times a week.
I sensed that from my research, most marketers and companies believe that we should stick to posting 3 to 5 times per week on LinkedIn. Similarly, there are multiple studies on the best times to post on social media.
Share Your Favorite LinkedIn Post ideas?
I've shared a bunch of LinkedIn post ideas because I know it gets overwhelming pretty soon, especially if you don't start social media with a plan. Such a variety in LinkedIn posts comes to your rescue if you run out of ideas.
Most LinkedIn users make a common mistake is that they overthink LinkedIn marketing strategy. And that's why I wanted to share a bunch of LinkedIn post ideas for LinkedIn users to keep up with the fast-paced social media world.
You don't have to be philosophical or politically correct every time you post on LinkedIn. Don't hesitate to leave a useful comment on someone else's post or ask a question in your LinkedIn status.
I hope this blog post could fuel some ideas and thoughts into your mind and work as a launchpad to make the most of your LinkedIn existence.
Well! This is the list you want to bookmark so that whenever you run out of ideas, you can always come back. Also, we keep updating our content with new information so that is another reason for you to keep it saved.
Let's conclude this blog post with a question:
What are your favorite LinkedIn post ideas?
I'll be interested in knowing what you have experienced or learned so far, drop your experiences in a comment below.
Hassaan Khan
Hassaan Khan is a freelance writer for SAAS companies, e-commerce stores, and niche websites. He has contributed to SEMrush, ThriveGlobal, BloggingCage, AllBloggingTips, and several other publications. He builds niche websites, publishes e-books, and helps website investors with his done-for-you niche site-building service.