It's unbelievable how LinkedIn went from an ordinary job platform to a flourishing social network with more than 930 million members.
Over time, it has become a top choice for businesses, freelancers, digital marketers, and many other online professionals in the industry.
But you know what's interesting? Users of LinkedIn are going out of their way to keep the readers hooked.
It's pretty cool. If you also want to build a super-engaged audience on LinkedIn, you've landed in the right spot.
There are times when one might run out of post ideas. But worry not! We've got your back with many unique and captivating LinkedIn post ideas to help you overcome such conditions.
What to post on LinkedIn?
Long-form content
Native document posts (PDFs)
Carousels post
LinkedIn Live
Posts containing polls or stats
Native Video Posts
Posts including hashtags and emojis
Consistently posting valuable content can lead to more profile views, connection requests, and, ultimately, more opportunities for career growth or business expansion.
Below are the best LinkedIn post ideas with examples. Making these ideas part of your LinkedIn strategy, and start getting more likes and impressions on your LinkedIn posts.
1. Share how-to guides, tips, or growth hacks
Sharing little tips, ideas, or hacks is the best method to attract a broad audience and keep them involved in your content. Linkedin users enjoy methods, secrets, and techniques. But the key lies in understanding what sets your content apart.
You can share the following type of content:
List the dos and don'ts of your job
Guide on how to enhance a specific skill
Recommend valuable or productive tools
Hacks to increase platform engagement
Favorite book or online course
Tips for creating engaging Linkedin content
Share any personal experience
Personal branding tips
Updates in your industry
Views on any upcoming update
Best websites for working remotely
Tips on LinkedIn profile optimization
Advice on communication with clients
Networking tips
Any financial advice
What unique perspective or expertise do you bring to the table? Is there a fresh take on a popular topic or a hidden gem to be discovered? By pointing out these differences, you can create a sense of suspense, enticing the viewers to explore your content further.
2. Native visuals posts
Regarding LinkedIn, where professionals strive to showcase their expertise or brand, content acts as the backbone.
Images featuring catchy text
A native image post generates 2x comment rate than a post without images. So craft a compelling image that perfectly aligns with your message. The key lesson here is to utilize the image + text strategy on LinkedIn.
And we were amazed when we saw such a post by Richard van der Blom on LinkedIn.
LinkedIn carousel posts

You can also use carousels, an updated style that lets you add multiple pictures and videos to a single post, giving your audience a visually appealing experience.
Just like this carousel by Darren Pallatina regarding lead-generation marketing content.
With carousels, it's easy to tell a behind-the-scenes story, like a step-by-step strategy, how a product is made and launched, shortcuts or processes, etc.
Native video posts
Posting videos on LinkedIn has a 5x higher engagement rate than plain text posts. Whether it's a thought-provoking industry insight, a behind-the-scenes glimpse of your work, or a captivating story, videos can captivate and engage your connections like never before.
Here we spotted Ryan Musselman sharing a video post on Linkedin.
Add in some video teasers
Speaking of visual content, putting video teasers on LinkedIn can warm up the audience before the actual LinkedIn video post emerges. It creates curiosity, and it helps you reach a new audience. You could upload the full version later on your LinkedIn profile.
3. Share long-form content
Let's say you haven't designed any LinkedIn visual posts. Now what on earth should you post? Where to start? What else to publish for now? You can post long-form content, such as text-only posts, PDFs, articles, etc.
Here's how
Long text-only LinkedIn posts
It doesn't matter if you write a concise two-liner or a 600-word text post; the length of the text has no significant effect on the value of your message. You're good to go if it hits the bull's eye.
Let's look at Matt Barker's post, a top LinkedIn content creator sharing his views on how to become an influencer (the right way) through a long text-based post.
Though long texts can be boring sometimes, try adding emojis, relevant hashtags, give value, be helpful, personalizing your posts, and be controversial, this will make your posts more engaging.
Linkedin article
LinkedIn also allows users to share blogs and articles. Your posts may include links to external articles. And if you're at a loss for words, turn any old video from YouTube or PDF file into an article and publish it. Also, this allows you to utilize existing material and present it in a different format for your audience.
Here Dan Koe on LinkedIn shared an article in his post.
The biggest perk of this tactic is that you post on LinkedIn more often. What else do you need?
Share native documents
Sharing LinkedIn documents while writing posts gives your audience a more comprehensive perception. Make a lasting impression and seize the attention of your LinkedIn network by sharing PPT or PPTx slides, PDF, Doc, and Docx, just like Jan Beger shared a PDF file on LinkedIn regarding how healthcare needs AI.
The deck has 15 pages, but the post is providing value and relevance in each slide. It will encourage the creators dedicated audience to explore his content further.
4. Post reviews & opinions
Whether it's a new gadget, a trendy fashion item, or even a restaurant, you recently dined at, writing a review allows you to express your opinions and provide valuable insights to your audience.
You can share reviews about
New software in your particular industry
Future of any specific skill
Success secrets of any well-known brand
New books
Reactions towards a myth.
Replying to FAQs
Try keeping up with what's popular online by responding to current trends and events. Anything that has to do with your business can be a great way to keep up with the latest trends.
Just like Alex Cattoni on LinkedIn shared a post regarding the hyped-up Barbie movie marketing campaigns. How copywriters, marketers, and business owners can grow from studying the Barbie Movie pre-launch campaign. ⁠
By doing so, you can connect with your audience on a more personalized level and stay on top of the trends.
5. Quiz your audience or throw infographics
It's readily apparent that people get bored when constantly bombarded with the same type of content. Therefore, trying out new things and deviating from the usual content-posting approach is beneficial.
Linkedin polls and quizzes
Quizzing your audience or conducting polls on LinkedIn are some compelling ways to catch the users' attention.
LinkedIn has a poll feature you can try out alongside other LinkedIn posts and see how it works. Let's take a good example of a Rich Lyons LinkedIn poll post.
Now, Lyons has conducted an AI-related poll that is quite interesting and also relevant to his niche. Make sure you're not asking your followers about something they don't know or care barely about.
LinkedIn stats posts
Sharing statistics related to your industry, business milestones, or helpful data can be an effective strategy to initiate meaningful discussions and engage with people.
Just like Samy Thuillier shared his new website traffic stats on his LinkedIn profile.
6. Share industry news
If you run out of new LinkedIn post ideas, just keep an eye out for news and changes in your field and share them with your readers.
Just like: influencers and experts often share news related to their fields and get many responses through likes, comments, and shares.
Still confused? Here's one example: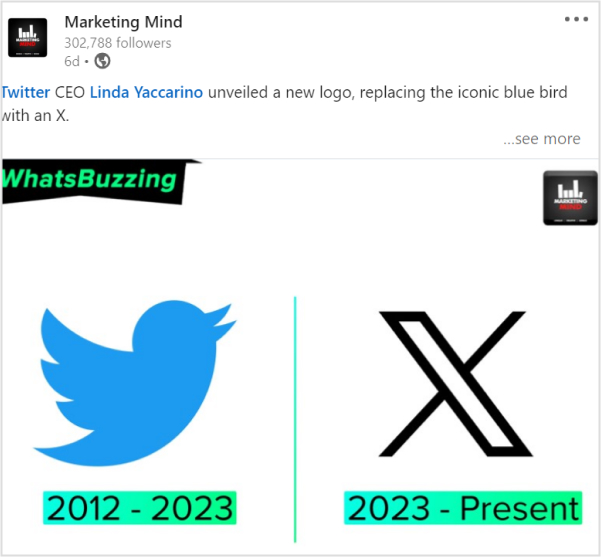 Marketing Mind shares news relevant to its niche, which is social media and digital marketing. They posted news about Twitter. How it went from being called Twitter to X.
7. Add short-form content
Listen here, LinkedIn rockstars. You are mistaken if you believe only long-form content and native PDFs can help you succeed on LinkedIn. The ideal LinkedIn profile ought to balance lengthy and concise content.
Let's look at the best types of short-form content.
Ask questions from your audience
LinkedIn is the perfect platform to connect, learn, and have a little fun along the way. So go forth, my fellow LinkedIn friends, and let those questions fly! Ask questions from your audience just like famous LinkedIn content creator Bob Phibbs did so: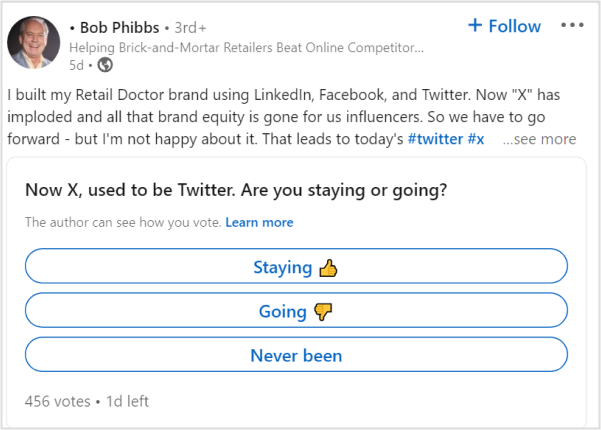 Add funny posts
People love content they can relate to. So try adding humor to your content. Thus, you can effectively convey your message and engage your audience.
You may also want to read: Social media meme marketing
Share job openings
From job posts shared by companies to recruitment updates from industry leaders, there's always something new and exciting happening on LinkedIn. So, if you're looking to stay in the loop or share some great job opportunities with your network.
Share something from a book
As avid readers, we all know that feeling when a particular quote or excerpt from a book resonates with us on a deep level. It acts like a little nugget of wisdom that we want to share with the world. Just like this insightful quote by Dan Koe.
Event reminders
Responding to ongoing trends and events can help you keep up with trends online. You can share new updates, event reminders, upcoming launches, and anything trendy.
8. Share snippets of communication & add hashtags
You can share funny, valuable, informational, or any other general snippets on your LinkedIn posts. These can be with a conversation between you and your friend, any top-content creator, a general meme, etc. It will create a deeper, more personal connection between you and your audience.
Here we spotted Teslimat Ishaq sharing a chat snippet with one of her friends on LinkedIn.
Add hashtags
Adding relevant hashtags to your LinkedIn posts can ultimately bring up your posts. It's a crucial part of LinkedIn SEO. So, if you want to stay at the top, add useful, popular hashtags to your posts. Though the most trending hashtag on LinkedIn right now is #strategy – 5,064,006 followers,
#culture – 4,728,967 followers
#fashion – 4,215,758 followers
#business – 3,663,739 followers
#networking – 3,566,063 followers
#hiring – 2,443,907 followers
#health – 2,270,357 followers
#inspiration – 1,145,015 followers
9. Share inspiring stories
Have you ever found yourself in a situation where you don't feel like creating unique, new LinkedIn posts? We've all been there. Whether it's a lack of inspiration, a busy schedule, or simply feeling unmotivated, it's completely normal to experience a temporary slump in your social media activity.
Here's a genius yet creative idea. Share inspiring yet motivational stories on LinkedIn. It can be your personal story (User Generated Content) or someone else story.
We loved how Matt Swin on LinkedIn shared a post inspired by the global superstar Weekend's life: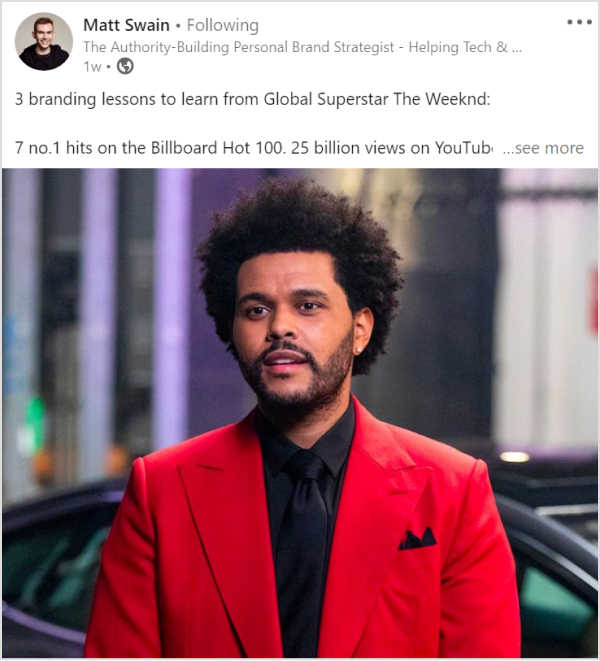 Matt shared 3 branding lessons to learn from Global Superstar The Weeknd. How the artist is making serious waves in the industry. Guinness World Records declared that "The Weeknd is officially the world's most popular artist."
10. Make bold predictions
Let's say you notice that everyone is following the same trend. And you also wanna pull up something regarding that trend but with a sense of spice and curiosity.
You can always share your opinion on future industry trends or make a bold prediction related to market changes.
Still confused? Check out this post by Tim Stoddart
How Tim shared a short-form content-making prediction regarding AI. However, the best thing about making predictions is that you are neither right nor wrong.
11. Try LinkedIn live
Live videos have a massive 24x engagement rate and 7x more reactions. So if you want high engagement on your profile, share live content in unique ways. For example,
Live webinars
Live how-to videos
Behind the scenes
Live audio events
Promotional videos
Facts about industry insights
Live interviews
Here we spotted Andrew Bolis sharing live audio event details on LinkedIn in collaboration with Julius Bieliauskas.
As a result, both creators will grab high engagement and high-quality leads, as they will be assisting people with their LinkedIn branding tips and relevant content.
12.Create appreciation or celebration posts
When facing writer's block or running out of ideas, remind yourself of Newton's law "every action has a reaction." Similarly, this goes for LinkedIn content strategy as well.
You can create engaging posts through feedback or a response. It could be a praise, a celebration, a myth, or a frequently asked question. You can even look back to a milestone that you achieved or something you regret.
Still confused? Have a look at Paul Starbuck's celebration post on LinkedIn.
How to master your LinkedIn strategy?
Do you want to take full advantage of your marketing efforts? Posting on LinkedIn should be a crucial part of your LinkedIn content strategy. As 92% of B2B marketers use LinkedIn to find quality content.
That said, it's no secret that content fuels your social media marketing engine. So put out helpful content to engage the readers. Here are a few tips for a perfect LinkedIn content strategy.
Connecting with the right audience
Statistics showed that most LinkedIn users worldwide are between 25-34 age groups. So in order to maximize your brand content ROI. It's necessary to take the right audience in the loop.
Engaging with people
You can boost your LinkedIn engagement rates using these tips.
Keep your profile updated to keep things fresh
Showcase your work on LinkedIn with engaging descriptions
A great profile photo and cover increase engagement
Helping others with no expectations
Post regularly and be active on LinkedIn
Put out the best content
Listen up, folks! The secret to social media success is as simple as sparking conversations with your amazing content. It doesn't matter what you're into, just get those chats rolling and watch the magic happen. Once people notice a healthy discussion, they start jumping on the bandwagon. And that's how most brands win attention on social media…
Use Branded Links
LinkedIn is the best source to generate leads. As it is more effective compared to Facebook and Twitter. Rich leads can be grabbed by sharing branded URLs within your posts. Branded short links and CTA's have proven successful for specific marketing campaigns. They are good for company branding and for analyzing your campaigns.
So, that's it, guys! We appreciate the dedication to reading to the conclusion. Your time and effort are very much appreciated.
FAQs
What is a good first LinkedIn post?
A good first LinkedIn post introduces you professionally, showcases skills, and expresses passion for your field. Keep it concise, engaging, and include a professional photo. Share goals or recent achievements for a positive impression and networking opportunities.
What is the best time to post on LinkedIn?
Post during business hours
Posting on Tuesdays and Wednesdays
What is a viral LinkedIn post?
Any posts above 100 thousand impressions and 500+ likes is considered as a viral post.
What is an impression on LinkedIn?
An impression on LinkedIn refers to the number of times a post or content is displayed on users' feeds or profiles. It represents the potential reach and visibility of the content, indicating how many users have been exposed to the post, regardless of whether they engaged with it.
More popular blogs for you
How to Quickly Increase Social Media Conversions in 2022
Social Media Risks For Brands. How To Avoid Them?
Top 10 Social Media Hacks to 3X Your Brand Growth
Manahil Asif
Meet Manahil - A wordsmith who practically buddies with B2B and B2C businesses to create digital magic. With a dash of humor and a sprinkle of wit, she whips up content more addictive than your morning coffee.