With the launch of LinkedIn in 2003, things changed. It was the first time a social media app was created for professionals. it was no longer about holiday pictures and endless selfies. It was about your education and work experience. In the beginning, traction was slow, but when the recession hit the markets a lot of people lost their jobs. A need for an online pool of available skilled and professional people was imminent. This was the turning point and since then LinkedIn has cemented its position in the top three social media networks of modern times.
Like all online businesses, one needs to run ads in order to generate revenue. But LinkedIn is unique from the rest of the social media outlets because it's specifically designed for business and professionals. Users mainly go to LinkedIn to showcase their job experience and professional thoughts, making it one of the more important platforms to use for those in B2B.
It has features such as Company Pages, InMail, Groups, LinkedIn Pulse, and the option to see who viewed your profile. LinkedIn can not only be used to generate online traffic but also the prospect of potential leadership and resource. With over 300 million active monthly users most of them decision-makers having twice the buying power of the average web audience, LinkedIn is a marketers paradise.
o
In this article, we take you through the steps for creating an effective retargeting campaign on the world's premier business-to-business social network.
The LinkedIn Matched Audience
The secret to successful online marketing on any platform is having a receptive audience. People who are willing to listen to you and see your advertisement are 80% more likely to convert than a cold audience. LinkedIn marketing has a trick up its sleeves called Matched Audience.
LinkedIn matched audience equips the marketers with a set of targeting tools that allow them to reach almost all members of the platform, and that too using their own data. According to Eva Chau:
"With Matched Audiences, you can use LinkedIn to re-target your website visitors, market to your contacts from your customer databases and marketing automation platforms, and reach decision-makers at target companies for your account-based marketing programs. Matched Audiences helps increase ROI by enabling you to focus your efforts on the audiences and accounts that are most likely to drive revenue".
According to Marketo personalized retargeting increases conversion rates by 13 times. This is massive when you consider that 96% of all website visitors will not convert. Hence the importance of retargeting can not be overlooked in the slightest.
You can use the matched audience in the following three ways for prospecting B2B clients.
Website Targeting
As it is evident from the name, website retargeting allows you to market your business to LinkedIn members who have visited your website in the past. You can segregate the audience and provide relevant content based on the pages they have visited.
Below are the steps you need to follow to set up a website retargeting campaign.
Adding LinkedIn Tag
The first thing you need to do is add the LinkedIn Insight Tag to your website. It is a small piece of code which when added to your website, communicates valuable insights with LinkedIn about the nature of the visitors to your website. Then, sign in to your Campaign Manager, click your account name, and access "Insight Tag" from the "Tools" drop-down. If you've added the tag correctly, your website will be listed as "Verified."
Creating an Audience to Retarget
Log in to your LinkedIn account and navigate to campaign manager and find matched audience on the targeting screen.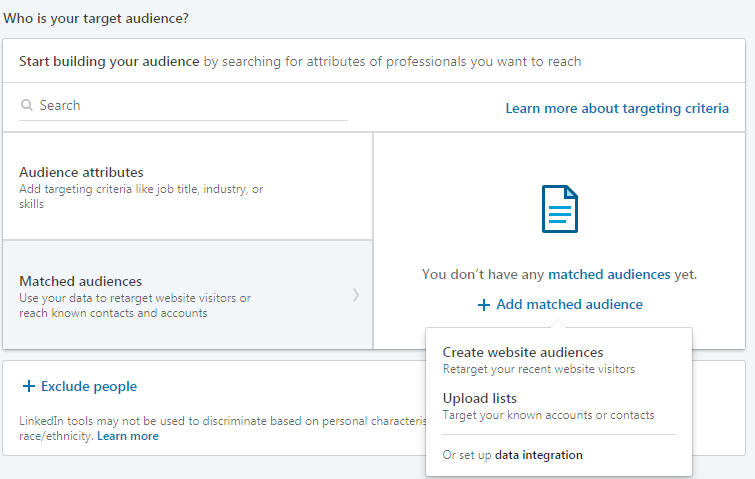 Click on create website audiences to create rules for tracking.
Here you get three options as to how you want to set up your audience for retargeting from your website URL.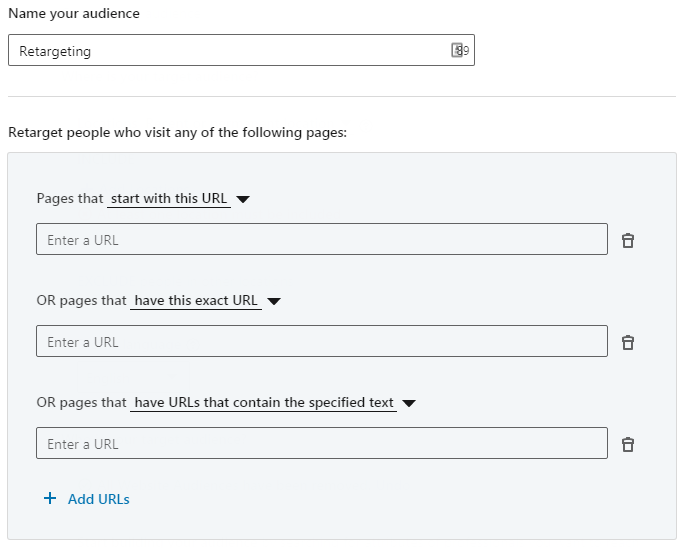 Starts with: This rule matches characters from the beginning of the string until the very last character. Take for example we want to target all visitor from the discovery page, for that we will use the URL "https://contentstudio.io/content-discovery"
Exact:
Matches every single character in your URL from beginning to end. This technique is used when you intend to re-target visitors for a specific page. For example, you can use https://replug.io/blog/retargeting-strategies" to target the people coming from this page
Contains:
This us much like the "contains" search query used in other tools. It will target all people who are visiting a page with a URL containing a certain word.
Account Targeting
The second type of retargeting that Linkedin offers is account retargeting. This strategy is perfect if you know the type or nature of the professional to which you want to re-target. In this technique, you target accounts instead of the people holding those accounts.
This is particularly popular amongst marketers as it allows them to pinpoint their target audience. The other great thing is that even less experienced marketers, can easily figure out the profession of the audience they are planning to target, hence it does not require much research. AJ Wilcox, a certified LinkedIn ads partner says
Everyone give me a list of the 50 companies you would give ANYTHING to work with." The sales teams obliged and provided 1,050 companies. I created account-based advertising campaigns around them, which means 100 percent of the leads generated from them were leads that the sales team would gladly and dutifully service.
Imagine if you can get access to decision-makers of businesses which are your ideal customers, your sales will definitely get a rise. LinkedIn gives you access to more than 300,000 companies that you can target. Even more so you can target specific professions in your region.
With LinkedIn account retargeting you can run account-based marketing campaigns and show ads to companies you wish to be a part of. You can also target professionals from a certain area, specific decision-makers in multinationals. and Finally, Drive more conversions with focused targeting comes a higher chance of a conversion. If you know the professional demographics of your target customer, now you can reach them on LinkedIn.
Setting up Account Retargeting Campaign
To set up an account retargeting campaign, navigate to the targeting page in the campaign monitor. Since this technique is subjective to demographics you have to always select a location that you want to target.
 
In order to further refine your audience, Linkedin allows you to select the employees of a specific company, education, job expertise, and interest. You can enter up to 100 companies. With account targeting, you can upload a list of companies. You can also exclude certain companies which you do not want to retarget.
You can also upload a list of companies you want to target by clicking on the matched audience –>Add matched audience –> Upload lists, as shown below.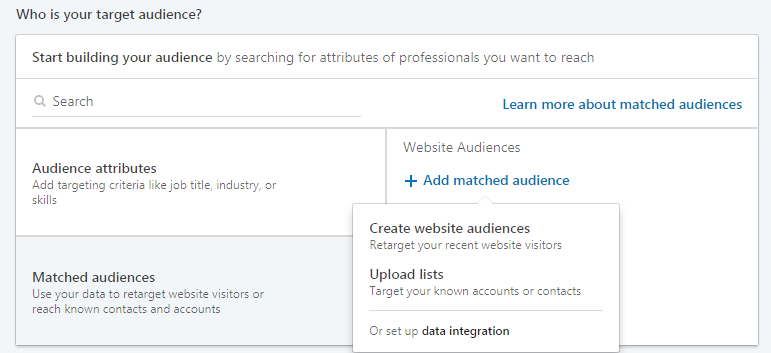 In the upload section, set an appropriate name for your audience. Upload the companies list sheet which should be according to the template provided by LinkedIn which is two columns one-row style spreadsheet including company name and website.
The next step is to create ads for your account retargeting campaign. You can do this by going to Campaign Manager and selecting "Matched Audiences" from the "Tools" drop-down. Then, via the "Uploaded Audiences" tab, select "Upload list." Lastly, enter the name for that list, click "Upload file," and then hit "Next." This will upload the list of emails you want to target.
Contact Targeting
The third type of matched audience targeting is uploading an email list and targeting them on LinkedIn. This makes for a highly targeted audience that can be outreached.
The advantage that LinkedIn has is that it knows both your work and private email. Work email through your profile and private through the account. Whenever you engage in any activity with your co-workers, LinkedIn makes an association between your accounts. This elevates the match rates on LinkedIn much higher than other social networks.
Having this level of a customized audience can have a substantial impact on conversions. Suppose you upload a list of emails of social media marketers from your previous companies and are now running a social media management tool ad than your own. The conversion rate will be significantly higher. Plus there is a level of confidence when you are at the receiving end of an advertisement from someone you know.
Setting up a Contact Retargeting campaign
The process for creating an email list for contact targeting is much like that of account targeting. You need to create an excel sheet according to the template specified by LinkedIn with all the email addresses you wish to target.
Navigate to Campaign Manager and click on "Create an audience," followed by "Match based on a list of email contacts." Then, upload your file and click "Next."
Data Integration
While creating a matched audience, instead of uploading an email list, you can also import data from other tools like "LinkedIn Data Scraper" that help to fetch data from LinkedIn and also other tools. Just click on " Setup data integration" and it will show you a list of tools that offer email contact import. Some of these tools include Marketo, Oracle Eloqua, LiveRamp, Acxiom, Zapier, Salesforce Advertising Studio, etc.
Click on a tool that you have been using previously and start the integration of the email list from it. The data transfer is protected by public and secret keycodes which need to be entered in the tools for safe data transfer.
LinkedIn Retargeting Results
The results which audience-matched targeting has produced are staggering. Website retargeting has shown an increase of around 30% in CTR. Account retargeting increased Post-click conversion rates by 32%. Similarly, contact retargeting increased CTR by a whopping 37%.
If you are a digital marketer, you should know that these results are highly encouraging. LinkedIn automation tools let you reach prospects you already know on LinkedIn to share relevant content and grow your business.
Conclusion
LinkedIn matched audience retargeting allows for continuous marketing throughout the customer life cycle. This includes generating brand awareness, marketing, retargeting, and finally lead generation.
What do you think about the capabilities for using matched audiences in Linkedin?
Wasiq Naeem
Wasiq Naeem is a content and digital marketing veteran who is passionate about his writing. Extensive research and producing high-quality content is just another day at the office for him.