What is a personal branding tool & why should you use one?
A personal branding tool is a website, software application or app that helps you create and maintain a brand. A personal branding tool can help you learn about your brand, develop marketing campaigns and manage your social media presence.
URL shorteners as a personal branding tool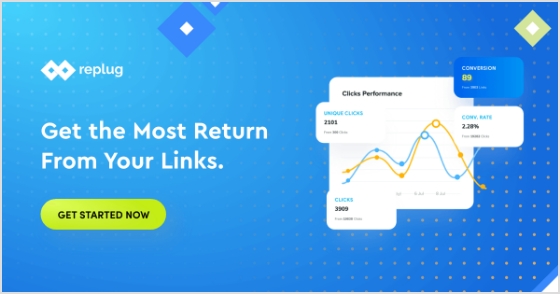 Without any biasness, Replug serves as a perfect Rebrandly alternative. If you are looking for a solution that is friendly to your pocket and lets you do more of the same that Rebrandly does, then Replug is for you. It has all what your brand needs, such as:
Custom Domain
AB Testing
UTM Tracking
QR Code Generator
Call To Action
Traffic Routing
White Label Version (Coming Soon)
Another crowning accomplishment of Replug is that it has been awarded the high performer awards for the year 2022/2023 by G2. It makes Replug the stand out URL shortener for personal branding, link management and social analytics.
Moreover, it has some great integrations with social management tools like Content Studio (discussed further), making it one in all powerful social branding solutions. Replug is a complete link management tool that can drive brand engagement and increase conversions through brand awareness.
Bitly is a very popular URL shortening tool. It offers a terrific free service, but comes with some downsides. If the purpose of your brand is to create short URLs and manage your links then Bitly can be a good go-to choice tool.
Rebrandly is a Bitly competitor but offers much more than Bitly. As discussed above, Bitly has some limitations such
Connect more than one custom domain
Select a custom keyword after the slash
Keep your data for more than 30 days
Make your links private by changing their visibility.
How to use URL shortener as a personal branding tool?
Turning a random long URL into branded URLs serves as a great way to increase online visibility for your business or individual blog posts or websites. Online users click the URLs that are trust worthy. Hence, having a branded URL compared to clunky URL will get more clicks when shared on social media or other online platforms.
URL shortener tools help to create SEO friendly URLs. This not only can improve SEO rankings on major search engines, but can also drive more website traffic from social media networks.
Furthermore, bio links are an easy way (i.e. click and add) to design a custom landing page. Your bio link can have all of your information that you can't share in your social bio due to limited space.
Create some persuasive call to actions (CTAs)

to improve your engagement and conversions.

Test your campaigns using A/B testing

and deliver an unbreakable brand experience using the deep linking.

Lastly, get useful insights and analytics to make informed brand decisions.
Related: Benefits of Using Branded Short Links
Increase your CTR with a Branded Link Now!
Personal branding tools for analytics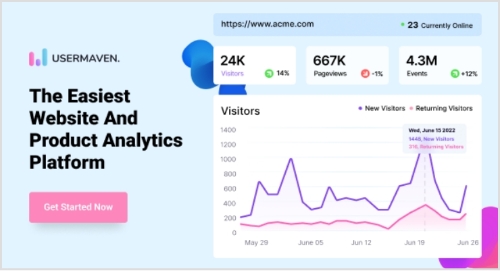 Usermaven is a perfect Google Analytics alternative that is easy to set up and has built-in reports to help you generate actionable insights. With the 360 Profile View, you get a holistic view of the complete user journey, making it super easy for you to track visitors.
The major plus point of Usermaven is that it complies with the privacy regulations under GDPR and CCPA making it a privacy friendly analytics powerhouse. The cherry on top of this is the auto-capture events feature. Usermaven captures all front-end events automatically, thus saving you ample of time.
If you don't know about this tool, then you are living under a rock or have been sleeping for decades. Google Analytics is all about analytics. But it also serves as a personal branding tool that helps understand your online activity and the actions of your website visitors.
How to use analytics tools for personal branding?
By tracking visitor behavior, you can learn about their interests, habits, and preferences. This information can be valuable for developing marketing plans and improving your website's communication with potential customers.
Personal branding tools to discover trends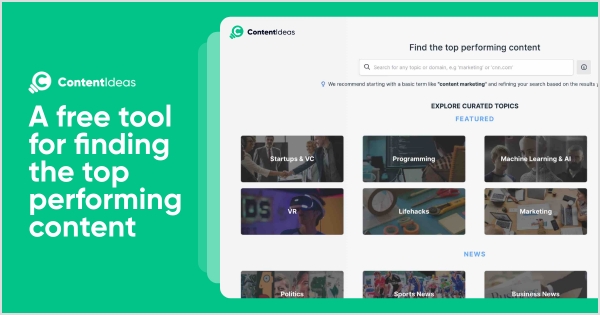 ContentIdeas is a valuable tool for anyone looking for quality in content. It is suitable for social media marketers, content marketers, and search engine optimizers, as it allows them to easily find relevant content ideas with minimal effort.
Improve your online presence by selecting popular and trending content to generate content ideas for future blog posts, discovering new opportunities for link building, and staying informed about industry developments.
ContentIdeas is an efficient tool that allows you to find top-performing content related to your target keywords. It also enables you to locate articles where your product is mentioned but not linked to your website, giving you the chance to request backlinks from webmasters.
For social media marketers, ContentIdeas is a useful tool to find content with high engagement numbers on social media platforms. The tool is designed to help content creators who struggle with coming up with fresh ideas by providing the option to explore trending and relevant content in a specific topic or industry, and by allowing searches for ideas using different keywords.
Answer the Public is a tool that helps users understand how people are searching for a particular topic on the internet. It generates a visual representation of the most common questions, prepositions, and comparisons related to a specific keyword or phrase, and organizes them into categories such as "What," "How," "Why," etc. This information can be useful for content creation, SEO, and keyword research.
Use best content marketing practices that address the topics which can position you as thought leaders in their industry. Furthermore, use it to compare your brand performance to your competitors, which can be useful for creating and executing better branding strategies.
Google Trends is a tool offered by Google that allows users to see how frequently a particular search term is entered into Google's search engine, as well as how the popularity of that search term has changed over time. It can be used to track the popularity of specific keywords, phrases, topics, and industries, and to compare the relative popularity of different search terms. Google Trends data is based on Google's search data, so it reflects the real-world interest in a particular topic.
It also allows you to see how a topic is trending in different regions, languages, and categories. This tool can be useful for understanding the popularity of different keywords, tracking the popularity of specific topics and industries, and identifying emerging trends. It can be used to compare the popularity of keywords over time, which can help you determine if your keywords are attracting interest from potential customers.
How discovering trends can help in personal branding?
Some tips on how to use these tools for personal branding include understanding what factors influence search trends (e.g. social media engagement or news coverage). Using these insights to create content that resonates with potential customers, and monitoring search trends regularly so you can keep up with shifting consumer interest.
These tools provide insights into the questions and concerns of your target audience. By understanding what people are searching for related to your personal brand or industry, you can create content that addresses those topics and positions yourself as an authority in your field.
Thirdly, these tools can be used to identify gaps in the market, which can help create new and innovative content that sets you apart from your competitors.
Furthermore, by identifying keywords that people use to search for information or products related to your personal brand, you can optimize your website and other online profiles to improve your visibility in search engines, which can be a key aspect of personal branding.
By offering good content, answering questions, and keeping users engaged on social media platforms, businesses are able to foster personal relationships with customers that may results in future business transactions.
Related: Grow your business with branded short URL links
Personal branding tools for Social Media
As an alternative to Hootsuite, ContentStudio is a content marketing and social media management tool. Both tools have similar features, such as scheduling posts and analytics, but ContentStudio offers additional functionality, such as content curation, team collaboration, and workflow automation. ContentStudio also allows users to manage and publish content on multiple platforms, such as social media, blogs, and email, in one place.
Hootsuite helps in personal branding by providing a platform for users to manage their social media accounts and share content. Hootsuite allows users to post updates, photos, and videos on various social media platforms from one place. This makes it easier for users to tailor their online presence to reflect the brand they want to project.
ContentStudio vs Hootsuite:
ContentStudio allows users to curate content from various sources and schedule it to be published on social media and other platforms, whereas Hootsuite users can only schedule their content.
ContentStudio allows users to publish content to multiple channels, such as websites, email, and other platforms. While Hootsuite mainly focuses on social media.
ContentStudio has a wide variety of integrations with other tools, which allows users to easily track the performance of their content and share it with their audience. Likewise, Hootsuite has many integrations, but it may not be as comprehensive as ContentStudio.
How to use it for branding?
You can use these tools to enhance your brand's online presence and effectively reach your target audience.
ContentStudio's team collaboration feature ensures your content aligns with your brand's voice and tone.
Schedule brand-related content to be published on social media and other platforms.
Integrates with Canva to create visually appealing graphics and videos that align with your brand's aesthetic.
Track and measure the performance of your brand-related content and make data-driven decisions about your branding strategy.
Personal branding tools for content editing, management & website building
WordPress is an open-source content management system (CMS) that is widely used for creating and managing websites. WordPress provides a user-friendly interface that allows users to create, edit and publish content without the need for advanced technical skills. It is also highly customizable, with thousands of free and paid templates and plugins available to extend the functionality of a website. Easily create a custom logo, logo design templates, blog designs, social media profiles, and more. You can also use WordPress to create an online store or blog platform.
Overall, WordPress can be a powerful tool for creating a professional and engaging website that effectively communicates your brand's message and helps you to establish a strong online presence.
Experro is a fully composable Digital Experience Platform that comes with all the tools you need to build, manage, and optimize a website or eCommerce store. Experro's website builder allows you to build pages by dragging & dropping without any technical hassle.
The Headless CMS offers marketers the easiest and fastest way to manage and edit website content without the need to rely on developers. Moreover, Experro consists of even more crucial tools, such as a headless storefront, eCommerce search & merchandising, and everything else a marketer or website owner requires, all in one place!
All in all, Experro is the only DXP of its kind that consolidates everything required to manage a website in one place, thus offering you the relief of not having to manage multiple platforms at once.
Wix is a website building platform that enables users to create and design a website without the need for coding or technical skills. It offers a wide range of templates and drag-and-drop design tools for creating visually stunning websites. The platform is known for its flexibility, allowing users to customize the design and layout of their website to fit their brand and their needs. Wix also offers a variety of features such as creating an online store, booking system, and more.
It also provides features that support SEO, analytics and more, which can be beneficial for branding purposes. Wix is a popular choice for small businesses, entrepreneurs, and individuals looking for an easy way to create a professional-looking website with minimal effort and cost.
How can these tools help in personal branding?
These tools offer various features that assist in branding your website, such as customizable templates, custom menus and pages, a built-in blog, e-commerce integration, the ability to use your own domain, SEO optimization, and tools for maintaining brand consistency and analyzing website performance.
Furthermore, these tools can be used for branding purposes in several ways:
Offering a wide variety of customizable templates, allowing you to create a unique and professional-looking website that represents your brand.
Blogging: Content Management System (CMS) are powerful platforms for blogging, which can be used to share valuable content with your audience and establish your brand.
Brand consistency: CMS allows you to manage and maintain brand consistency across all pages and posts of your website.
13. Grammarly/Hemmingway editor
Grammarly is a very popular tool among content marketers to students. It is a personal branding tool that helps users improve their writing skills. It offers online tools to help users correct grammar, punctuation, and spelling mistakes in essays, blog posts, social media updates, and more. Hemmingway is also more or less the same.
How do these tools help in personal branding?
They help in personal branding by improving punctuation, grammar and written vocabulary. This can help to make content seem more professional and correct when posting blog or social media posts online. Thus, leading to a greater online presence for the person, as well as improving search engine ranking.
Related: 5 Ecommerce Marketing Strategies for Brand Recognition
Monitoring tools for personal branding
Brand24 formerly known as Klout is a social media tool that measures the online reputation of individuals and organizations. Brand24 scores are based on a scale from 0 to 100, with higher numbers indicating greater online influence.
Google Alerts is a tool that allows users to set up email alerts for keywords or phrases. When a keyword or phrase is included in an email message, the user's computer will alert them so they can read the message immediately.
Mention is a social media monitoring tool that helps you track your social media presence and analyze how people are talking about you online.
How do these tools improve personal branding?
Brand24 helps individuals to measure their social media influence and how it can be leveraged in personal branding. By measuring your brand score, you can see where your voice is being heard and what kind of impact you are having. This information can help to shape your marketing strategy as well as give you insights into areas that may need improvement.
Google Alerts can help you keep up to date with the latest trends and news in your industry. By monitoring keywords and phrases related to your business, you can stay ahead of potential competition and create a profile that stands out from the crowd.
Mention tracks and measure their online presence in real-time. This information can be used to improve branding efforts, as well as monitor social media analytics to see how content is performing. Further, by targeting specific topics and industries, Mention allows users to connect with potential clients and build strong brand relationships.
Email marketing tools for personal branding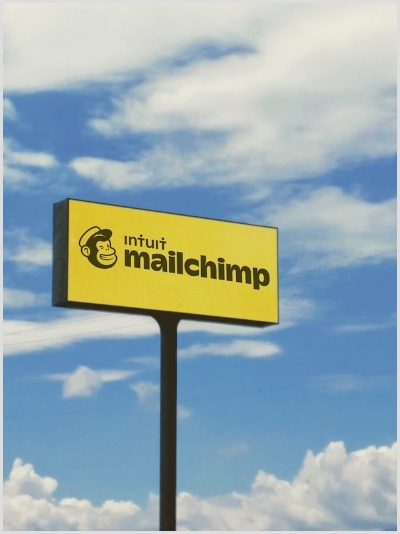 MailChimp is an email marketing service that offers features such as customizable email templates, list management, automation, analytics, and integration with e-commerce platforms. It also includes a built-in spam checker and mobile-responsive design capabilities.
Additionally, MailChimp provides analytics and reporting features that allow you to track the performance of your email campaigns and understand how your audience is engaging with your brand.
This information can be used to make data-driven decisions about future campaigns and to improve the overall effectiveness of your branding efforts.
It's also possible to integrate MailChimp with your e-commerce platform and use it to send out abandoned cart emails, order confirmations, and other transactional emails, which will help keep your brand in front of your customers and improve customer loyalty.
Omnisend is an email marketing automation platform that allows businesses to create and send targeted email campaigns, SMS messages, and push notifications. It helps businesses to automate their marketing communication, personalize messaging, and improve the performance of their campaigns.
How to use email marketing tools for branding purposes?
MailChimp can be used for branding purposes by using its customizable email templates to create visually appealing and consistent email campaigns that align with your brand's style and messaging.You can also use the automation feature to create triggered campaigns based on certain actions, such as abandoning a cart or signing up for a newsletter, to further engage with your audience and improve brand recall.
Using Omnisend ensures your company stands out and reaches its target audience. First, you'll need to create an account and select the features you want to use. Then customize your emails with custom HTML or CSS styling, add engaging elements like videos or polls, and personalize content with dynamic text blocks and smart segments. Further, you can also collect customer data to better understand your customers' preferences. Set all these features in place, and you're ready to start creating stunning campaigns that effectively convey your brand's message and further engage potential customers.
Related: Social Media Risks For Brands. How To Avoid Them?
Graphic and video editing tools for personal branding
Freepik is a website that offers an immense library of free vector images, illustrations, icons and photos for use in personal and commercial projects. The website provides users with access to millions of resources from talented designers around the world. All content on Freepik is free for personal and commercial use, making it an excellent resource for graphic design professionals as well as anyone looking to create stunning visuals quickly and easily.
Freepik can be used to enhance the visual appeal of your brand. Use Freepik's icons and illustrations to create infographics and other visual content that can be used to explain complex information in a simple and engaging way.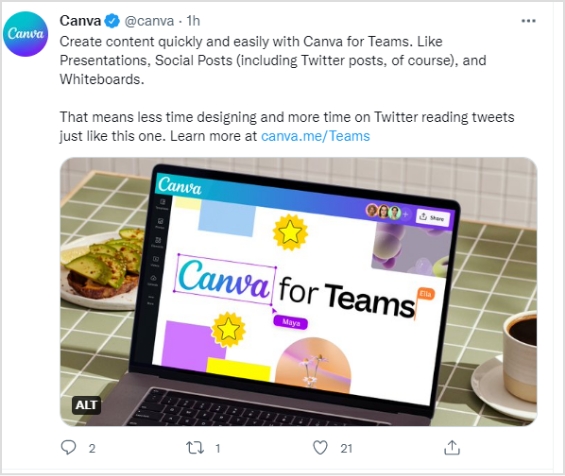 Canva is a graphic design tool that allows users to create professional-looking designs for various purposes, such as social media posts, flyers, brochures, presentations, and more. Using Canva, It's easy to create graphics that can be used for all sorts of design projects, from logo design to social media branding. Canva also has an app that makes creating designs even easier on the go.
Movavi Video Editor is a user-friendly video editing app with a blend of easy and advanced features.
This editing platform goes well for both enthusiasts and professionals alike who want to create high-quality videos that represent their personal brand in the best possible light.
With Movavi Video Editor, users can easily trim, cut, and join video clips, add titles, filters, and special effects, and even incorporate their own branding elements like logos and watermarks. Advanced features like chroma key and motion tracking are available with additional upgrade options, giving you even more options to create professional-looking videos.
Magisto allows users to create professional-looking videos and photos. The app is free to download and use, but some features require in-app purchases.
Magisto provides tools for creating professional videos and photos, which can be used as personal branding tools. For video creation, the app offers a variety of templates, effects options, voiceovers, and other features to help users create high quality content. Photos can also be edited using filters and effects to give them a unique look. In-app purchases are available for additional editing features and more comprehensive social media platform support.
Story Blocks is an online platform which provides users with access to a library of stock images, videos and audio clips. The media assets are provided by a network of professional content creators, who retain the copyright for their work. The platform enables users to purchase licenses for the media that they want to use in their projects.
How to use these tools as a personal branding tool?
Users can access the library through these tools, where they can search and filter assets according to their requirements.
Use it to create engaging and dynamic visual content that can be used to promote your brand on social media and other platforms.
Utilize these tools and create a consistent visual identity by using the same graphics, illustrations, and color schemes across all of your branding content.
Related: How to Build Your Brand on YouTube & Branding on Youtube the Right Way!
FAQs:
Which one is better: social media, email marketing, or search engine optimization (SEO)?
There is no definitive answer to this question, as the best personal branding tool depends on the individual's specific needs and goals. However, social media, email marketing, and SEO are all effective tools for building brand recognition and attracting new customers.
How does one use a personal branding tool for social media and how does that help my business?
There are a few different personal branding tools available, including social media management platforms like Contentstudio and Hootsuite. These tools allow you to manage your social media accounts from one location, making it easier to keep track of all your posts and updates. They also offer tools that help you create custom outputs such as blog posts or infographics; these can be used to promote your business online, as well as in other forms of marketing (such as email campaigns). By using a personal branding tool, you can ensure that all your marketing efforts are coordinated and unified, which will help increase brand awareness.
What are the 5 A's of personal branding?
Attitude, Appearance, Actions, Achievements and Associations.
What are the 5 C's of personal branding?
The 5 C's of personal branding are: credibility, connection, consistency, credibility and connection.
What are the 4 pillars of a personal brand?
1. Unique Selling Proposition (USP)
2. Message / Call to Action
3. Brand Name or Logo
4. Web Presence
Which type of personal branding tool should I choose: web, mobile or desktop app?
The answer to this question depends on the type of personal branding you are aiming to achieve.
If your aim is to create a web or mobile presence, then using a web or mobile app would be the best option. If your aim is to build up a brand through marketing materials such as blog posts and social media posts, then desktop software would be more appropriate.
Mustafa Niazi
Mustafa Niazi is a blogging addict, a tech fanatic, and a SEO specialist.