What is a tracking pixel?
A tracking pixel is a pixel tag or code snippet that triggers the tracking system when a visitor lands on a website page after clicking on a specific link or CTA.
A tracking pixel works by placing it on a website or in an email and tracking the data that helps the marketer or advertiser analyze and track the campaign performances.
Have you ever noticed how quickly you land on a "thank you" page when you finish the checkout process on an e-commerce site?
Do you know that the largest websites, such as e-commerce platforms, social media platforms, and web portals, track their website visitors?
Websites and apps track their users because it helps them navigate in the right direction or understand what they need to accomplish.
In some cases, a tiny image file is added to the website or app, which usually goes unnoticed by the naked eye. While in some instances, a tracking pixel could also be a piece of code that goes into the website page URL and helps marketers track performance through clickability.
Adding a tracking pixel on any web or app property is to collect user data to understand their behaviors, actions, and choices.
Furthermore, it is used to track the activity of users on a website or email campaign to determine the success of the campaign.
Let's do this. Shall we?
Why do you need tracking pixels?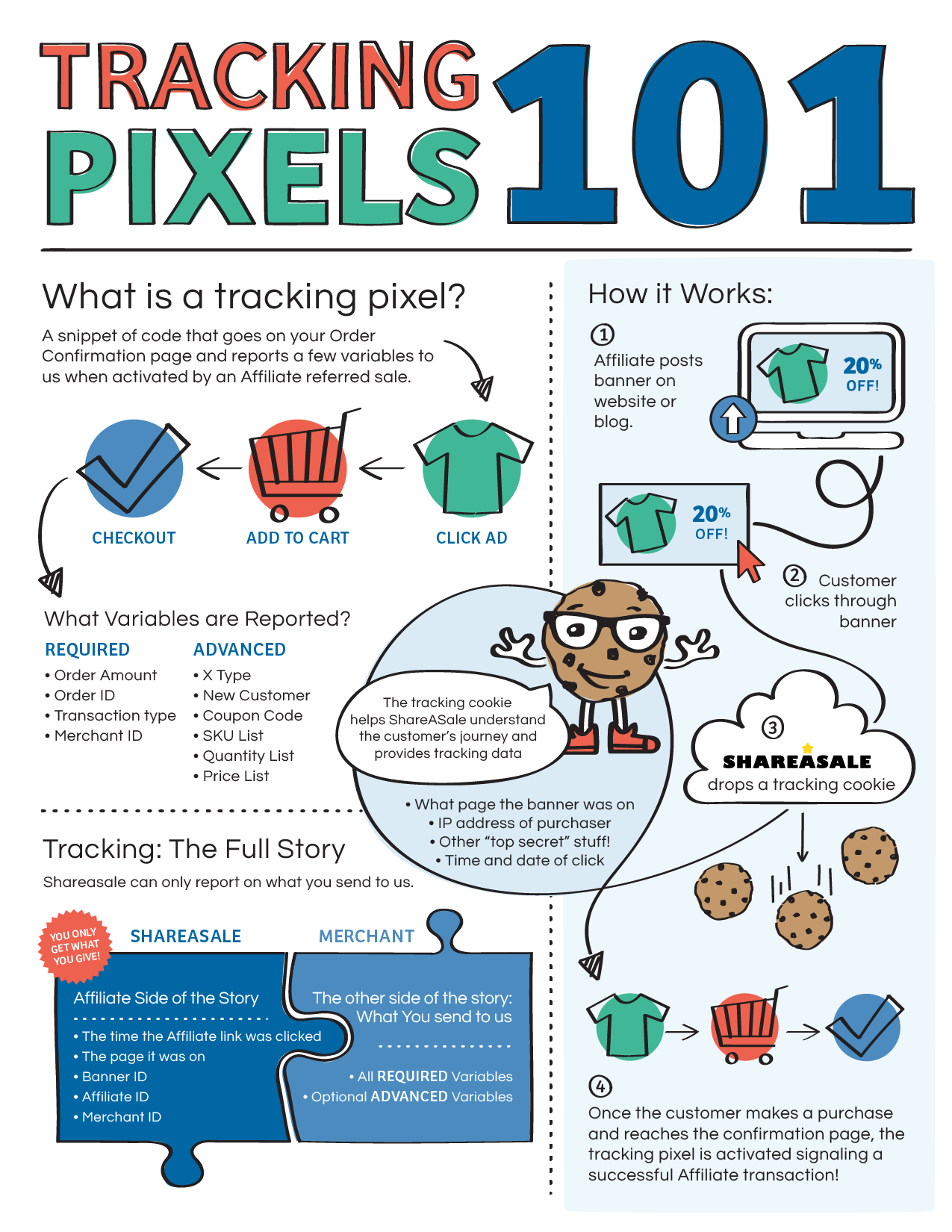 Tracking performance is the essence of any marketing campaign, as it helps marketers understand how their marketing efforts will pan out.
Here are four areas where tracking pixels comes in handy:
i. Analyzing website traffic: Tracking pixels can gather data on how users interact with a website. This can help website owners understand which pages are most popular, how users navigate through the site, and where they are coming from.
ii. Measuring the effectiveness of online advertising: Tracking pixels can measure the success of online advertising campaigns by tracking how many users click on an advertisement and then go on to make a purchase or complete some other desired action.
iii. Targeting users with relevant advertisements: Tracking pixels can be used to track user behavior and interests, which can be used to show targeted advertisements to users that are more likely to be interested in them.
iv, Email marketing campaign: Tracking pixels can be used to track the success of email marketing campaigns by measuring how many users open the email and click on links within it.
No doubt, tracking pixels are important for businesses and marketers, as they allow them to gather data on how users interact with their websites and emails regardless of the platform.
Moreover, it enables marketers and advertisers to use this information to improve their marketing efforts and relaunch their advertising campaigns more effectively.
What are the different types of tracking pixels?
There are two main types of tracking pixels used in digital marketing:
Conversion Pixels
Conversion pixels play a vital role in tracking conversions on websites and apps. For example, you may have seen "thank you" or "also check these" pages while buying products online. Such pages trigger or direct visitors to specific pages when they notice a conversion. And conversion pixels help perform this action.
Now a product sale isn't the only conversion. In fact, a generated lead or downloaded file is also a conversion. It depends on the campaign type and what the marketer or advertiser wants from the audience.
Retargeting Pixels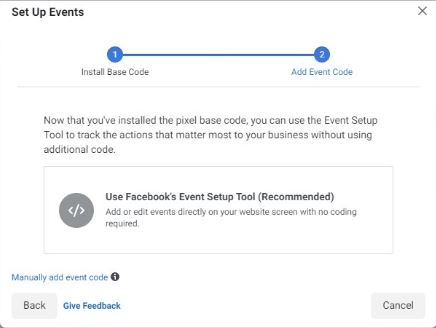 One of the most popular tracking pixels is the retargeting pixels. It's used in retargeting campaigns in the digital marketing field. Retargeting is a marketing strategy of targeting the audience that has visited their website or landing page to convert visitors into subscribers or paid users.
Retargeting is usually done through paid advertising. However, the targeting process begins earlier by adding a tracking parameter to the URL or the website code. Hence, the retargeting pixel collects visitor data and helps marketers reach the same audience through paid ads.
How does tracking pixels work?
Tracking pixels are used to track the users' online behavior, such as the pages they visit, the links they click on, and the products they purchase.
A tracking pixel is a piece of code that embeds into the website code or URL to track the performance of the page or link.
In some cases, tracking pixels are tiny, transparent images placed on web pages or emails to track user behavior.
Advertisers often use tracking pixels to track the effectiveness of their online advertising campaigns. They can also be used by website owners to track the traffic to their sites and to understand the demographics of their users.
The way tracking pixels works is that they are often placed in the HTML code of a web page or in the body of an email. They can be implemented using JavaScript or iFrame.
Example: Suppose a user visits a website or opens an email that contains a tracking pixel; the pixel sends a request to the server that hosts the pixel.
This request includes information about the user's browser, such as the user's IP address, the type of device they are using, and the type of browser they are using.
The server then records this information and stores it in a database. This information can be used by the webmaster or by the sender of the email to analyze the user's behavior and tailor their marketing efforts.
How to Set Up a Tracking Pixel Using Replug?
Replug is a powerful URL shortener tool that allows brands and marketers to create short, branded URLs for marketing such as for social media, email marketing, and online advertising.
Since Replug is a URL shortener that offers UTM embedding, URL tracking, branded URLs, deep links, and other services, it opens up the opportunity to retarget the audience.
As Replug records data of the users' behavior on the short links, it makes it possible for marketers and brands to retarget those people through different advertising channels.
Replug plays an anchor role in setting up a retargeting campaign for brands and advertisers using pixel tracking.
Here's how you can set up tracking pixels using Replug:
Step #1: Create a Replug account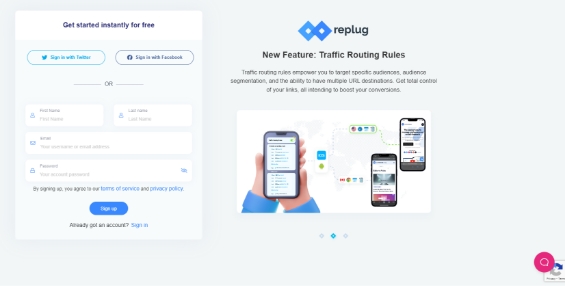 To get started with Replug, you must first create a Replug account. Then, you just need to visit the Replug website and sign-up for a free trial account to start the process.
Once you've created your Replug account, log in to your account to explore the features this URL-shortening tool has to offer.
After the successful login to your Replug account, you'll see the Replug dashboard, where the process begins.
Pay close attention to all the steps for setting up a tracking pixel using Replug before jumping the gun. And more importantly, don't create a short link right after landing on the dashboard area because you'd have missed out on a few steps.
Step: #2: Setup your brand in the Replug account
All the steps are crucial to setting up the retargeting pixel using Replug. Now select the appropriate brand or create a new one, just in case.
Creating a brand on Replug would only take a few seconds. It's highly unlikely that most readers have already set up their brands on Replug since most would be new users.
To create a brand: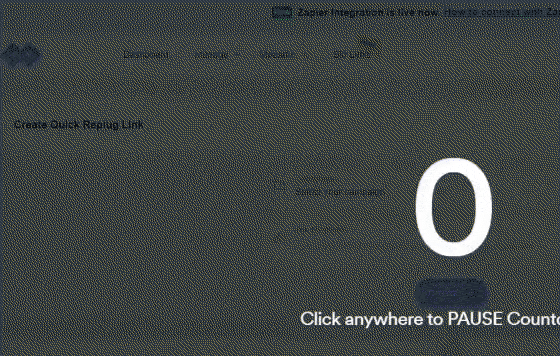 Go to the "Manage" page from the dashboard header menu and click "Brands."

Option."

Click on the "Add Brand" button to get started with creating a brand.
Once it's done, click the "next" button to proceed.
Step #3: Make a new campaign
The next up is creating a new Replug campaign in line with your retargeting campaign. But first, ensure you've set up the brand on Replug properly.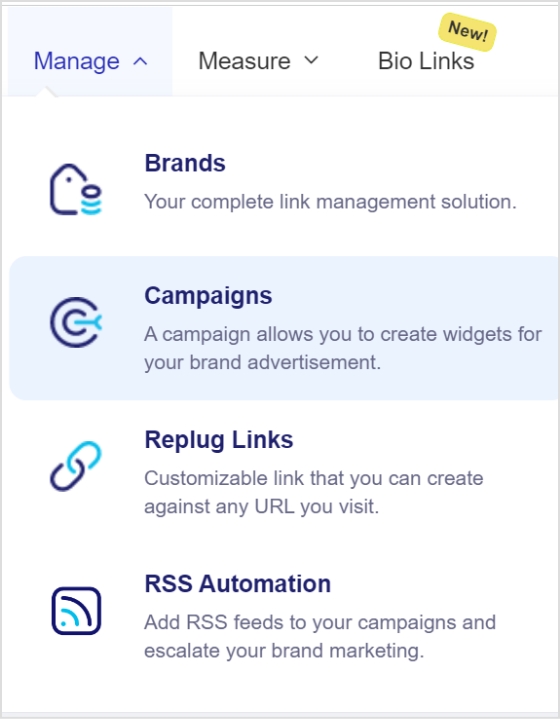 Now go to the "Manage" drop-down from the top menu and click on the "Campaigns" button, and then select "New Campaign" to get started.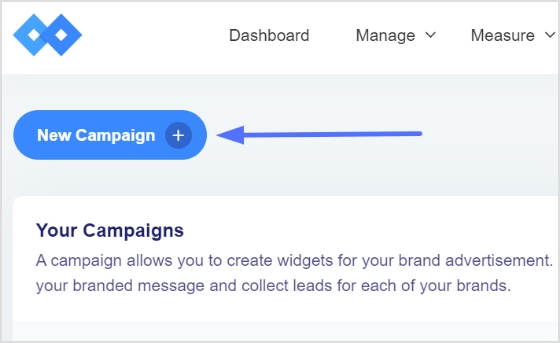 At this point, you'd have to select an already existing brand or create a new brand. Since you have just created a new brand, continue with the created brand in the Replug account.
Step #4: Select retargeting as the campaign type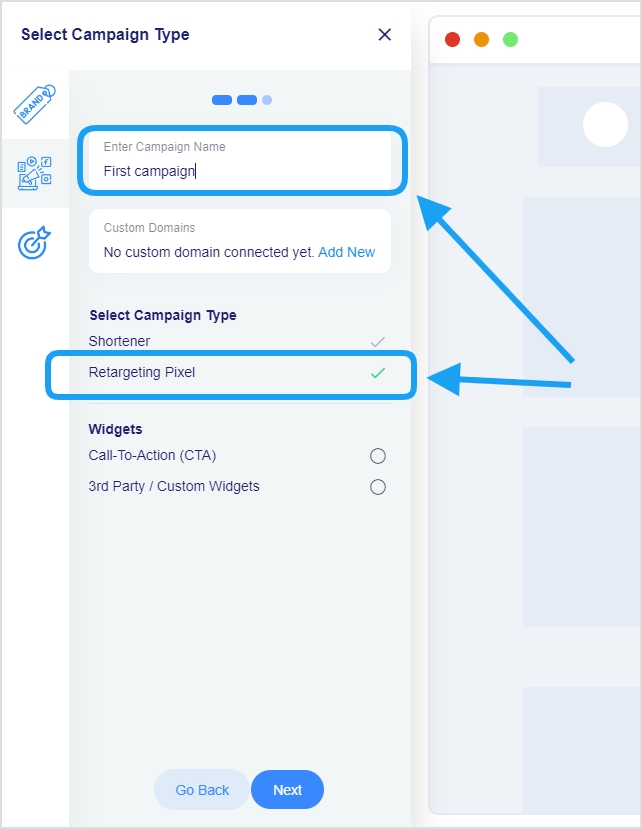 It's one of the most important steps in the retargeting campaign because it sets the direction of the campaign. This is the part where you name your campaign and choose its type.
Provide a name for your campaign and select the custom domain if required in the campaign. Otherwise, you can skip the custom domain section.
However, make sure that you check the retargeting pixel option before moving on to the next step. Once you choose the retargeting pixel, it becomes crystal clear to the Replug platform that it's a retargeting campaign.
Also read: Retargeting Ad Examples That Convert & Drive Growth

Step #5: Add your retargeting code
Everything seems quite easy until this point, and I'll ensure the last step goes as smoothly as possible.
Now, this is the part where you select the social media platform to run your retargeting ad campaign.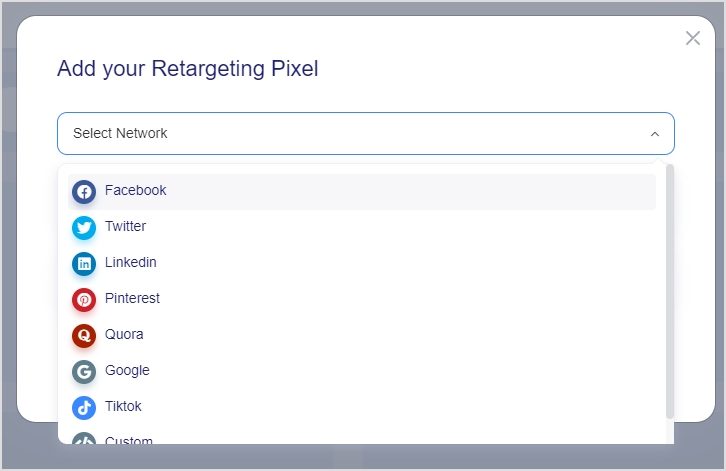 The way it works is that marketers choose the social media platform, give the pixel a name, and finally enter the pixel ID from the respective social media platform such as Facebook pixel id.
Once everything is done, you're all set to launch your retargeting campaign using Replug.
Also read: How to find my Twitter Pixel ID?
What are the key differences between a pixel and cookie?
A pixel is a small piece of code placed on a website or in an email. It is often used to track a user's activity on the website or email and to send this information back to the company or organization that placed the pixel.
Pixels are typically used to track website visitors and to understand how they interact with the website.
A cookie is a tiny chunk of data that is stored on the visitor's computer by a website. It is used to remember certain information about the user, such as their preferences or login information. In addition, cookies are often used to personalize the user experience and to track a user's activity on a website.
There are some key differences between pixels and cookies:
Purpose/Goal: Pixels are primarily used for tracking and analytics, while cookies are used for personalization and tracking.
Placement: Pixels are placed on websites or in emails, while cookies are stored on a user's computer.
Size: Pixels are typically very small (a few hundred bytes), while cookies can be larger (up to 4KB).
Duration: Pixels are usually short-lived and expire after a certain period. At the same time, cookies can persist for extended periods, depending on how they are configured.
Privacy: Pixels can be used to track users across different websites and devices, which has raised privacy concerns. Cookies are generally less controversial, but they can also be used to track users and their activity.
Also read: How To Utilize Replug for Facebook Retargeting Ads?
FAQs about tracking pixels
Is tracking pixel legal?
Tracking pixels are legal as long as they comply with relevant laws and regulations, such as the General Data Protection Regulation (GDPR) in the European Union. Therefore, once the users comply with all the legal requirements, there shouldn't be any problem regarding using tracking pixels.
Is a tracking pixel a cookie?
A tracking pixel is a small, transparent image file that is placed on a website or in an email. It is often used for tracking and analysis purposes. A tracking pixel is not the same as a cookie, a small piece of data stored on a user's device and used for tracking and personalization targeting.
Does pixel track steps?
A tracking pixel does not track steps, but it can be used to track a user's actions on a website or in an email. For example, a tracking pixel can be used to track how many people opened an email or clicked on a link.
Is tracking pixel free?
Tracking pixels may or may not be free to use. Some tracking pixels are provided by third-party vendors and may require a subscription or fee to use. However, social media platforms provide pixels for retargeting purposes that are free to use for advertisers.
How to block tracking pixels?
You can use a browser extension that blocks tracking systems set by websites to block tracking pixels. Furthermore, you can also adjust your browser settings to block or limit the use of cookies.
Will users know if I'm using a tracking pixel?
In most cases, users will not know if a tracking pixel is being used on a website or in an email. This is because tracking pixels are typically small and transparent, and they do not interact with the user in any way. However, as described above, users can use tools to detect and block tracking pixels.
Hassaan Khan
Hassaan Khan is a freelance writer for SAAS companies, e-commerce stores, and niche websites. He has contributed to SEMrush, ThriveGlobal, BloggingCage, AllBloggingTips, and several other publications. He builds niche websites, publishes e-books, and helps website investors with his done-for-you niche site-building service.