What is campaign tracking?
Campaign tracking is a process of monitoring the performance of the URLs with tracking parameters for marketing campaigns. Marketers use campaign tracking as a tool to evaluate the success of their efforts. It comprises gathering data from several sources, such as website analytics, email campaigns, and social media posts. And then analyzing it to assess the campaign's effectiveness.
Digital marketers and SEO experts track campaigns to analyze the quality of the marketing channels, traffic sources, and content strategies.
Conversion optimization is a vast area to manage and campaign tracking is an important part of it. To track marketing campaigns, most marketers use URL shortening tools with URL tracking and analytics features.
Why should a company set up campaign tracking?
Campaign tracking is a vital analytics tool. It allows marketers to see which campaigns are performing well and which ones need improvement. Without campaign tracking, it would be difficult to know which marketing strategies are working and which ones are not. There are several aspects of campaign tracking to consider when tracking URLs that an average Joe doesn't come across every day. Campaign tracking is a URL tracking system to analyze marketing efforts by keeping an eye on the website traffic through specific URLs. Here are the reasons why a company should set up campaign tracking:
To track the clickability and conversion rate of a marketing campaign. When brands and marketers run ad campaigns, they usually add a UTM parameter to the call-to-action button to track clickability and conversion from the specific campaign.
To measure the effectiveness of the channel, meaning campaign tracking comes in handy when the user wants to analyze the performance of a traffic medium, for instance, a banner ad on a popular blog.
To A/B split test two marketing channels. A/B Testing is crucial to finding the best solution in digital marketing. Therefore, marketers compare different tactics to see what works best for them.
To assess the ROI of the marketing campaign

, it's vital to have campaign tracking. It gives brands a deep dive into the quality of the traffic sources.
Also read: Boost your Advertising ROI using Post Click Optimization
What are campaign parameters?
Campaign parameters are URL slugs that add to the website page URL to track, identify, and analyze the traffic sources and campaign performance.
A lot of brands start advertising and promotions during the holiday season. Most of these brands use campaign tracking to see where most buyers are coming from during the campaign.
These campaign parameters help them figure out:
The impact of the marketing campaign
What are the number of visitors that the campaign brought?
How engaged those visitors were?
How many visitors converted into paying customers?
Why are campaign tracking parameters important?
Most first-timers wonder why campaign parameters are important when they're setting up a retargeting campaign or an ad campaign on social media.
The answer is that campaign parameters provide marketers with crucial campaign information that helps them make important decisions going forward.
Brands usually track their CTAs on the landing pages or short URLs shared on social media to see what's working for them.
Here are four reasons why campaign tracking is important in digital marketing:
Help track campaign results – whether it's a social media post that contains a short URL with a slug or an online ad, campaign parameters are included to track campaign results.
Separate multiple campaigns and make them identifiable. Otherwise, it won't be possible to differentiate multiple campaigns in a dashboard.
Gather clicks and conversion data, which is crucial to the campaign analysis. It's impossible to figure out whether or not the campaign was successful if there are clicks and conversion data available.
Make performance reporting possible for brands and marketers. A lot of experts use URL shorteners to generate short URLs for social media to ensure that performance reporting becomes possible. Replug is a powerful URL-shortening tool for creating, managing, and tracking vanity URLs for social media, online advertising, and email newsletters.
Also read: How to add UTM code to the URL using a link shortener?
Set up campaign tracking URLs with Replug
Replug is an all-in-one link management tool for marketers, social media experts, influencers, and bloggers. It helps users with URL shortening, branded short links, UTM tracking, bio links, retargeting, and lead generation. You can track various campaigns using it, i.e. :
URL campaign tracking
UTM tracking
CTA campaign tracking
Retargeting pixel campaign tracking
Here's how you can create a tracking URL with Replug:
Step #1: Log in to your Replug account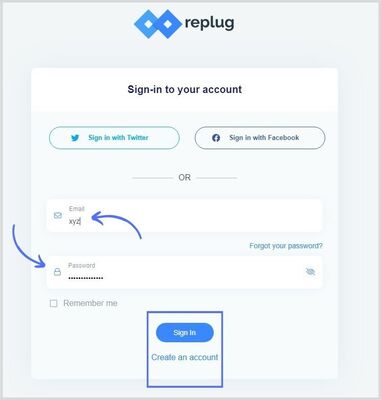 Go to the Replug website and log in to your account. If you haven't created your Replug account, sign-up for a free trial account and see how this tool works.
Step #2: Create a brand and campaign
After logging in to your Replug account, you'll need to create a brand and then also create a campaign for tracking.
Step #3: Create a short branded URL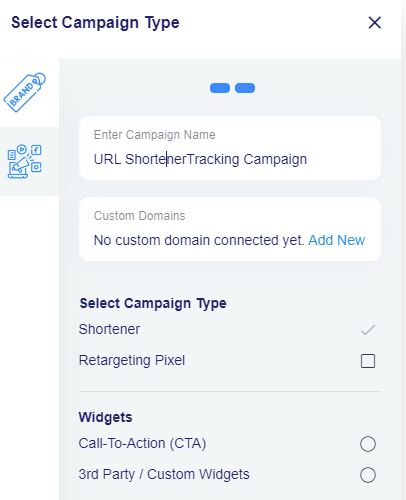 Paste the URL, you want to shorten afterward and click on the create button.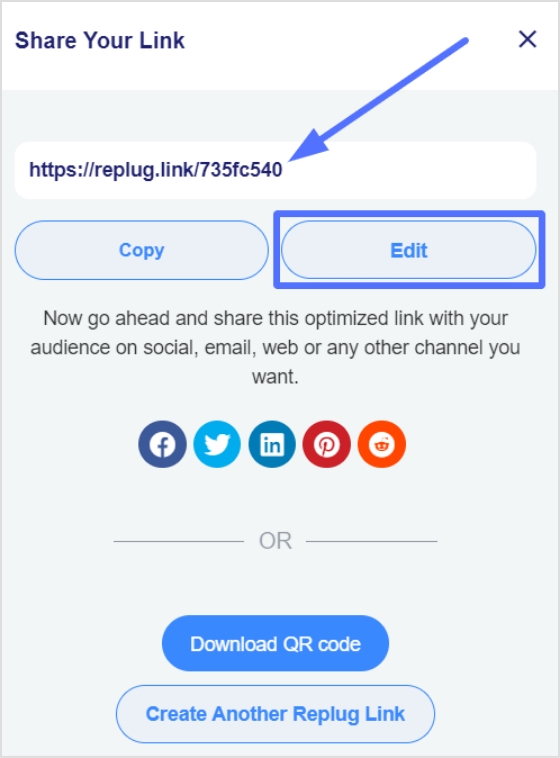 A new window will open where you can edit your URL slug and save the link.
Step #4: Track URL performance in Replug Analytics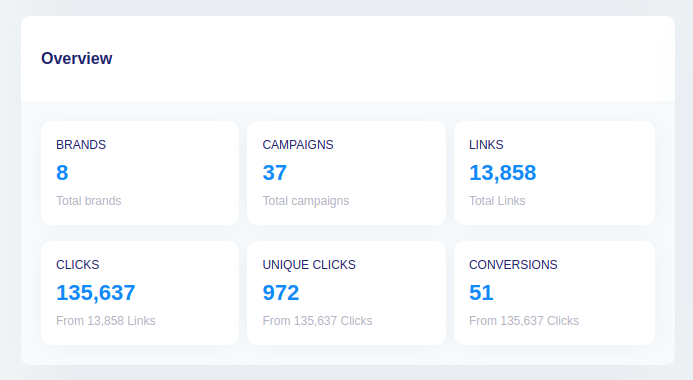 Creating a short URL is incomplete with tracking it. Replug allows users to generate and track short URLs.To track your short URLs, go to the Measure section from your Replug dashboard and click on the Analytics option.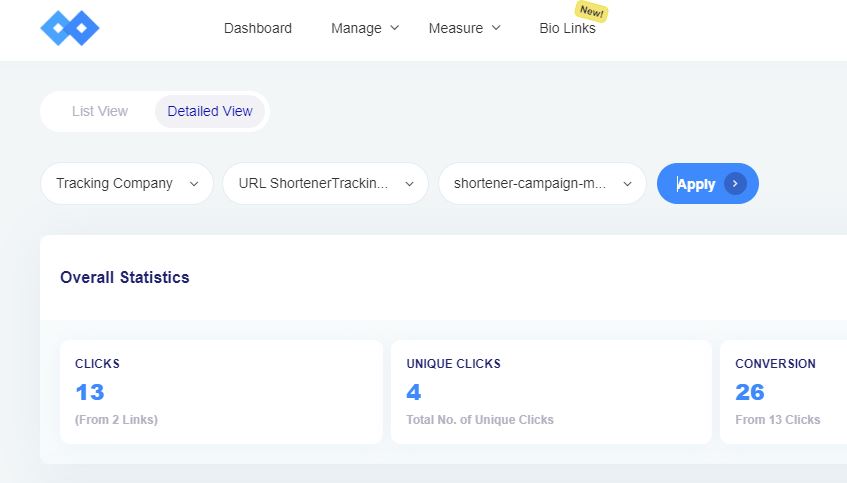 Select the Replug links and click on the appropriate campaign to find your link analytics. Or you can also click on detail analytics to get a detailed view. For a detailed overview, you need to select the brand, campaign and replug link.
Detail view highlights click and conversion performance. Furthermore, it shows visitors by country, operating systems, browsers and source.
You won't see the metrics such as clicks, conversion, and conversion rate right away since the link is brand new.
Campaign tracking in Usermaven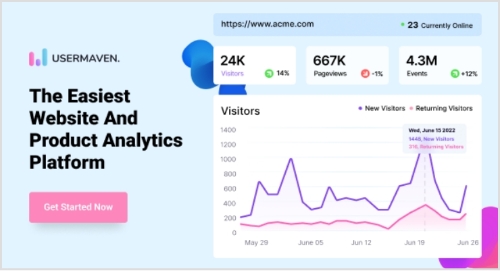 Marketing campaigns are only beneficial when they are producing the results you aimed for. With Usermaven's campaign tracking, you can stop guessing your campaigns' performance and start analyzing it through data to increase ROI. All you have to do is use UTM tags to analyze which source, content or campaign is producing results and then tweak your marketing campaigns to increase conversion and reach your business goals.
Here's a preview UTM traffic in Usermaven


What are Google UTM campaign tracking parameters?
Google has provided advertisers and publishers with loads of information on running ads and monetizing websites.
As far as campaign tracking is concerned, Google recommends a tool called Google Analytics Campaign URL Builder. You can also check out Google's support thread on this topic.
The benefit of using this tool is that users can add campaign parameters to URLs and measure custom campaigns in Google Analytics.
The following are the parameters to be entered to generate a campaign tracking URL:
Website URL: The website or page URL that needs to be tracked. Provide the full URL address including HTTPS.
Campaign ID: This is where the ad campaign ID goes. Most ad networks provide advertisers with campaign IDs to track or identify certain campaigns.
Campaign source: Enter the referral platform, such as a Facebook ad or newsletter.
Campaign medium: Provide the campaign medium, meaning what the marketing medium is for the campaign, for instance, direct ad, sponsored email, or PPC ads.
Campaign name: Give your campaign a name for identification purposes, for instance, holiday-sales or Christmas-offer, etc.
Campaign term: Mostly used for paid search.
Campaign content: It's used for A/B testing and content-targeted ads.
Let's look at the steps involved in tracking a custom campaign through Google Analytics.
How to track a custom campaign using the Campaign Builder tool?
Go to the campaign URL builder


Access the Campaign URL builder to generate the campaign tracking URL. Make sure you have selected the web version instead of the play. Don't panic if you haven't done this before because it's quite a simple process.
Opt for the GA4
Toggle from UA or GA4 using the button on the (left) sidebar. Don't opt for UA (older Google Analytics edition) will no longer be available after July 2023.
Fill in the campaign builder form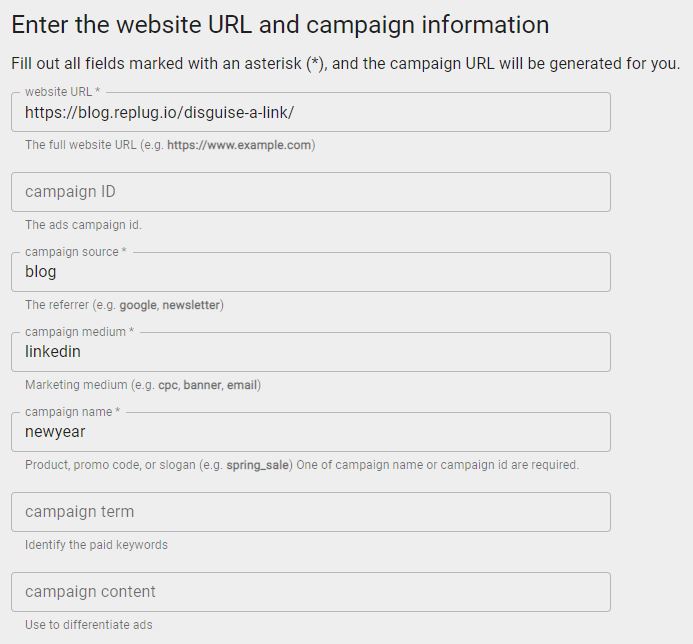 Fill out the form. Go through the explanation of the parameters written in the previous sub-heading of this very article.
Grab the generated URL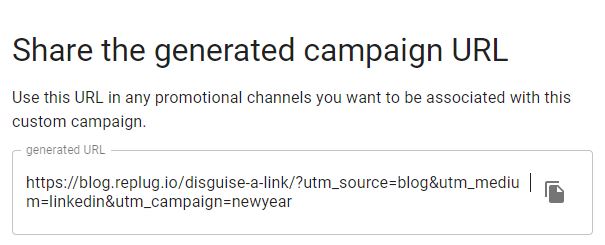 When you fill up the form, the custom campaign tracking URL will be ready to use. You could also shorten the URL using the shortener button at the bottom.
Track via Google Analytics
The last step is to track the campaign URL in Google Analytics. Start with logging in to your Google Analytics account. Go to the Reports > Acquisition > Traffic Acquisition > Source/Medium.
A screen like this would appear:
Now you should look out for the campaign after selecting the session source/medium. The campaign source would be a referral, since the traffic would be clicking on your campaign URL and landing on the website.
How to view your URL campaigns in Google Analytics?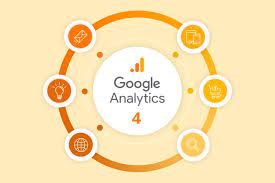 Creating any link or CTA is worthless if there is no tracking available to find out the number of clicks and the conversion.
No wonder all major URL shorteners or email marketing services have analytics sections for users to analyze the data.
Also read: Create a Perfect Call-To-Action (CTA) for Maximum Conversion
If you have been playing around with custom short URLs, then you must have thought about viewing the URL campaigns in Google Analytics at some point.
There is a possibility that some marketers have no idea how to capitalize on URL tracking. Therefore, it's our duty to put some light on every aspect of short-link management and campaign tracking.
Here are the steps involved in retrieving the URL campaigns in Google Analytics to see how they're doing:
Log in to your Google Analytics account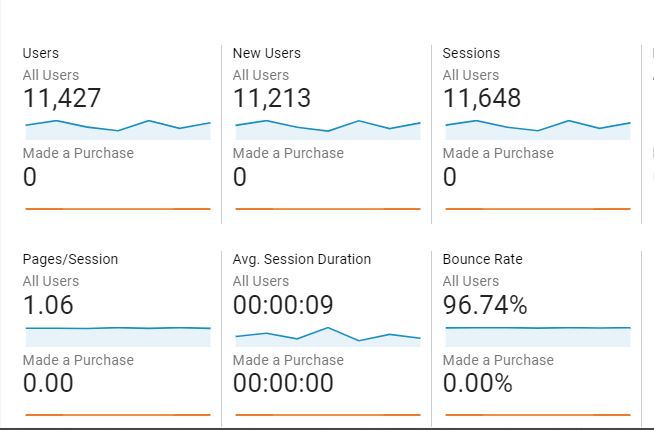 First things first, log in to your Google Analytics account to get started with the viewing process. Make sure that you're logging in to the correct Google Analytics account.
Go to the reports section
Once you've logged in, go to the reports section. It is the area where you see the site performance through reports. If you can't find the reports option, hover your cursor on the left sidebar or click on the second option from the left – you'll find the report button.
Open the acquisition area
Go to the Acquisition section from the reports area in the Google Analytics dashboard. It's the section that provides users with all the information about how a site acquires visitors. The next step will further explain the process.
Access the traffic acquisition
After clicking on the Acquisition option, look out for the Traffic Acquisition option underneath the Acquisition option. It's the third one under the Acquisition.
Select the campaign source
The source selection is crucial to the whole process. Click on the session drop-down menu right above the data table on the Traffic Acquisition page and choose source/medium.
Search the campaign URL
Provide the campaign URL in the search section right above the session drop-down menu. Once you paste the campaign URL, hit enter and let Google Analytics process your request. It'll only take a couple of seconds to retrieve the data.
This is how you can view campaign URLs in your Google Analytics account.
Also Read: UTM Tracking Through Replug
Let's conclude: URL campaign tracking summary
This article is written around the importance of campaign tracking, which is essential in digital marketing.
If you haven't had a chance to learn about campaign tracking, then here's a quick recap for you: it's a process of analyzing the performance of the URLs using the tracking parameters that are added to the URLs.
UTM tracking system plays a vital role in tracking URL performance. Replug is a URL shortener and my go-to tool for link tracking along with generating short URLs.
Furthermore, this article goes deep into converting website or blog post URLs into traceable URLs using Campaign URL builder. Plus, I also covered how you can track those campaign URLs using Google Analytics.
Moreover, I cracked open how you can utilize Replug to create tracking URLs for your marketing campaigns. The step-by-step process of creating tracking URLs using Replug would help many readers, especially the beginners.
Digital marketers, social media experts, and content marketers rely heavily on organic traffic, email marketing, and social media marketing.
Therefore, it is essential for them to track campaigns to figure out what is working for them.
Campaign tracking could be a game-changer for gurus and experts trying to understand which medium is getting the most attention. That is why campaign tracking is crucial to the conversion optimization process.
FAQs
How do you track campaign performance?
Tracking campaign performance involves monitoring and analyzing the key performance indicators (KPIs) that are relevant to the specific campaign goals.
What are campaign tracking codes?/h3>
Campaign tracking codes, also known as UTM parameters or tags, are snippets of code that you add to the end of a URL to help you track the performance of a specific marketing campaign. These codes can provide you with information about where your traffic is coming from, which campaigns are driving the most clicks or conversions,
What is UTM campaign term?
UTM (Urchin Tracking Module) campaign term is one of the parameters used in UTM tracking codes to identify the specific keywords or terms associated with a marketing campaign.
Hassaan Khan
Hassaan Khan is a freelance writer for SAAS companies, e-commerce stores, and niche websites. He has contributed to SEMrush, ThriveGlobal, BloggingCage, AllBloggingTips, and several other publications. He builds niche websites, publishes e-books, and helps website investors with his done-for-you niche site-building service.