7 Best LinkedIn Post Ideas to Publish More Content
Have you ever felt you're running out of ideas to talk about on LinkedIn? Most of you might have ignored LinkedIn posts probably because you are confused how to make a plan to post on LinkedIn for your business.
It's no secret that content fuels your social media marketing engine. However, putting out useful yet engaging content isn't everyone's cup of tea whether it's YouTube, Facebook, or LinkedIn.
Some marketers and agencies outsource content creation to freelancers and content creators so that they could focus on the things that matter to them or they've mastered along the way.
It's a possibility that small businesses, budding entrepreneurs, and beginner bloggers may not have the resources to hire help. That's where they need ideas to make social media content creation easier for them.
Since we're discussing LinkedIn, so I'll uncover some LinkedIn posts ideas to inspire your inner social media geek.
Not only will I show you some content examples for your business, but you'll also be able to grasp some unique ideas to plan on posting on LinkedIn for your content marketing strategy.
You might wonder why you need to work on LinkedIn content in the first place. Well, let me elaborate on that.
Why Should You Post on LinkedIn?
LinkedIn has over 740 million active users now, and the platform is continuously growing at a fast pace. The rapidly-growing social media real estate demands active participation on a platform like LinkedIn to take the competition head-on.
Since the numbers show that LinkedIn is one of the top social media platforms on the internet, it's essential not just to start using the LinkedIn platform, but also to put out helpful content. I've said this a million times and I'll say it again: content fuels your social media marketing.
Therefore, putting the best content in front of the right audience is a prerequisite in the game. Mostly, good content sparks conversations on a social media platform no matter what the niche is.
Once people start to notice a healthy discussion, more and more participants jump in. And, that's how most brands win attention on social media.
Before we dig deeper into the LinkedIn post ideas to put out more content, you need to understand what matters on the platform.
3 Key Elements of a Successful Content Marketing Campaign
Three things can make or break any type of content marketing campaign; LinkedIn posts meant for content marketing are no exception. Let's take a look:
Connecting with the right audience
The more you pay attention to connecting with the right people, the easier it gets to maximize the ROI on the content. The easiest way to make it happen is to understand the importance of this strategy, and then invest resources accordingly.
Engagement doesn't only mean replying to your followers once in a while. Being kind and empathetic to your followers is a way to go, but don't limit this to your followers. You have to be energetic and positive towards other users as well. Once you bring this attitude, you'll notice people would appreciate your efforts, and eventually, it'll increase your social media engagement.
Helping others without any expectations
You don't need to hire an expert to your team to help out fans or subscribers. Instead, you need to spend 10 to 15 minutes every day or a couple of times every week to answer queries in the DMs/emails and reply to the comments on your social media. Do this without any expectations whatsoever.
Now I'm going to share some best LinkedIn posts ideas to publish more content so that you don't have to miss out on what this fantastic social media platform has to offer.
7  Ideas on how to post on LinkedIn more frequently
Try out these LinkedIn posts ideas and see which ones work best for you:
1. Include Industry News/Articles
Have you ever noticed that influencers and experts often share news related to their fields and get tons of responses through likes, comments, and shares?
It happens just because they're surrounded by the relevant people on the social media platforms. You can make that happen too by connecting with the industry-related folks.
Most of us struggle to come up with social media post ideas, and therefore, we skip past and move to the next thing. Well, here's the solution: when you run out of new ideas for LinkedIn posts, you can simply lookout for the news and updates related to your industry and share them with the audience.
Are you still confused? Here's the example: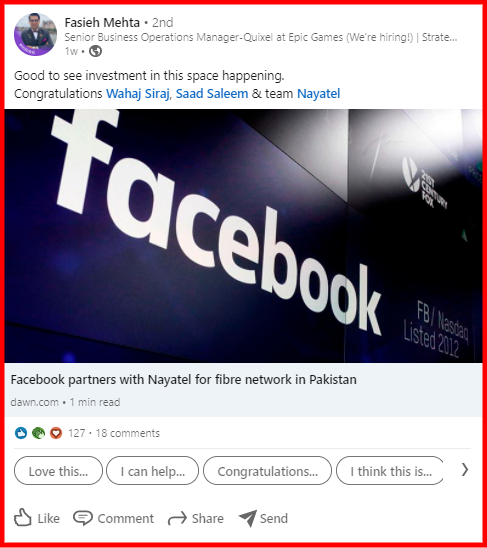 This LinkedIn user found news about Facebook partnering up with a local internet company Nayatel to provide a fiber-optic network and he shared it with his network on LinkedIn.
No wonder he got so many likes and comments on his LinkedIn post. For what it's worth if you share industry-related news and updates, a segment of your network is going to respond to it.
In the digital marketing field, we call it "engagement." The better the content, the higher the engagement.
If you're connecting with the right people on LinkedIn or let's say you hang out with a like-minded audience on LinkedIn, you're going to crush it with this strategy.
LinkedIn isn't just for posting jobs or recruiting people anymore. Rather, it's a full-fledged social media platform where people post various forms of content on diversified topics.
Since we're discussing LinkedIn posts ideas, so you could create a presentation or deck on any topic that might entice your audience to check it out or take some action.
I liked the idea of a LinkedIn user named Masroor Ahmad who compiled a bunch of free SEO chrome extensions and shared through a presentation on LinkedIn.
Take a look at it: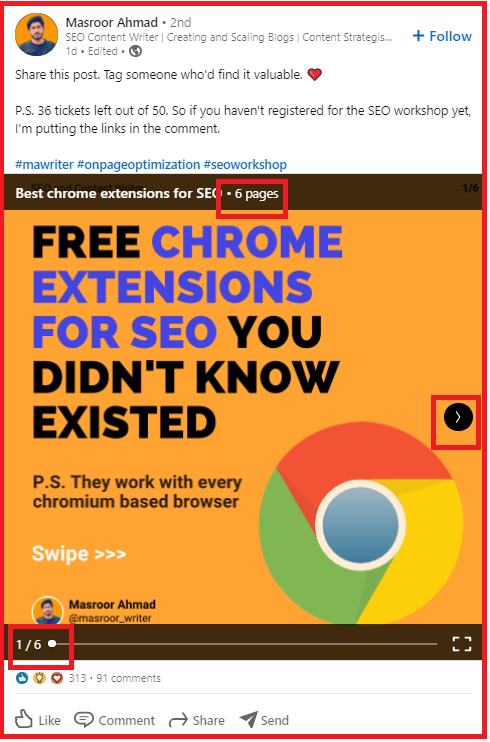 You could notice that the deck contains six pages, and if you're wondering how you can upload such a presentation on LinkedIn, then allow me to help you.
Create a PDF brochure or ebook and upload it to LinkedIn. The platform would automatically showcase the PDF file in the slideshare form. However, the audience could access the PDF version as well.
If you're having a hard time figuring out what to share in the presentation, then simply repurpose a blog post or a YouTube video into a PDF file and put it out on LinkedIn.
3. Do Text-only LinkedIn Posts
Some people get caught up in little things that don't matter. One of the reasons why I want to write this piece was to simplify the LinkedIn posting for people. You don't necessarily need to create videos or images just for posting content on LinkedIn. Instead, you can post lots of different types of content on this platform.
Aren't you familiar with Facebook status? Well, text-only LinkedIn post is somewhat the same thing. The point I'm trying to make here is that if you're brainstorming what to post on LinkedIn, you could simply write a compelling text-based post.
It doesn't matter you write a two-liner or 600-word text post. What matters is that it must hit the bullseye, meaning you must be discussing something people want to know or learn from you.
Let's take a look at this example: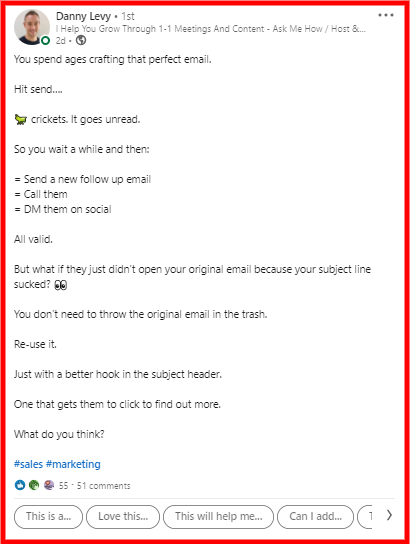 Danny Levy is a social media and content expert. He often shares insights on social media and content marketing through text-based LinkedIn posts.
Not only does he help the audience, but he also gets to publish such posts consistently.
I have been following several social media influencers and experts who often post text-only LinkedIn posts that are intended to deliver some value to the audience.
Let's say, you haven't had a chance to design an image post or edit the video you shot for LinkedIn. It may seem like you would have to miss out on publishing anything on LinkedIn. It turns out, you could write an enticing text-only post that engages and helps the audience.
The biggest perk of this tactic is that you get to post on LinkedIn more often. What else do you need?
4. Incorporate Image and Text Post on LinkedIn
After the text-only post, let's shed some light on the image and text-based LinkedIn posts. You must have seen this type of LinkedIn posts a million times. It's a LinkedIn post that contains an image and some text along with it.
Usually, text and image go hand-in-hand in such LinkedIn posts because the user elaborates the point through text and uses the image as support.
If you have been on the social media marketing roller coaster, you must have known that images are vital to gaining traction and organic reach on social media.
Facebook and Twitter tend to push posts that contain well-designed and attractive images, and LinkedIn is no exception.
I came across an image and text post from Google on the very platform we're discussing right now. Please take a look at it: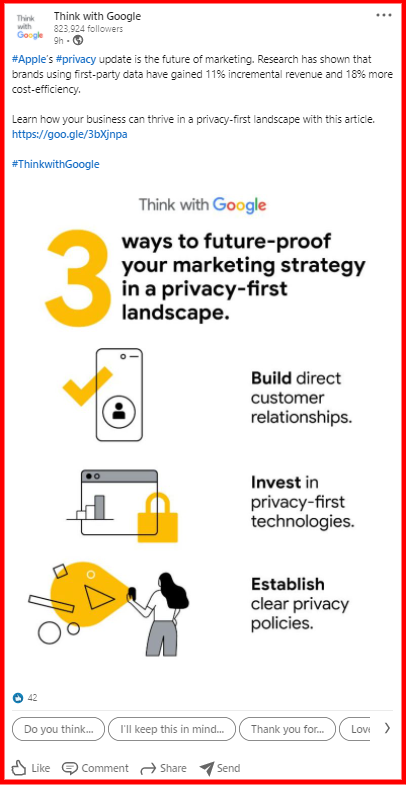 Pay close attention to the content strategy here. Google didn't use the image just to fill up the gap or to get more organic reach on the LinkedIn platform. Instead, they used the image to help support their text in the LinkedIn post.
The takeaway from this example is that when you try to cash in on the image + text strategy on LinkedIn, try making the best image that goes perfectly with your promise.
Plus, it's been learned that social media platforms root for well-designed, engaging images or videos that attract the masses.
5. Include Video Teaser Posts
Videos are a great way to engage the audience on any social media platform, but it's difficult for most people to put out videos on social media. No wonder a lot of people can't face the camera or run away from the video-making process.
However, if you develop a system to generate videos regularly, you could turn things around for your social media marketing. You could hire a cameraman or video editor to make or edit videos for you. If you aren't comfortable on the camera, use a video tool like Lumen5 to repurpose your articles into videos.
You'd find a bunch of ideas and solutions if you want to hop on this bandwagon. One of the ideas is to put out video teasers on LinkedIn. You could upload the full version later on your LinkedIn profile.
The concept of uploading a video teaser is to warm up the audience before the actual video comes out. Not only does it create curiosity, but it could also help you reach a new audience.
I didn't think of this idea until I came across a LinkedIn post that immediately got my attention. It was Sir Martin Sorrell's post; he is a corporate executive.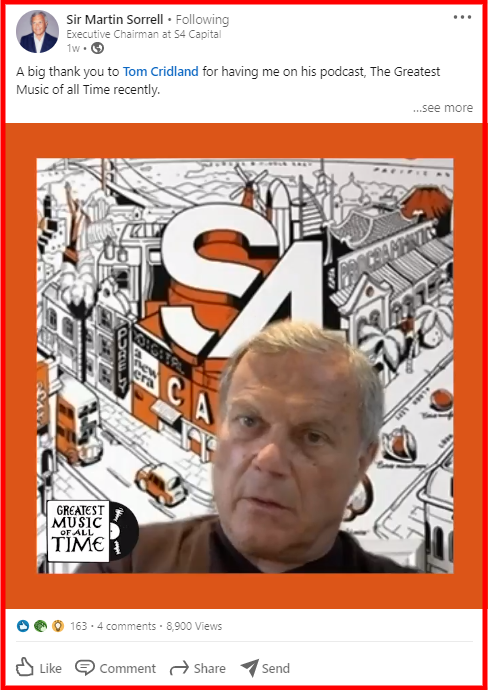 What his team did was that they created a video teaser of a long episode and uploaded it to LinkedIn, and at the end of the video teaser, there is a call-to-action that tells where to watch the full version of the video.
So I thought it was an excellent strategy to increase engagement and publish more content on LinkedIn.
If you're doing a video on social media, try putting out videos on LinkedIn. It has a better organic reach than Facebook, at least in my experience. Let me know how it works out for you, though.
6. Create Inspirational Quotes based posts
When you've got nothing to post on LinkedIn, you normally step back from the platform and focus on other places. Maybe, some of you posted on LinkedIn lately, but those posts didn't get much traction. So you might not feel like making any new LinkedIn posts.
Here's another idea: every once in a while, you can share an inspirational quotation with your LinkedIn contacts and followers.
The best thing about inspirational quotes is that they don't just provide you something to share and talk about, but it also motivates your followers in some way.
You can either share inspirational quotes in the image or text form; it's up to you. Several quotes websites have shareable image quotes, but I highly recommend designing your image quotes in Canva or Crello.
If you're still unsure about this, then the example below might change your mind: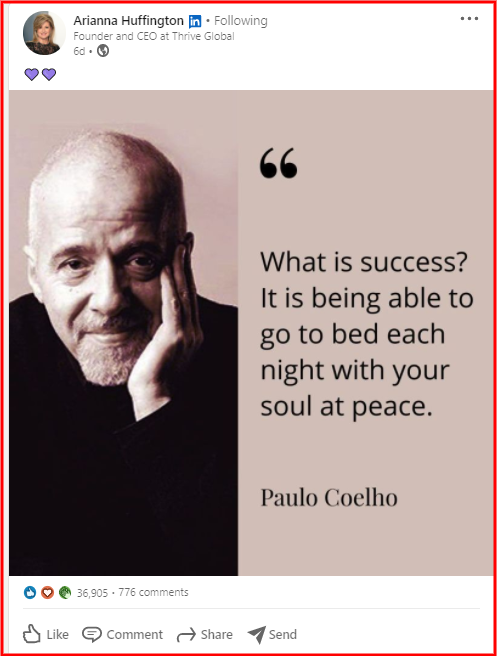 See, even Arianna Huffington shares image quotes on LinkedIn. She is the founder and CEO of Thrive Global. It's a popular online publication that publishes content on mental health and wellness.
In case you're wondering where to get those inspirational quotes for LinkedIn posts, then don't overthink about it. You don't have to grab influencers or expert quotes every time you come up with these posts. Instead, you could use yours once in a while.
I'm down with the image-based quotes strategy for LinkedIn. What would you think of this tactic?
7. Form LinkedIn Polls
Understandably, people get bored of the constant bombardment of content in their faces. So it won't hurt to pivot from the traditional content posting to test new things out.
LinkedIn has a poll feature that you can try out alongside other types of LinkedIn posts and see how it works for you.
If you haven't had a chance to create a LinkedIn poll, then let me guide you a little bit. It's next to the status or writes article option on the status bar. You can simply choose the poll option and write a question/statement, and then follow up with the answers for the voters to choose from.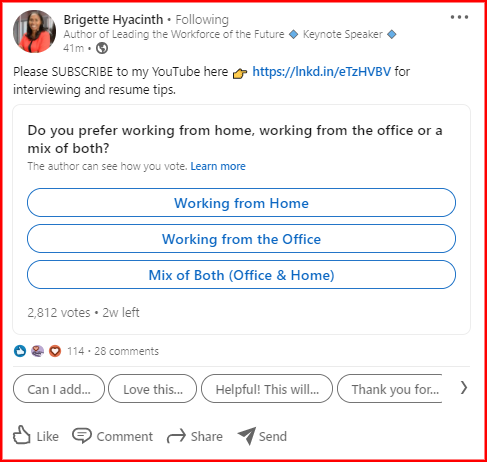 I've seen so many social media experts and influencers that use LinkedIn polls to ask things around or survey their audience.
I think it's a fantastic way of keeping your audience engaged, start discussions, and put out some piece of content.
Just make sure that you aren't asking something that your followers have no idea about or don't care much. For instance, if you're in the healthcare field, then asking about ice hockey won't fit in. It'll confuse your followers, so always try to create relevant polls.
What's the Best Time to Post on LinkedIn?
According to experts, most users have noticed more clicks and shares between 11 am and 12 am on Tuesdays. The best time to post on LinkedIn is between 7 am to 8 am and 5 pm to 6 pm during the weekdays. However, the worst time to post on LinkedIn is between 10 pm to 6 am.
It's also learned that the peak timings of posting content on LinkedIn are around 12 pm and 5 pm. Perhaps, 12 pm is usually when people take lunch breaks and 5 pm is the time when they leave their desks.
We've previously covered a study that confirmed that the best days to publish on LinkedIn are from Tuesday to Thursday.
Here's a quick recap:
| | |
| --- | --- |
| Best time to post on LinkedIn | 7 am to 8 am and 5 pm to 6 |
| Best days to post on LinkedIn | Tuesday to Thursday |
| Peak timings of posting content on LinkedIn | 12 pm and 5 pm |
| The worst time to post on LinkedIn | 10 pm to 6 am |
Hubspot is a popular marketing SAAS tool that helps marketers and large organizations with their email automation, customer acquisition, opt-ins, and analytics. They also publish a ton of content regarding content marketing and social media.
According to Hubspot, it's viable to post three to five posts per week on LinkedIn. Their study showed posting 10 posts a week significantly dropped clickability and engagement. They hinted that it's perhaps LinkedIn doesn't want users to get overwhelmed with the constant influx of content from the same brands or individuals.
Meltwater is a social media management software company that offers products in the social media marketing realm. They often publish useful and engaging content on their official blog. I came across a similar blog post from Meltwater that was talking about how often we should publish on different social media platforms. They suggested posting on LinkedIn no more than 3 times a week.
I sensed that from my research that most marketers and companies believe that we should stick to posting 3 to 5 times per week on LinkedIn.  Similarly, there's multiple studies on best times to post on social media.
I'll be interested in knowing what you have experienced or learned so far. Feel free to drop a comment below.
How to post on LinkedIn? Any favorite idea to post content on LinkedIn?
I've shared a bunch of LinkedIn posts ideas because I know it gets overwhelming pretty soon, especially if you don't start social media with a plan. Such a variety in LinkedIn posts come to your rescue if you run out of ideas.
A common mistake that most LinkedIn users make is that they overthink LinkedIn marketing strategy. And, that's why I wanted to share a bunch of LinkedIn posts ideas for LinkedIn users to keep up with the fast-paced social media world.
You don't have to be philosophical or politically correct every time you post on LinkedIn. Don't hesitate to leave a useful comment on someone else's post or ask a question in your LinkedIn status.
I hope this blog post could fuel some ideas and thoughts into your mind and work as a launchpad to making the most of your LinkedIn existence.
Let's conclude this blog post with a question:
What's your favorite LinkedIn post idea?