You might have come across the term YouTube link shortener even if you are not familiar with the term as YouTube is a gigantic topic to cover and people always miss out on some areas. Then this article will help you start on the right foot.
So without further ado, let's begin.
What's a YouTube Link Shortener?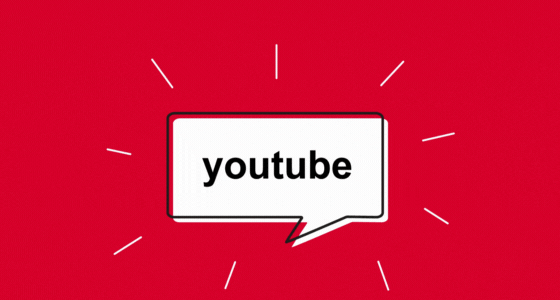 A YouTube link shortener is like any other URL shortener tool that shortens the long YouTube video URL into a short one.
A URL shortener is referred to as a YouTube link shortener because this is what people must have been using for shortening the YouTube links.
Let's admit that nobody likes the long YouTube video link with a unique code at the end of the URL. Therefore, social media content creators and YouTubers need to look for URL shorteners to trim their long URLs in to short ones.
Perhaps, this is why YouTube also shortens the video URL by default using their short URL YouTube.be, but URL shorteners do much more than just shortening links.
Why Should You Use a Link Shortener For YouTube Videos?
A YouTube link shortener could be quite a valuable tool since they have to deal with all sorts of links while doing YouTube. Most YouTubers already know they need better link management because they have seen YouTube influencers and experts do the same for quite some time.
A link shortener for YouTube videos doesn't necessarily mean you need a link shortening tool for videos to distribute or go viral. However, it's common to understand that URL shortening has become a norm in the YouTube space. YouTubers use URL shorteners to keep their links short and precise.
Still confused? We have gathered some compelling reasons to start using a branded URL shortener.
Related: Best Time to Post Videos on YouTube
6 Reasons Why YouTubers Use Link Shorteners
Let's take a look at those reasons:
i. 
User-friendly Appearance
Most users won't want to click on a hyperlink that looks shady. Short URLs appear more trustworthy as compared to long, clunky URLs with a million URL parameters in a single URL. This is one of the reasons a lot of YouTubers and bloggers use branded short links for different goals. 
ii. 
Social Media Bio Links
A social media bio link is the profile link that allows a creator or social media user to drive a follower to another platform or social media profile. For example, a lot of people put their Instagram profile links on their Twitter profiles to increase their Instagram followers.
Most YouTube influencers and creators use short links in their social media bio. Several link shorteners provide a bio link feature. A bio link is a single link or bio webpage with several CTA's for all of your social media profiles. Therefore, using a short link tool equips you to use the bio link for a social media profile.
Related: How To Add A Instagram Link In Bio?
iii. 
Clicks Tracking
Link clicks might be driving sales, but you won't be able to tell which links are driving sales and which ones are not. Therefore, click tracking enables you to track clickability on the links.
One of the perks of using a link shortener is that it helps you to track clicks on those shortened links. This way, you'd know which links are performing well and which ones aren't.
When it comes to YouTube, you can add UTM tracking to your short URLs using Replug and see how your links are doing on YouTube.
iv. 
Clean Structure
No one wants to see or click long and funky URLs full of serial and codes in them. Short URLs provide you with the opportunity to showcase short yet simple URLs in front of your audience.
Since short URLs are precise, there is no room for such parameters to be inserted that make a URL look clunky. The clean structure of a short URL is a huge plus.
Above all, you could add a custom domain to your short link campaign so that it makes your short links brandable.
v. 
Non-spammy Video Descriptions
YouTube audience may want to look at your video description if they're enjoying your video content. However, if your video description is full of long and spammy links, they'd immediately retreat. 
Short links are the answer to your several link management problems, especially on YouTube. So try using a link shortener for all of your video description links.
vi. 
Affiliate Product Links
Have you ever noticed that YouTubers and vloggers often promote products through YouTube videos? So they always refer the audience to the video description because that is where they put all the affiliate links.
One of the tactics these YouTubers use is a link shortener to trim their affiliate links, so they don't look bad. Affiliate links are usually long and spammy. Short links make things easier for them.
Related: Best Link Management Tools of 2022
How Do You Shorten a YouTube Link?
YouTube has a default short link feature. It means that you can grab the short link of any YouTube video – it's available next to the share and embedded code section.
However, the default short URL feature doesn't provide any further assistance. For instance, you can't track it or add a slug to it.
Therefore, it opens up opportunities for other URL shortening tools to come in and help the YouTubers and marketers who might want to take short links seriously.
Youtube URL Shortener Tool
You can shorten Youtube links using Youtube URL shortening tool like Replug.
Replug is a powerful URL shortening tool for creating branded short URLs for your website pages, blog posts, and YouTube videos. It allows you to take your social media marketing to the next level. 
The Replug key features include click tracking, custom domain, tool integrations, bio link, UTM codes, retargeting, and several others. It's an excellent YouTube link shortener designed to get you more attention on social media without being pushy. 
There are several URL shorteners that generate short URLs for the long and funky URLs. However, unlike any other URL shortener, Replug is home to many features that can help YouTubers, bloggers, and brands with their social media marketing.
If your goal is to bring visitors to your website through social media, then using a top-notch URL shortener should be part of your social strategy to drive social media traffic back to your site through retargeting and link analytics. 
Related: How to Build Your Brand on YouTube the Right Way!
How To Shorten a YouTube Video Link Using Replug?
Step 1:
Log in to your Replug account. On the next page, navigate to manage and click on "Brands"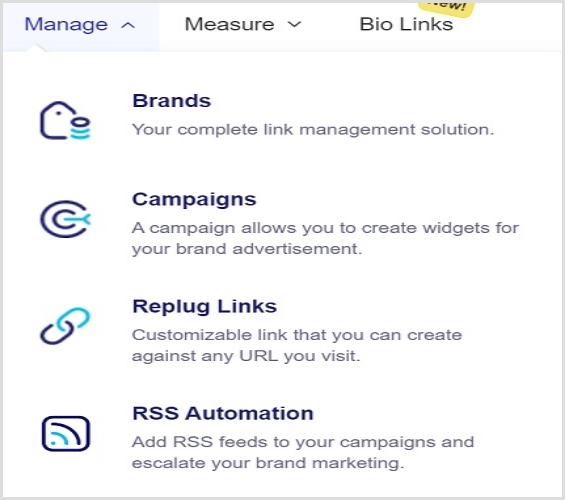 Now create a new brand or choose a brand from already existing brands.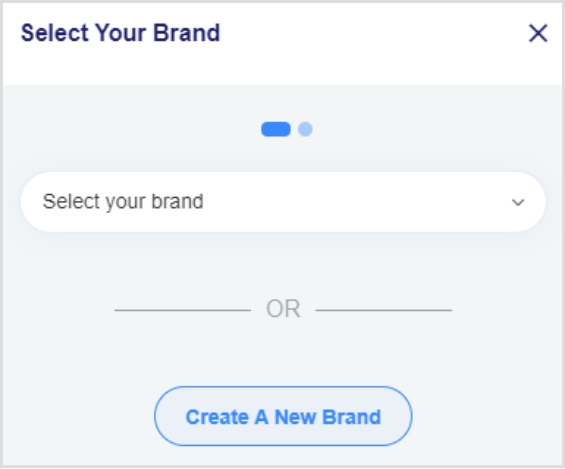 Step 2:
Go to the Campaign section.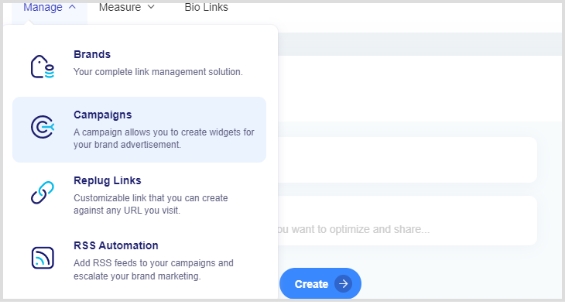 Click on the "New Campaign" button to create a new campaign.

Step 3:
Proceed with creating a new campaign for YouTube links. You don't have to make a campaign every time you log in to your Replug. Make it once, and you could select that campaign while shortening the YouTube video links.
Name the campaign and save it.
Now you can go back to the Replug dashboard to shorten a YouTube link.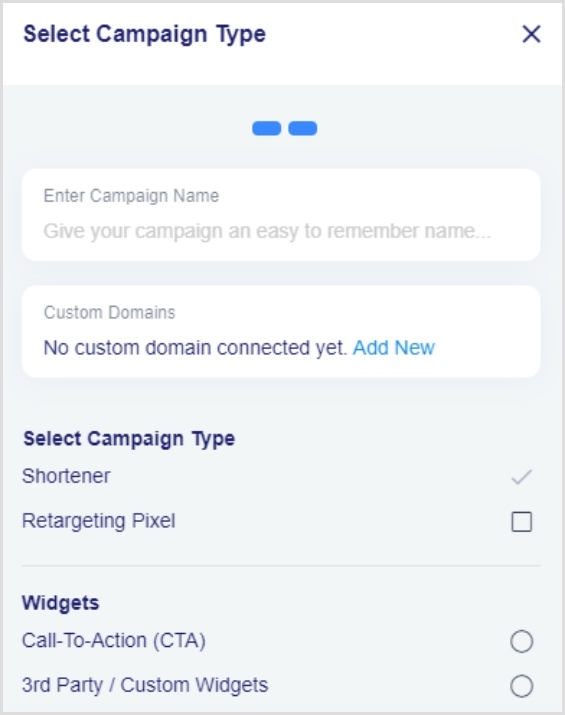 Step 4:
Choose the campaign and paste the YouTube link you want to shorten.
Click on the create button to make a short link for the video.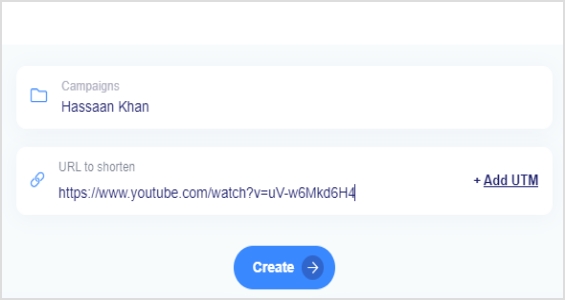 Related: Why Your Business Needs a Custom URL Shortener?
Step 5:
The next popup would appear with the short link to your YouTube video. You can further add a tag or make it password protected, or add an expiration date to the link.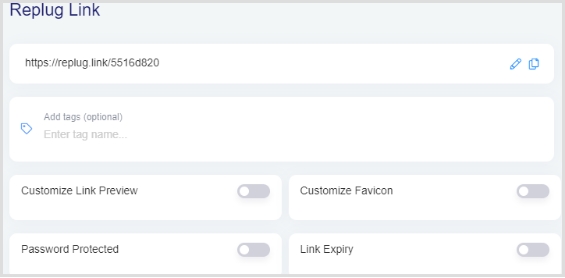 Can You Shorten YouTube Channel Link?
If you want to shorten the YouTube channel link by optimizing it for the search, then the answer is yes; you can do that.
However, it doesn't change once you have created a custom slug for your YouTube channel URL.
Look at the default link of my YouTube channel:

Here's how you can do that:
Log in to your YouTube account and go to your YouTube Studio Settings.
Open the Customization tab of your YouTube channel.
Go to the Channel URL section. 
Click on the "Set a custom URL for your Channel" link under the channel URL.

The Custom URL section would appear underneath the Channel URL section.
Choose a slug for your custom YouTube channel URL. 
Once you're done with it, hit the publish button.
That's it.

On the other hand, if you're looking to shorten the URL of your YouTube channel to share on social media. Moreover shorten URLs for any Instagram or other social platforms, you surely can do that as well.
Pick the best URL shortening tool and you can do that in a jiffy.
Related: 9 Bitly Competitors That Agencies Should Try Out
Let's Conclude!
Social media influencers and top YouTubers wouldn't be using the short URLs if it wasn't for the effectiveness and benefit of short URLs.
We've discussed how a YouTube URL shortener could turn things around for a YouTuber. Plus, we shared how to shorten a YouTube video link and the YouTube channel link.
The URL shortening discussion will be incomplete if we don't talk about the reasons why short URLs matter. 
Therefore, we jotted down six reasons why YouTubers must pay attention to URL shorteners.
Try out link shorteners to improve your YouTube journey now!
Hassaan Khan
Hassaan Khan is a freelance writer for SAAS companies, e-commerce stores, and niche websites. He has contributed to SEMrush, ThriveGlobal, BloggingCage, AllBloggingTips, and several other publications. He builds niche websites, publishes e-books, and helps website investors with his done-for-you niche site-building service.