What are A/B testing tools?
A/B testing tools allow users to compare two or more products, designs, or items side by side to determine which one receives more attention from the audience. This testing can be applied to a variety of elements such as written copy, advertisement design, email subject lines, and anything else is presented to an audience.
Marketers do A/B testing to observe the clicks, conversions, and reach to analyze the outcome of the campaign. The goal is to assess the results and compare the performance of two or more elements to determine the best performing one.
Have you ever thought about why marketers rave about A/B testing? Well, most beginners hear the term "A/B testing" and fail to comprehend what it is and how they can utilize it.
Since link management is a crucial area of online marketing, A/B testing of URLs is imperative to a successful digital marketing campaign.
This article will highlight the A/B testing tools in two sections.
a) The first section showcases the best A/B testing tools with A/B testing as their prominent feature.
b) The second section showcases URL trackers with the A/B testing feature.
This will help you figure out what A/B testing is and how experts use A/B testing in modern-day digital marketing.
Before I dig deeper into A/B testing tools, let me give you an overview of the A/B testing.
Why should we do A/B tests?
Over time, I learned that every content marketer, affiliate marketer, and the digital marketer does A/B testing in some form or shape.
It could be a blog's sidebar banner, email copy, Facebook image ad, YouTube thumbnail, or URL performance tracking – A/B testing is crucial to analyzing the audiences' liking.
Therefore, marketers need to conduct A/B testing at some point in their marketing journey.
However, if you need some crystal clear reasoning for trying the A/B testing, here are seven reasons for using A/B testing:
i. Increased Conversions
It can help increase conversions by providing insights into what works best for your audience. By testing different variations of elements such as copy, CTA's design, and layout, you can determine what resonates with your target audience and increase conversions.
ii. Improved User Experience
By conducting A/B tests, you can make informed decisions about what works and what doesn't, ultimately leading to an improved user experience. As a result, the customer satisfaction goes up.
iii. Data-driven Decisions
It provides data-driven insights into what is and isn't working, allowing you to make informed decisions about your marketing strategy. By relying on data instead of intuition, you can be more confident in your decision-making.
iv. More Engagement
A/B tests can help you determine what resonates with your target audience and increase engagement. By testing different elements of your content, you can find what resonates with your audience and create more engaging content.
v. Better Understanding of Customer Needs
By conducting A/B tests, you can gain a better understanding of what your customers want and need. This information can help you create better products and services that meet their needs.
vi. Optimized Marketing Spend
By using split testing, you can optimize your marketing spend by determining what is most effective. This can help you maximize your return on investment and save money in the long run.
vii. Better ROI
Ultimately, the goal of this strategy is to increase ROI. By making data-driven decisions, you can optimize your marketing strategy, increase conversions, and improve overall performance, leading to a higher return on investment.
Also Read: 7 Ways to Increase CTR for Better Conversion on the Website
5 Best A/B Testing Tools
If you are looking for a tool with A/B Testing as their primary feature then take a look at five of the best A/B testing tools in the market:
1. Optimizely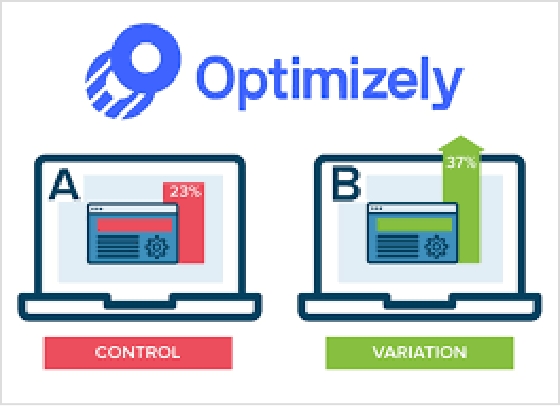 The first tool in our A/B testing tools list is Optimizely. It is a complete CRO suite with a number of tools to take your digital marketing campaign to the next level.  Optimizely allows marketers and webmasters to optimize websites and landing pages.
It's a powerful marketing and engagement tools hub that allows users to implement visual editing without coding, page optimization, audience segmentation, and advanced targeting.
Moreover, it's one of the industry's leading platforms to deliver personalized messages and product recommendations to multiple segments of the audience.
Optimizely has mainly focused on large enterprise-level clientele. It goes all-in on offering web optimization and experimentation. However, customers could also utilize mobile apps and messaging services to run experiments.
As far as the pricing is concerned, it's quoted upon application.
2. Omniconvert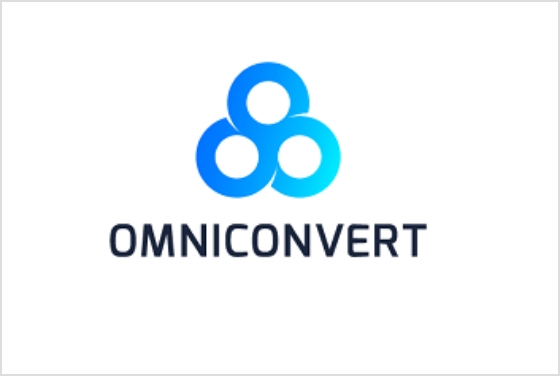 Omniconvert is a SAAS platform that provides businesses with a variety of software tools to help them transform data into effective growth strategies. The main features of Omniconvert are split URL testing, A/B testing, personalization, stacked tests, overlays and popups, advanced segmentation, and unlimited CSS & JS editor.
One of their main conversion optimization sections/features is Explore, which Omniconvert proudly refers to as "the CRO tool for developers," thanks to its many specialist features.
One of the most notable features of Explore is the unlimited CSS and JS editor, which provides complete control over the coded variations in use. This feature allows developers to optimize the code for loading times, which is crucial when tests are running.
Additionally, Explore is equipped with a CDN cache bypass, which ensures that all tests run live immediately. This feature is particularly important because cached versions of a site can skew results and lead to unreliable data.
Another fantastic feature of Explore is stacked testing. Once a winning variation has been identified, it is automatically set as the default for continued testing, ensuring reliable data collection over time.
These features all work together to create a platform that is ideal for developers looking to optimize and improve their digital brand's conversion rate.
The pricing starts at $167 per month.
3. VWO Testing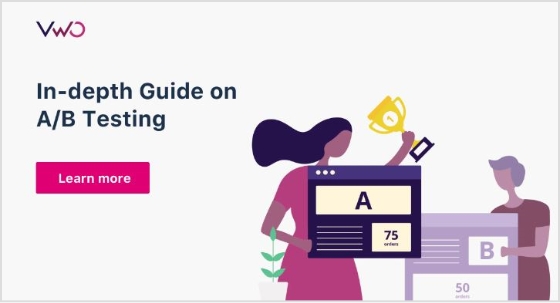 Another great A/B testing tool is VWO. It offers a comprehensive set of conversion rate optimization (CRO) tools that assist brands and marketers in optimizing their website pages and content. It includes various testing tools such as A/B testing, multivariate, and split URL experiments, a visual editor for creating variations without coding, and advanced targeting and segmentation options.
VWO also has unique features like behavioral segmentation and asynchronous coding, which improves the performance of tests and avoids common issues with A/B testing software.
Overall, VWO is a great option for those looking for an almost-enterprise CRO system at a more reasonable cost.
The pricing for plans with an A/B testing feature starts at $199 per month.
4. AB Tasty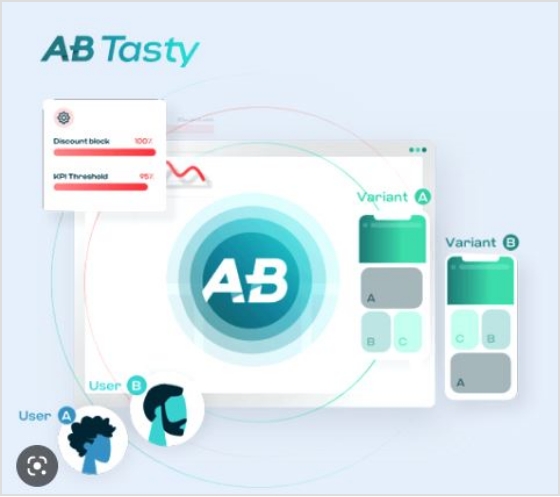 AB Tasty is a robust A/B testing tool that provides a wide range of testing tools and features that make it a suitable option for those looking for an efficient and user-friendly platform.
In addition to traditional A/B split and multivariate testing options, the platform also offers funnel testing, which allows you to experiment with changes across several pages at once.
Moreover, to ensure the validity of test results, AB Tasty provides a real-time view of your tests, enabling you to make informed decisions based on the insights derived from your tests.
What sets AB Tasty apart from other A/B testing tools in the market is its intuitive drag-and-drop editor. Although other A/B testing platforms have editors like this, AB Tasty's editor is more efficient and user-friendly, enabling you to work seamlessly without getting in the way of your workflow.
To get the prices, ask for a quote.
5. Adobe Target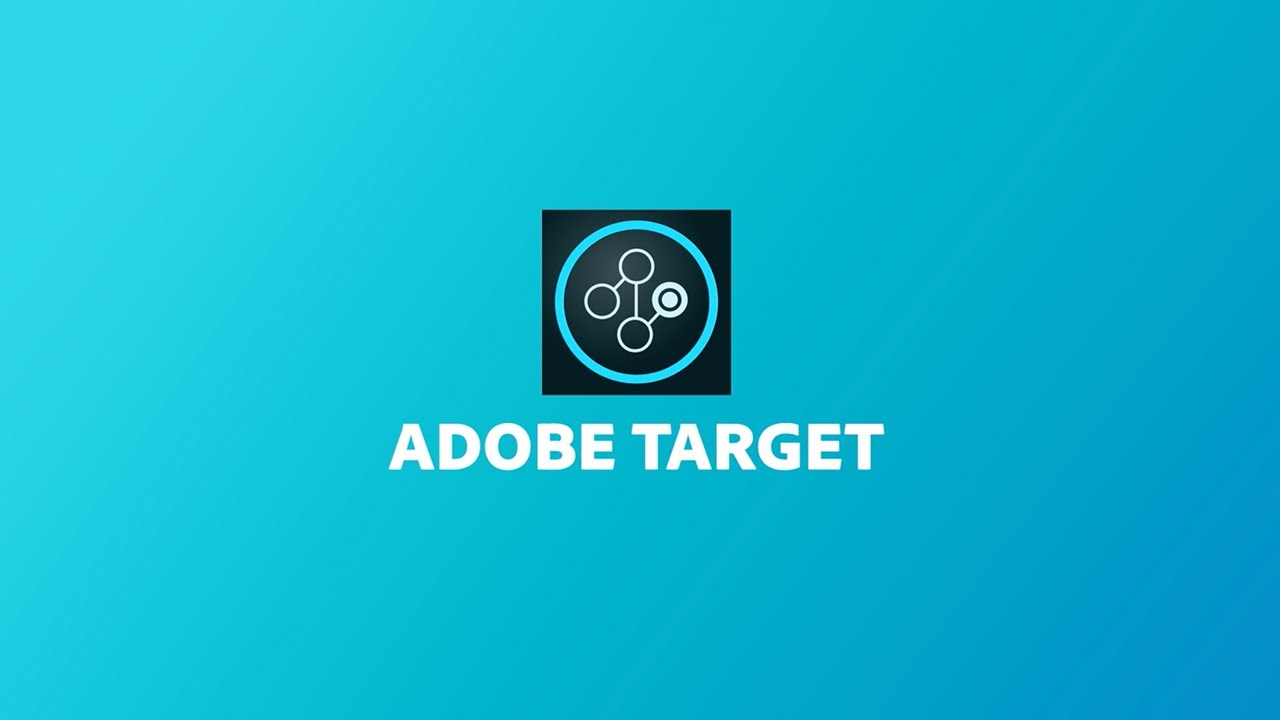 Adobe Target is a high-end personalization platform designed for enterprise use and comes equipped with the A/B testing feature. It also provides features like automated personalization, mobile app optimization, and recommendations based on customer data and behavior.
The platform follows a three-step process for experimentation, where you create a variant, target a specific audience segment, and customize your goals and settings for the test.
It is popular among enterprise brands due to the self-learning algorithms in Adobe Target. These algorithms continually analyze visitor behavior and content to produce optimal results, adjusting content in real time for customer satisfaction.
Request a demo to get the quote.
Also Read: How to Do A/B Testing the Easy Way: Step-by-Step Guide
5 Best URL shorteners for AB Testing
A/B testing can also be conducted through URL shorteners as well as which URLs perform better. Therefore, A/B testing is a crucial marketing technique used to improve conversions and engagement in digital marketing. Here are five of the best URL shorteners with A/B testing features:
1. Replug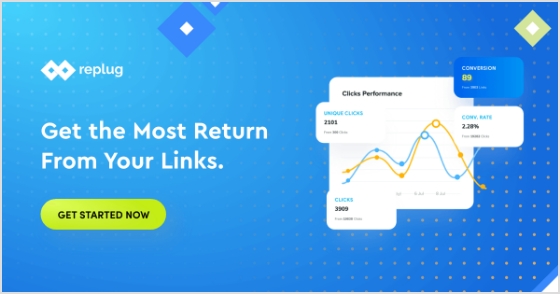 Replug is the best a/b testing tool amongts other URL shorteners. It also offers several other features such as branded URLs, URL tracking, UTM codes, bio links, SMS marketing, QR code marketing, lead generation, and retargeting.
It's a complete link management suite to manage your short URLs and elevate your social media engagement and marketing. Additionally, Replug has a Chrome extension for managing your short links without logging in to your Replug account.
As far as the pricing goes, the Replug Basic plan costs $15 per month (on annual pricing) and the next up is the Professional plan which costs $39 per month. However, the Agency plan is priced at $63 per month. You can start with a 14-day free trial account with no credit card required.
2. Sniply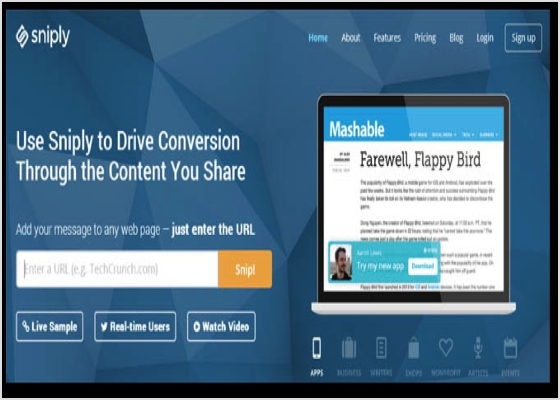 Sniply is also a URL shortener for marketers, influencers, and bloggers. It comes with a URL analytics feature to track your target audience through URL tracking. The key features include custom URL shortening, click tracking, call-to-actions, CTA tracking, custom domains, link customization, A/B testing, content discovery, and more.
The call-to-action buttons that appear associated with the URL campaigns show up when users click on the short links and visit the destination pages. It allows marketers and bloggers to drive extra website traffic from social media by sharing even others' content.
Furthermore, the users could test the different variations of destination URLs for CTAs to analyze the performance.
3. Pixelfy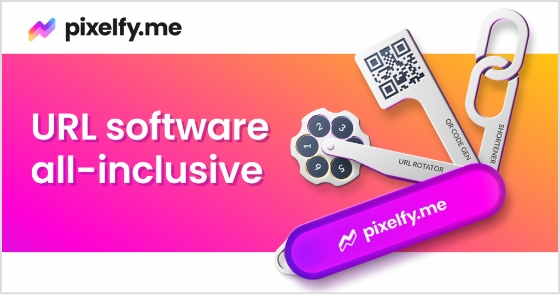 Pixelfy is yet another popular URL shortener tool that offers several URL management features such as URL shortening, deep linking, A/B testing, campaign tracking, QR codes, retargeting, and analytics.
Social media influencers and bloggers could track clicks on their short links and analyze the link campaign performance. Furthermore, the A/B testing feature plays an integral role in evaluating different links to see which ones work best. l
Moreover, users could use geo-targeting to target users based on countries or regions and use the retargeting feature to connect with the audience that clicks on the short URLs on social media platforms.
4. ClickMeter

ClickMeter is a powerful short link tool that helps digital marketers, affiliate bloggers, and social media influencers with creating, monitoring, and tracking URLs for understanding audience behavior and improving conversion rates.
Other features include URL shortening, branded domains, A/B test link rotation, and conversion tracking. Furthermore, ClickMeter works best for marketers and bloggers with content-heavy blogs and websites monetized with multiple affiliate marketing programs.
Moreover, it also helps social media influencers and gurus that use social media marketing channels to engage the audience and promote their products across different social networks.
5. Cutly

Cuttly is a well-known link management tool that offers URL management services. The features it provides are URL shortening, A/B testing, QR code generator, UTM tracking, custom domain, advanced targeting, API access, and real-time analytics.
While this tool provides extensive link management solutions, users can monitor clicks on shortened URLs and measure the effectiveness of their marketing campaigns.
Furthermore, this platform has a rather user-friendly interface, which makes it easier for beginner marketers and bloggers to play around with it.
A/B testing tools FAQs
Let me answer some of the burning questions about A/B testing:
Which tool is used for A/B testing?
A/B testing has a wide spectrum when it comes to online marketing. There are different types of A/B testing that marketers perform, for instance, A/B testing on images, links, CTAs, etc.
Therefore, it's essential to determine what the goal is and what you want to achieve with your A/B testing, then you could choose the right tool for the job.
How long should we run ab testing?
It'll be unfair a cap the A/B testing campaign to a specific period because it may vary from campaign to campaign.
However, it's important to run the A/B testing for at least a few weeks and give all the cases equal time, attention, and exposure to find the best results.
How do A/B testing tools work?
The basic idea is the same for every type of A/B testing tool. However, the only difference is what you're trying to achieve with your testing.
The way A/B testing tools work is that they allow users to test two cases, meaning let the cases expose to the audience and track the performance to see which ones get more attention.
For instance, Replug's A/B testing feature helps users drive traffic to multiple web sources to see how visitors react to it.
What questions can A/B testing help me answer?
It mostly depends on several factors and the questions may be different for each person or brand. However, the fundamental purpose of A/B testing remains the same – it helps people identify which option the audience likes the best, for instance, case A or case B.
You may also like:
7 Content Marketing Techniques to Generate Web Traffic

A Quick Guide To Deep Linking & Its Benefits
Role of Link Management in Building a Strong Online Presence
What is TikTok Pixel?: Learn To Set Up TikTok Pixel
What Are Tracking Pixels & How Do They Work?
Hassaan Khan
Hassaan Khan is a freelance writer for SAAS companies, e-commerce stores, and niche websites. He has contributed to SEMrush, ThriveGlobal, BloggingCage, AllBloggingTips, and several other publications. He builds niche websites, publishes e-books, and helps website investors with his done-for-you niche site-building service.