Content Marketing Trends 2021: 7 Must-Follow Trends
Want to tap into the latest content marketing trends to make sure you're doing what's best for your business? You are in the right place. In this piece, we dive into seven content marketing trends for 2021 that is a must-do.  
Here's a list of content marketing trends 2021, followed by the details:
Community building will continue its upward trajectory

Targeted content that resonates with your audience.

SEO content will win 

Focus on content repurposing will grow

Video marketing is going to be big including live streaming

Better content experience

 

Personal brands will take over

 
With each of these trends, we've also shared tips to help you put them into action. Ready to up your content marketing game? Dig in:  
1. Community building will continue its upward trajectory 
Last year saw the rise of personalization in marketing, Money Heist trending, and creative ways to make the most of chopped marketing budgets. One such approach included community building. Whether it's a content community or customer community, the benefits of both are unparalleled.  
In fact, 88% of the community professionals say that community is essential to their company's mission according to the 2020 Community Industry Trends Report. 
So how can growing an engaged community helps you? If it's a content community, you can: 
Exchange content ideas 

 

Build backlinks 

 

Get feedback on what you've created

 

Welcome guest posts to keep your content pipeline full and 

 

Pool subject matter experts or request community members to connect you to experts in their network 

 
Here's Shopify's Content and SEO Lead, Kameron Jenkins, leveraging the content marketing community on Twitter: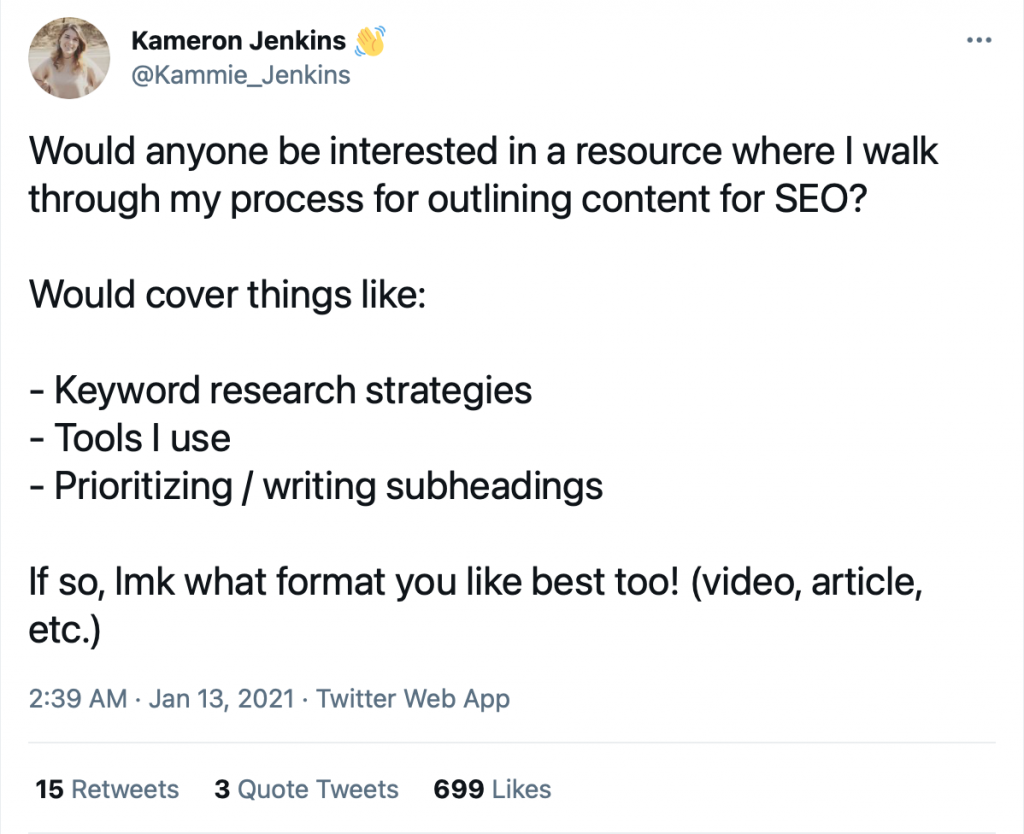 On the flip side, a customer community delivers the following benefits: 
Better learn your target audience's pain points to create targeted content

 

Source user-generated content to share on your marketing channels

 

Improve customer journey and trust as customers or customers-to-be learn about the humans behind your brand, your values, processes, and more 

 
In short, online communities can help enhance brand awareness and credibility, giving you the most bang for your buck.  
How to start an online community today? 
Now that you know how fruitful an online community can be, how do you start one? 
Starting a community is no rocket science and doesn't require you to invest early on (you might need to later on, for example, to host giveaways for keeping your community engaged).  
Take the following steps:  
✔ One, decide who your target audience is by selecting whether you'd like to start a customer or content community. 
✔ Two, pick a platform. Slack is a great paid platform for starting a community. Facebook and LinkedIn groups, on the other hand, are free to make. Similarly, Twitter chats are free to start. Or, if you're an email marketing enthusiast, start a newsletter to grow your community. 
Here's an inside look at Christina Pashialis' paid ContentUK community: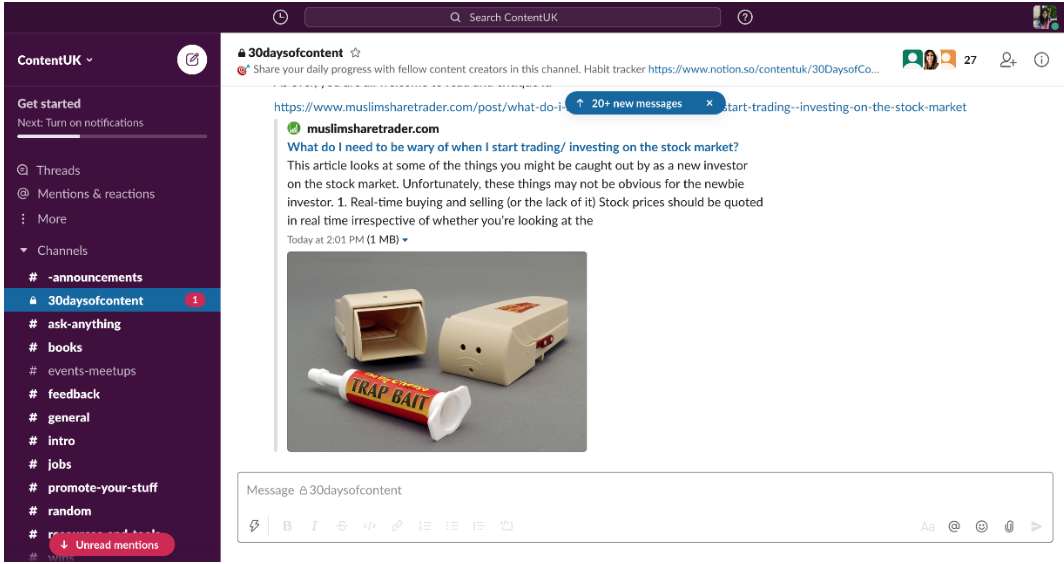 ✔ Three, prepare an action plan answering questions like what's your community going to be about? How will you promote it? How do you plan to provide value to your audience and stand out from other similar communities? What steps will you take to keep your community engaged?  
Once done, get started right away. 
Alternative plan: if it's a content community you are after, join one. How? Look for relevant Facebook and LinkedIn groups. The Content Marketing Lounge on Facebook, for example, is a valuable community for content marketers. Looking for social media marketer's community?  
We have a Facebook community named ContentStudio.io Community (Marketing Strategies, Tips, and Hacks).
Come join us. It's a lot of fun.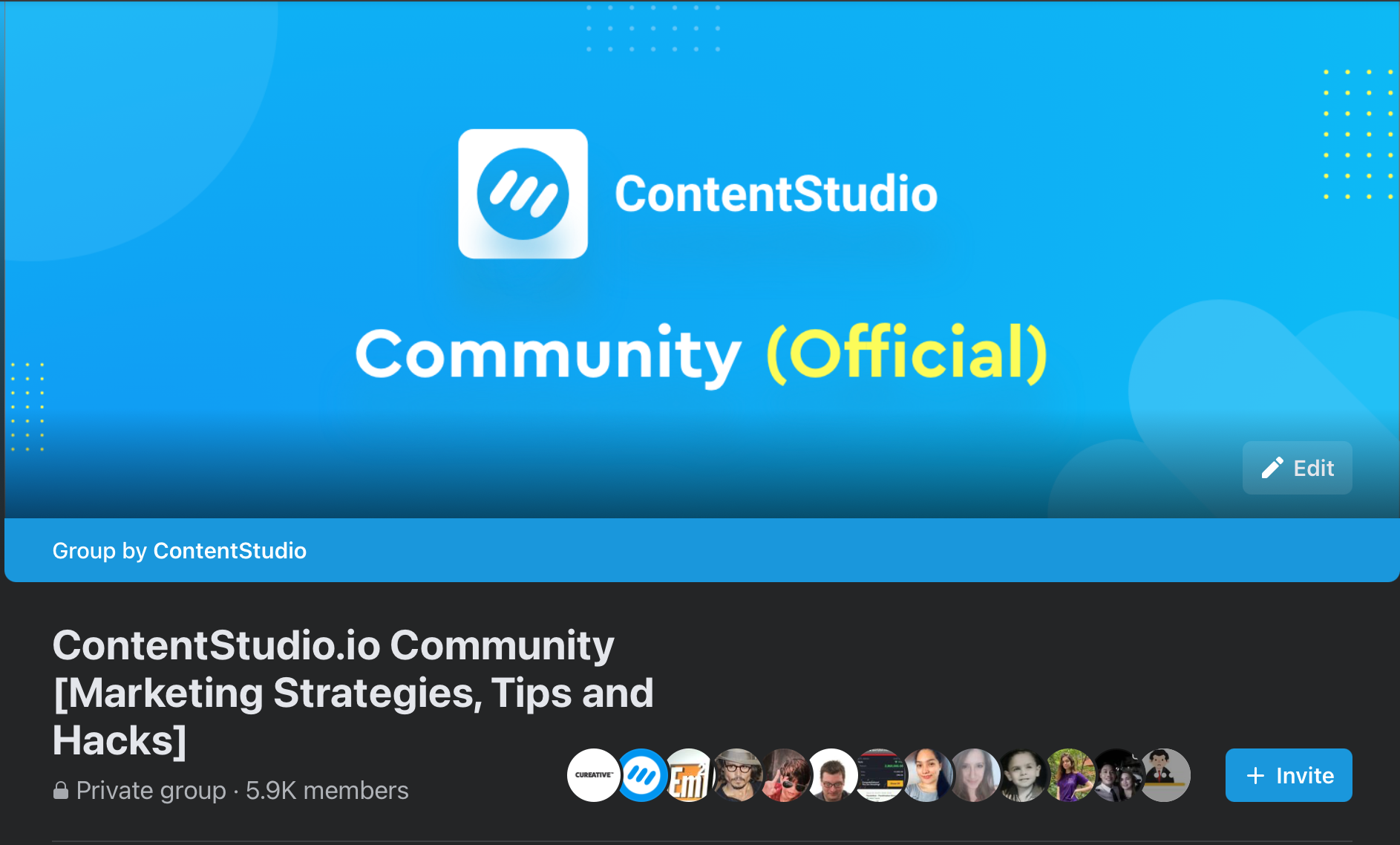 2. Targeted content that resonates with your audience 

 
Last year also taught content folks the significance of creating content that resonates with their audience and helps them through their buyer's journey (the awareness, consideration, and decision stages).  
In this regard, the Creative Marketing Alliances' Director of Content Strategy, Kenneth Hitchner notes, "Structured content that addresses each specific part of the buyer's journey will go mainstream. More companies will adopt this style to reach their prospects no matter where they are along the sales funnel.  
This type of content program is long-term cost-effective — remember, this content is slowly replacing your ad budget, which is gone once it's spent — at three important things:  
1) Moving future customers down the sales funnel in a way that makes them believe it was their idea,  
2) Driving engagement, which is a new-fangled word for 'involvement' that breeds commitment, and  
3) Connecting the marketing team with the sales team, which tend to blame the other for shortfalls." 
How can you get to know your audience in-depth? 
Four ways to learn about your audience:  
✔ Talk to your customers or target audience  
Ask your sales team to get you in touch with your loyal customers so you can ask them the challenges they face, how they prefer to consume content, and so on.  
✔ Survey your email list 
You can also share the same survey with your connections on social media. But remember: take the time to study survey results so you can create better content.  
✔ Take to social listening  
Surf through hashtags to uncover what troubles your target audience, what sort of content they prefer to consume, and so on.  
✔ Analyze Google Analytics  
This lets you see what content gets the most views (therefore, resonates with your audience), who your target demographic is, and other such details to polish your content strategy.   
3. SEO content will win  
In 2019, Google processed over 3.5 billion searches daily. This figure jumped to 5.5 billion Google searches per day in 2020. Translation: everyone's going to race for the search engine results pages (SERPs) – aiming to rank better for improved brand awareness and organic traffic. 
How to create SEO content?  
We have a comprehensive guide on how to write content that ranks, but here are some quick tips to get you started:   
✔ Target long-tail keywords or key phrases with less competition to rank better  
✔ Answer frequently asked questions. Perhaps they'll land you in Google's Featured Snippet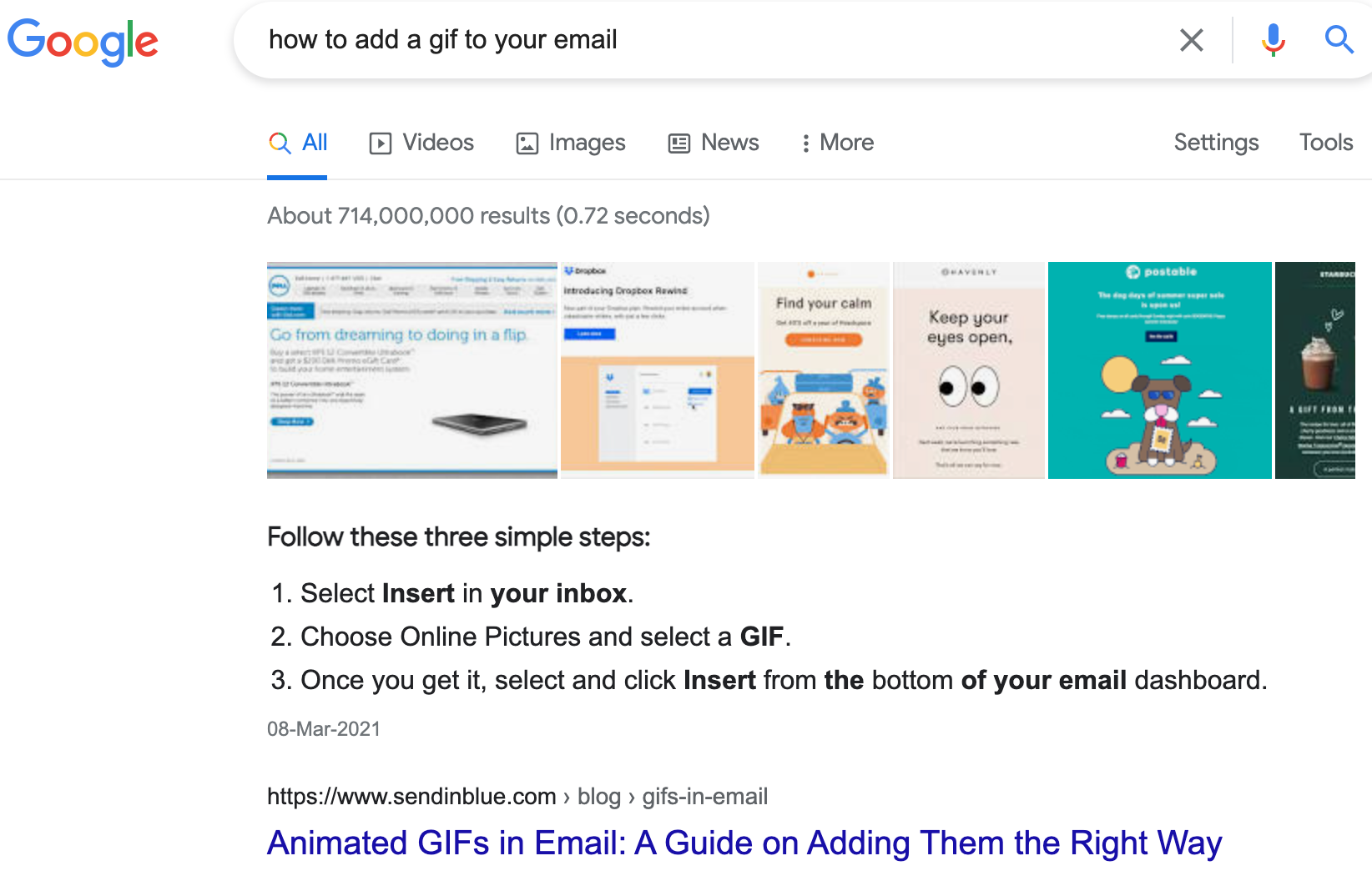 ✔ Structure your content based on what questions searchers are asking. Get these insights from the 'People also ask' and 'Related searches' sections  
Not to forget, focus on quality now more than ever. "It will become more difficult to crush it with SEO because the competition will be stiffer, but at the same time, we'll see a major increase in the quality of content that brands publish." Odak comments.  
So what's quality content, again? First, it's content that solves your audience's problems – thoroughly answering questions they have. Second, it's content that reflects expertise, authority, and trust (E.A.T).  
While building your brand's authority takes time, for instance, by consistently creating content on specific topics to help visitors, you can work on improving your expertise right away. How? By interviewing subject matter experts.  
Let's give you an example: for this piece on how you can grow your YouTube subscribers, we reached out to someone who's done it so that we can share actionable advice with you. See? Doesn't that make the guide all the more trustworthy? 
4. Focus on content repurposing will grow
Speaking of creating content, content marketers are going to get smarter with not just creating it, but also repurposing it to get the most from it.  
 In a survey that Referral Rock conducted for their expert round-up on content repurposing tips, the team learned that 94% of marketers repurpose content with 6% saying they plan to add content recycling to their to-do list. Nobody said they didn't repurpose content or didn't plan to do so.  
This alone reveals how marketers value reusing content. Essentially, content repurposing helps you get more eyeballs to the content you create. Not everyone in your audience might be readers, for example. So you can always take the blog post's content and make a video of it for the video-lovers in your audience. 
Additionally, repurposing helps keep your content bank full to the brim. With your content pool full, you can consistently grow your online presence and keep your community engaged – all while saving time.  
How to repurpose content?  
It's easy to assume that content repurposing involves copying and pasting content from one platform to another, say, from your blog to a Medium publication. But that's not what it is about.  
Content repurposing is creatively tweaking and reusing content you've created in different formats to use on different platforms. For example, curating medium-length articles on the same topic idea into an eBook by developing a narrative for them so they're all arranged in a way that reading them is easy for the reader (and, well, makes sense too). Capiche?  
Now follow these two steps to start content repurposing today:  
✔ One, look at your content performance metrics 
Example: dig them out from Google Analytics. If a piece on evergreen content is doing relatively good or a video has amazing views, consider repurposing it. But, hang on. Why look at these metrics? So you know that you're recycling content that's popular with your audience since it resonates with them.  
✔ Two, decide which format you want to recycle content into  
You can always turn blog posts into videos, Facebook and LinkedIn posts, Quora answers, as well as Twitter threads. You can covert interesting stats from your written content into social media graphics or present steps in a LinkedIn carousel as well.  
You can do the exact reverse too. For example, if you find yourself writing Quora answers addressing different questions people have on the same topic, you can put them together into a blog post. Similarly, you can take all the social media stats graphics and package them into an infographic for your blog.  
These are but a few ideas to repurpose content. Check out these 50+ ideas to repurpose content here.   
5. Video marketing is going to be big including live streaming
Whether it's a virtual event, a social media live streaming session, an informal Zoom coffee hour, or pre-planned webinar series, people are loving video. And marketers are already making the most of it in a zillion ways including:  
87% use video to increase their website traffic 

83% leverage video marketing to generate leads 

 

81% increase their site's dwell time with video

80% use video to increase their sales 

 
This use of video is only going to increase with interactive video content, such as live streaming videos, taking the front row. In fact, people watch live streams 10-20 times longer than on-demand content. You know what that means, right? You have got to invest in video marketing if you already haven't. But don't worry, you don't have to break the bank doing so.  
DIY video creation tools like InVideo can help you create videos from templates – making the job easy to do, quick as well as cost-effective. Besides using a DIY video tool to create intro videos, customer testimonial videos, client onboarding tutorials, and so on, consider going live.  
Exclusive AMA sessions, masterclasses, fireside chats, and live tutorials, and sharing behind-the-scenes content are some ways to engage your audience with live video.  
How to start with video marketing  
The following steps will help:  
✔  Get started with a plan first 
How many videos do you aim to create? What content will you cover? Who will your videos target and at which stage of the buyer's journey?  
You'll need an action plan covering where you want to stream (YouTube, Facebook, Instagram, TikTok, or LinkedIn), what content you want to cover, and how you'll engage your audience.  
Don't forget, you need a promotion plan too – both for videos and live streams. Here are more actionable video marketing tips and examples to learn from.  
✔  Get your gear  
We've already suggested InVideo as a video-creating tool. Just make sure your video specs are correct since each social platform has a different requirement.  
If you plan to create a video by recording your screen, you'll find Loom helpful. For live streaming, most social platforms offer free streaming. Pick the channel where your target audience is and get started.  
If you find yourself divided choosing between two or more platforms, consider live streaming on multiple platforms at once. How? By simulcasting using a tool such as Vimeo that supports it.  
If you are ready to shell out some money, it's a good idea to get some low-cost live streaming gear including a microphone, camera (if it's just you talking to the camera, your desktop and phone's camera will do) a sturdy tripod, and an encoder (you can use free software to get going then switch to a hardware encoder). 
✔  Prepare an outline and shoot  
Video content or, script, is equally important. Whether it's a live stream or template-based video for your social media, you need to be careful with your words. So, an essential step is to work on your script. Once ready, start creating.  
6. Better content experience 
Next up on content marketing trends: better content experience or making it easy for your audience to enjoy your content. Put another way, visitors need to stay on your site, love the content you've created, and enter your sales funnel.  
How to improve the content experience? 
Content experience boils down to three things: 
Good page design 

 

Creating interactive content 

 

Making your content easy to consume 

 
Good page design involves a few fundamental things: readable font size and type, optimal use of whitespace, and a good colour scheme. Medium, for example, is designed with content experience on the front with everything from the font type and size, white space, design elements used, navigation, and so on aimed at making reading an excellent experience.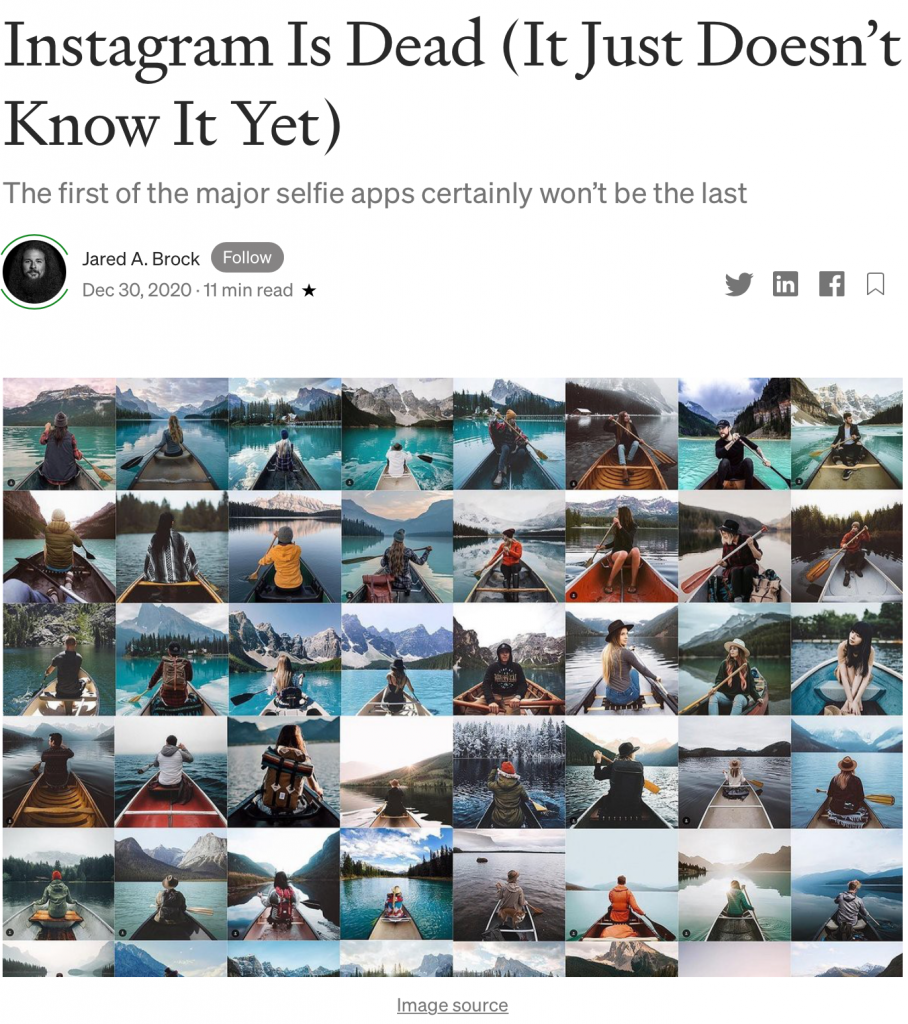 On the other hand, interactive content is one that your audience can engage with.  
That doesn't mean you go about creating the next, Black Mirror: Bandersnatch, Netflix's interactive film about a game-developer, Stefan, who had to make decisions (that users made on his behalf) to develop a game. Quizzes will do instead. In fact, Women.com credits over half of its engagement to online quizzes, which help it to dominate even Buzzfeed! 
Other ideas for interactive content include sliders, timers, calculators, tools, and interactive visuals. You'd be surprised to learn that 45% of B2B buyers say interactive content is among their top three preferred content types. So it's about time you work on it too. 
Lastly, make it easy for readers to consume your content. While the design does half the job, the way you format your content and, of course, write, does the rest.  
To this end, Hitchner applauds storytelling. "We've come a long way from keyword stuffing. As search engine algorithms continue to advance, so will online marketing content.  
 In 2021, expect to read more narratives, which are a bigger upfront investment, but worth the spend. In other words, expect to read more about people, who strangely enough are just like your prospects. They even have the same pain points that your employer can solve.  
What a coincidence. Content marketing will slowly move away from the source-less, regurgitated third-party dribble that's disguised search-engine optimization and start connecting people to brands through the story. It will drive engagement and cut through the noise by helping others." 
As for making your content easy to read, follow these tip:  
✔ Write short sentences and paragraphs 
✔ Use active voice and get rid of fluff words  
✔ Get straight to the point or use the BLUF (bottom line up front) which means you give the key details first.  
7. Personal brands will take over
Personal branding has been the talk of the town lately. For businesses, that translates to having a brand identity including a unique voice while letting your employees take the online stage.  
This comes with multiple benefits: it shows your work culture, helps you grow brand awareness as people come to know your employees, employees share behind-the-scenes content or any number of things.  
Having an online presence also means you can keep a pulse on what your target audience likes, their interests, maybe even source content ideas from them. It also means you can grow your authority and get better at promoting content – the same as when you grow an online community.  
If you're not ready for that yet, simply bring your social team forward. SEMrush's Diana Richardson is pretty popular in their Twitter circle.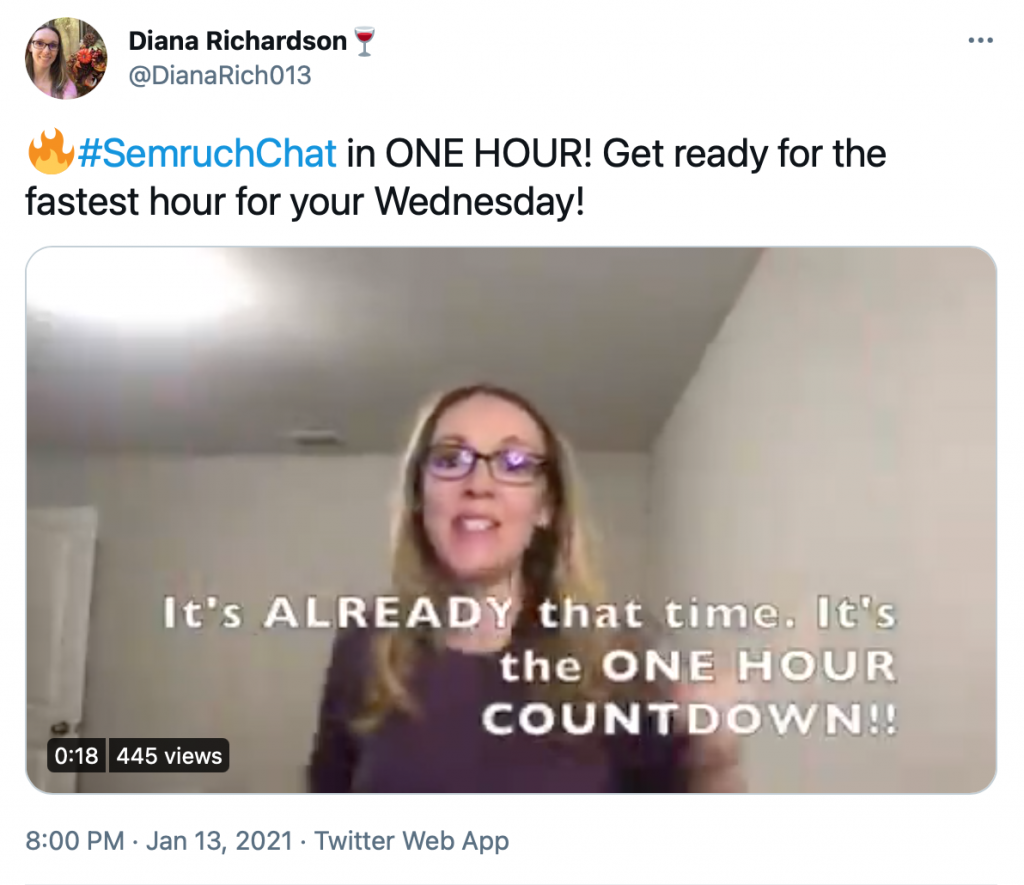 How to grow your online presence? 
 ✔ Pick a platform 
This could be a social media channel or a Q&A community like Quora or Reddit.  
✔ Create an action plan 
Answer the following: how do you plan to engage on the channel? What content will you share with your audience? How much time are you going to invest into it and who's going to be involved? Don't forget, make sure you jot down exactly what you stand about so people can see your human side too.  
 ✔ Be consistent 
When all's said and done, consistency is what's going to take you to success. Show up regularly, share value, and focus more on 'giving,' than 'taking.' 
 In short 
And that's a wrap. From working on establishing your online presence to creating an engaged community, repurposing content, and polishing your storytelling skills, there's a lot to be excited about. Which of these content marketing trends are you going to focus on this year?